Creating Dramatic Images
Take your Rocky Mountain landscape photography to the next level with award-winning photographer Eli Vega!
This 3-day course provides an introduction to both the 7 principles of effective composition and the Composition, Depth-of-field, and Exposure (CDE) model of landscape and nature photography. Together, these frameworks help photographers of all abilities create more compelling, interesting, and dramatic images.
On the first evening, participants will get an orientation to the CDE model and gain an understanding of how dramatic photography occurs where technical know-how and creative aesthetics meet. On the second and third days, participants will apply their knowledge in the field, with the opportunity to photograph numerous sites and receive guidance and coaching from their instructor. Constructive feedback on participant's images will also be provided throughout the course, allowing participants to hone their skills in real time. Don't miss this exciting opportunity!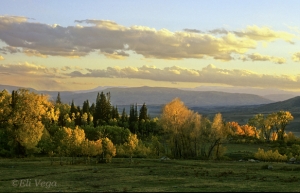 Who: Participants ages 16 and up

When: Thursday, July 13 from 5 pm to 8 pm; Friday, July 14, from 6 am to 3 pm; AND Saturday, July 15, from 6 am to 12 noon. Please note that participants are expected to attend all 3 sessions.
Where: Estes Park Visitor Center, 500 Big Thompson Ave, Estes Park, and various field locations throughout Rocky Mountain National Park
What to bring: 10 Essentials for Field Courses, DSLR camera, lenses, tripod, and a sack lunch on Friday.
This is a Level II course. Expect short-distance walks throughout the day, primarily on level terrain.
About your instructor: Eli Vega is an award-winning, highly published photographer and author with over twenty years of experience. As a certified facilitator, he makes his workshops engaging, interactive, and fun. Prior teaching experience includes workshops in Rocky Mountain National Park and Garden of The Gods, numerous camera clubs, and various non-credit courses at universities throughout the country. 

Visit Eli's website: elivega.net
Click here to register via Eventbrite or use the form below. Registration opens February 1, 2023.
Conservancy members get 20% off individual registration when you use the Early Bird discount code in your membership email! 
Not a member of the Conservancy? Learn more and join here: Conservancy Membership
For questions about membership, please contact memberprocessing@rmconservancy.org or call 970-586-0108 during standard business hours.