Rocky Mountain Rivers Kids Course
Hop on the RMC minibus for an exciting trip to visit two of Rocky Mountain National Park's iconic rivers!
We'll head into RMNP to visit two amazing rivers, have lunch, and see if we can figure out their similarities and differences. We'd like you to join us! This educational program is free to attend, but space is limited and pre-registration is required! (Parents or guardians may attend, but are not required.)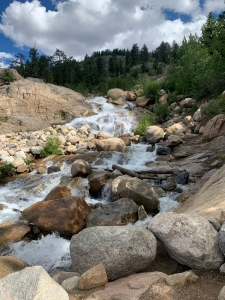 Who: Kids ages 8-11/grades 3-6
What: An exploration of the Roaring River at the Alluvial Fan and Fall River in Endo Valley
Where: Meet at the Estes Park Visitor Center, 500 Big Thompson Ave, Estes Park
When: Monday, 10/31 from 11 am – 2 pm
Why: We'll check out two of RMNP's most famous rivers to learn about what makes them each special, and what they have in common. Can you figure it out??