Crew Locations and Housing
When you spend a summer working with the Rocky Mountain Conservation Corps (RMC-CC), your housing and gear are provided for you. Listed below are the locations of the various crews. All housing locations are subject to change due to availability and funding.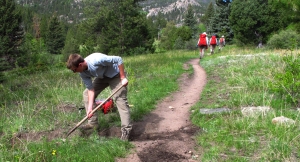 The Estes Crew lives in Moraine Park Campground within Rocky Mountain National Park. The crew will be camping full-time throughout the summer at an established front-country site. This crew keeps heavily-used front and back-country trails accessible, with typical trail work including building and cleaning drainage structures, restoring trail surfaces and trimming encroaching vegetation. Re-vegetation includes restoring native plants and removing invasive species.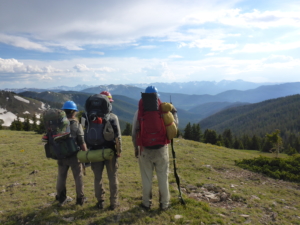 The Shadow Mountain Crews work and live in the Arapaho National Forest near Grand Lake, Colorado. The crew will be camping full-time throughout the summer at an established front-country site. Work on the Shadow Mountain Crew ranges from construction and restoration of visitor use facilities (campgrounds, trail heads, etc.) to standard trail maintenance including clearing downed trees from the trail, constructing drainage structures and restoring trails through riparian areas.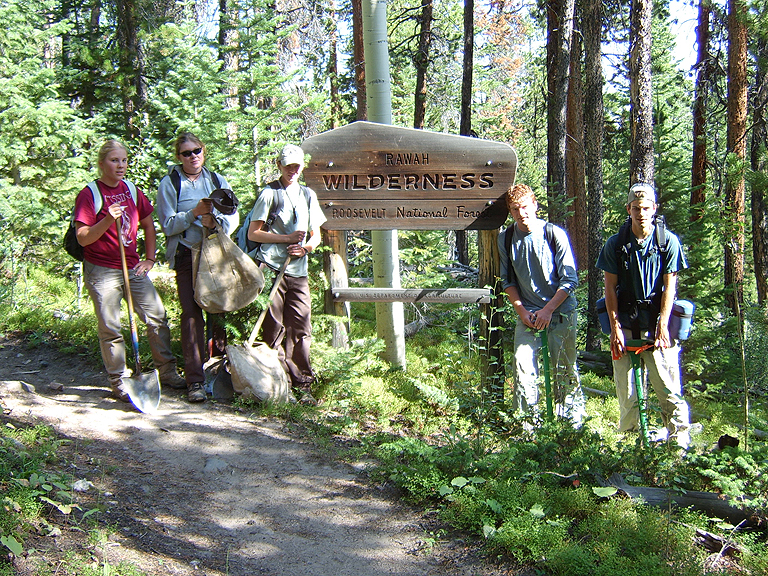 The Poudre Crews live and work in the backcountry of the Roosevelt National Forest. A Forest Service Bunkhouse is a comfortable base camp, with typical work including the restoration of drainage and removal of downed trees that block trails and degrade watersheds. As the season progresses, the crew spends most of their work time in wilderness areas repairing remote trails,.This crew requires a high priority on team leadership, spirit, and commitment while allowing considerable flexibility in achieving its goals. This crew will gain experience in the use of cross-cut saws.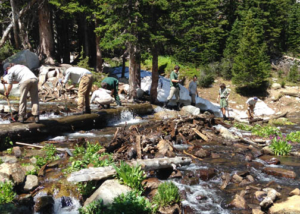 The Boulder Crews live at Kelly Dahl Campground, just south of Nederland, CO. The crew will be camping full-time throughout the summer at an established front-country site. Working with the Boulder Ranger District of the Arapaho–Roosevelt National Forests, the crew works along the St. Vrain Rivers as well as higher elevations in and around the Indian Peaks Wilderness later in the season. This crew restores backcountry campsites, repairs damaged trails, clears downed trees, builds backcountry bridges, and much more. The crew also works closely with Boulder area volunteer groups during volunteer trails days.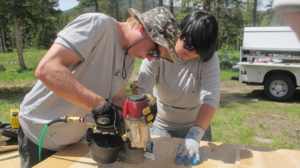 The Moraine Crew will be living and working in the Moraine Park and throughout the east side of Rocky Mountain National Park. This crew will work with the Project Administration team of the National Park Service to conduct historic preservation and campground enhancements. This may include restoring the exterior of historic structures, constructing accessible trails, and improving campsites.