Volunteer for the Conservancy: Put Your Skills to Work!
What better way to show your love for Rocky Mountain National Park than by investing your time and unique skills to help? Check out the Rocky Mountain Conservancy volunteer opportunities below and let us know how you can help with Conservancy efforts to lend a helping hand to Rocky Mountain National Park.
DUE TO COVID-19, the Conservancy does not have any scheduled volunteer events in 2020.
PAST VOLUNTEER EVENTS
May 18, 2019 – Colorado Public Lands Day
June 1, 2019 – National Trails Day
June 12, 2019 – Sprague Lake Restoration
June 22, 2019 – Indian Peaks Wilderness Alliance Partnership Project
July 20, 2019 – Indian Peaks Wilderness Alliance Partnership Project
July 31, 2019 – Kawuneeche Valley Resource Stewardship (NEW DATE)
August 3, 2019 – Comanche Peaks Wilderness Trail Restoration
August 24, 2019 – Rocky Mountain Rendezvous (Climbing Area Stewardship Project in honor of Founder's Day – NPS Birthday)
September 12, 2019 – In honor of National Day of Service and Remembrance (September 11th)
Project: Fire Fuels Reduction
Time: 9:00AM-1:00PM
Details: Click Here!
September 21-22 – Buffalo Creek Trail Bridge Replacement (West Side)
Project: Trail Building/Restoration
Time: Multi-Day
Details: Click Here!
September 28, 2019 – National Public Lands Day
Project: Litter Clean-Up
Time: 9:00AM-11:00AM
Details: Click Here!
To see what the projects look like on-the-ground and understand their impacts, check out the Volunteer Stewardship Program Report from past years:
2019 Volunteer Stewardship Program
2018 Volunteer Stewardship Program
---
Youth and Corporate Group Volunteer Opportunities
Volunteer stewardship is a great way to foster team building, civic engagement, and personal development! By supporting Rocky Mountain National Park and the Conservancy, your team can have meaningful impact on public lands, while enjoying these beautiful landscapes alongside friends, teammates and coworkers.
The Rocky Mountain Conservancy provides volunteer stewardship opportunities for organized youth and corporate groups. The Conservancy works with groups to create volunteer experiences alongside National Park Service staff in Rocky Mountain National Park. Projects are tailored specifically to the group size, interests and ages. Projects may range from 1 hour to multi-day (with camping).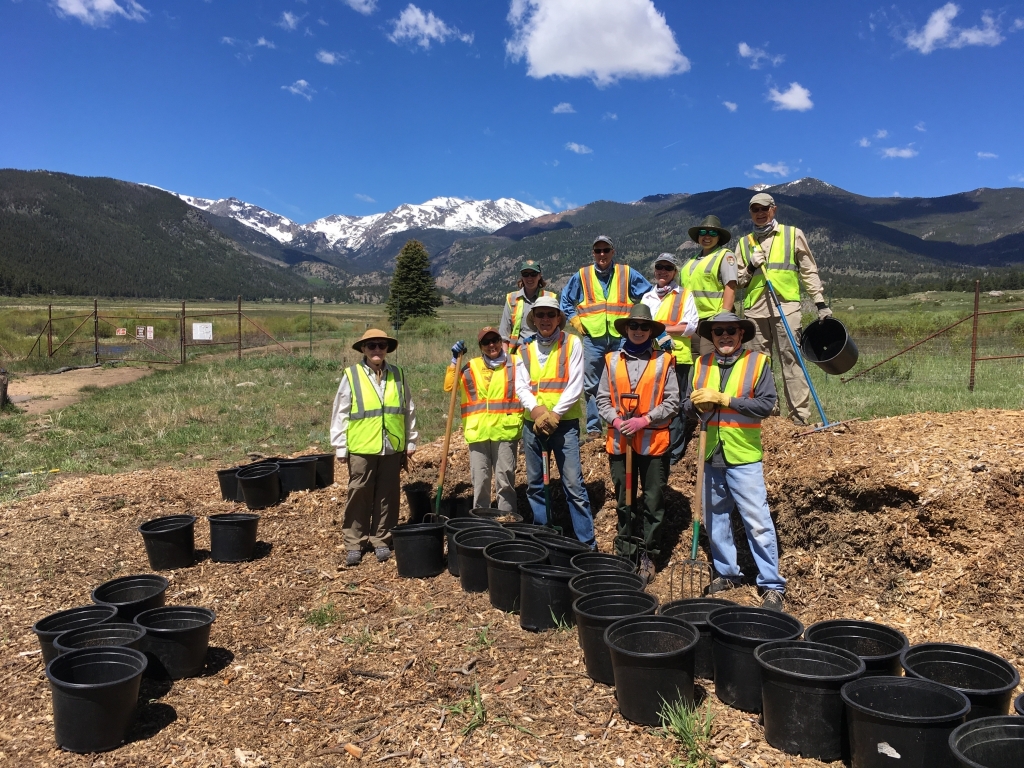 Please contact Geoff Elliot, Director of Conservation, at Geoff.Elliot@RMConservancy.org for more information.
---
Rocky Mountain Conservancy – Field Institute
Additional volunteers are needed to assist with the Field Institute programs as well as with on-site mailings and events. Contact Rachel Balduzzi at field.institute@RMConservancy.org for Field Institute programs, and RMCmembership@RMConservancy.org for mailings and events.