Last Monday, the Boulder Crew met for the first time in the Field Institute parking lot. Tired from long drives to Estes Park, spirits were high on this lovely day. We waited outside as gear was distributed individually and got to know our fellow crew members. We quickly were amazed by our diversity- the Boulder crew has members from 9 different states! After some socializing, we went to the Estes Park Mountain Shop and geared up for the season with some new boots and high quality socks. Returning to the Field Institute, we were ready to hit the road towards our summer home- Kelly Dahl Campground, just south of Nederland, Colorado. Tents were set up, take-out Thai food was eaten in a parking lot, and a shuttle back to Estes was organized to pick up work trucks (and The Bus!). With immense gratitude for these people and this place, we watched the sun set over the Indian Peaks Wilderness, beaming with excitement for the days ahead.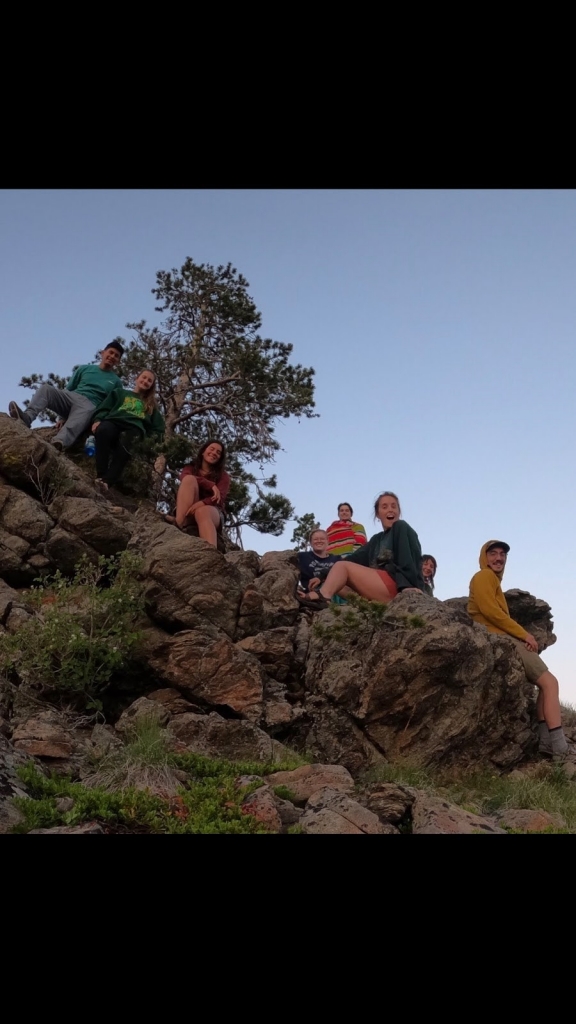 Our first day of trail work began with a visit from Ben, our Forest Service partner. With over 15 years of trail experience, we were stoked to learn from a true veteran. Ben took us on a short driving tour of the area, showing us where we would be working for the next few weeks. Gorgeous forests, canyons, valleys, mountains, and a sweet view of Longs's Peak traced past The Bus windows. We eventually found ourselves at Rainbow Lakes trailhead, where we had a short Job Hazard Analysis (JHA) and discussed potential hazards we may encounter during trailwork. Adorning fluorescent hard hats, durable gloves, and the most stylish safety glasses we'd ever seen, Ben led us a few miles into the backcountry to discuss trail construction and maintenance. After an overview of drain and rock wall engineering, we arrived at Rainbow Lakes one, two, and three. We took a snack break at rainbow Lake Three (elevation: 10,281 feet) and dunked our heads in the crystal clear water. Hiking down we were filled with anticipation and excitement for the wonderful times this summer would hold. Arriving back at camp, we headed down to Nederland for some much needed grocery shopping. Returning to Kelly Dahl, we set up a gigantic tarp shelter as the crew leaders prepared a wonderful mexican feast. A tradition was born as we watched yet another magnificent sunset from our special rock. All went to bed with both stomachs and stoke tanks filled to the brim.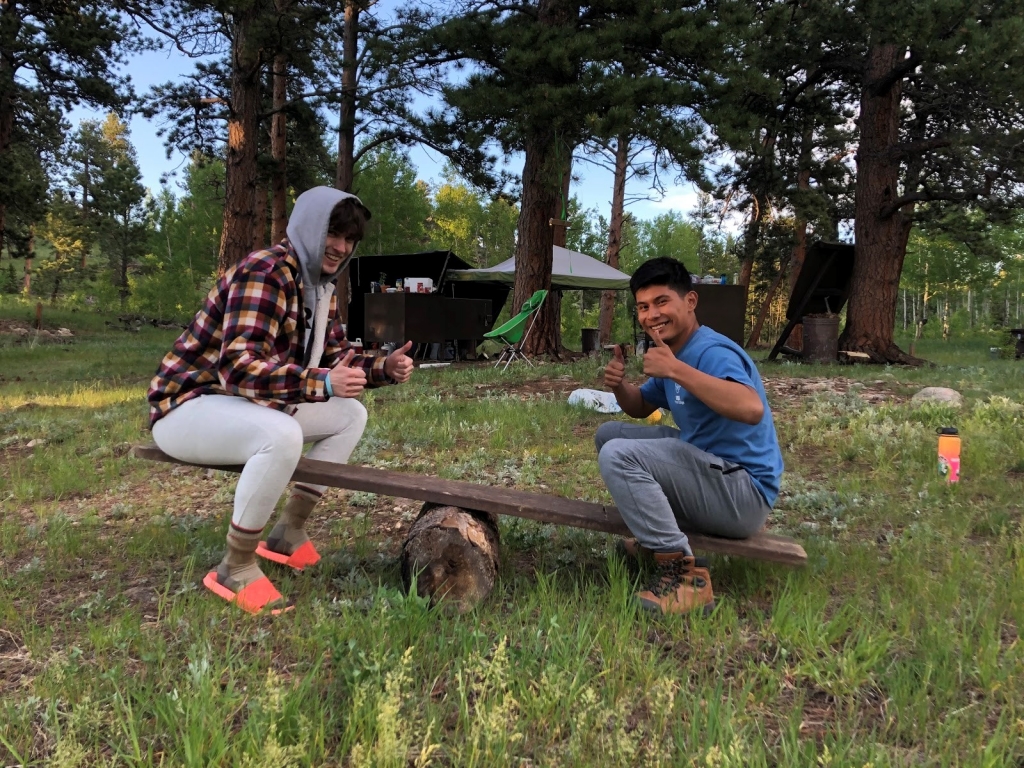 Our crew spent the duration of Wednesday and Thursday on the Forsyth Canyon Trail, located ten minutes south of Nederland. Accompanied by our Forest Service Partners, Ben and Matt, we began our rock work projects! We split into two groups and built two rock walls. Rock walls are constructed to prevent soil erosion and to overall enhance the function of the trail. After a long first day Wednesday, two enthusiastic members took the reins for dinner Wednesday night; Leah cooking lentil soup and Natalie cooking pasta + veggies! On Thursday, we completed the rock walls and cleaned out 10 drainages. We were pleasantly surprised with an early start to the weekend- although there was a catch. A change in schedule for laundry and showers threw us for a loop, but we are excited to tap into our trail junky side through use of solar showers and a bucket system (or laundromats) for laundry! We celebrated Jenna's birthday Thursday night with carryout pizza while doing our best to stay dry from the rain. Despite a few faulty rocks and adapting to this new lifestyle, the Boulder crew showed an overwhelming amount of teamwork, persistence, open mindedness, and care for one another. The Boulder Crew will be returning to the Forsyth Trail on Monday for a final day of work, and beginning different projects on Arapaho Pass. We are all incredibly stoked to see what the rest of the season brings! Cheers. 
"Everyone hanging out all the time!" – Cait (Boulder Crew Member)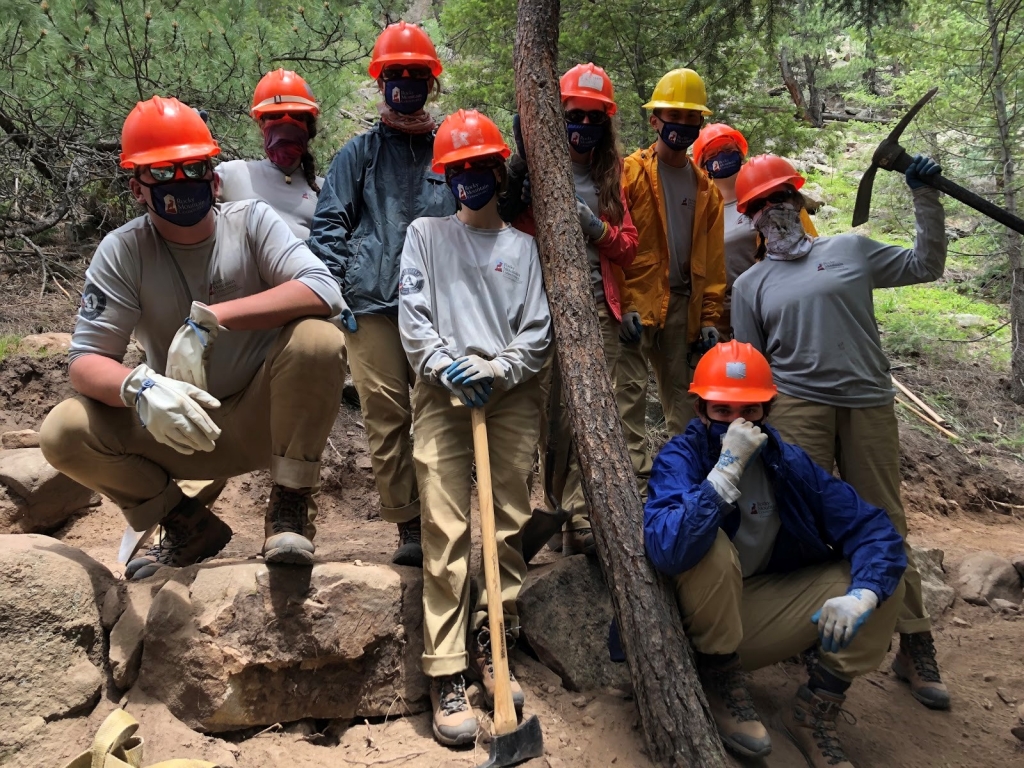 The Shadow Mountain Crew spent their first week in orientation and learning about the layers of complexity in the forest service. The many hours sitting around a picnic table listening to forest service conference calls was long but overall very interesting and we all learned a lot about the local people working in forest offices. Our amazing project partner Amy is quite a hilarious and sarcastic person and made a long amount of time we were sitting bearable. She has a great amount of subtle sarcasm that sometimes takes a minute to get but will leave you rolling on the ground laughing. She even let us walk the pack llamas around the block which everyone enjoyed, they were kinda rude to us but we hope to get a better relationship with them by the end of the season.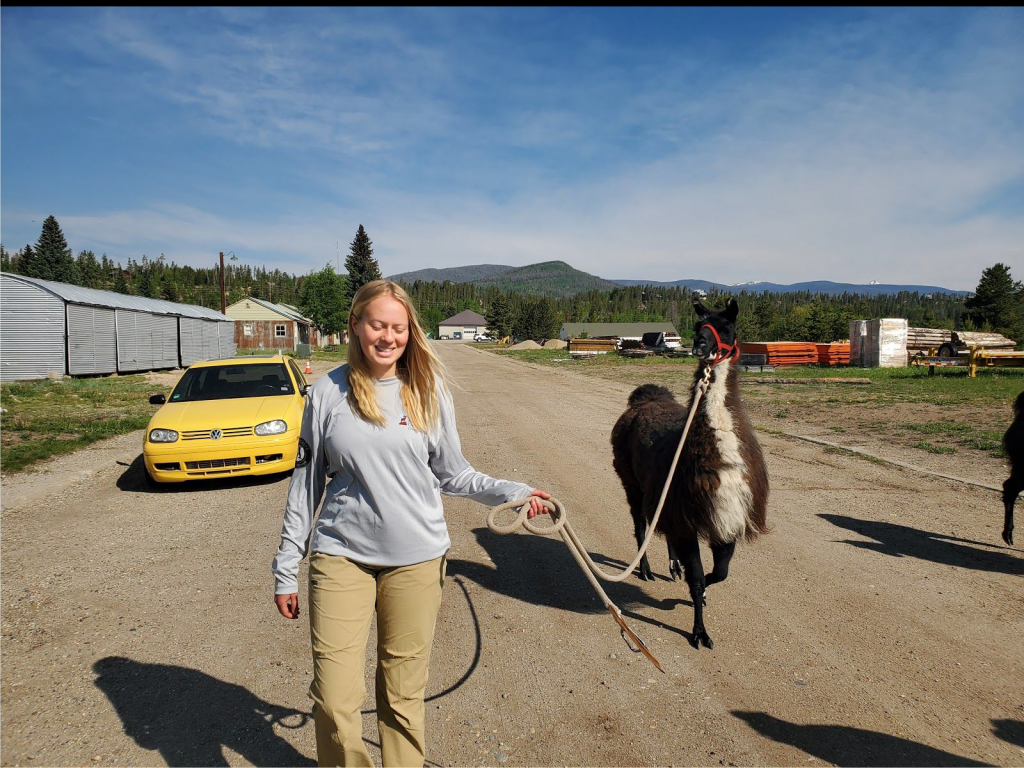 After a couple of days of orientation, we finally got to go out to the field and practiced our crosscutting under the guidance of our great partner and certifier, Andy. Andy is very wise in the field of crosscutting and we all learned a great deal, with the help of the miniature trees he gave us. Everyone got to do at least 2 trees to learn on and all members did a great job.
They are all very excited about our backcountry hitch crosscutting next week. With lunches on the dock and under the great spruce forest, we all want to see some great sights and get metaphorically lost in the nature of work in the beautiful snowy mountains that surround us. Everyone is in awe at the majestic beauty of the Colorado mountains and the rugged, jagged, and impending that they provide, looming above us taunting us with their mysterious aura. The crew all love each other and couldn't ask for a better crew to be with.
-Liam (Shadow Mountain Crew Leader)
The first two days of working and living with the crew created camaraderie and bonds as coworkers and friends. The camping and working environments help everyone open up and be themselves around one another, and we've quickly become a family unit.
Our first week was spent working with the forest service to repair a buck and rail fence on the shores of Araphao National Recreational Area. This area has been misused by boaters that have not been inspected. This has resulted in an increase of zebra and quagga mussels. This invasive species clog water systems and harm native fish. They cost the U.S economy up to $1 billion (seagrant.um.edu). Repairing the fence will help keep boaters out and remain open to day users, kayakers, and snowmobiles.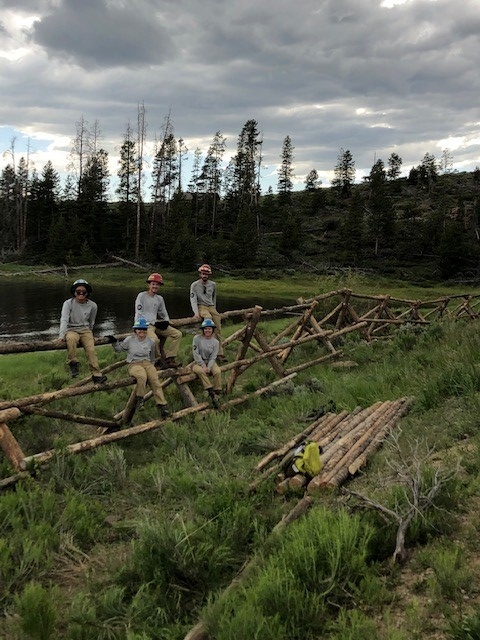 After a hot first day of building fences, we all mustered up the courage to jump into the lake on the campground. Although it was freezing and we were all shivering, it felt refreshing to cool off after work. This has quickly become a daily tradition.
So far this week everyone on the group has been able to try out cooking a new recipe for the rest of the group. These include nachos, spaghetti with veggie sauce and ground turkey, and tacos. This was everyone's first time learning how to cook for many hungry people after a long day of work in the woods! Despite some struggling with the Coleman stove, we managed to whip up some delicious meals. Next week will be our first hitch of the season!
-Sarah (Shadow Mountain Crew Leader)