Serve in One of America's Premier National Parks or Forests
Our Conservation Corps provides a unique experience for young adults aged 18-25. No matter your outdoor experience or knowledge, this is an opportunity for you to spend your summer with us completing hands-on conservation work in the beautiful Rocky Mountains. For eleven weeks, crews work side by side with Rocky Mountain National Park and Arapaho-Roosevelt National Forests crews constructing and maintaining trails, restoring historic buildings, and learning from expert NPS and USFS land managers.
The Rocky Mountain Conservancy-Conservation Corps is an AmeriCorps Program through The Corps Network.
The upcoming RMC-CC season is from Late May through early August 2022, with a possible extension into Fall 2022.
Please visit the Conservancy Blog for updates on the Conservation Corps program.
Qualifications
Crew Member Information and Application Materials – Application window is CLOSED for the 2022 Season
Resources for future application windows…
If you do not already have a resumé or cover letter, feel free to use these provided templates to build one. You do not need to use these templates if you already have a resumé and cover letter. 
Compensation
Members will receive a biweekly living stipend during the program and an AmeriCorps Education Award upon successful completion of the program. All work clothing, housing, and gear are provided by the Rocky Mountain Conservancy.
Crew Locations and Housing
Crews are located throughout Rocky Mountain National Park and the Arapaho-Roosevelt National Forests located in Northern Colorado. In Rocky Mountain National park, two crews work on the east side of the Continental Divide, near the town of Estes Park, CO. Within the Arapaho-Roosevelt National Forests crews work out of the Boulder, Canyon Lakes, and Sulphur Ranger Districts. Check out the GIS Story Map below for details on crew locations and projects. From furnished bunk houses provided by the National Park Service and US forest Service to backcountry camping in the Arapaho-Roosevelt National Forest, your housing will be fully provided by the Rocky Mountain Conservancy.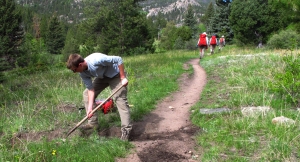 Moraine Trails
(East side of Rocky Mountain National Park):
Focusing on trail construction and maintenance, the Moraine crew lives in Moraine Park Campground, inside Rocky Mountain National Park. This crew primarily works day trips on the most heavily trafficked trails in RMNP. Working closely with the NPS Trails department, crew members will learn technical trail-work skills from national park rangers.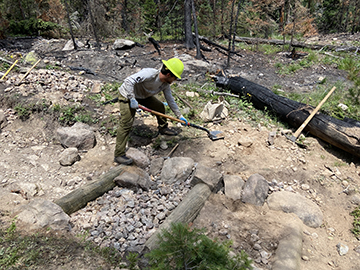 Rocky Fire
(East side RMNP)
The Rocky Fire crew works closely with the RMNP Fire Department, working primarily on fuels mitigation in the national park. Crew members will receive specialized training and experience in fire behavior, fuels mitigation, and chainsaw use and maintenance. Such training will allow the crew to earn their "Red Card" certification, a nationally recognized wildland firefighting certification that qualifies crew members to become federally commissioned firefighters.
Rocky Fire Crew has a longer season to better match the needs of the Rocky Mountain National Park Fire Department. This season will run from late May thru the end of September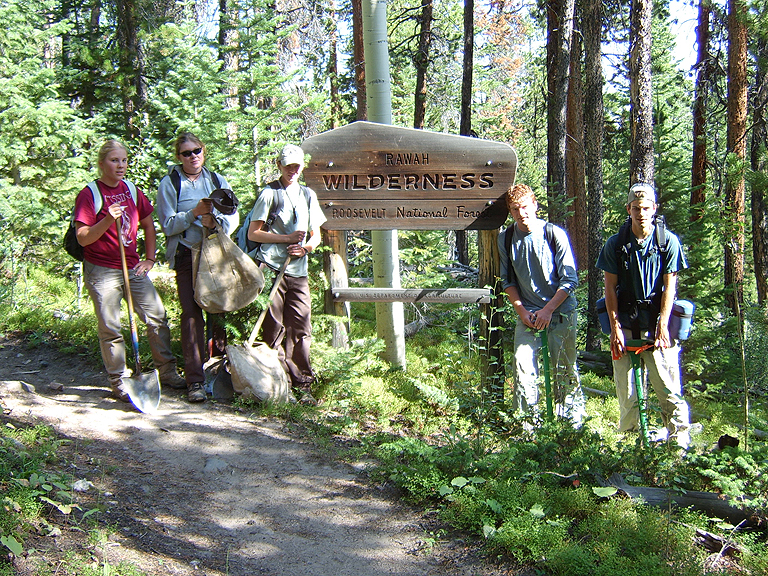 Kawuneeche Trails
(West side of RMNP)
A new crew to the 2022 season, the Kawuneeche Trail crew will live and work on the western slope of RMNP. Crew members will camp all summer in the Timber Creek Campground and will work in the park on trails that were heavily damaged by the 2020 wildfires.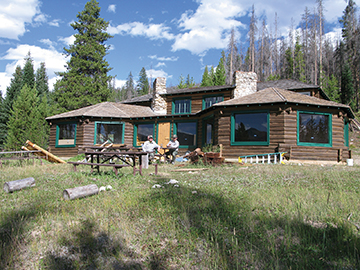 Historical Preservation
(East side of RMNP)
Another new crew to the 2022 season, the Historical Preservation crew will provide valuable rehabilitation services to dozens of near-century-old buildings in RMNP. Skills like carpentry, plumbing and construction project management will be practiced by the historical preservation crew partnering with the NPS.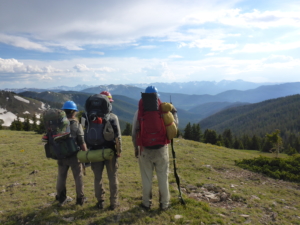 Canyon Lakes
(US Forest Service in the Rawah Wilderness)
The Canyon Lakes crew partners with the Canyon Lakes Ranger District of the Arapaho-Roosevelt National Forest. Living in the Stub Creek ranger cabin in the Rawah Wilderness, the Canyon Lakes crew is the most remote crew in the Conservancy's Corps. They work on fire-impacted trails in the Rawah and Comanche Peak wilderness areas, as well as on trails all along the Poudre River Canyon.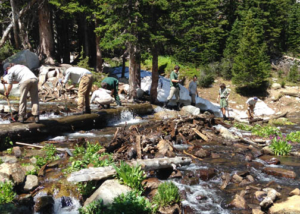 Boulder
(USFS near Nederland)
Based out of the Boulder Ranger District and camping in Kelly Dahl Campground near Nederland, Colorado, the Boulder crew works primarily in the Indian Peaks Wilderness, often on 4-day long backcountry hitches. Partnering with the US Forest Service as well as the Boulder Climbing Community's Front Range Climbing Stewards (FRCS), the Boulder crew repairs and maintains trails that rock climbers often use to access climbing areas. There is no rock climbing required for this crew.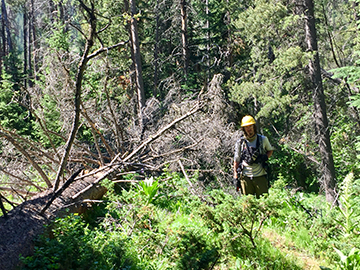 Sulphur District
This crew, partnering with the Sulphur Ranger District's trails team, will spend several weeks at backcountry hitches. The main work for the Sulphur Trails crew will be clearing existing trails of fallen trees using a decades-old, 6-foot-long crosscut saw. Crew members will earn a national certification in the crosscut saw.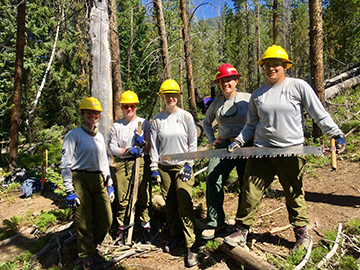 Sulphur Recreation
(Arapaho National Recreation Area)
While both Sulphur Crews will live together, they may not always work together. The Sulphur ANRA crew will work on campsite maintenance and rehabilitation in the Arapaho National Recreation Area. On occasion, they will join in with the Sulphur Trails crew on hitch to crosscut fallen trees. Both Sulphur crews will receive crosscut saw certification.
Conservation Corps Projects – Story Map