Family-Friendly Educational Bus Tours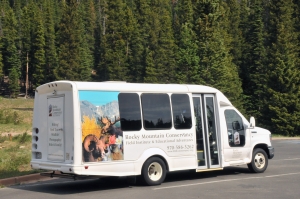 From the comfort of a 14-passenger bus, the Rocky Mountain Conservancy Field Institute offers guided bus tours throughout Rocky Mountain National Park to areas including Trail Ridge Road, Bear Lake Road, Grand Lake, and meadow areas highlighting the elk rut in the fall. Each tour offers a different adventure and is led by one of our talented naturalist guides.
Unless otherwise noted, all tours will begin and end at the Estes Park Visitor Center at 500 Big Thompson Avenue in downtown Estes Park. Entrance fees and timed entry permits for Rocky Mountain National Park are included in tour fees.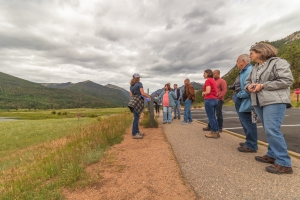 Interested in a personalized experience? We can create a custom tour for you and your group. More information here:
Custom Learning Experiences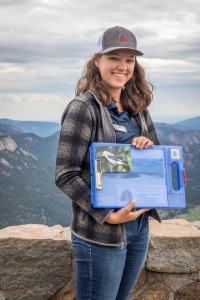 Tour Descriptions
We are now taking reservations for all 2023 bus tours! Purchase tickets online by clicking on the buttons below. You'll receive confirmation by email from Eventbrite. Paper tickets or e-tickets are NOT required. Our guides will check you in using the information provided at check-out.
View All Available Dates & Buy Tickets
Fall Scenic Ecology Elk Tour, Thursdays, Fridays, and Saturday, September – October, 3pm departure
It's impossible to ignore the magic of fall in the Rockies! The fall rut is a spectacular display of elk mating behavior featuring bugling, posturing, and herding displays by the bulls. Paired with the reds and golds of fall foliage, this extraordinary event will be available for viewing from the comfort of our 14-passenger minibus staffed by a professional educational guide who will discuss elk ecology, interpret elk behavior for guests, and have elk artifacts such as antlers and hides for participants to see and touch. This tour is approximately 3 hours in length.
Adults: $50, children 12 & under: $25



Women of Rocky History Tour, Fridays, September 15 – October 26, 9am departure
Join Rocky Mountain Conservancy on a unique educational experience by bus! You will venture throughout the Estes Valley and Rocky Mountain National Park to walk in the footsteps of magnificent women who homesteaded and visited the area. This program will include the stories and impacts of European homesteading women including Isabella Bird, Anna Wolfrom Dove, Esther Burnell, Bettie Willard, and others.
Adult tickets also include a copy of the book "The Magnificent Mountain Woman: Adventures in the Colorado Rockies" written by Jan Robertson, thanks to the generous sponsorship of Visit Estes Park.
Adults: $50, children 12 & under: $25



The following tours resume in June of 2024. Tickets will go on sale in March of 2024.
Trail Ridge Road Scenic Ecology Tour
Friday and Saturday mornings, June – August
One of the premier attractions of Rocky Mountain National Park is Trail Ridge Road, the nation's highest continuous paved highway. Trail Ridge Road meanders through various life zones on its way through the park, and over one of the largest, most pristine stretches of alpine tundra in the lower 48 states. Participants receive a unique overview of the park's history, flora, fauna, and geology while viewing the landscapes from the comfort of our 14-passenger minibus, with opportunities for taking pictures at many stops along the way. The tour is approximately 5 hours in length and includes time for participants to eat lunch at the Alpine Visitor Center. Bring along a bag lunch or purchase light fare at the Trail Ridge Store & Cafe. ($75 for adults & teens, $45 for children 12 and under)
Welcome to Rocky! Educational Ecology Tour
Weekday afternoons, June – August
Rocky Mountain National Park is a beautiful place where gorgeous mountain vistas greet you around every corner, but it's easy to forget about the unique inhabitants that make this area so special. Join our naturalist guide on a 14-passenger minibus as we visit iconic locations and seek out the interesting critters of RMNP. Spend the afternoon at some of the park's most breathtaking locations, including Horseshoe Park, the Alluvial Fan, Moraine Park, and more, learning about the wildlife that make this region so fascinating. This tour is approximately 3 hours in length. ($50 for adults & teens, $25 for children 12 and under)
Journey Over the Divide Scenic Ecology Tour
Select dates, June – August, 8am departure
Rocky Mountain National Park contains breathtaking scenery, abundant wildlife, and opportunities to connect with the past along Trail Ridge Road, the awe-inspiring byway across the Continental Divide. Participants on this expanded tour will receive a unique overview of the park's history, flora, fauna, and geology while viewing the landscapes from the comfort of our 14-passenger minibus as we travel from Estes Park to Grand Lake. Stops include Rainbow Curve, the Alpine Visitor Center, Milner Pass/Continental Divide, and the Holzwarth Historic Site. This tour is approximately 6 hours in length and includes time for a picnic lunch in the Kawuneeche Valley. Please plan to bring along a picnic lunch for yourself and your group. There are no concession services at the picnic areas. ($95 for adults & teens, $55 for children 12 and under)