Support Rocky with RMNP Group License Plates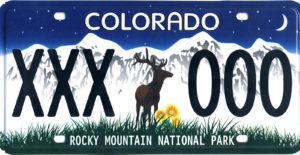 The Conservancy administers the official Rocky Mountain National Park Group Special License Plate, which is available to Colorado-registered vehicle owners. It does not replace the standard Colorado state license plate but is a voluntary fundraising option through the State of Colorado's Group Special Plate program.
100% of your license plate donation ($30 minimum) supports vital projects and programs in the Park. For example, in 2017, these funds helped to launch a new Conservation Corps program ­‑ the High School Leadership Corps. This program engages students in conservation projects, leadership development, and environmental education during an immersive two-week internship experience in the park.
Thank you for your support!
RMNP Group Special License Plate FAQ's
If you have additional questions, please call the Rocky Mountain Conservancy: 970-586-0108
Thank you for your support!