Mark your Special Occasions
Are you looking for a meaningful way to remember or honor a loved one, or to celebrate a marriage, anniversary or other special event? The Rocky Mountain Conservancy provides several opportunities that will last long after flower arrangements have faded. You will also have the comfort of knowing that your decision will benefit the park.
Setting Up a Memorial or Honor Fund
If you have lost a loved one, or are celebrating a marriage, birthday or other special event, you can set up a fund with us (donations may be directed to a fund of your choice). Contact us for more information, or,
Mail checks to:
Rocky Mountain Conservancy
Attn: "Last Name" Fund
P.O. Box 3100
Estes Park, CO 80517
Please include the memorial or honor name on the check
Also include contact information so we can acknowledge a memorial or honor gift to the recognized family or individual

You can also donate a memorial or honor gift online here.
Memorial Plaques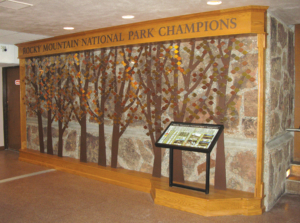 Engraved, leaf-shaped plaques are installed on our Donor Recognition Wall at the Beaver Meadows Visitor Center. This beautiful display evokes a grove of aspen trees and is located in the peaceful lower level of the Visitor Center. Donations of a set amount are eligible for placement on the donor wall and may be applied to a fund of your choice. Contact us for more information.
Memorial Benches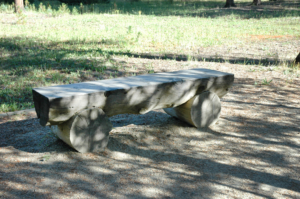 These rustic pine benches are placed in available locations throughout the park and provide places for rest and contemplation. Your donation will enable us to build and place a new bench in the name of your loved one (Note: the average lifespan of a bench is 5–10 years, depending on location). Please contact us for gift levels and availability.

Want to Make a Memorial or Honor Gift?