Earn Credits for Your Field Classes
Did you know you can earn university and teacher relicensure credit through the Rocky Mountain Conservancy's Field Institute? Keep reading to find out how.
Earn Teacher Relicensure Credit
Educators can receive relicensure units for full-day and multi-day classes, as approved through the Centennial Board of Cooperative Education Services (BOCES). Each full day of class time is equal to 0.5 units of credit. Fees are in addition to class fees and are $25.00 per class or for a series of related classes (threads).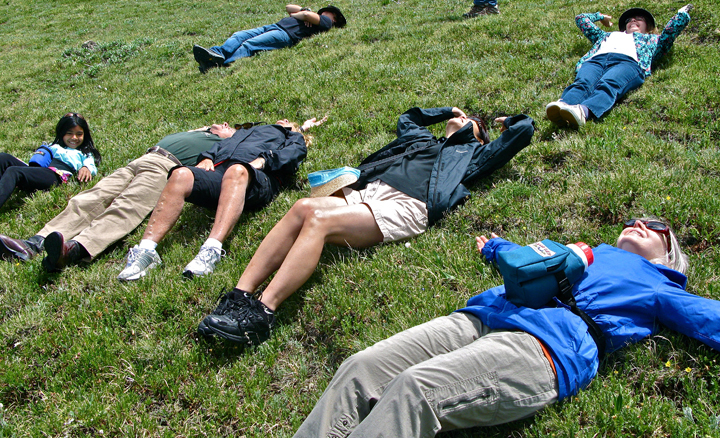 Threaded seminars are designed for Colorado educators with a current Colorado Teaching License. The seminars in each thread are pre-authorized by BOCES for $25 per thread plus the registration fee. Educators must register and prepay for all the courses in a thread to receive the special BOCES rate. A check made out to BOCES must be given to the seminar coordinator at the last class in a thread. Any single seminar may be taken for BOCES credit. Only threaded classes will receive the special rate. Please bring a check payable to BOCES. Teachers will receive a BOCES certificate within approximately two weeks after attending the seminar. You should check with your district to ensure credit acceptance. For teacher relicensure credit questions, please contact the BOCES staff development officer at 303-772-4420. Additional details about BOCES threads are available here.
Earn University Credit
University credit, both graduate and undergraduate, is available for some single and multi-day seminars. Levels of credit and costs vary depending upon the specific course, but in general, one credit is granted for every 15 hours of instruction.
NOTE: Not every seminar is eligible for university credit. Seminars that will receive university credit are individually noted. Additional credit information is listed with each course, some of which are still in the credit-approval process. Please call us to confirm course credit status after April 15. View CSM credit classes >
Credit tuition fees and registrations are in addition to the Rocky Mountain Conservancy Field Institute fees and are processed at the first meeting of each class. Fees are payable to universities by check or credit card. Instructors require extra academic work from students seeking college credit. Grades are submitted by course instructors upon receipt of final projects. Please consider the availability of transcripts if you have a personal deadline for acquiring credit and contact Colorado School of Mines for deadlines.