Field Institute
Our Field Institute classes are field-based, hands-on learning experiences taught by experts in the field. A wide range of topics are available, including wildflowers, mammals, birds, cultural history, outdoor skills, photography, painting and writing.
Learn More About the Field Institute
Scenic Ecology Bus Tours
We offer a variety of educational bus tours that are appropriate for all ages! Sit back, relax, and let us guide you through an exploration of some of Rocky Mountain National Park's unique life zones, including several trips to the alpine tundra. Tour descriptions and tickets are available at the link below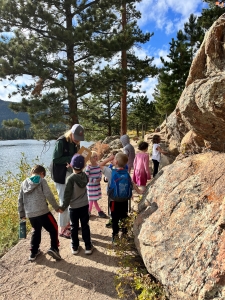 Family and Children Programs
Specific courses designed for families and children provide an introductory opportunity for exploration of our favorite spots in Rocky in an accessible and educational environment.
During the school year, Rocky Mountain Conservancy has received funds to support free after school programming twice a week at a local elementary school. This initiative focuses on the place-based learning initiatives of the school, while also focusing on exploration, education, and confidence building. Registration for the spring semester opens July 15, 2023.
Bettie Courses: Women and Conservancy
The legacy of Beatrice Willard.
We are excited to offer new and exciting courses for our community and members. Beginning this fall, Rocky Mountain Conservancy Field Institute began offering Bettie Courses. These courses are named after Dr. Beatrice "Bettie" Willard, who inspired the educational seminars in the park and was one of the first instructors of the Field Institute programs. Bettie initiated some of the first alpine environment research in the early 60s, and focused her research on the tundra in Rocky Mountain National Park. Her research ultimately was instrumental to mountain ecology and management of the tundra in RMNP, and her land protection advocacy throughout the state of Colorado left a legacy for all women who value land stewardship and conservation. To honor and recognize this remarkable woman, these Bettie Courses were created to encourage women, and those that identify as women, to learn about conservation efforts and get outside.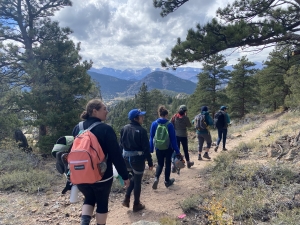 In honor of Jan Robertson, the Rocky Mountain Conservancy board has created a scholarship fund to assist these programs. Jan Robertson served on the Rocky Mountain Conservancy board for 20 years and retired from her service in October 2022. She first toddled in Rocky Mountain National Park 80 years ago. Since then, often with her husband, she's hiked, skied, climbed and backpacked in it so often that it's her home. In the early decades, she saw almost no women recreating outdoors without a man in their party. In 1990, her book, Magnificent Mountain Women came out, documenting the many women who had connected with the mountains in meaningful ways. While exploring Rocky or climbing all of Colorado's 14ers or hiking the 460-mile-long Colorado Trail in 1988, when it was dedicated, she almost never saw people of color. These days, while she sees a few more, they certainly aren't visiting the park in numbers that reflect their populations. Encouraging minorities is one of her primary goals while serving on the Conservancy board, as is another equally important issue in this park: helping to find solutions to the high-volume visitor-use problems now facing this small national park.
It is our honor to dedicate these initiatives to the work these devoted women began.
Education and Outreach
Through partnerships with local organizations, corporations, and aligned members of the community, Rocky Mountain Conservancy works to fulfill its mission promote stewardship of Rocky Mountain National Park and similar lands through education and philanthropy. It is our goal to connect individuals with our majestic public lands by increasing access through programming.