Creating Connection to Nature
Through partnerships with local organizations, corporations, and aligned members of the community, Rocky Mountain Conservancy works to fulfill its mission promote stewardship of Rocky Mountain National Park and similar lands through education and philanthropy. It is our goal to connect individuals with our majestic public lands by increasing access through programming.
If there is an opportunity to partner to help us fulfill our mission and goals, please reach out to us!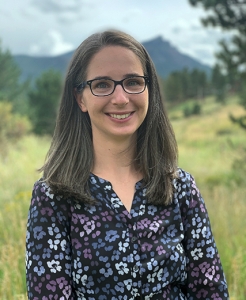 Danielle Wolf
Interim Education Director
danielle.wolf@rmconservancy.org
(970) 586-0108 ext 100
Educational Outreach Events
By connecting researchers, scientists, and experts on current topics to the public through community outreach events, the Conservancy builds informal, accessible educational experiences. Events are often held in nearby communities and throughout the Rocky Mountain region.
Course Scholarships
In honor of Jan Robertson, the Rocky Mountain Conservancy board has created a scholarship fund to assist participants in Bettie Courses, an initiative to connect women to conservation efforts. Jan Robertson served on the Rocky Mountain Conservancy board for 20 years and retired from her service in October 2023. She first toddled in Rocky Mountain National Park 80 years ago. Since then, often with her husband, she's hiked, skied, climbed and backpacked in it so often that it's her home. In the early decades, she saw almost no outdoor women going manless. In 1990, her book, Magnificent Mountain Women came out, documenting the many women who had connected with the mountains in meaningful ways. While exploring Rocky or climbing all of Colorado's 14ers or hiking the 460-mile-long Colorado Trail in 1988, when it was dedicated, she almost never saw people of color. These days, while she sees a few more, they certainly aren't visiting the park in numbers that reflect their populations. Encouraging minorities is one of her primary goals while serving on the Conservancy board, as is another equally important issue in this park: helping to find solutions to the high-volume visitor-use problems now facing this small national park.
It is our honor to dedicate these initiatives to the work these devoted women began.