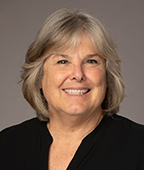 Board Member
Location: Denver, Colorado
Laurie is passionate about putting her skills to work to protect the environment and change peoples' lives for the better.
After completing her undergraduate degree cum laude at the University of Colorado, she earned a master's degree in environmental engineering from Stanford. She spent her early career drafting environmental policy and working with government leaders at the state and national levels.
Laurie was honored to serve as Director of Colorado State Parks from 1991 to 2001. Under her leadership, the department constructed 19 new visitor centers, established statewide environmental education programs, and added $16 million of buffer land to expand and protect existing parks. In 1992 Mathews was a key leader in the creation of Great Outdoors Colorado (GOCO) the organization which uses a portion of Colorado lottery proceeds to help preserve and enhance state parks, trails, wildlife, rivers, and open space. To date, GOCO has expended $1.3 billion on over 5,500 projects located in every county in Colorado.
In 2001 Mathews founded Global Dental Relief (GlobalDentalRelief.org) to provide critical dental care to children in underdeveloped countries. The organization leads 25 trips per year to seven nations with dental professionals and volunteers. They provide dental care to 25,000 children annually. Since its founding, the organization has provided $41 million in dental care to 195,000 children.
Laurie joined the board in the fall of 2022.