From June to August 2021, I was a Crew Leader for the Rocky Mountain Conservancy – Conservation Corps stationed in the Canyon Lakes District of northern Colorado. Myself, my co-leader, and our 8 crew members spent our summer rehabilitating trails that had been burned in the Cameron Peak Fire of 2020. After crew leader training week, I left Estes Park en route to the Rawah Wilderness to begin the season. As I drove through the Poudre Canyon on Highway 14 for the very first time, I was awestruck by its beauty; the highway follows the meandering Cache la Poudre River through a deep canyon of towering granite, gneiss, and schist. It was the most spectacular scenery I'd ever seen, so it was inevitable that my eyes became misty once I crossed the obvious threshold from the healthy canyon floor into the burn area.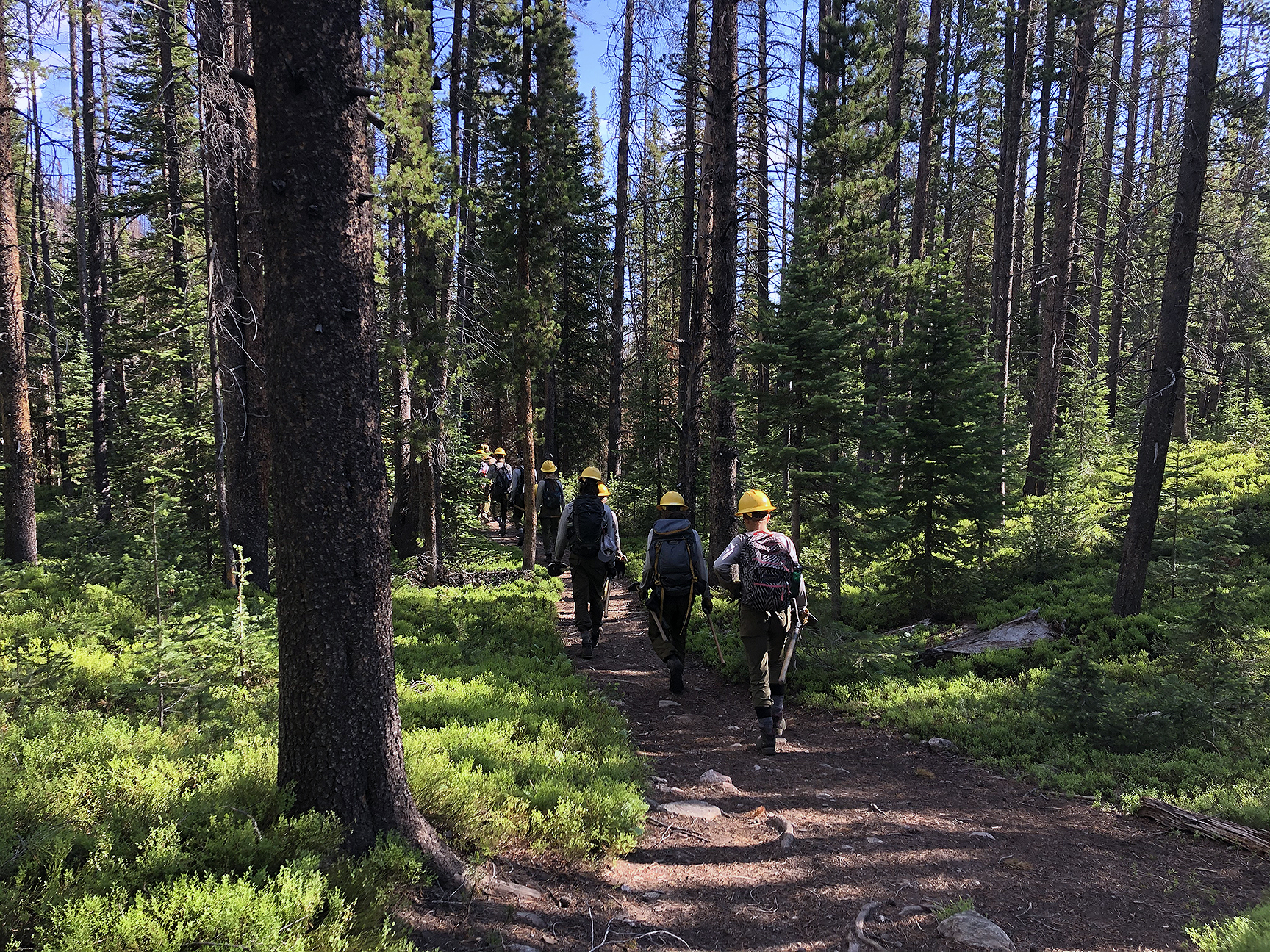 The Cameron Peak Fire burned 208,913 acres in the Roosevelt and Arapaho National Forests and Rocky Mountain National Park between August 13 and December 2, 2020. It is the largest wildfire in Colorado history, receiving resources and assistance from more than 46 states and Puerto Rico. Growing up in Pennsylvania, I had never been a first-hand witness to the aftermath of a forest fire, especially one as devastating as this. As I drove through stands of blackened aspens and watched ash that used to be fertile soil blow in the summer breeze like dust, I realized that the work journey I was about to embark on was much more significant than your average, everyday "trail work." My crew had been tasked with restoring recreation and hope in a destruction zone.
Throughout those three months, we worked primarily on Roaring Creek Trail and Blue Lake Trail, whose trailheads are both right off Highway 14. Both trails had been closed since the fire began. Our primary concern on these trails was erosion; since all the plants had been burned, the complex root systems that held the tread in place were no longer there. This specific kind of damage causes the ashy soil on trails to become extremely loose and prone to erosion and flash flooding, severely compromising the longevity of the trails.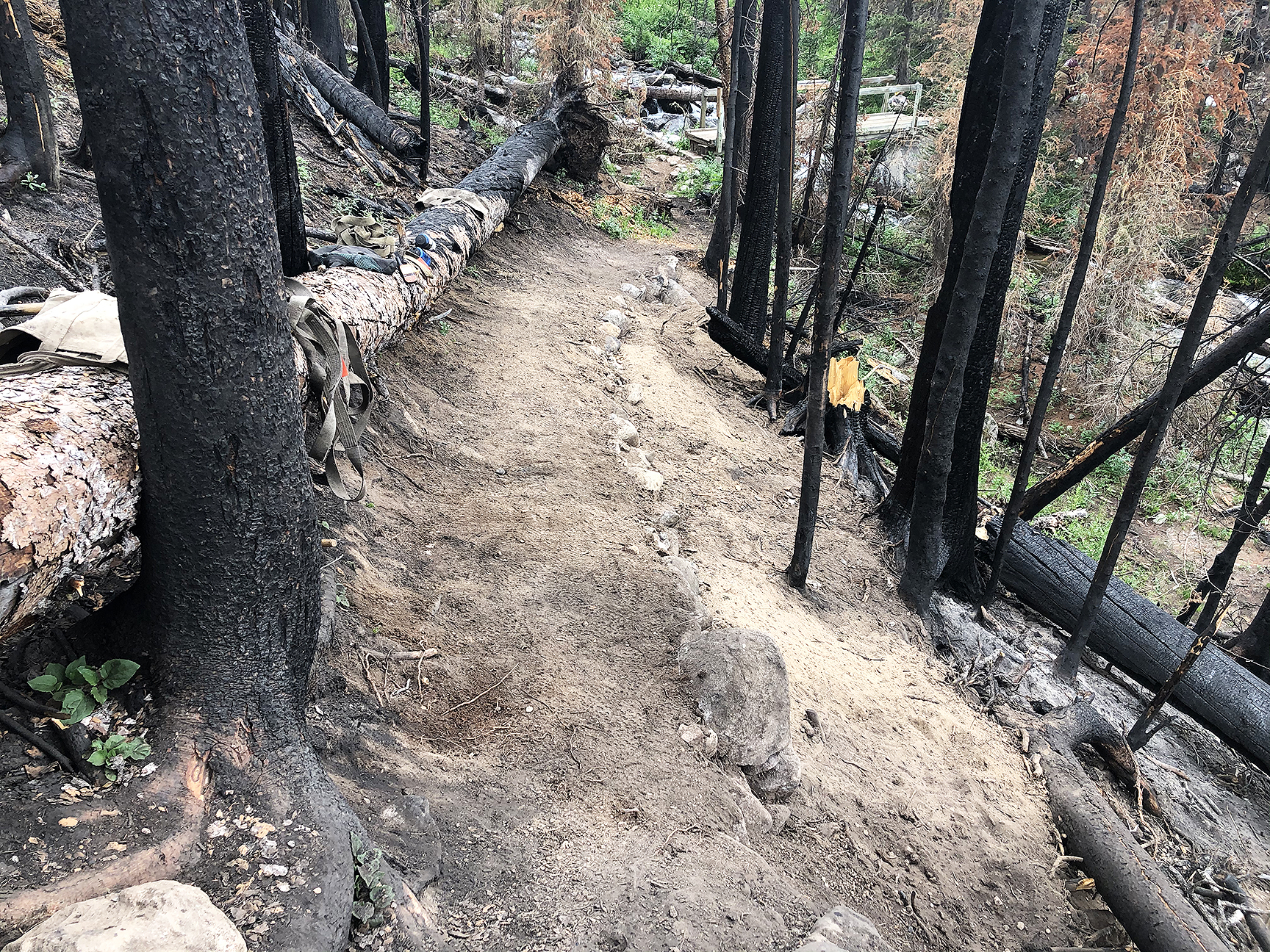 To mitigate this damage, we built rock walls. Many, many, many rock walls. Digging about 2 to 5 feet down along the edge of a trail, methodically stacking enormous rocks, and reinforcing the stacks with smaller rocks called crush creates a solid "critical edge" that reinforces the rest of the trail. This isn't a permanent solution, but these walls are built to last multiple decades, as opposed to wood-based trail reinforcements that burn along with everything else in a wildfire.
Every day, the ten of us returned to our cabin after work covered in ash. We blew ash out of our noses, had permanent dirt and soot underneath our fingernails, and sometimes got smashed fingers from the constant work of moving and placing huge boulders. We knew our job wasn't glamorous by any definition, but we understood that by restoring these trails, we were bringing hope in the form of outdoor recreation back to the Poudre Canyon.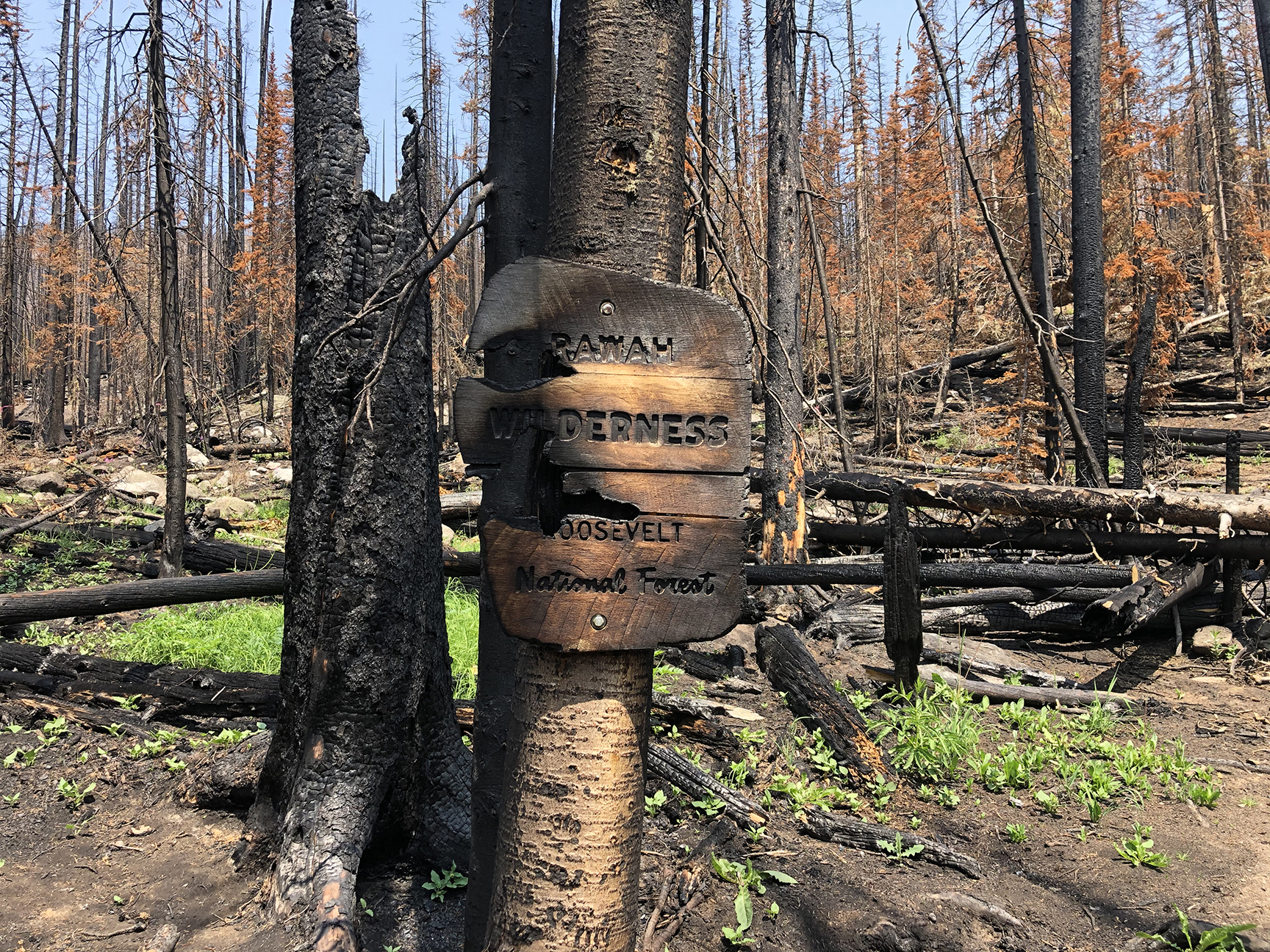 Soon after our season ended, we received word that due to our tireless efforts, Blue Lake Trail had been officially reopened to the public for the first time since the fire started. So, although we spent the summer covered in ash, surrounded by hazardous burnt trees, and full of deep melancholy upon seeing our beloved natural world in such a devastated state, we ended our season with an understanding of the importance of wildfire mitigation as well as the most sincere gratitude for each other and the resilient land that we were lucky enough to call our home for the summer.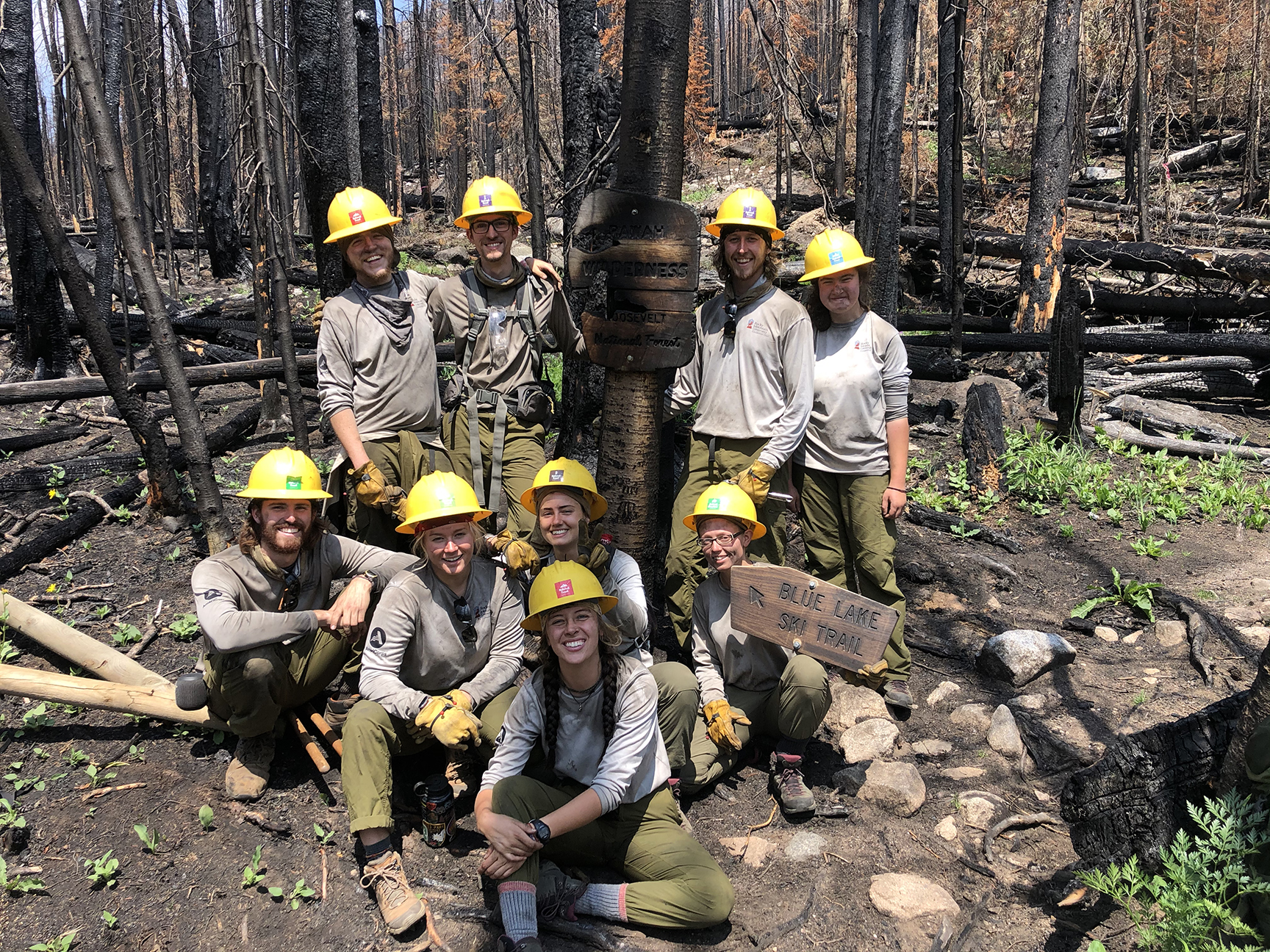 Erin Tansimore,
Rocky Mountain Conservancy Education Fellow
Cameron Peak Fire data source: https://inciweb.nwcg.gov/incident/6964/
The Cameron Peak Fire and the RMC-CC's Canyon Lakes Crew trail work occurred on the ancestral lands of the Ute, Arapaho, Eastern Shoshone, and Cheyenne peoples. For more information, visit https://native-land.ca/