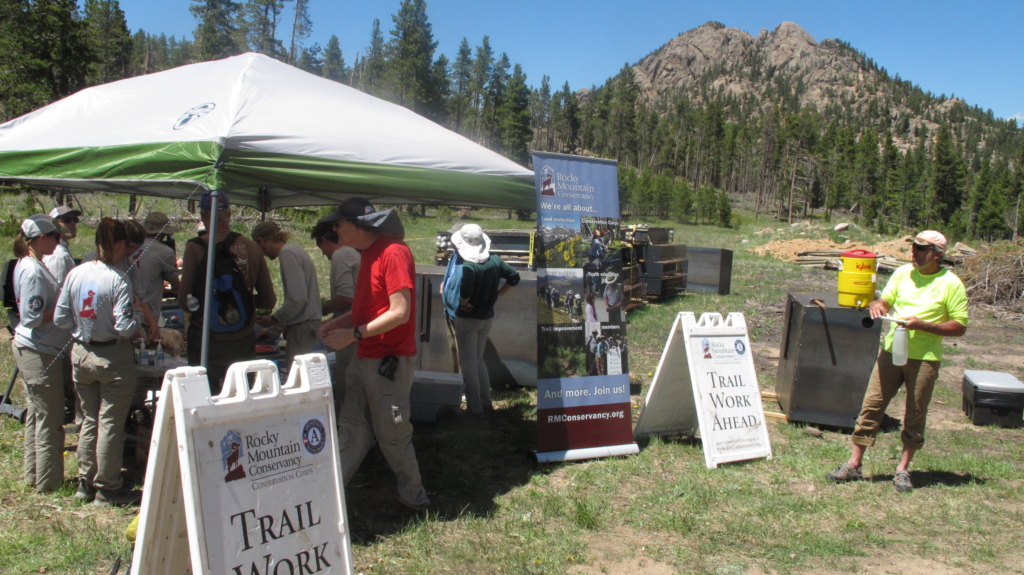 Rocky Mountain Conservancy and is hosting a volunteer trail project in partnership with the Poudre Wilderness Volunteers.
This project will close-out the Rocky Mountain Conservancy – Conservation Corps season. Join the Corps to celebrate their successes and give back alongside the next generation of public land stewards!
Volunteers will work to rehabilitate the old trail while also continuing to build sections of new trail.  There is about a 20 minute walk to the work site and volunteers will be asked to more brush and dirt and well as dig new trail with shovels, picks, and McLeods.  There is plenty of work available for people of all activity levels.
The Poudre Wilderness Volunteers will provide lunch for this event!
Who: Volunteer must be able to hike up to a mile and lift 20lbs.
What: Volunteer Trails Project
Where: Dunraven Trailhead (Near Glen Haven, CO) – Directions will be provided upon registration.
When: Sunday, August 5th from 9:00AM – 4:00PM
Why: Join the Conservancy and the Conservation Corps to give back and celebrate a successful summer!
For more information contact Geoff Elliot at Geoff.Elliot@rmconservancy.org or (970)586-3262
Space is limited, Register Here.