The Estes Crew spent a long, tiring, frustrating, smelly, exiting, enjoyable, and rewarding week with the NPS Trails Crew. We anxiously rolled into the Trails Shop at 6:30AM on Monday, only to find out that the Trails Crew begins every morning by shoveling manure out of the stock horse stables. That job quite literally stinks, but we got to pet some sweet horses each day!
After Monday's poop-scooping was done, we headed off to the Sandbeach Lake Trail with shovels in hand to do a short (but steep!) maintenance run. We cleared out drains on our hike up to the lake, and after quite a bit of postholing through knee-deep snow, we reached Sandbeach Lake just in time for lunch! The lake was serene, and the view was unmatched.
On Tuesday, we had the privilege of attending the NPS Seasonal Employee training all day at the YMCA of the Rockies. We were able to learn all about the Park Service, attend breakout sessions, and meet so many NPS employees, several of which were former RMC-CC members! The day was a ton of fun, plus it offered our sore muscles a chance to recover.
It was back to the trail on Wednesday, where we did a longer, but less taxing maintenance run on the Finch Lake Trail. By the end of the day, we were all starting to get into our own drain-digging routine, and were able to keep pace with the NPS Trails Crew. Wednesday was especially fun because it included a full-day visit from Gus, one of our favorite field coordinators!
Our work week was wrapped up with a very long day on Deer Mountain, where we maintained a continuous 10.5 miles of trail. We were beat from our first week of trail work, but we worked hard and totally crushed it. Personally, I'm very proud of our crew's persistence, hard work, and ability to make difficult days fun!
We're looking forward to another exhausting but awesome week with the Trails Crew, and cannot wait to explore new parts of the park! See you at the top!
-Charlotte, Estes Crew Leader
This week for Moraine Crew brought lots of preparation. On Monday we began by preparing 8 ft wooden planks that will, eventually, be built into picnic tables. Throughout the week we went further into the process of prepping the boards, ending with the staining of the wooden planks. Jazmin sure enjoyed the staining process!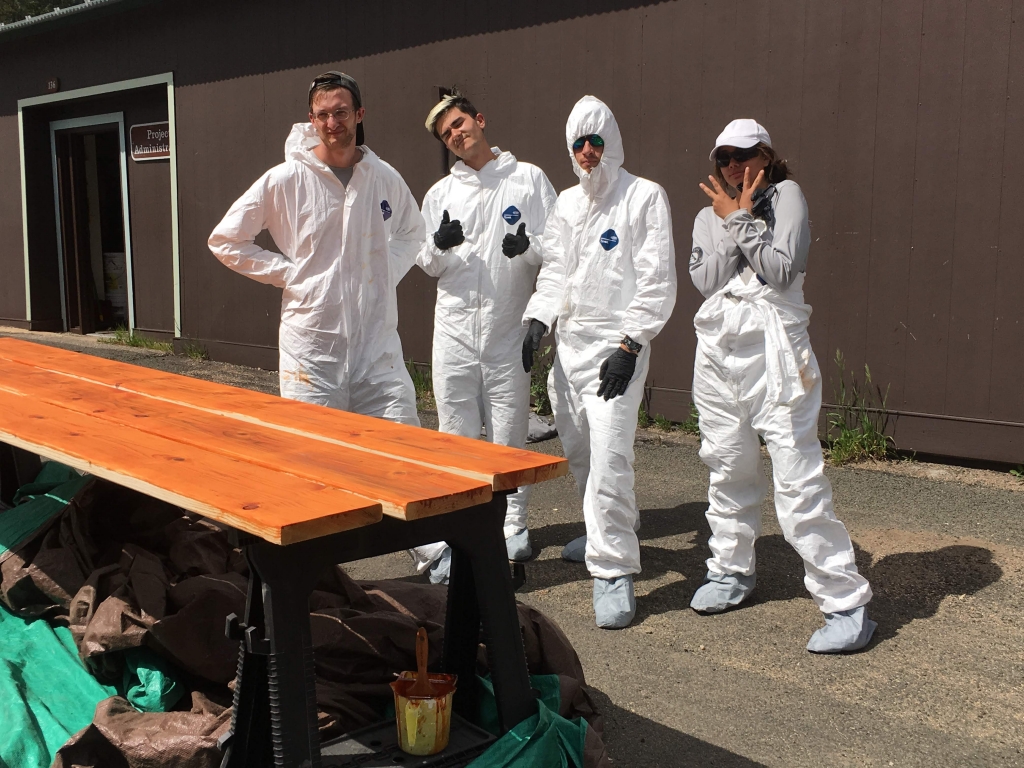 While we did not do many significant projects this week, we enjoyed placing a few logs on two campsites in Aspen Glen Campground. These logs were placed to stop the hillside from burying the tent pad. These projects took until Wednesday to complete the campsites, and any left over time was spent sanding and staining the wood.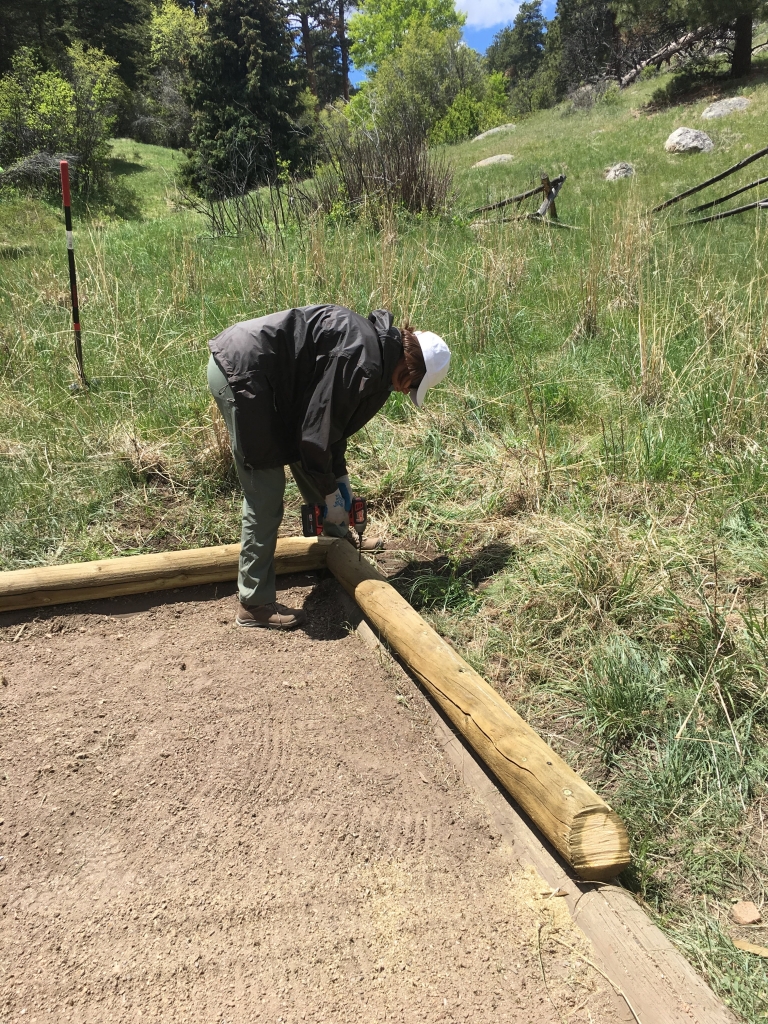 Thursday had us the most excited. We began by watching a few NPS videos about Effigy Mounds National Monument and the troubles they went through from 1990-2011. Following, we were able to learn how to safely build scaffolding that would be used the following week as well as learn to use the table saw to cut shingles. We learned the process for cedar shingling and how exact the measurements needed to be! A majority of time spent was used to gather all scaffolding materials, shingling materials, tools, cones, and any other minor things needed for our project next week! The weekend lead us to new adventures as some met family, while the rest hiked twin sisters!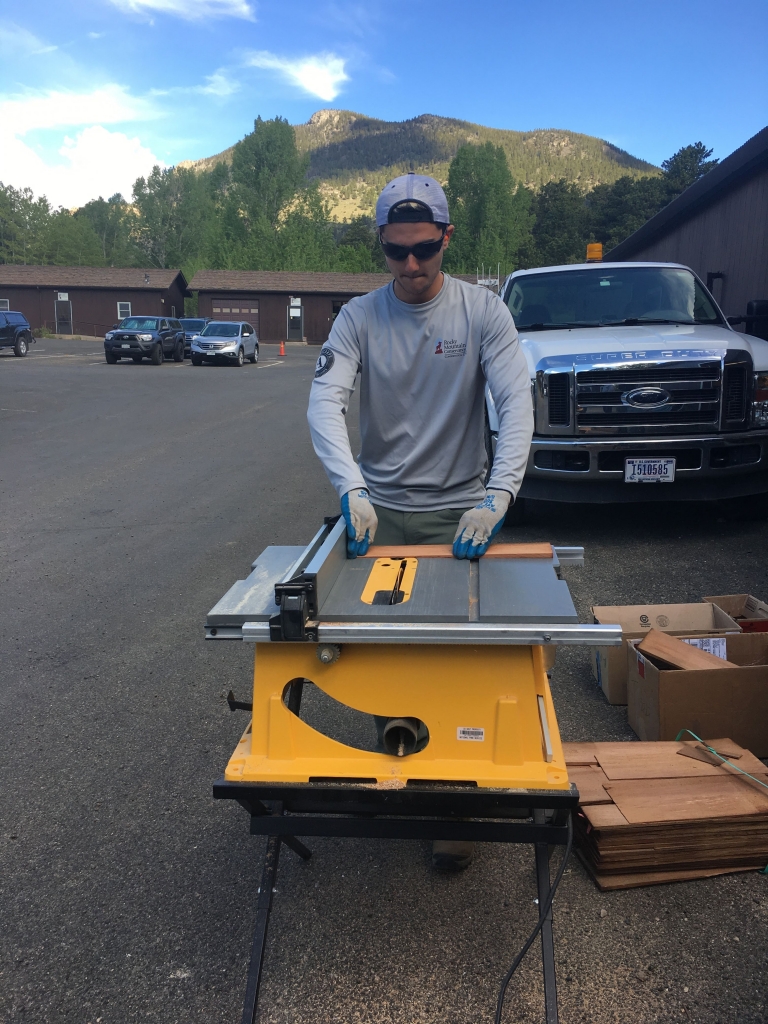 -Davina, Moraine Crew Leader
The Rawah Crew returned to Young Gulch this week for a second round of work on our rock projects. Nate gave us the rundown on several different projects last week and we were feeling eager to tackle them. Stoke was high after a weekend of eating and sitting in the sauna in Laramie.
The work this week was both challenging and rewarding. We had two main projects that the group dedicated time to. One project was a gnarly three-tiered retaining wall on a switchback, and the other was a 30 ft ramp built up to three tiers at the top.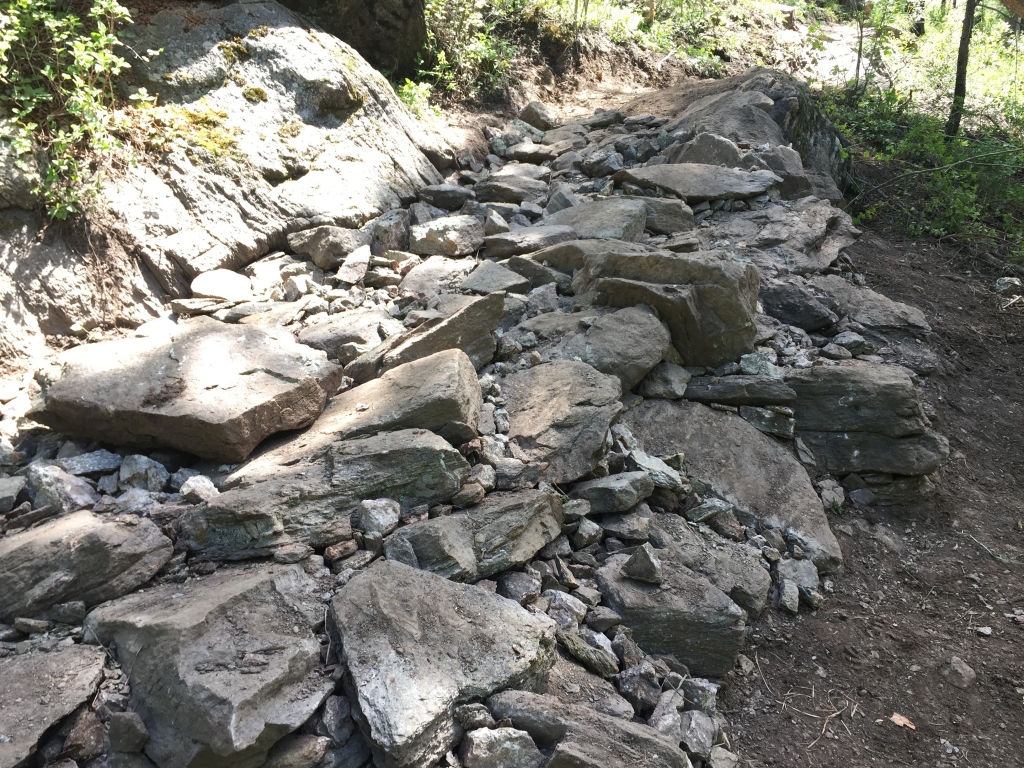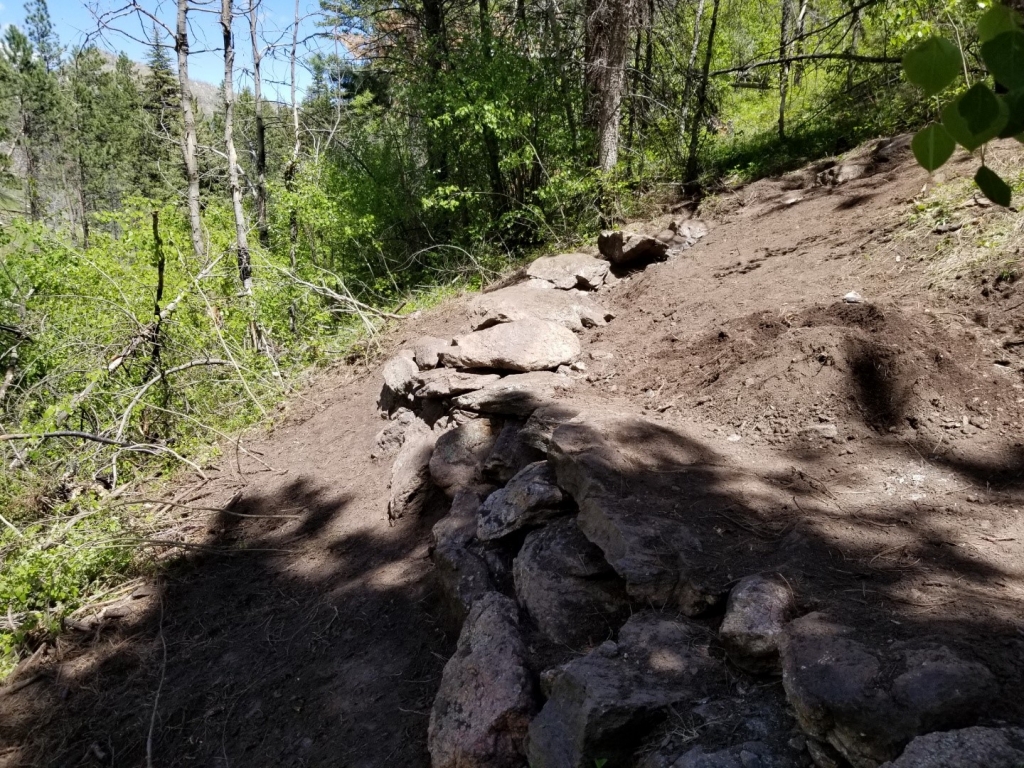 Our first three days were spent moving big rocks, setting rocks, and crushing rocks. For these first two weeks, we were "Rock-wah." On Monday we were joined by Bob Johnson, the founder of CATS (Colorado Addicted Trailbuilders Society). He shared his techniques and gave us an incredible head start on our projects. On Tuesday we were joined by BOTH field coordinators, Mary and Gus. The Rawah Crew doesn't get to work with other people too often, so days when we do are particularly fulfilling.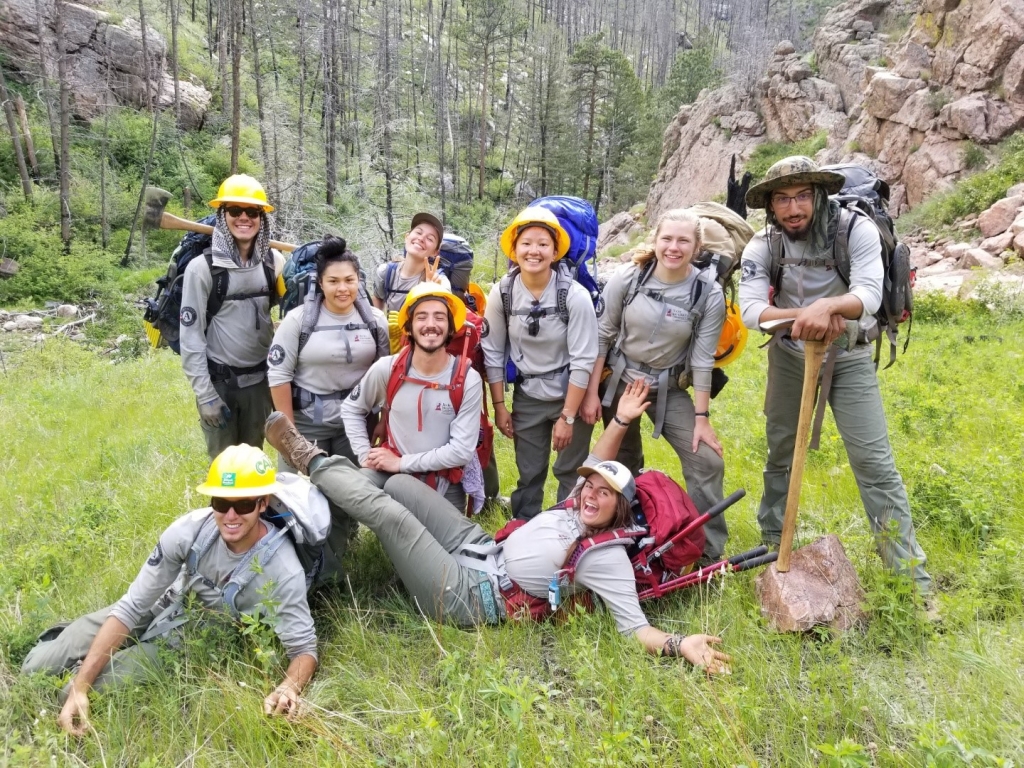 This hitch on Young Gulch revolved around food. Our basecamp could definitely classify as "glamping," as it is decked out with every camp kitchen gadget you could ever need, a large wall tent, and a gigantic tool cache. With all of these resources, our crew opted to carry glamorous meals instead of tents, stoves, pots, or tools. We had backcountry pizzas on night one (2.5 pizzas per person) and pad thai on night two (12 people including Gus and Mary). Morning three was interesting for us as we discovered that a Preble's Meadow Jumping Mouse (an endangered species!) was trapped all night in our bear bin holding the group dinner for night three. Not wanting to play around with hantavirus, we made the decision to cut our hitch short by one night.
For day four of our workweek, we went to Big South, which is James' favorite trail.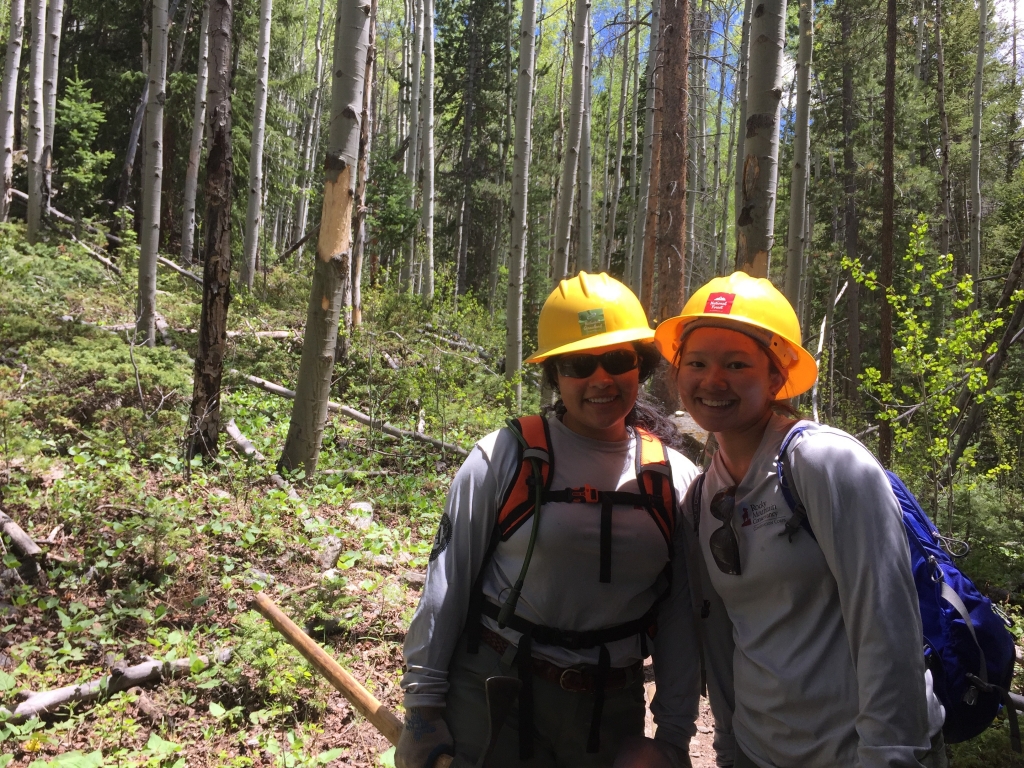 We had a brief lesson on how to dig a drain, and then the entire crew blew any and all expectations out of the water by digging over 100 incredible drains in one day. Drain after drain, we were so impressed by everyone's thorough work on Big South. We had a picnic lunch beside the raging Poudre River and ended our week on a spectacular note.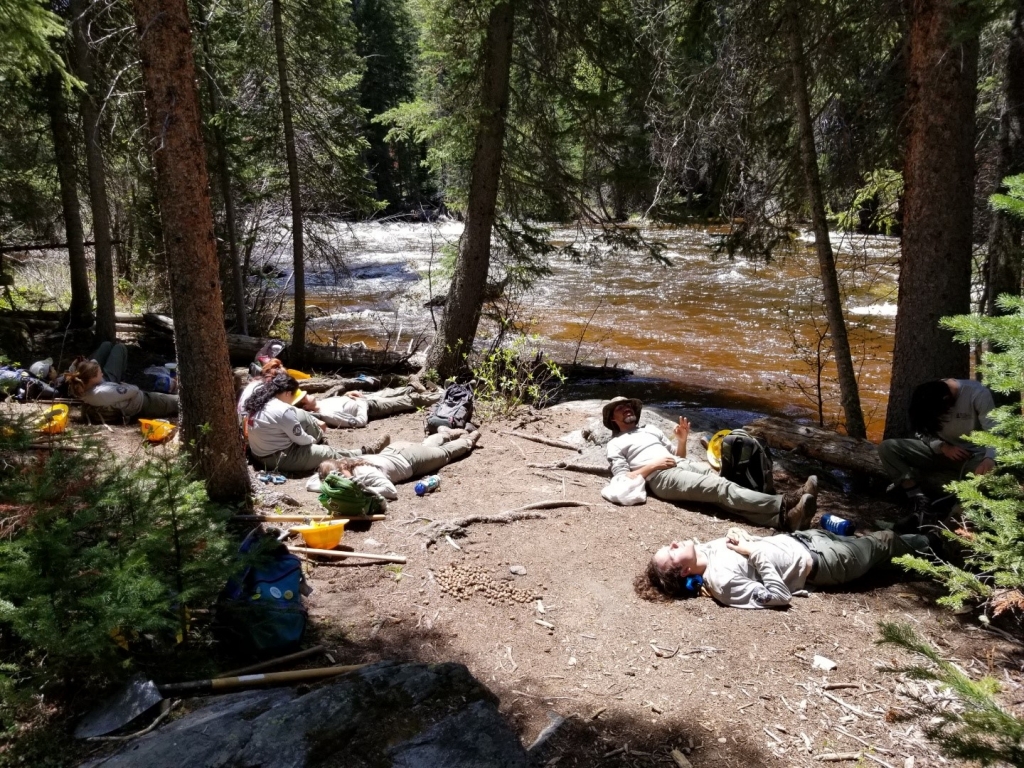 -Zoe & James, Rawah Crew Leaders
Week two of trail work proved to be a successful one for the Boulder Crew. We began the week with some crosscut saw training from our favorite Forest Service partner, Aggie. We then proceeded to the Forsythe Canyon trail where we would spend the rest of the work week. We ended Monday brushing up the upper head of the trail with loppers and handsaws.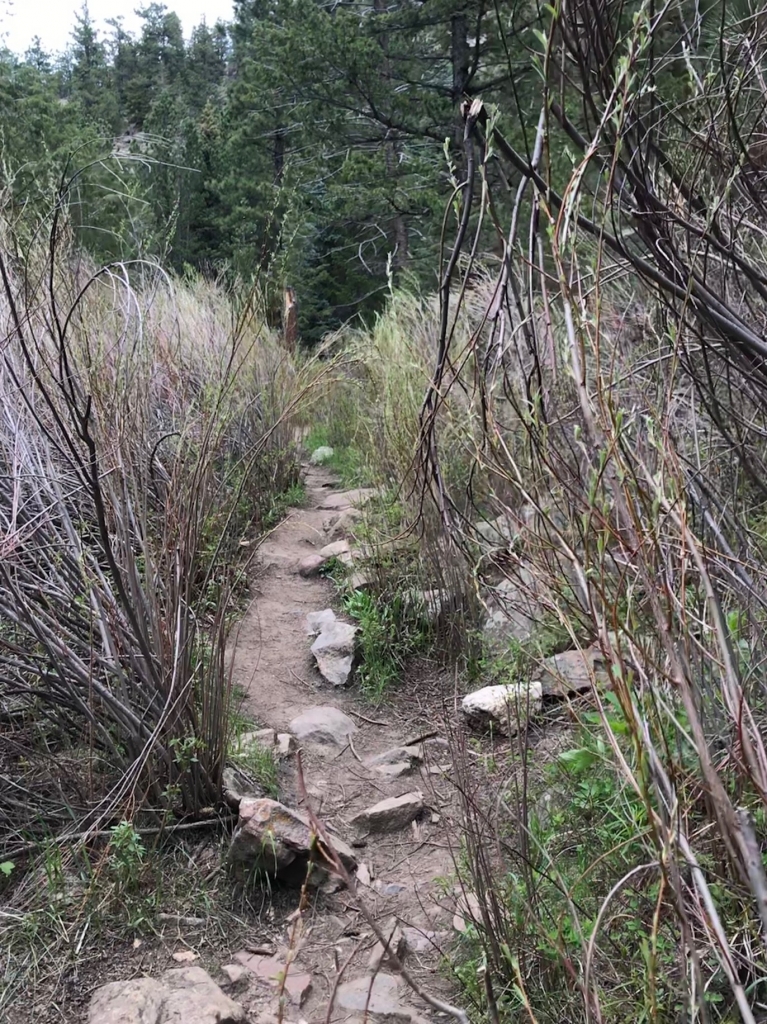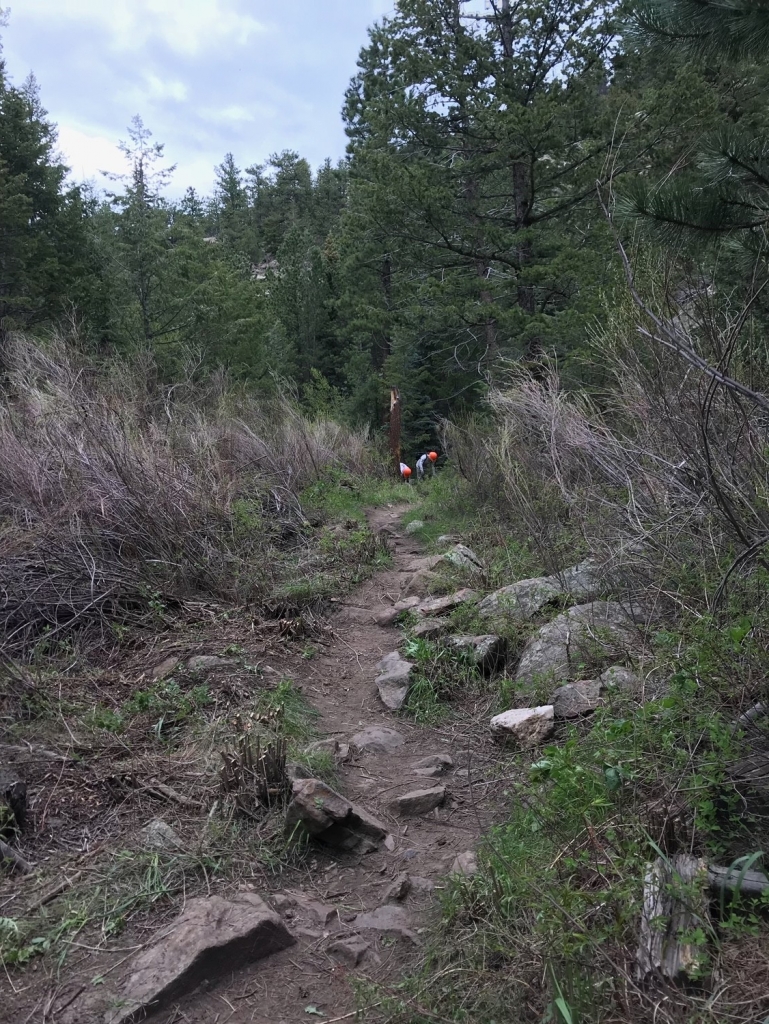 The entirety of Tuesday was spent brushing the middle portion of the trail. We also managed to fit in some crew bonding time spending lunch at a spectacular spot near a waterfall.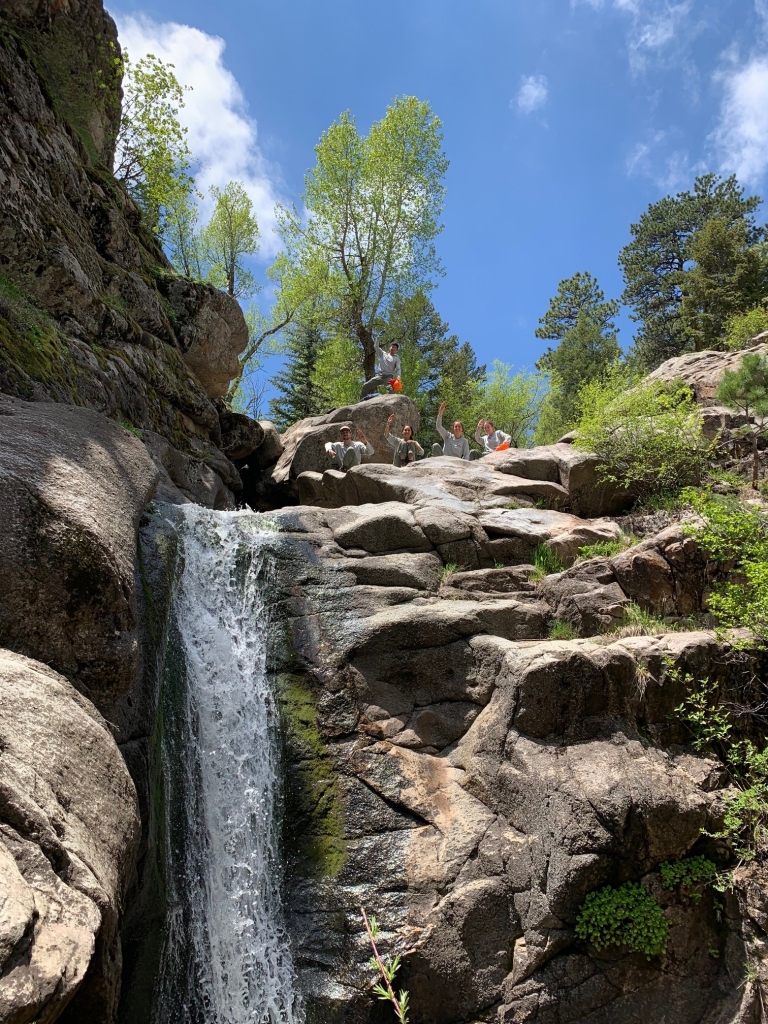 Wednesday's tasks included finishing off the brushing and repairing the drains spread throughout the trail. Heading into the last work day, the crew took on some rock work projects. With the help and guidance of Aggie, the crew was able to complete seven check steps and greatly improve the trail corridors.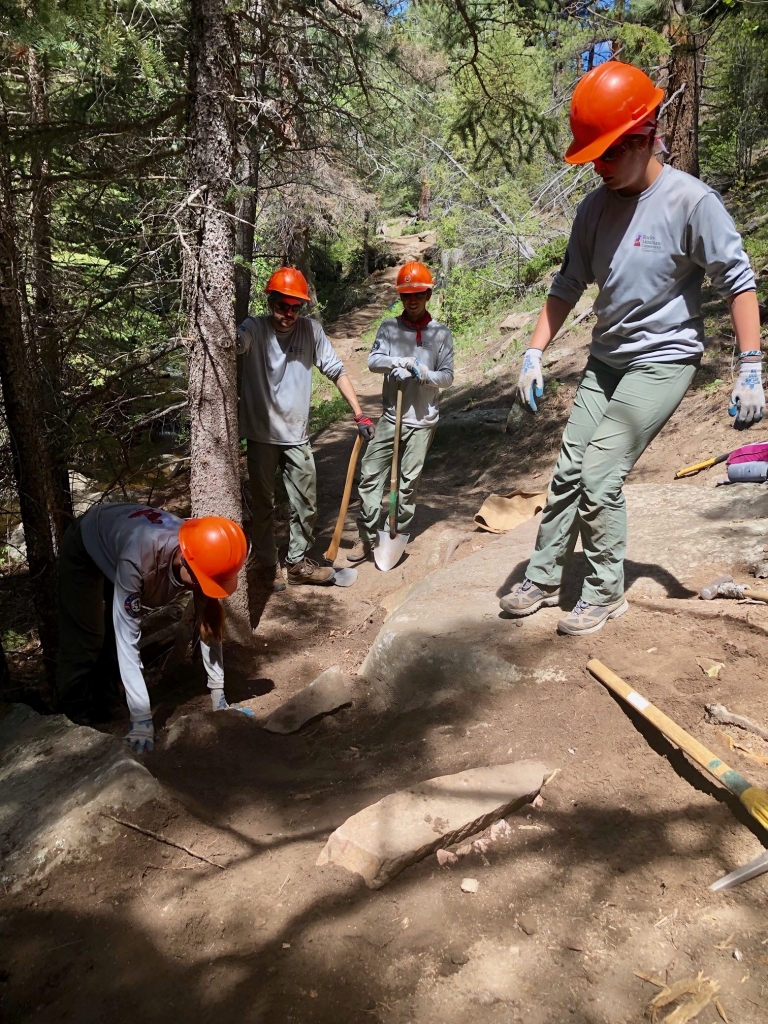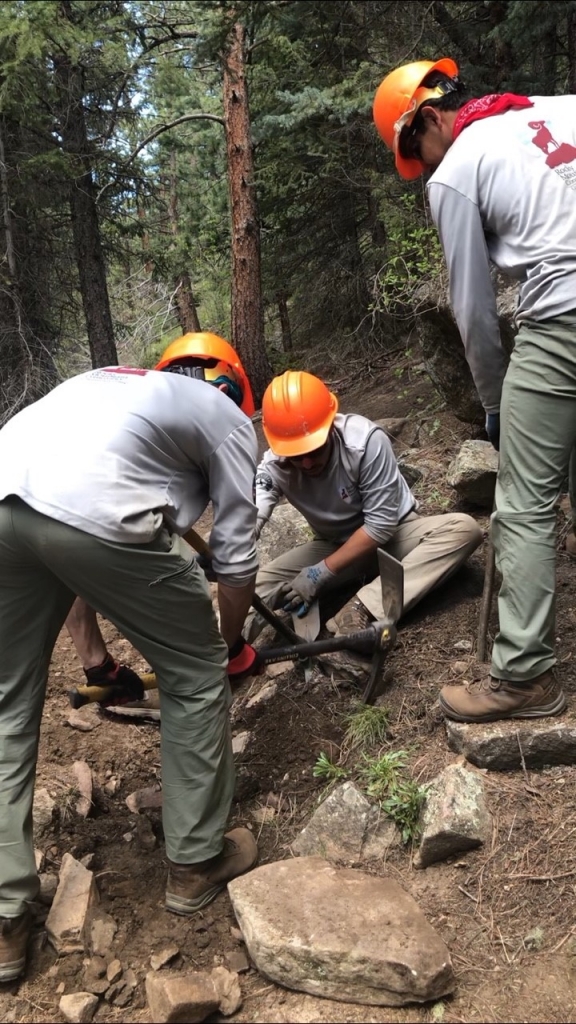 As a reward for finishing off our first week as a crew, we feasted on burgers and brats for dinner (vegan burgers for Sahm and Sophia). We also allowed ourselves to decompress and visit Steamboat Springs for the weekend, meeting up with the Rawah crew. Looking forward to another week of rewarding trail work!
-Daniel, Boulder Crew Leader
This week in Grand Lake the Shadow Mountain Crew got to know the Sulphur Ranger district better and finally got some much needed time in the field. We started out with our district orientation. We heard from each department and learned a bit more about our neighbors here at Shadow Mountain Village. The next day we participated in the Sulphur Ranger district driving rodeo. It was as fun as it sounds! We learned how to change a tire, the importance of using a spotter and how to do monthly vehicle inspections.
Later in the week we got our boots wet on the Darling Creek trail in Williams Fork. We were fortunate enough to bring our new llama friends, Loretta and Lucinda. They have proven to be great source of entertainment for the crew. Though the llamas seem rather indifferent towards us, Malyce is determined to befriend them. While at Darling Creek, we brushed about a mile and a half of the trail and cleared a few blow downs. The following day we returned to the same trail without our four legged friends to repair a section of trail. We closed off a social trail that had been used for many years and restored tread on the real trail. We had a lot of fun working together in assembly line fashion using each tool for its specific use to bring the trail back to life. It was a wonderful day spent learning and digging in the dirt. We could not ask for much more!
We closed out the work week with a wonderful crew dinner made by Zeke and Hayden. Thank you to Zeke's mom for tasty chili recipe! We approve.
-Dana, Shadow Mountain Crew Leader