The Rawah Crew spent last weekend in Steamboat along with Boulder Crew enjoying hot springs and James' parents' home. The Zafarana family was exceptional at hosting 14 dirty trail workers, and we are so grateful! While we were there, we celebrated Amelia's birthday by going to a new Jamaican restaurant called Marcia and Joe's. It was unforgettable!
This week we ventured out to our namesake Wilderness! On Monday we were joined by our forest service partners Chris and Matt for crosscut training. We experienced a good bit of rain, but the skies opened up for the second half of our afternoon and the weather was perfect.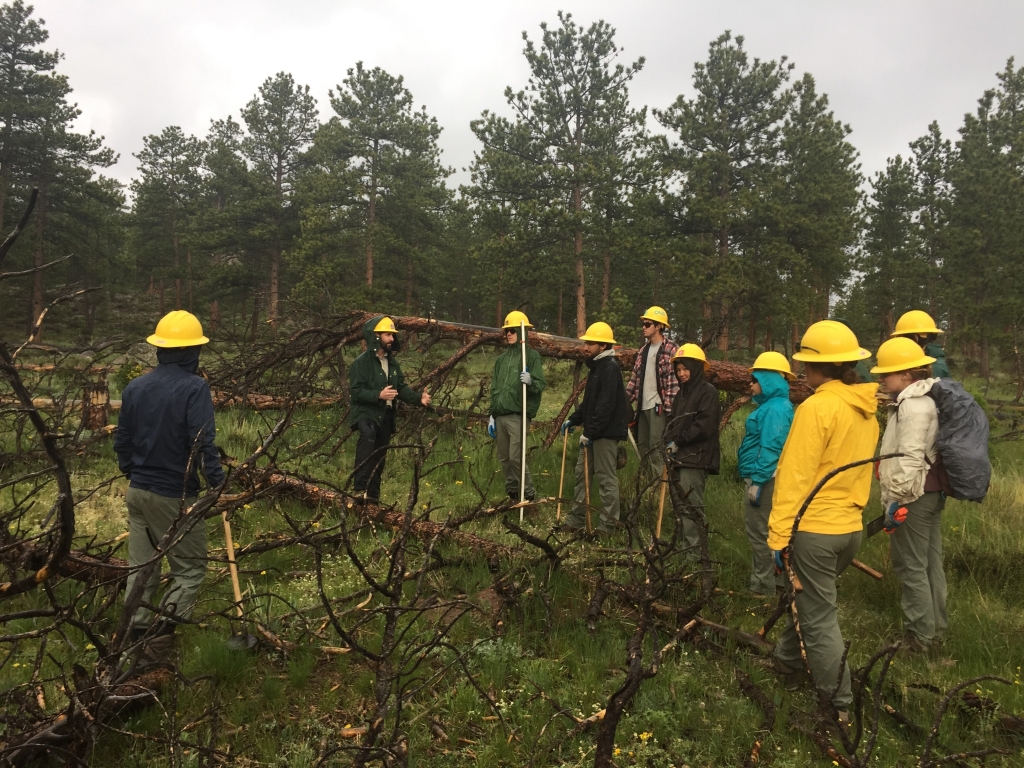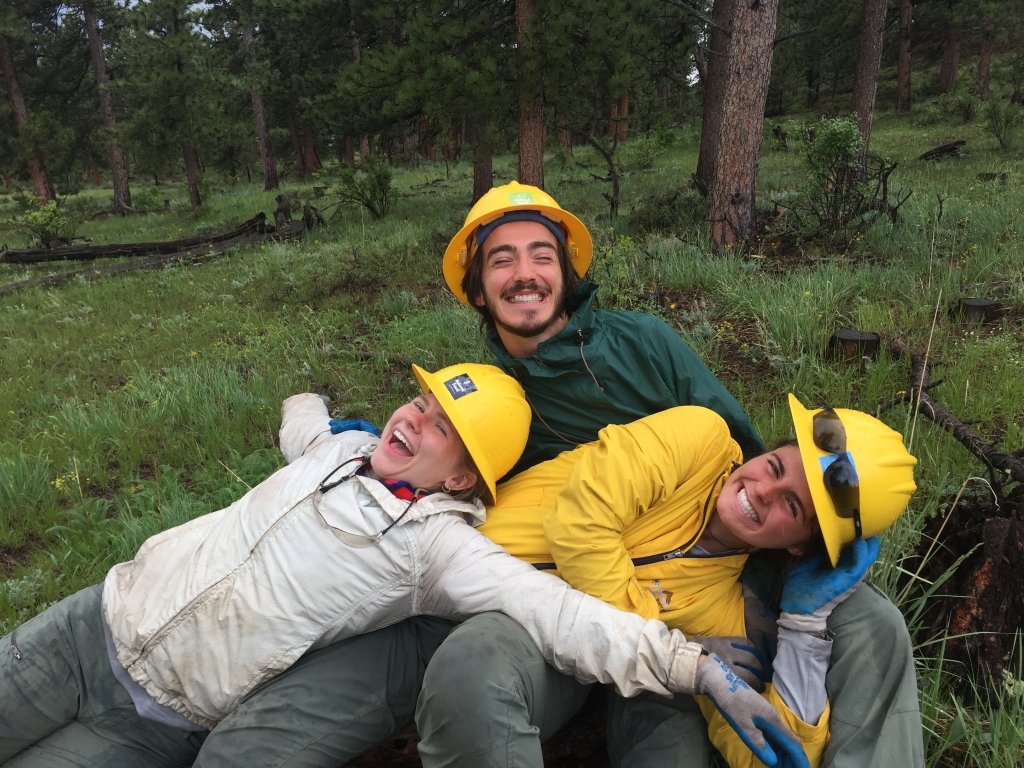 Using our new crosscut certifications, we went to McIntyre Trail on Tuesday. We dug lots of drains, bucked lots of trees, and Blake assisted our forest service partners in completing a felling certification! We camped on the trail that night. Our experience did not go as planned! All of our rain gear at this point was too wet to function, BOTH stoves malfunctioned (we think they're clogged…the investigation continues), our dinner could not be prepared without hot water, and it was an all-around freezing night. However, crew morale was through the roof! The crew radiated positivity and stoke despite having every reason not to. We ate lunch for dinner and hiked out the next morning.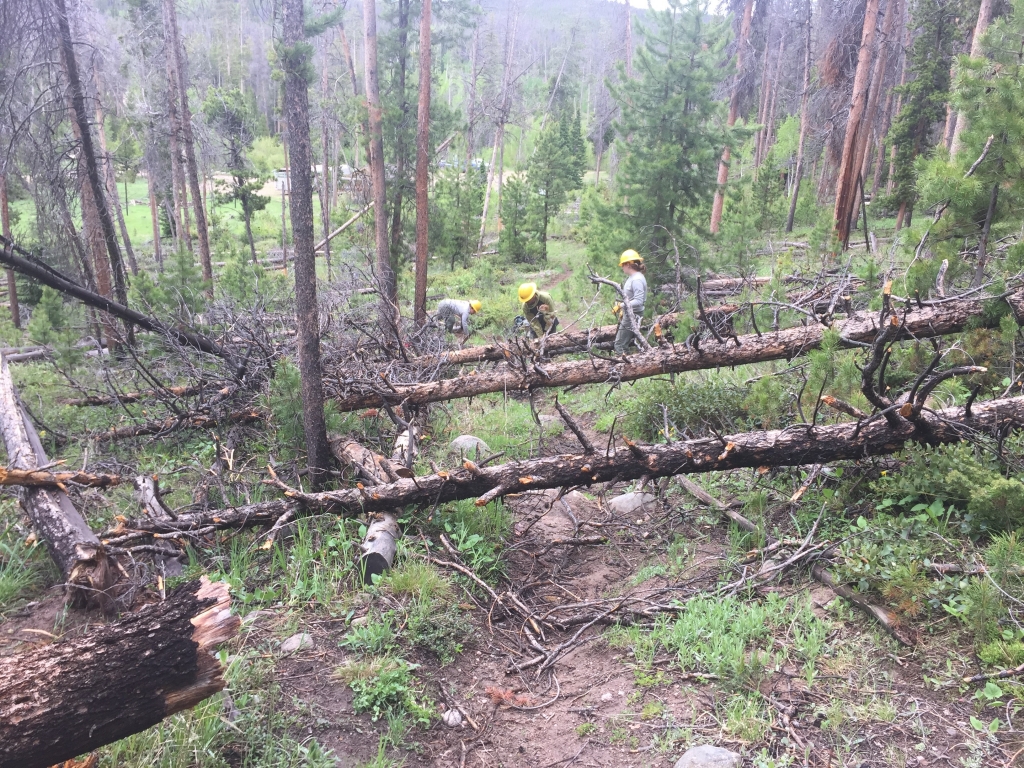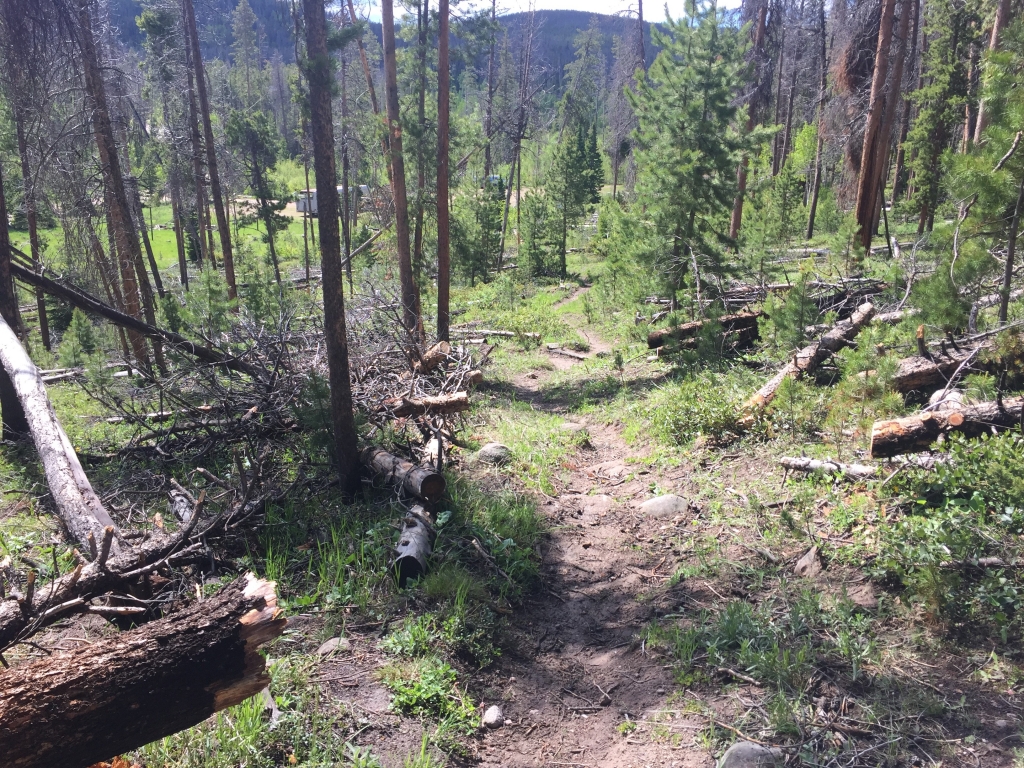 After cooking an early dinner for lunch on Wednesday, we hopped over to Link Trail, Zoe's favorite trail in the world. We did another maintenance run and the drain-diggers of the crew crushed their way to the "enchanted forest." Everyone was feeling the magic of Link. We went car camping this night and had grilled cheese (with sauteed spinach and onions!) and soup which was prepared by Blake.
Thursday was spent on Link as well. We bucked some MASSIVE trees on this day and experienced perfect weather during work. (Finally!!) The drain crew dug some absolutely stellar, enormous drains. After a quick polar plunge in Chambers Lake, we rolled back in to the Hunker Bunker. What a week!
-Zoe and James, Rawah Crew Leaders
The Boulder Crew certainly had a fulfilling week. Our main goal was to clean up the Forsyth Trail with the help of drains, water bars, retaining walls, and check steps. On Monday, after a stretch session, we were ready to take on the week's projects. This day consisted of water bars and check steps, which we knocked out with ease. The next day, however, the group hit its first snag: a tricky check step. After hours of tossing ill-fitting and wobbly rocks, we found the perfect ones! We also had a visit from our supervisor Geoff, who helped the group complete check steps in the morning.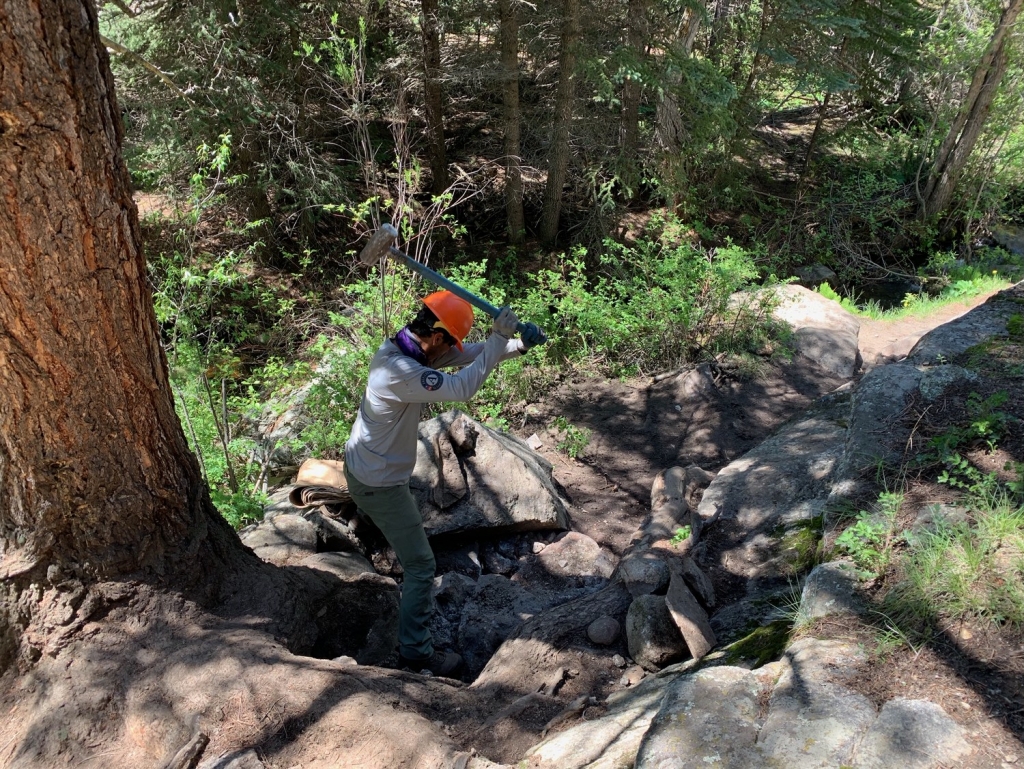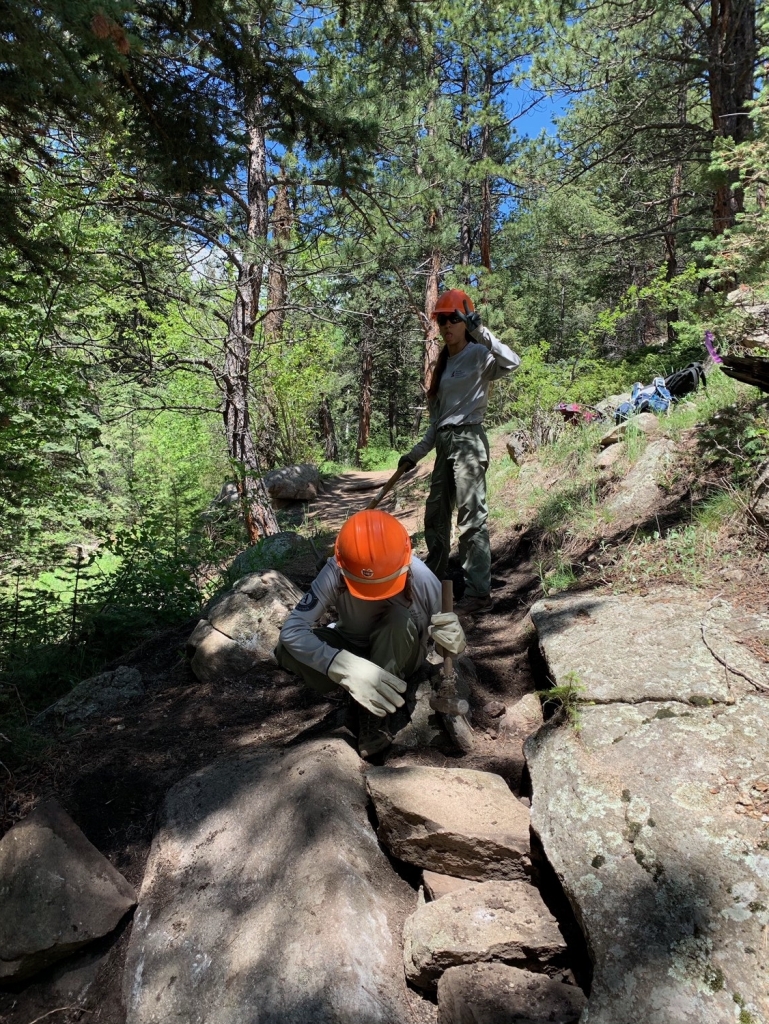 Despite having a heavy workload, we were able to attack side projects on both Wednesday and Thursday. We successfully extracted rocks obstructing the trail and widened the tread by leveling out the back slope. On Wednesday, Forest Service employee Matt showed us how to install a retaining wall, which was definitely a highlight.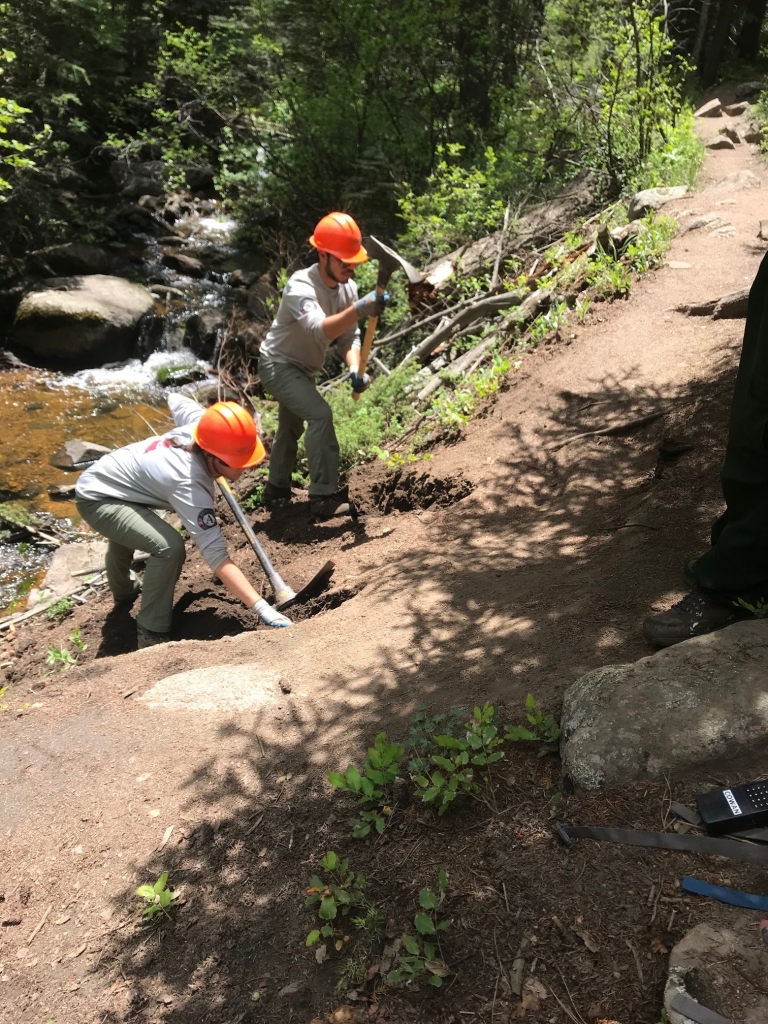 In addition, we completed a couple of rock "staircases". By the end of Thursday, the trail looked good as new as we wrapped up for the week. While the past two weeks at Forsyth have treated us well, the Boulder Crew is ready for a new office view.
-Sam, Boulder Crew Member
This week the Moraine Crew undertook a great project! We were charged with reshingling the kiosks at the Fall River entrance of the park. We used the method of cedar shingling. It is a craft that is not used on houses anymore due to the fire risk. For historical preservation, we got the experience of using this art. Monday we began by setting up the scaffolding we were going to use and stripping half of the roofs of the old shingles. We finished half of the roofs by the end of the day  we were proud of this accomplishment!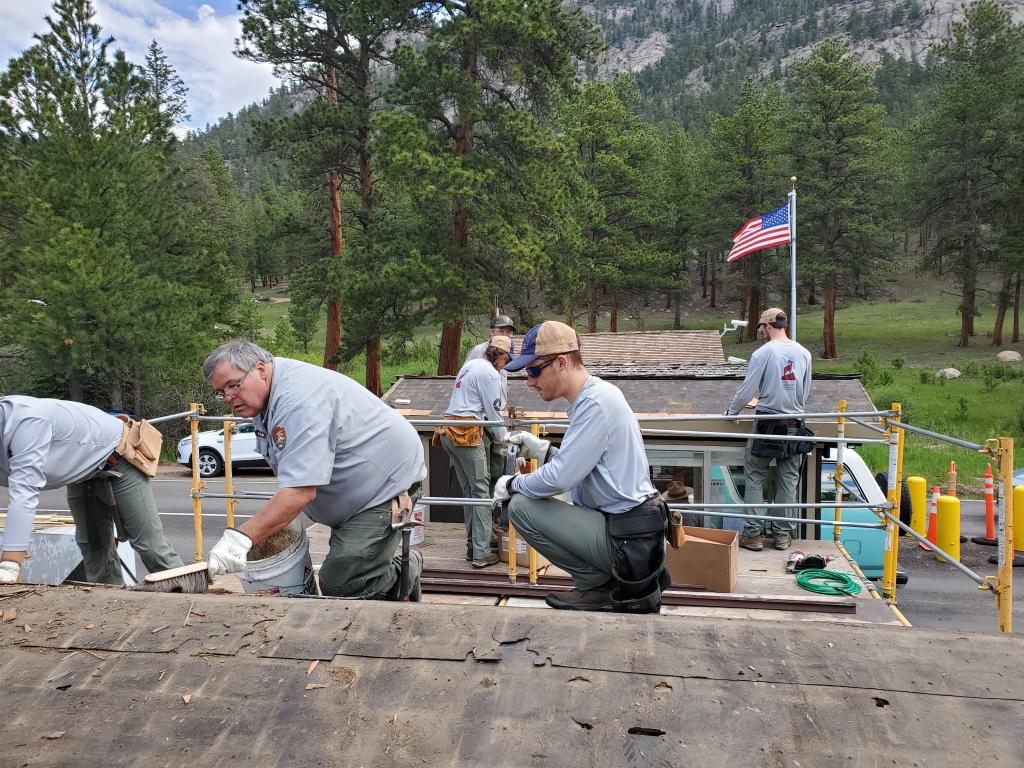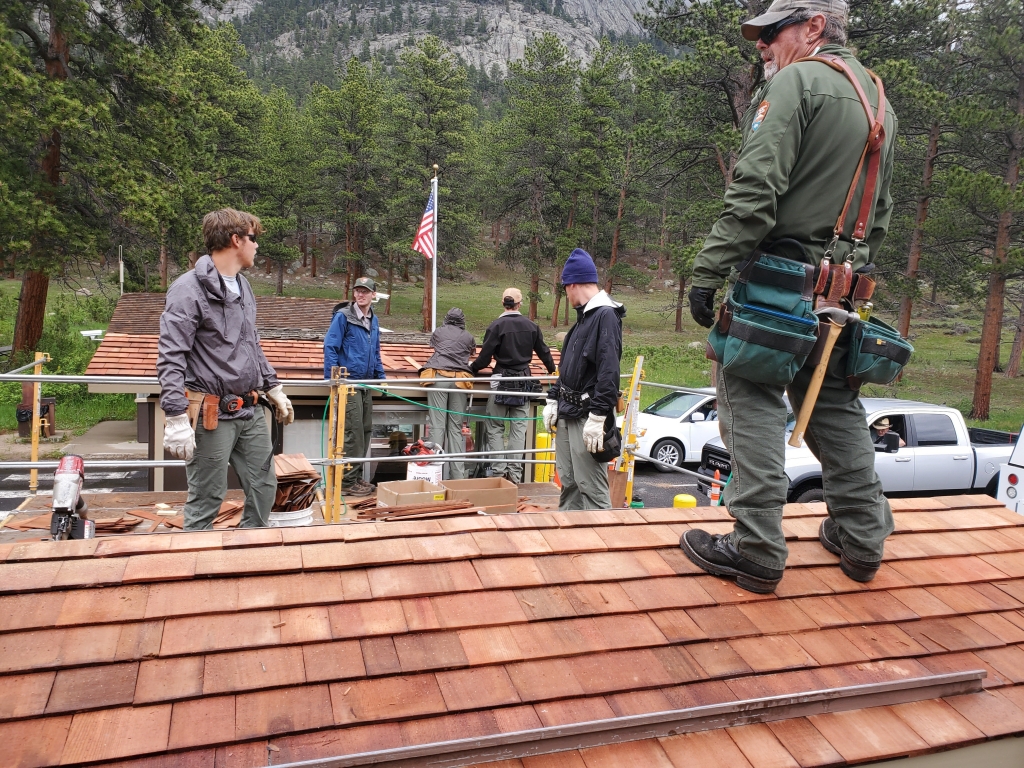 Tuesday we placed a hold on finishing the roofs due to weather, but we continued work building picnic tables. Wednesday and its beautiful weather brought us back to Fall River entrance to finish the remaining roofs. We were all very proud of the work we accomplished. We finished the roofs two days ahead of schedule leaving Thursday to work on another campsite at Aspen Glenn Campground. We added two layers of logs to the corner of the tent pad to mitigate flooding and erosion of the side hill. We were also able to finish the stain for the remaining picnic boards. All in all it was a great week and we are pumped to start work at a comfort station next week!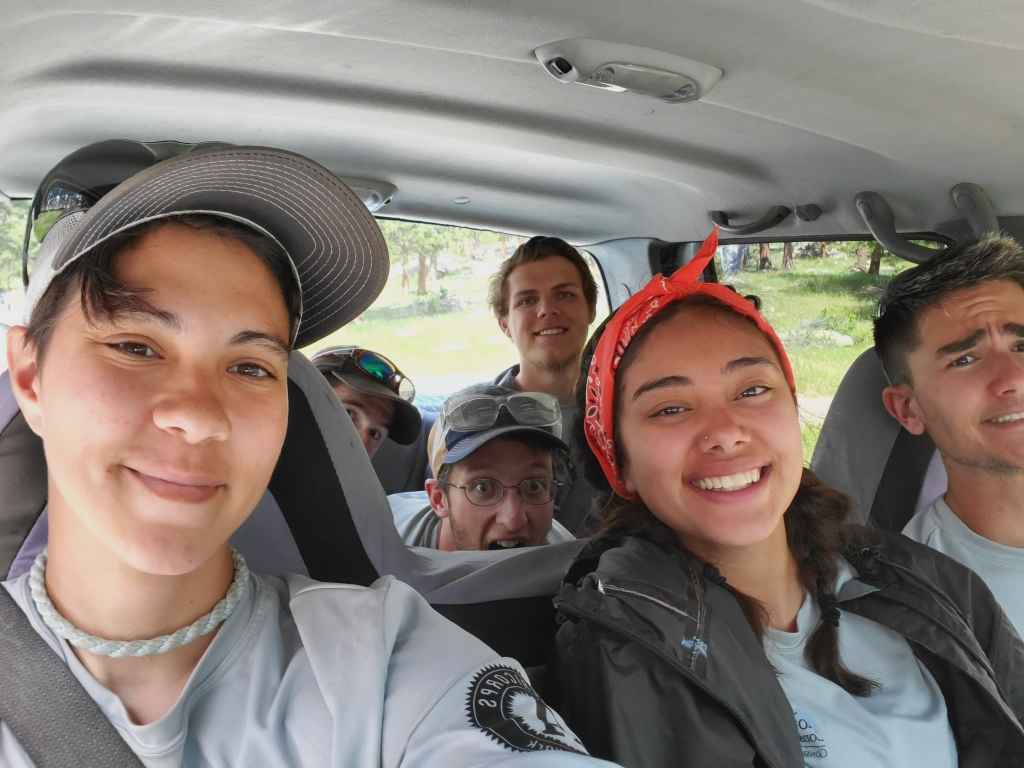 -Davina, Moraine Crew Member
This week, the Shadow Mountain Crew went on our first hitch in the backcountry to work on the Knight Ridge Trail, which is a part of the CDT. On Monday morning, we set out on a 3.5 mile hike to our camp. After arriving at a beautiful campsite by the lake, we set up and then went to work crosscutting trees and removing them from the trail.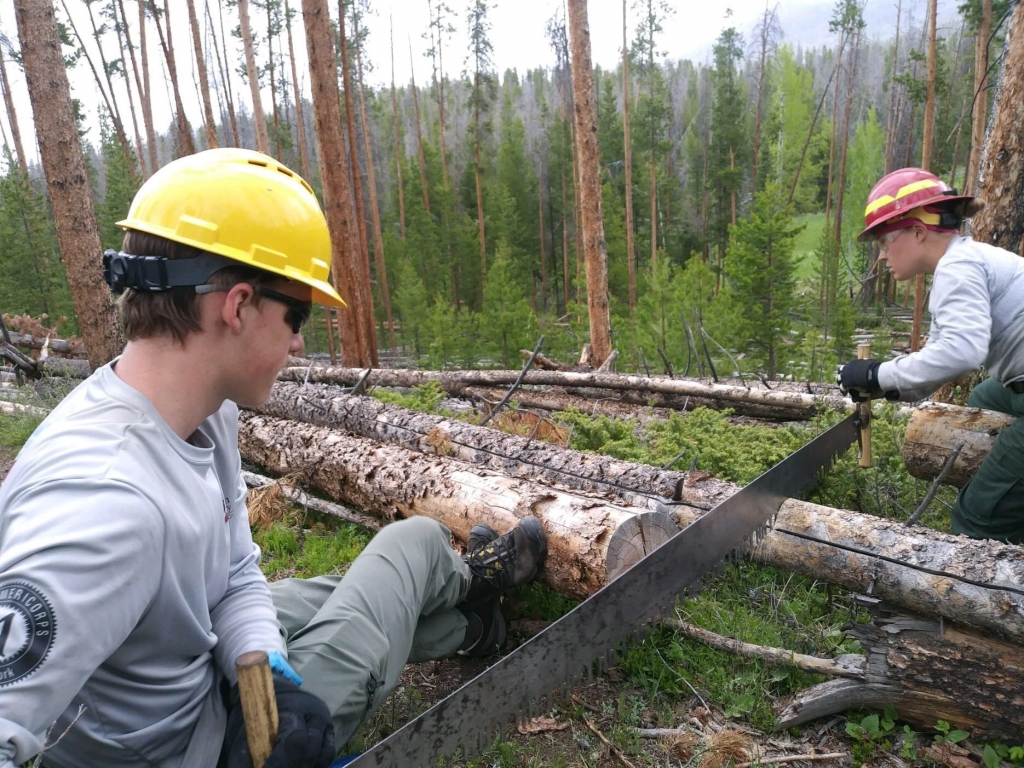 After a day of hard work and lots of hiking, we were grateful to relax and eat some backcountry falafel!
On the second day, we were back at it again, crosscutting fallen trees and clearing out drains.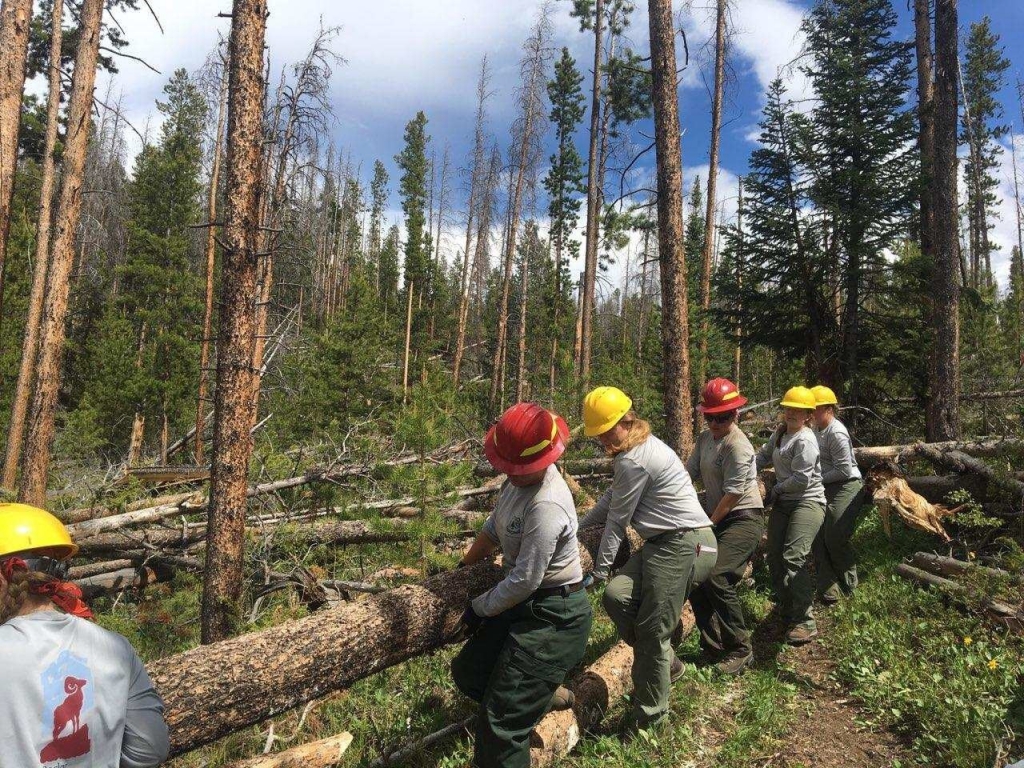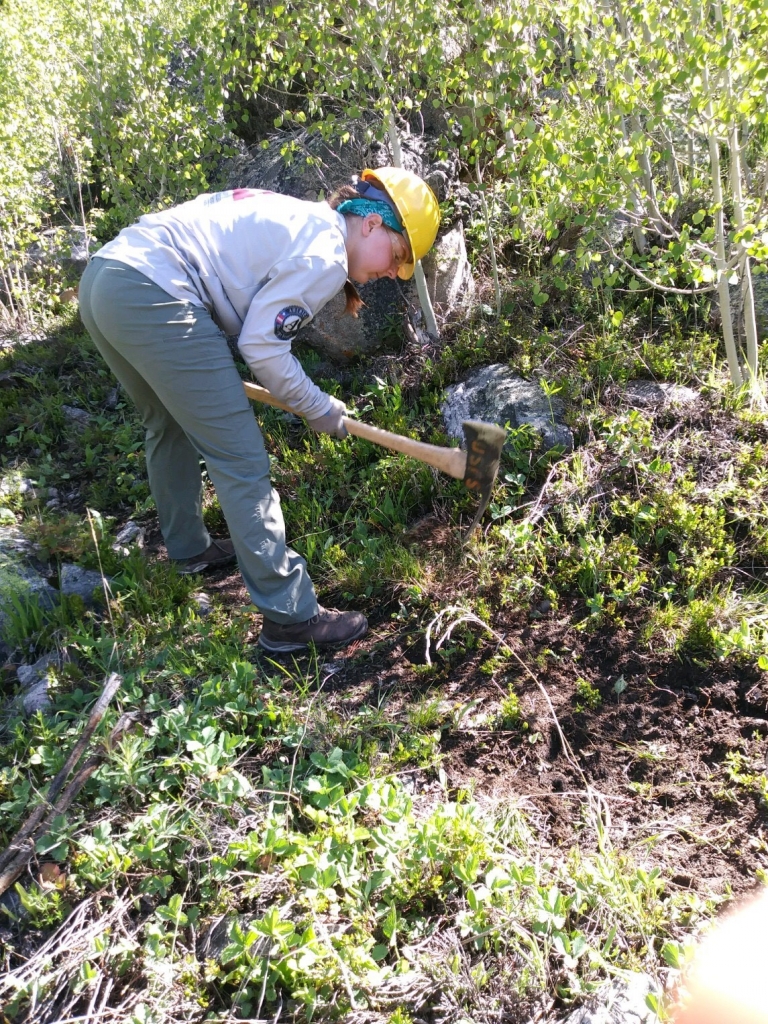 It started raining that afternoon lasting throughout lunch and beyond, but no rain was about to hold us back! At one point, we came across a section in the trail where 4 trees were fallen atop each other and one of the trees branched off in 3 different places- that was a fun one! We had made it to the mountain's ridge and had cleared a lot, but we had to turn around and head back to camp a little early because of thunderstorms. Upon return, we enjoyed a bit of sunshine before it started raining again. But we feasted on delicious couscous and veggies, so all was well!
For our third day of hitch, we worked on clearing the trail corridor and repairing tread. After lunch, we headed back to camp, packed up, and hiked out. A huge thank you to Kendra and Amy from the USFS for being such amazing teachers and always giving us a good laugh! And, of course, what would a hitch be without our favorite llamas!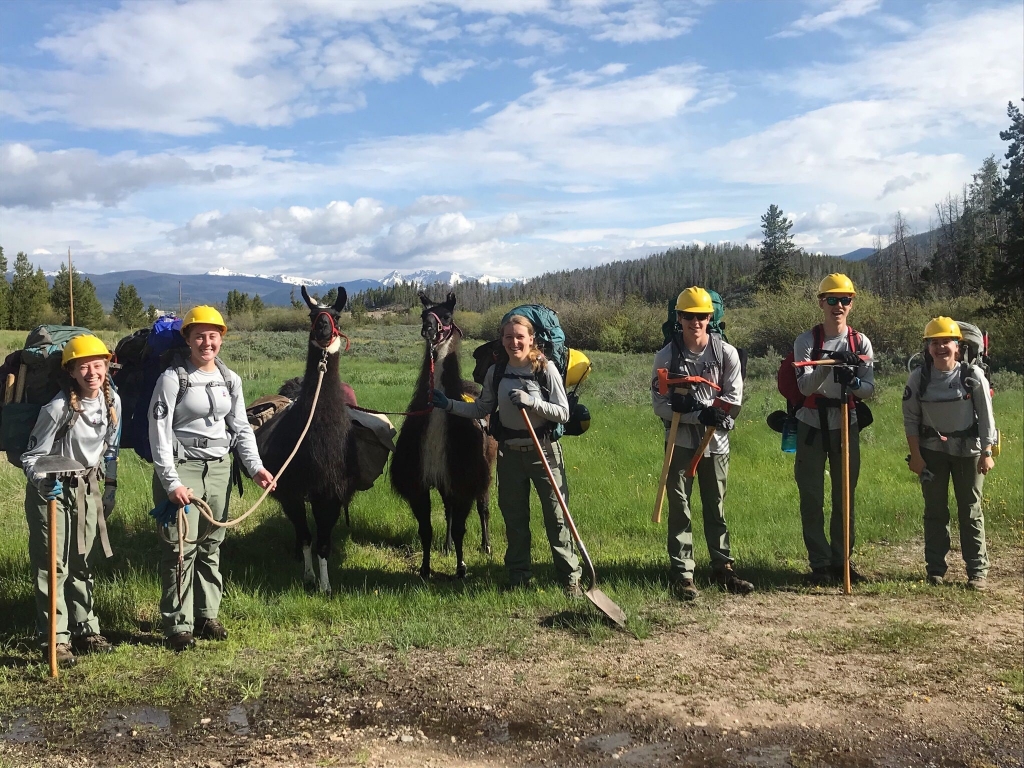 Finally, for our last day of work this week, our crew went out to Darling Trail to repair tread and do some brush work. There were patchy storms throughout the day, but we powered through until we finally had to call it a day and head out. But we got a lot done and the trail is already looking a lot better!
-Malyce, Shadow Mountain Crew Member
The Estes Crew spent another exhausting yet awesome week with the NPS Trails Crew. Plenty of hiking was involved, and we can't imagine a better way to spend a work week!
Monday was a pleasant change from our standard maintenance runs, and was spent working at the Alluvial Fan. The area has a history of flooding, but the monumental flood in 2013 caused serious damage and tore out an asphalt bridge. Debris from the bridge still litters the area, so our job for the day was to transport pieces of asphalt from one pile to another, and finally to the bed of the dump truck. Our main tools were our hands, dirtbags, and a Canycom toter. It's safe to say we definitely hauled asphalt!
On Tuesday it was back to maintenance runs as we hiked up the Hollowell trail and down the Bierstadt Lake trail. The weather was chilly and cloudy, but that didn't stop Estes Crew from digging some serious drains. We hiked out through pouring rain, which exemplary of Type 2 fun.
Wednesday and Thursday were spent doing more maintenance runs at Wild Basin. We could not have asked for better views- we hiked passed Calypso Cascades, Ouzel Falls, and up to Thunder Lake. The final mile to Thunder Lake involved more postholing through above knee-deep snow, but the view was well worth the slips, slides, sinks, and stumbles.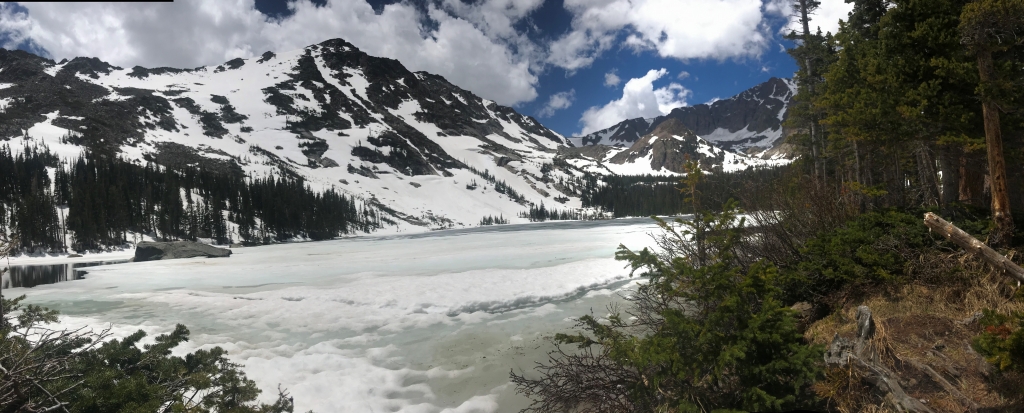 We also had the privilege of assisting the Trails Crew with replacing the support handrails on a bridge. We peeled logs, chiseled holes for the support posts, and set the logs.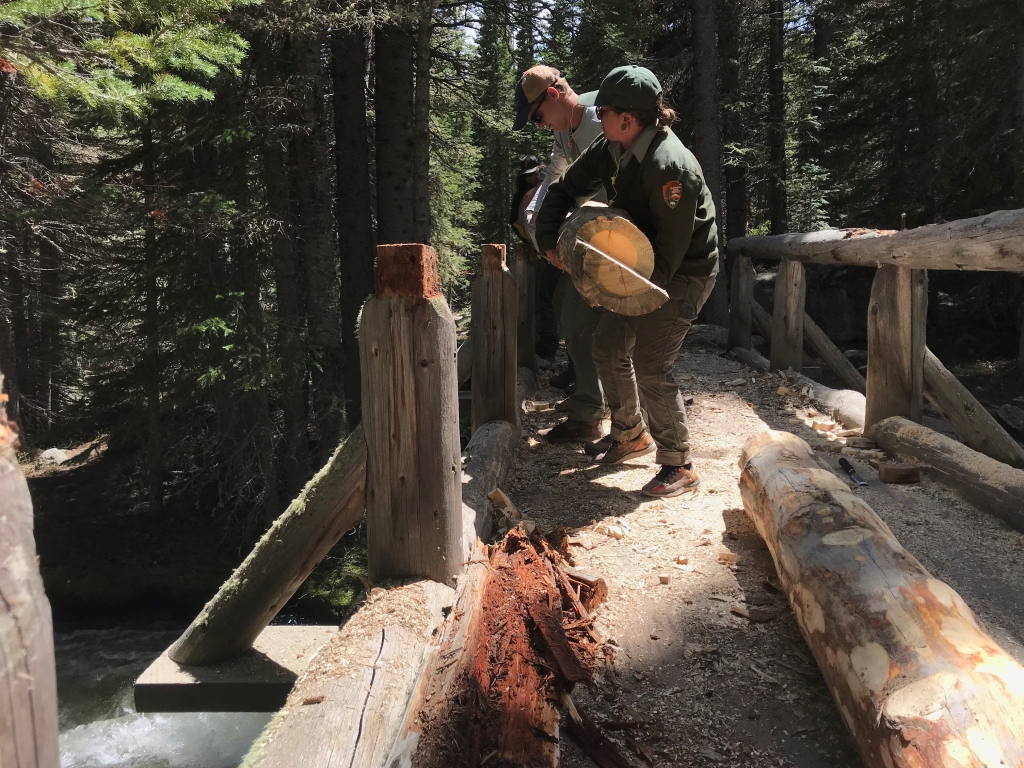 The crew was drained after work each night, but that is indicative of a hard day's work. We have loved working with Trails for the past two weeks, but Estes Crew is stoked to work with the Vegetation Crew again next week!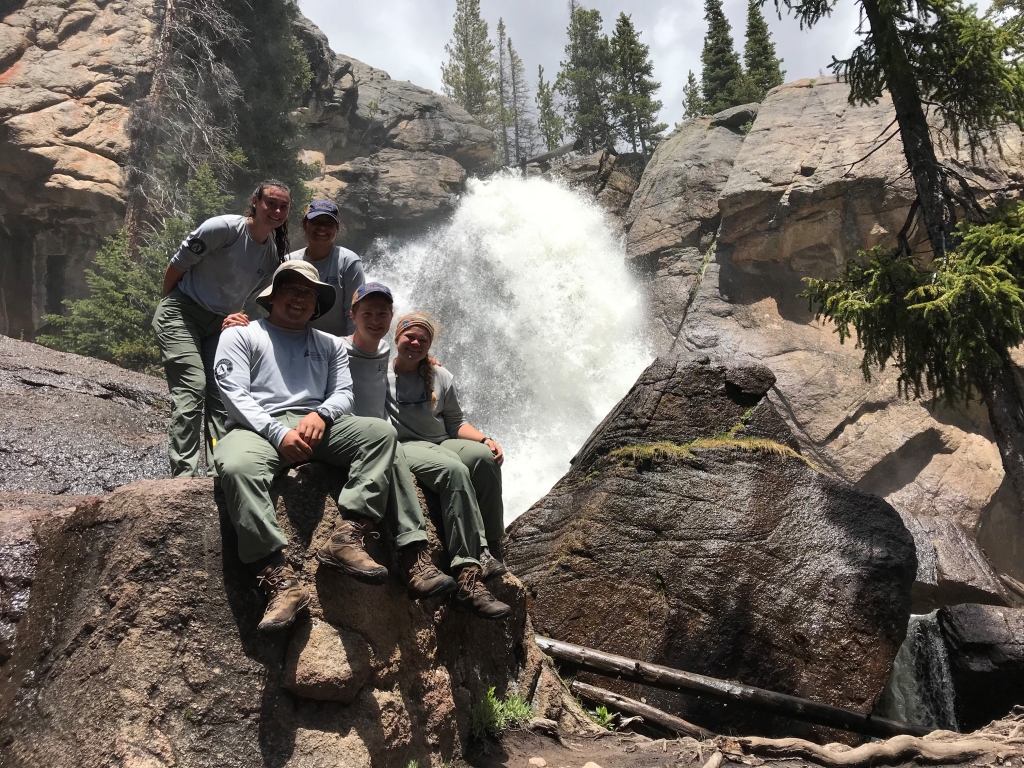 Peace from Estes Crew!
-Charlotte, Estes Crew Leader