MegEllen Kimmett (Shadow Mountain Crew Leader)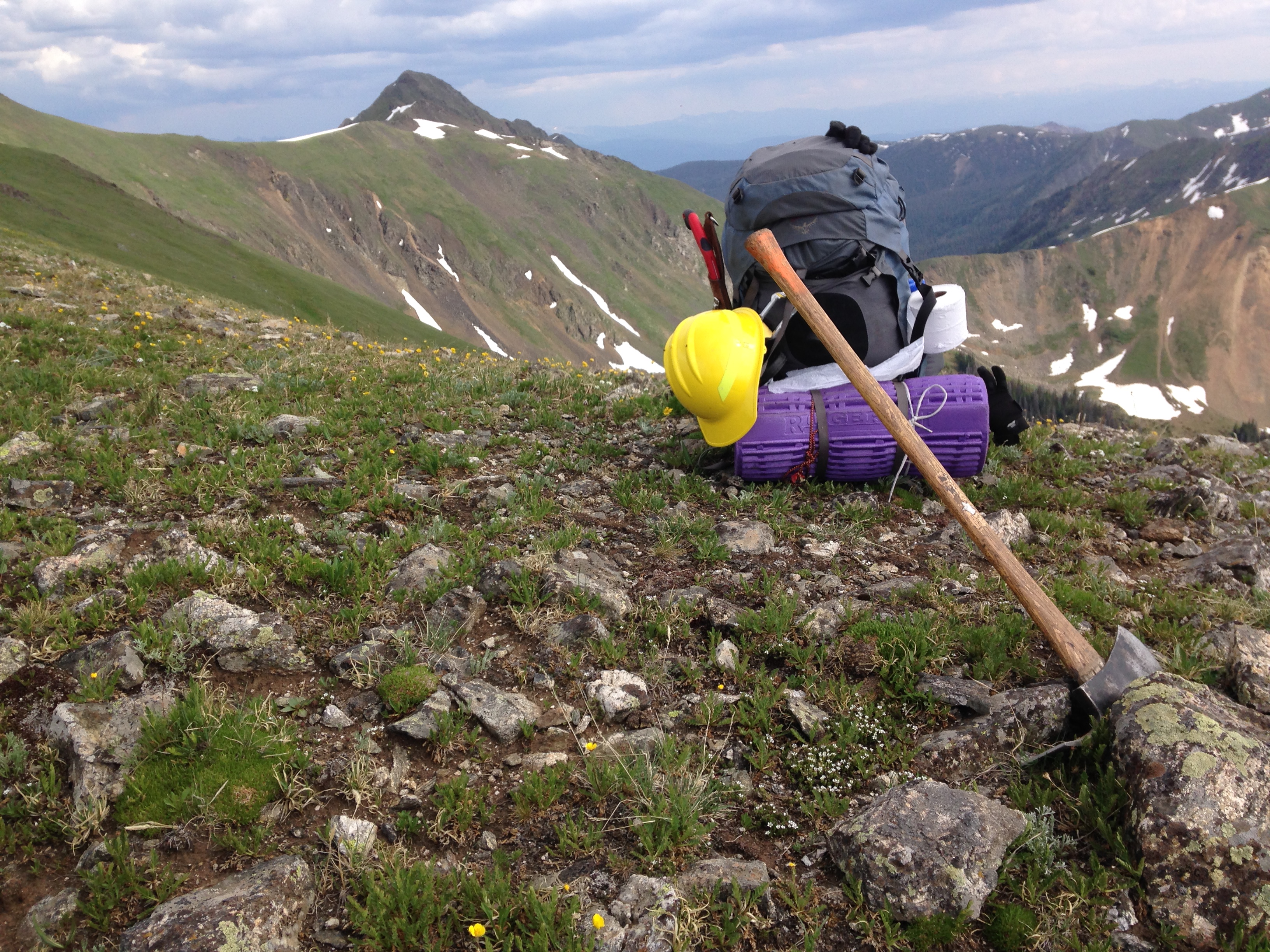 This past summer I was lucky enough to spend four days in the backcountry doing 4th of July patrols in the Never Summers Wilderness with two other crew members. We were able to see three beautiful lakes. My favorite part of the patrol was scattering campfire scars and destroying illegal campsites. It was a different kind of service that felt incredibly rewarding. The physical aspect of this trip was also some of the most difficult backpacking I have ever done and at the end of every work day, dinner never tasted so good and felt so well deserving! This has easily been my favorite memory of the summer.
Alongside with my favorite memory, I have another awesome experience that includes my favorite work project. This was being a part of clearing the knight ridge trail that is a 3 mile section of the CDT. It was the most amazing feeling seeing two through hikers pass by and give us the biggest thank yous for allowing them to stay on trail.
Amy Sullivan (Shadow Mountain Crew Member)
This is a photo of me trudging through the tundra atop Mt. Ida, on a weekend hike we took in the park. In the background are the Never Summers, which are part of the Sulphur Ranger District of the Arapaho-Roosevelt National Forest. I like this photo because it shows what a vast and beautiful area we got to work around this summer, and how small we are in comparison.
One of my favorite memories from this summer is each time we had to hang our food during our backcountry hitches. With anywhere from 3 to 15 people in our camp, It was a difficult task to find trees capable of holding all of our food without sagging. We always had a laugh trying to untangle miles of paracord and make sure our food was "safe".
My favorite work project of the summer was our last hitch, on the Devil's Thumb trail in the western Indian Peaks Wilderness. Working with another conservation corps (the RMYC) as well as a packstring of mules was a really unique experience that I will not soon forget! We did a lot of really valuable work on the trail that will hopefully hold up for many years to come. Also, it was definitely one of the most beautiful work sites we were in, given its location on the continental divide.
Jordan Carper (Shadow Mountain Crew Member)
The most unique and spectacularly beautiful work site we found ourselves in this summer was on the Devil's Thumb trail. For five days and four nights we camped at the base of an alpine bowl that led up a steep incline to Devil's Thumb Pass. We built check dams, cleared the path of imposing willows, built new tread, and worked with the USFS specialty stock string. Our tents were set up at tree line and our worksite was in the high alpine region that consisted of sweeping views of both Grand and Boulder counties. The alpenglow against the cirque at dusk was so vivid and dramatic that it led our supervisor to proclaim: "This is the most beautiful place I have ever played dominoes."
The memory of this season that I hold in highest regard is when the wilderness trail crew accompanied on a steep couloir climb after a longs days work on Columbine Lake Trail. The climb was slick, vegetated, and very, very high off the valley floor; I was frightened nearly the entire way up. I remember being so extremely relieved and proud of myself upon reaching the top and seeing the lake. Nothing like a severe mountain pitch scramble to bring out your fear of heights.
Rachel Dorencz (Shadow Mountain Crew Member)
My favorite memory from the season was working with the Rocky Mountain
Specialty Packstring on our final hitch to Devil's Thumb. We had the
opportunity to observe the lively mules and their packer at work as
they carried buckets of rock up and down the beautiful tundra
landscape. The mules kept us on our toes, and were often caught
sneaking away from camp with tortillas hanging from their mouths . On
the final day, the mule's packer let me sit on top of a mule and
observe the world from a totally new perspective.
My favorite camp site was situated beside Caribou Pass during our
Fourth of July patrol of the Indian Peaks Wilderness. When we first
approached the pass to descend to camp, we were sidetracked by a game
trail and ended up walking in the wrong direction. Later, once we set
off on the correct trail, we came across snow fields stretched out
across the entire trail. It appeared the only way to get safely down
the pass was to scramble straight down the rocky talus slope to camp.
Once we arrived, the views of the pass and the nearby Caribou Lake
were astounding.
Blake Crossland (Shadow Mountain Crew Member)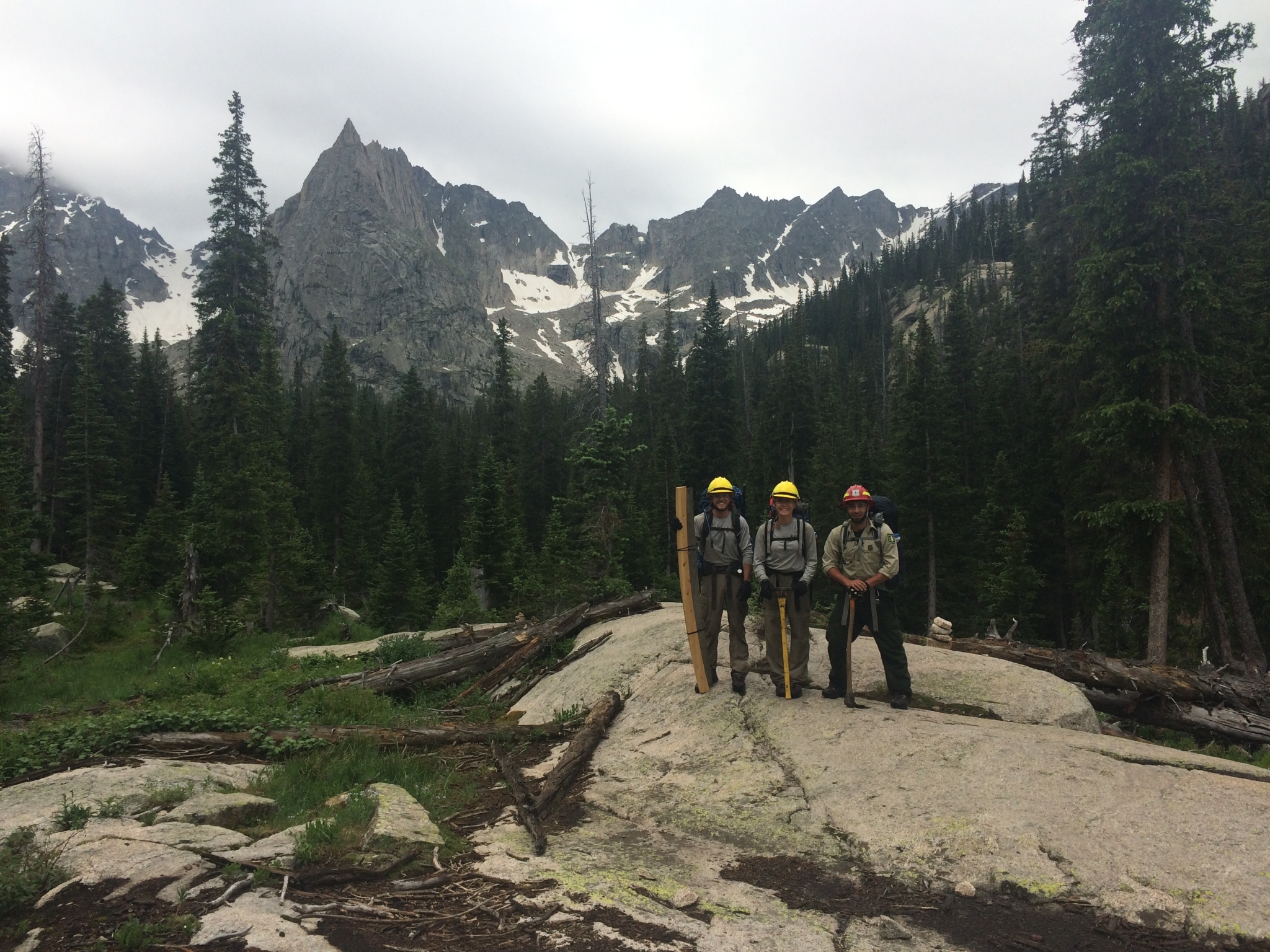 This is my favorite photo of the season simply because it captures how spectacular of a place we got to work in this summer. The photo was taken in the Indian Peaks near Crater Lake on our crews Fourth of July backcountry patrols, during which my team spent the week decommissioning illegal campsites and conducting general trail maintenance in the area.
My favorite memory of the season actually happened the night before this photo was taken. We spent the day clearing a massive tree off of the Pawnee Pass trail a few miles from Crater Lake. The weather was beautiful all day and there wasn't a drop of rain- that is until our hike back to camp. It started to rain about a half mile from Crater Lake and it continued to rain harder and harder until it finally turned into marble size hail as we arrived at our campsite. We were drenched head to toe and took shelter from the hail for the next 20 minutes or so under some skimpy subalpine trees. Anyone else might have found themselves slightly miserable in such conditions, but we could help but to laugh and make the best of it. The sky finally cleared and left an inch of hail on the ground and a massive puddle under our tent, which was nothing a simple drain and hot dinner couldn't fix.
My favorite work project of the year was our final backcountry hitch near Devil's Thumb to restore a severely eroded portion of the Continental Divide Trail. It was a particularly memorable project because we got to work above tree line for the entirety of the trip with amazing views of the Fraser Valley. We also got to work with a specialty pack string of mules that helped us with much of the project's heavy lifting. By the end of the week the trail showed incredible improvements and left us feeling extremely satisfied with the work we'd done and the skills we'd acquired throughout the season.