Tundra Pioneer: The Life and Legacy of Bettie Willard
Join Cheri Yost and Leanne Benton for a look at the remarkable life and career of alpine ecologist, Bettie Willard, whose research influenced Rocky Mountain National Park's tundra protection policies and who founded the Rocky Mountain Conservancy Field Seminars Program.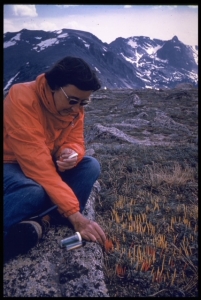 We will travel to the tundra to immerse ourselves in and discuss Bettie's beloved alpine ecosystem, look at the alpine plants she studied, and visit her research sites. The course will also touch on Bettie's numerous career assignments on the state and national level, with emphasis on her determination to overcome the obstacles women faced professionally in the 1950s and 1960s.
During this course, we will take a careful look at Bettie's research initiatives and the resulting management actions undertaken by Rocky Mountain National Park to better protect the alpine tundra. We'll discuss tundra ecology and the possible impacts of a changing climate on the plants and animals that live there. We'll also discuss Bettie's lifelong mission to educate individuals, as well as corporate, political, and government leaders, on the impacts of human activity on the natural environment. This mission is as significant today as it was decades ago, and we hope you'll join us for this very special course!
We will meet at the Estes Park Visitor Center and travel together to various sites in Rocky Mountain National Park in Conservancy vehicles. Registration includes all required fees and permits for Rocky Mountain National Park.
Who: Participants ages 16 and up

When: Thursday, July 20, 2023, from 7:00 a.m. to 2:30 p.m.

Where: Estes Park Visitor Center, 500 Big Thompson Ave, Estes Park, and various field locations in Rocky Mountain National Park
What to bring: 10 Essentials for Field Courses and a sack lunch.
This is a Level II course. Expect short-distance walks throughout the day, primarily on level terrain.
Conservancy members get 15% off individual registration when you use the discount code in your membership email! Enter your code and select "Member Registration" tickets at checkout. Limit 2 per membership.

Not a member of the Conservancy? Learn more and join here: Conservancy Membership
For questions about membership, please contact memberprocessing@rmconservancy.org or call 970-586-0108.
For questions about the course, please contact education@RMConservancy.org or call 970-586-3262.
About your instructors:
Leanne Benton is a retired ranger-naturalist from Rocky Mountain National Park where she led wildflower walks and alpine tundra walks for over 20 years and managed the Alpine Visitor Center for 11 years. She currently teaches alpine and wildflower seminars for the Rocky Mountain Conservancy and the Crested Butte Wildflower Festival.
Cheri Yost has spent most of her NPS career translating science. While working at Shenandoah National Park, she learned about hemlock trees, bats, and how to camp in the rain. At the C&O Canal, she taught elementary school students about mules and canal locks. Cheri's love of Rocky started in 6th grade outdoor education week, when she hiked to Emerald Lake, met Enda Mills Kiley, and slept in cabins near Wild Basin. She is currently the Park Planner at Rocky Mountain National Park.