Native Orchids of Rocky Mountain National Park – Course FULL
Join Conservancy author and instructor Marlene Borneman for a day-long educational outing to explore the unique orchids of Rocky Mountain National Park.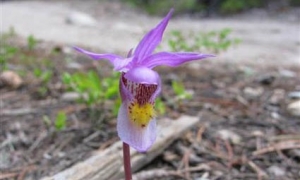 What is an orchid? The orchid family (Orchidaceae) is the largest family of flowering plants, with roughly 35,000 distinct species. While many of us consider orchids to be tropical plants, there are about 26 species native to Colorado, with many growing in the montane and subalpine zones of Rocky Mountain National Park. The morning classroom portion of this course will introduce participants to key characteristics of the orchid family, orchid terminology, their symbiotic relationship with other plants, and a history of their uses. The afternoon portion will be spent out in the park, working to find and identify these elusive and mysterious plants. Participants will meet at the Estes Park Visitor Center and travel together in Conservancy vehicles to various locations in Rocky Mountain National Park.
Who: Participants ages 16 and up

When: Thursday, June 8, 2023, from 8:00 a.m. to 4:00 p.m.
Where: Estes Park Visitor Center, 500 Big Thompson Ave, Estes Park, CO, and field locations on the east side of Rocky Mountain National Park
What to bring: 10 Essentials for Field Courses, PLUS: a hand lens, 6″ ruler, and a clipboard are all helpful but not required
This is a Level I course. Expect short-distance walks on maintained trails and indoor classroom sessions in accessible buildings.
Course FULL. Email education@RMConservancy.org to inquire about the wait list.
Conservancy members get 15% off individual registration when you use the discount code in your membership email! Enter your code and select "Member Registration" tickets at checkout. Limit 2 per membership.

Not a member of the Conservancy? Learn more and join here: Conservancy Membership
For questions about membership, please contact memberprocessing@rmconservancy.org or call 970-586-0108.
For questions about the course, please contact education@RMConservancy.org or call 970-586-3262.
About your instructor: Marlene has earned her Native Plant Master Certification, is a member of the Colorado Plant Society and a contributor to the newsletter, Aquilegia. She is the author of Rocky Mountain Wildflowers, 2 Ed., The Best Front Range Wildflower Hikes, and Rocky Mountain Alpine Flowers. Marlene has lived in Estes Park since 1974.