Cancelled – Go Outside and Paint! An Introduction to Plein Air Painting
Interested in painting outdoors, but don't know how to get started? This course is for you!
Unfortunately, this course has been cancelled for 2023. It will be offered again next summer, so please check back!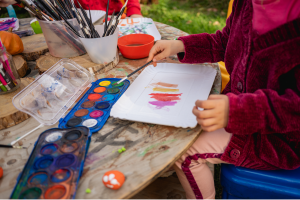 In this morning course, participants will get a taste of the plein air experience as instructor Gail Denton provides an introduction to the materials and planning involved in painting outdoors. This course is ideal for artists who know what to do in the studio, but aren't quite ready to take the leap into creating art in the great outdoors.
Our morning will being with an explanation of what to take, where to go, when to go, how to choose your location and scene, what to wear, how to keep your gear simple, and the true benefits of painting 'in the light'. Gail will lay out all of her outdoor art gear, explain her planning process, and show participants what they need to get started themselves. Next, we'll head into Rocky Mountain National Park, where we'll select a painting location and learn how to take that huge view and select the best part to fit on the canvas. Each participant will receive a view-finding calculator tool to bring along on future plein air excursions. Finally, Gail will create a demonstration painting, and participants are invited to observe her at work or take a few minutes to sketch on their own.
Please note that this course does not include instruction on painting or drawing. This course is intended for folks who are interested in creating art outdoors, but aren't sure exactly what they will need to get started.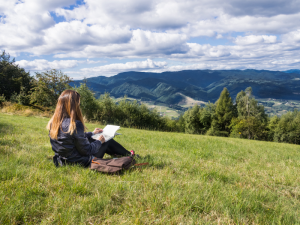 Who: Participants ages 16 and up. This is a Level I course. Expect short-distance walks on maintained trails.

When: Unfortunately, this course has been cancelled for 2023. It will be offered again next summer, so please check back!
Where: Park at the Estes Park Visitor Center Parking Garage at 691 N St Vrain Ave in downtown Estes Park. Walk across the footbridge to the Estes Park Visitor Center and look for the marked Rocky Mountain Conservancy vehicle to check in.
What to bring:
A sketchbook and pens or pencils to practice blocking a landscape
A collapsible or folding camp chair or stool is useful but not required
A camera or smartphone for taking pictures is also useful but not required
About your instructor: Gail Denton is an accomplished artist who has been painting in the mountains of Colorado for over two decades. She is an experienced art instructor, having led courses and workshops for teens and adults in a variety of settings for many years. She wants outdoor painting to be accessible to anyone who's curious!
Conservancy members are eligible for a 15% discount on this course. Use the code in your membership email at checkout!
Not a member of the Conservancy? Learn more and sign up here: Conservancy Membership