Beginning Birding by Habitat
A two-day introductory birding course for anyone who wants to learn about the diverse habitats of Rocky Mountain National Park and the birds who call these places home.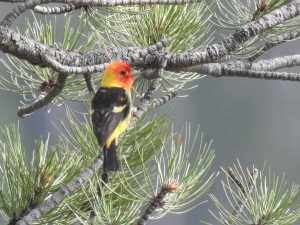 In this two day class, instructor Debbie Bangs will begin with a brief talk about why birds are so specific to various habitats within the biomes of Rocky Mountain National Park in late spring and early summer. Participants will learn about a range of species that could be found in the field as they go birding through the two days with various stops through Rocky Mountain National Park. Participants will be walking up to a mile at certain locations but since we are birding, this will be slow paced. Participants will discover why certain birds can be found in various locations and which features of the environment make that place an ideal home.
This course is designed for beginning birders who would like an easy approach to learning to identify the common birds in Rocky Mountain National Park. The class participants will be going out in the field to experience bird life within various montane, subalpine, and alpine habitats while learning key identifying features of the common birds likely to be found in the various habitats within these biomes.
This is an ideal way to get to know both native birds and Rocky Mountain National Park!
Who: Participants ages 16 and up. This is a Level III course. Expect moderate hikes of less than five miles per day with elevation gain of less than 1,000 ft.
When: Thursday, June 22, 2023, from 12:30 p.m. to 5:00 p.m. AND Friday, June 23, 2023, from 8:00 a.m. to 4:00 p.m.
Where: Estes Park Visitor Center, 500 Big Thompson Ave, Estes Park, CO 80517. We will meet at the Estes Park Visitor Center and travel together to various sites in Rocky Mountain National Park in Conservancy vehicles. Registration includes all required fees and permits for Rocky Mountain National Park.
What to Bring: 10 Essentials for Field Courses PLUS: binoculars and your favorite field guide for North American birds
Conservancy members get 15% off individual registration when you use the discount code in your membership email! Enter your code and select "Member Registration" tickets at checkout. Limit 2 per membership.

Not a member of the Conservancy? Learn more and join here: Conservancy Membership
For questions about membership, please contact memberprocessing@rmconservancy.org or call 970-586-0108.
For questions about the course, please contact education@RMConservancy.org or call 970-586-3262.
About your instructor: Debbie has spent a lifetime observing birds in Rocky Mountain National Park. Her primary mentor in her early study of birds was Dr. Richard Beidleman, with whom she spent many hours out in the field in the mid 1970's and 1980's. From 1982 to 1992, Debbie worked in conjunction with Dr. Ron Ryder from Colorado State University on a scientific bird census study after the Lawn Lake Flood, monitoring the damaged site from the Alluvial Fan to Horseshoe Park for Rocky Mountain National Park. In the last eight years, Debbie has participated in owl research in Rocky Mountain National Park with Colorado Avian Research and Rehabilitation Institute, of which she is the secretary.