Boulder Crew
The Boulder Crew's first week away from Estes Park was filled with hard work, new places, and new faces.
The week started off with the crew's big move from Moraine Park Campground in Rocky Mountain National Park to Kelly Dahl Campground in Nederland, CO. Within only a few hours, Kelly Dahl quickly felt like home. Lovingly, we decided to call our little patch in the woods the "Ned and Breakfast".
On Monday, we met up with our Forest Service coworker and trail guru, Agatha (Aggie). Throughout the day, Aggie taught us how to properly build trail drainage, clear trail corridor, and construct water bars/check steps. We finished off our afternoon with a quick hike up to Timberline Falls on the St. Vrain River.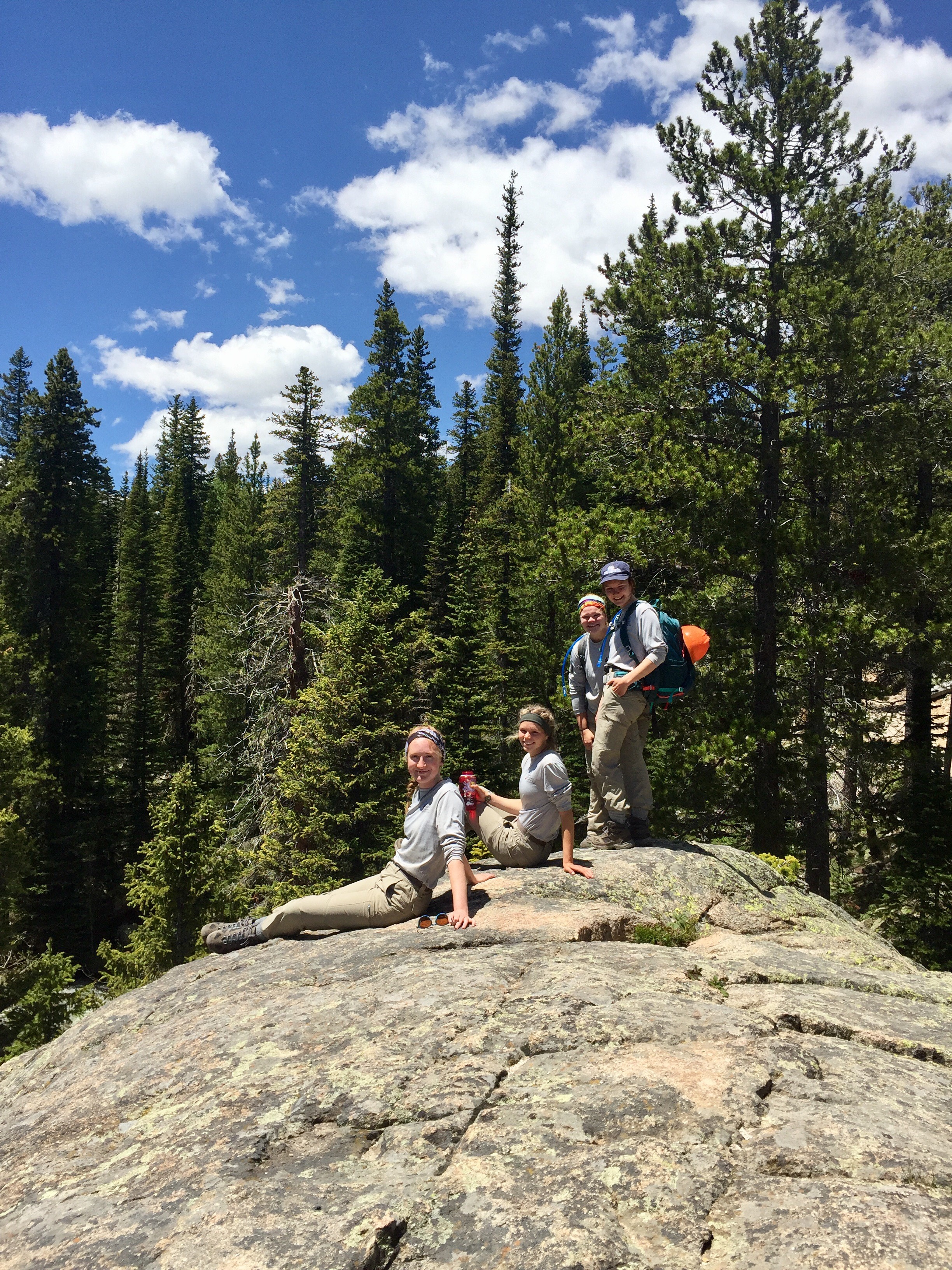 Tuesday was our first day of truly tough trail work. We spent the day constructing water bars and check steps. Since this was many of our first times doing rock work, Aggie was there to guide us with her wisdom. Perhaps the highlight of the day was the plethora of hikers with dogs enjoying the trail. Throughout the day, we stopped to chat with hikers, and play with their dogs. I began to dub these little dog breaks "dog-stractions".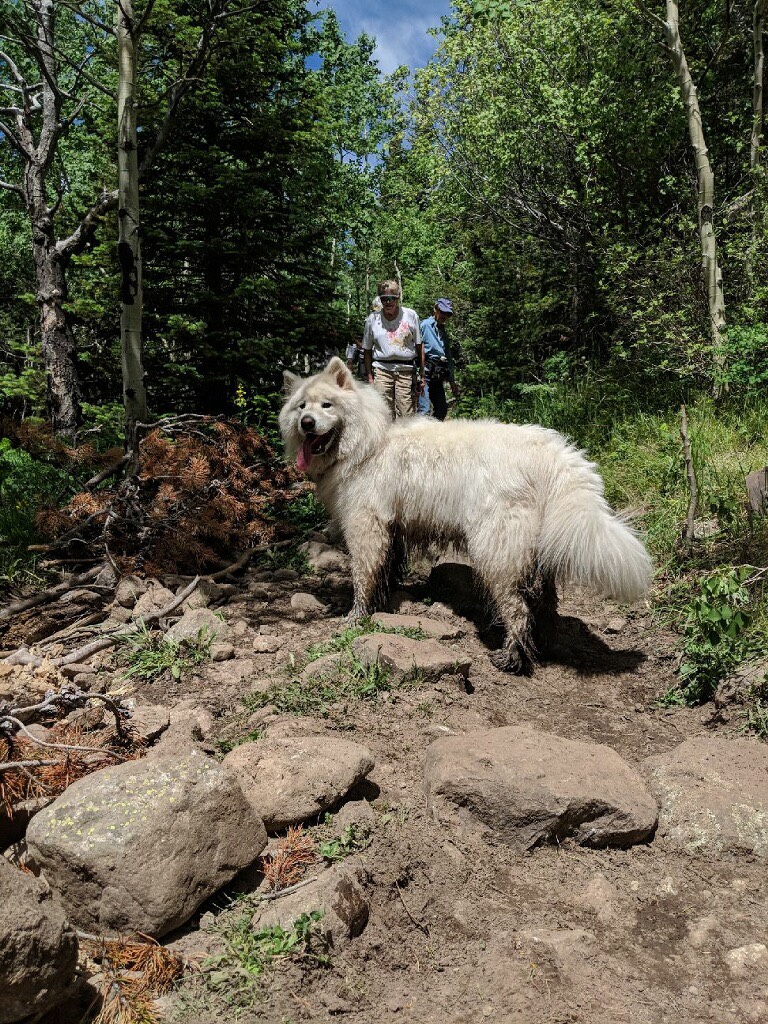 On our next day of work, we were visited by our wonderful Field Coordinator, Morgan. The rest of the day was spent building check steps out of massive rocks. We all enjoyed wrangling rocks into perfect spots, and getting muddy all the while.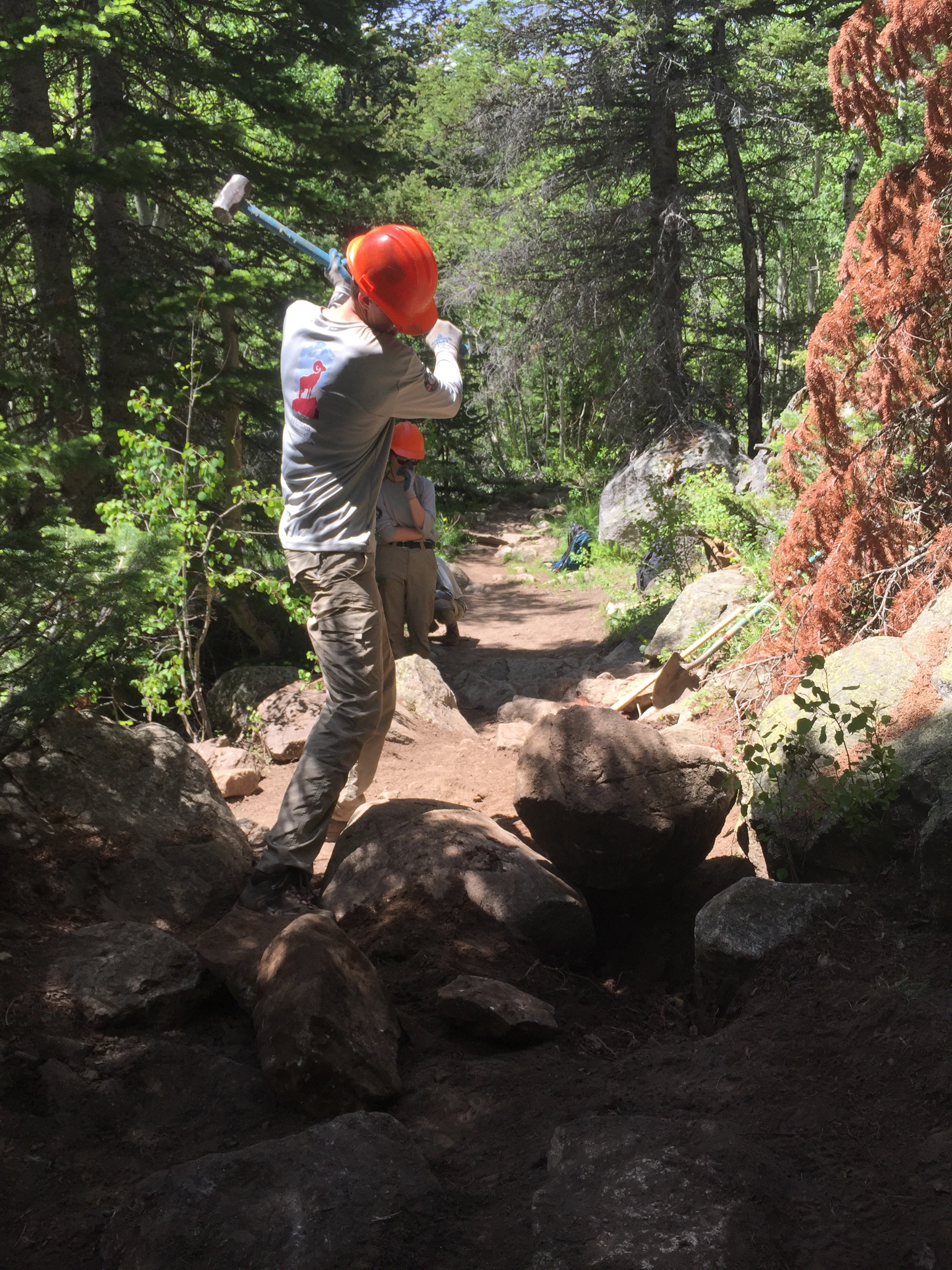 The crew wrapped up the week by cleaning up the trail and adding our finishing touches. Overall, we were highly satisfied with the quality of work we produced. At the end of it all, we maintained roughly 15 drains, constructed 10 check steps, and 3 water bars. Thanks to Aggie, we all learned a lot about trail work and safety.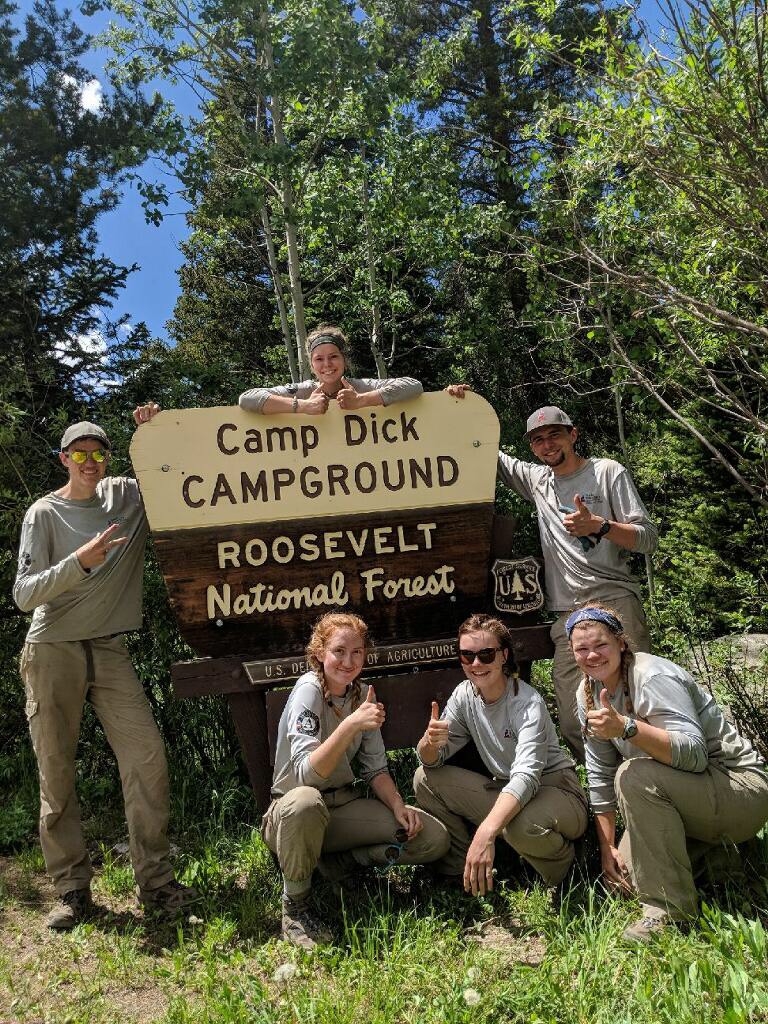 -Zach (Boulder Crew Leader)
Rawah Crews
Week one of work was a success! The two Rawah crews worked together this week (which will most likely happen all summer) on the Young Gulch Trail in the Roosevelt National Forest.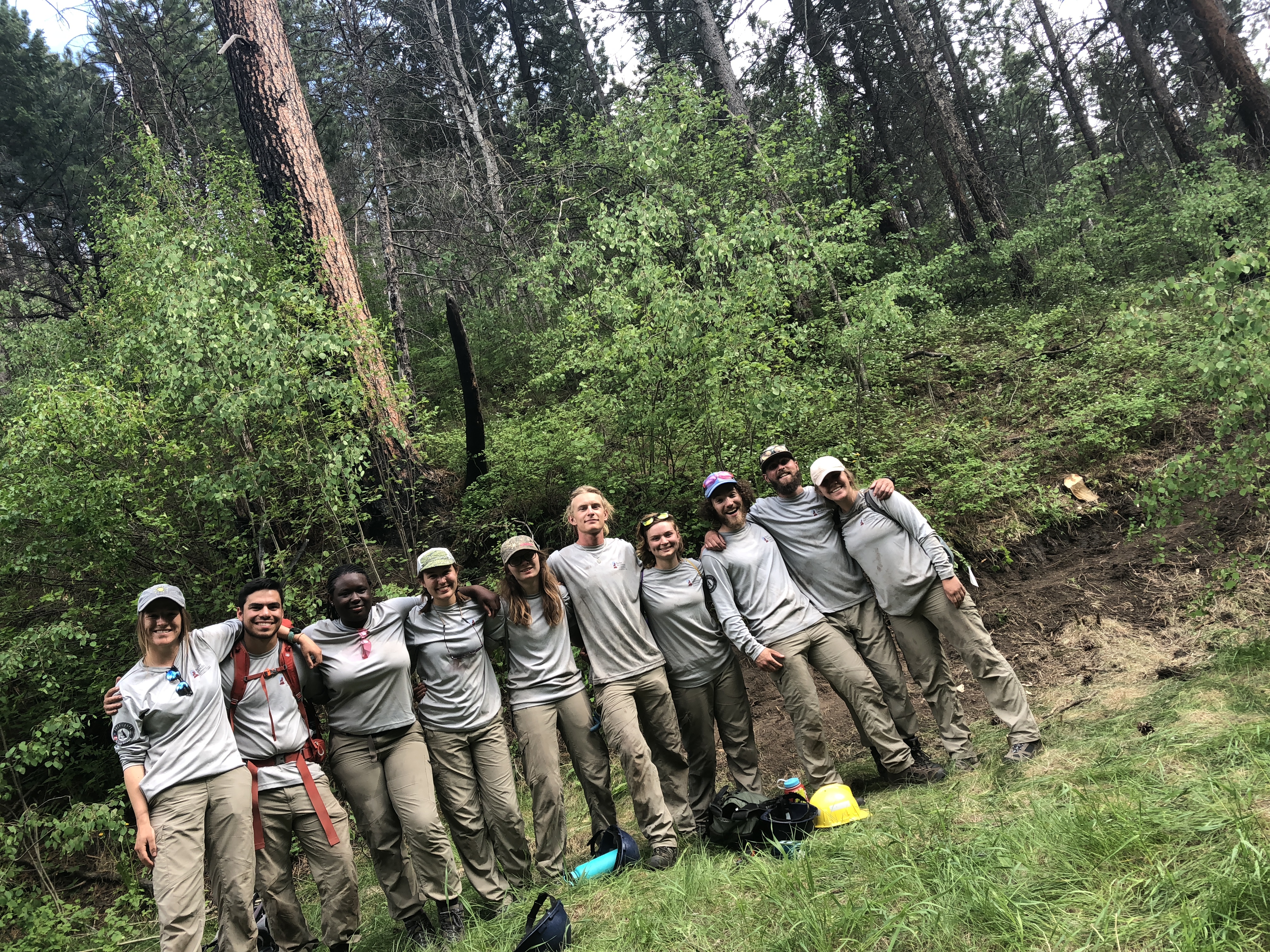 In 2013, the Young Gulch trail was wrecked by a massive flood and has been closed since then.  The Wilderness Restoration Volunteers (WRV) and other conservation corps have been working hard since then to open the trail back up.  During our week there, we dug new tread and built a ton (actually several tons) of new rock walls to help support the trail.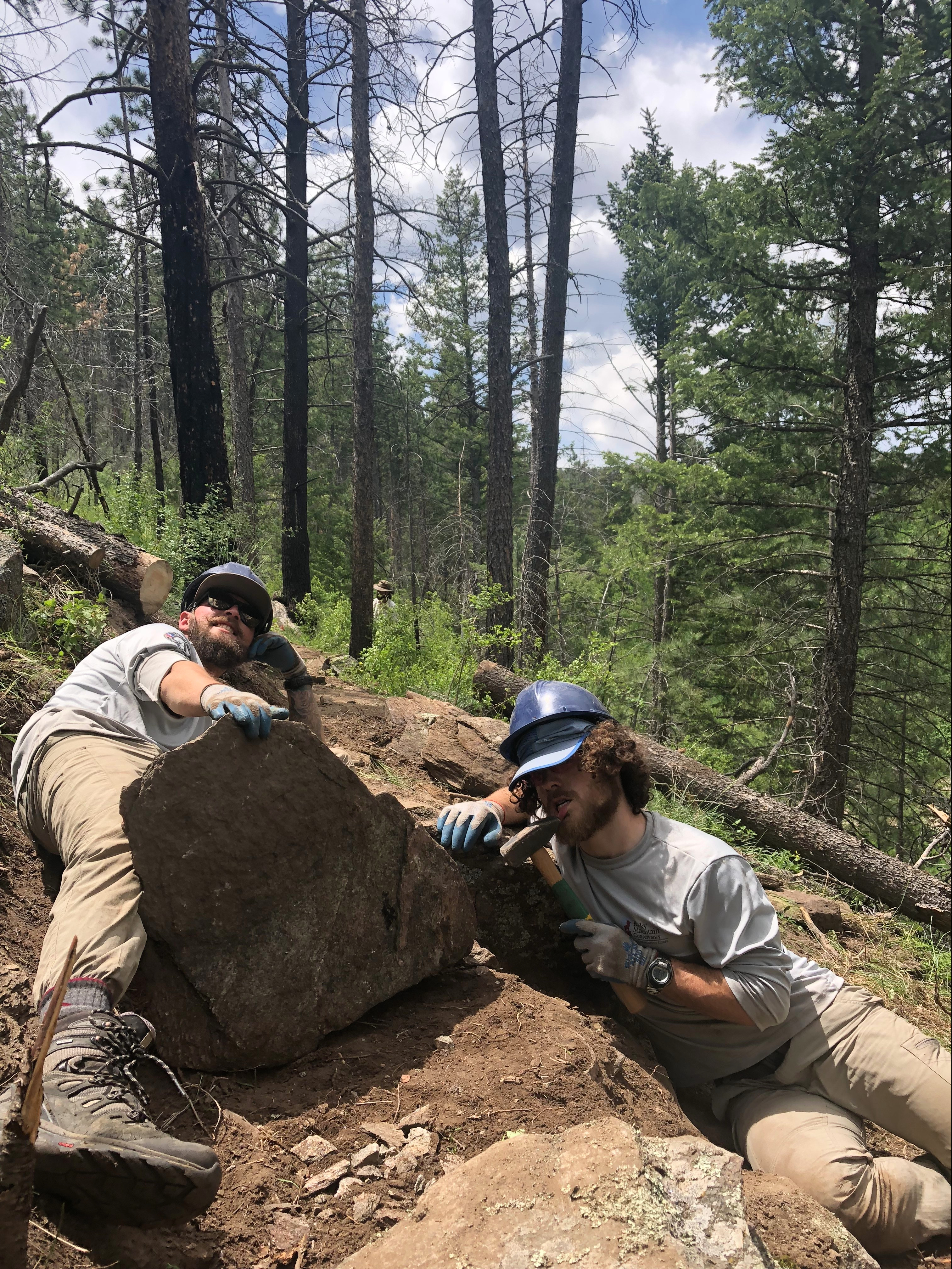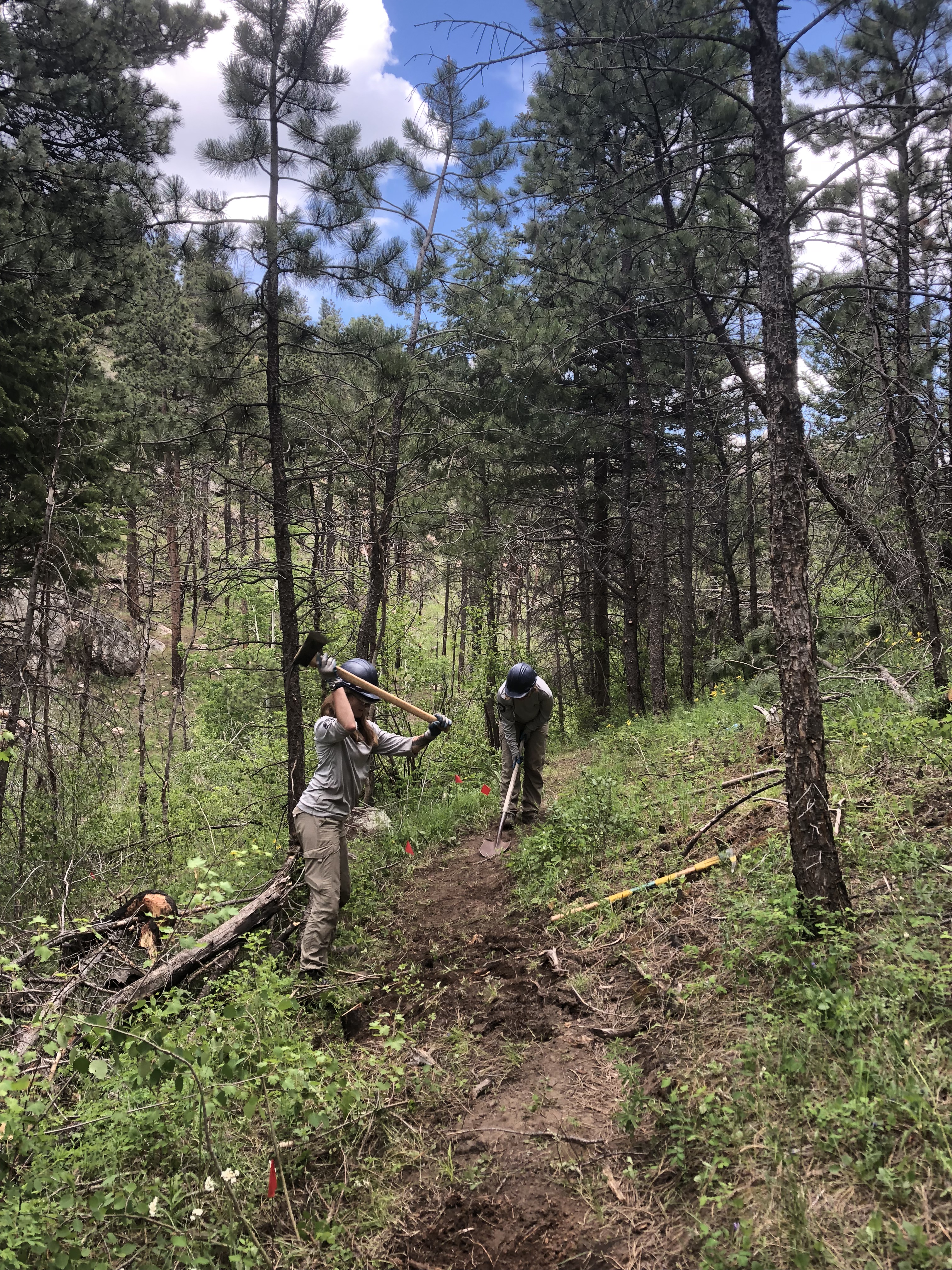 Throughout the first two days, Nate (aka Trail Jesus), from the WRV, was kind enough to hang out with us and teach us the best ways to create new trail and build strong rock walls.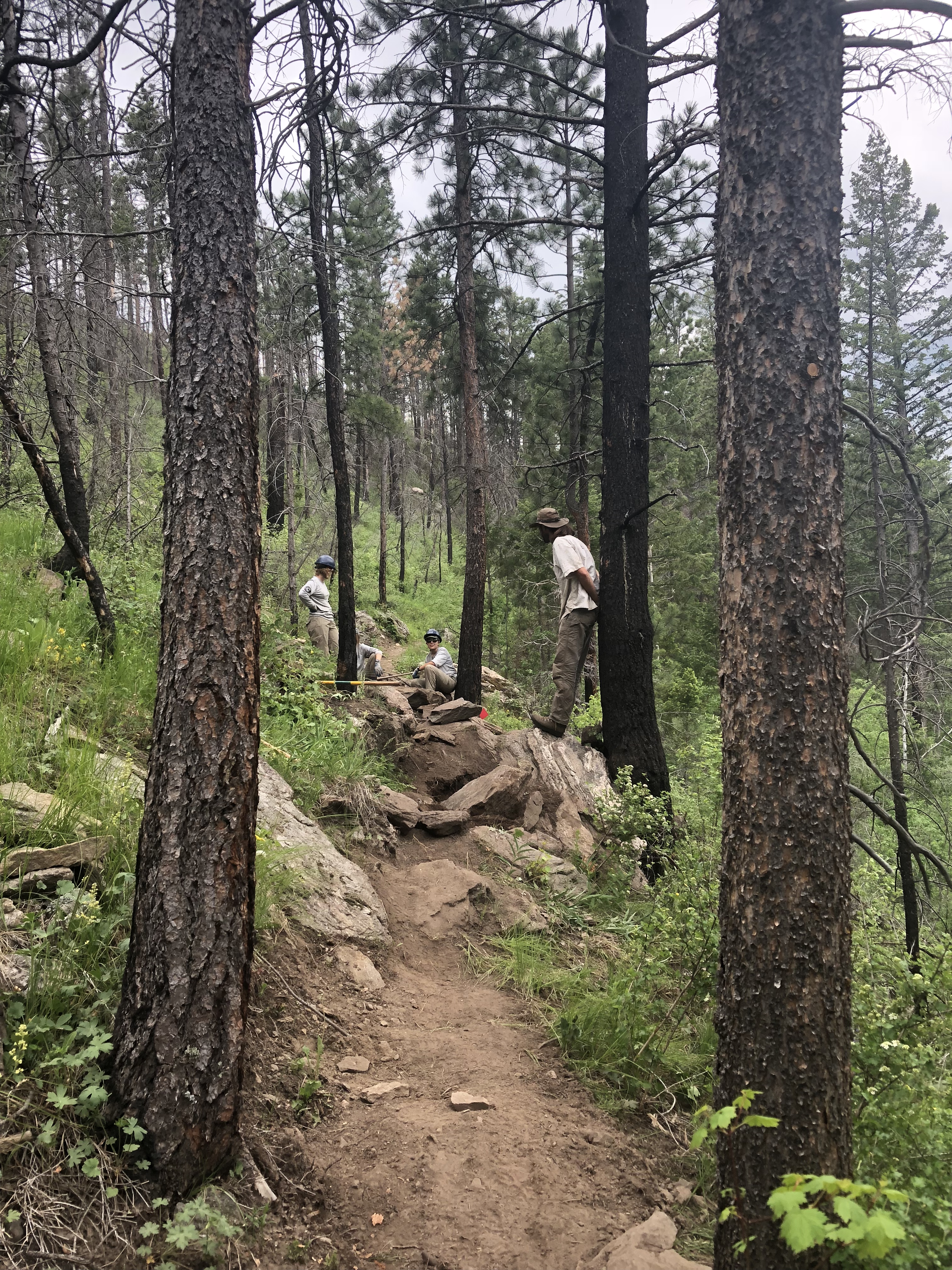 This first week was pretty unique because it was also our first hitch.  However, we got lucky and were able to camp in the parking lot at the trailhead, which meant port-a-potties and potable water across the street! Additionally, we cleansed ourselves of dirt in the nearby creek at the end of each day and one day we looked for the watermelon that Nate supposedly "floated" for us, but we never found it…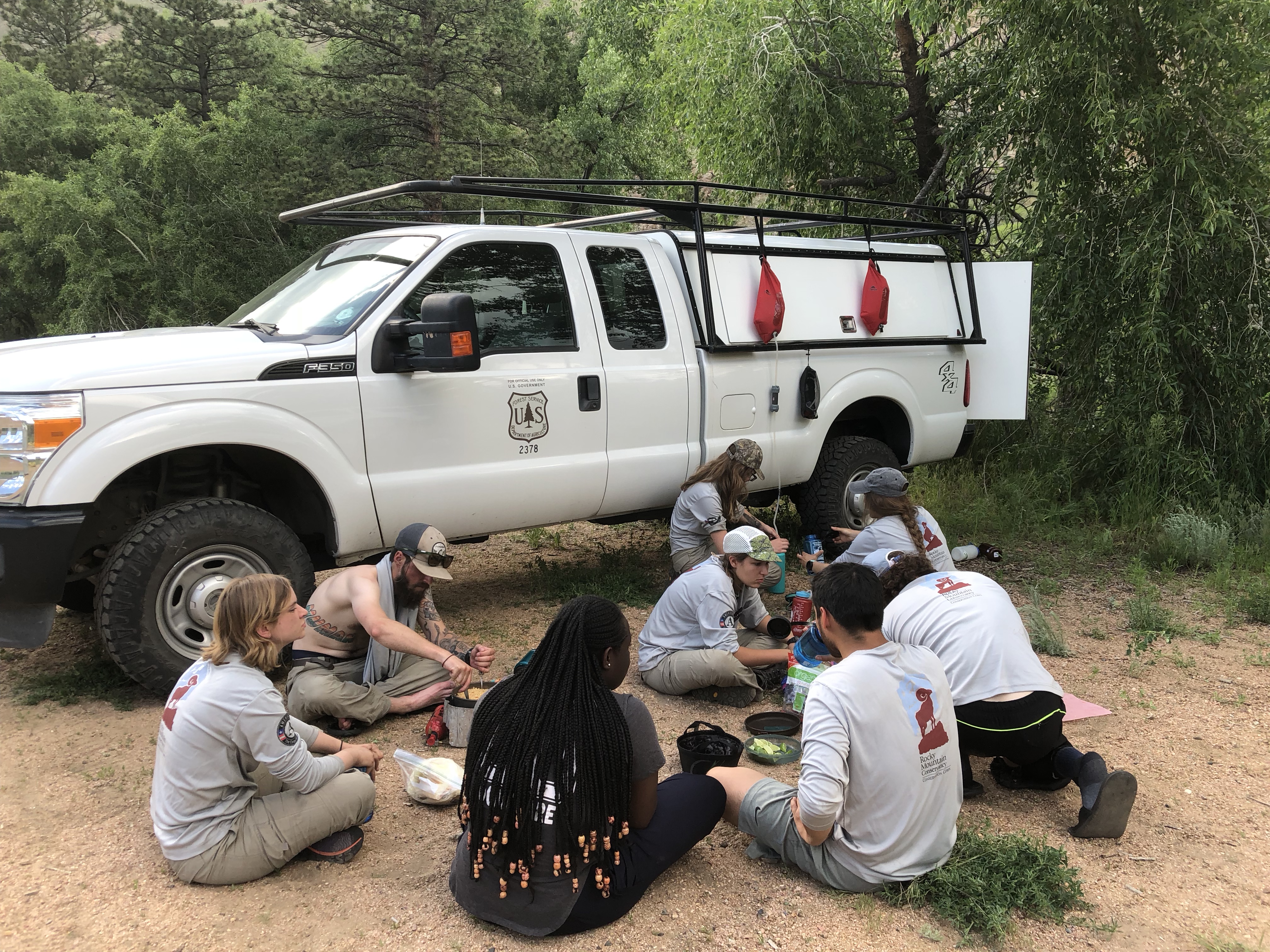 Until next week,
-Jordan and Noah (Rawah Crew Leaders)
Shadow Mountain Crew
This week, the Shadow Mountain Crew moved out to Grand Lake, Colorado to embark on the most glorious adventures! But first, the crew worked with the Sulphur Ranger District of the US Forest Service to get acquainted with the village in which we live and everyone who works on the district, even those outside of trail crews, including the District Ranger, firefighters, wildlife biologists, safety personnel, and the Statewide Off-Highway Vehicle (OHV) crew. Once we adapted to village life, the crew attended S212, a class designed to introduce us to crosscutting and chainsaw usage. The crew learned about tree binds, safety precautions, and MUCH MORE.
Thursday and Friday were spent on trail, doing project and maintenance work. On the Doe Creek trail, the crew enjoyed a beautiful walk through a wide open meadow to our work site, where we installed nearly 80 feet of trench to facilitate water drainage, as well as dug 10 feet of tread to reroute the trail around a muddy area bogged down with seepage.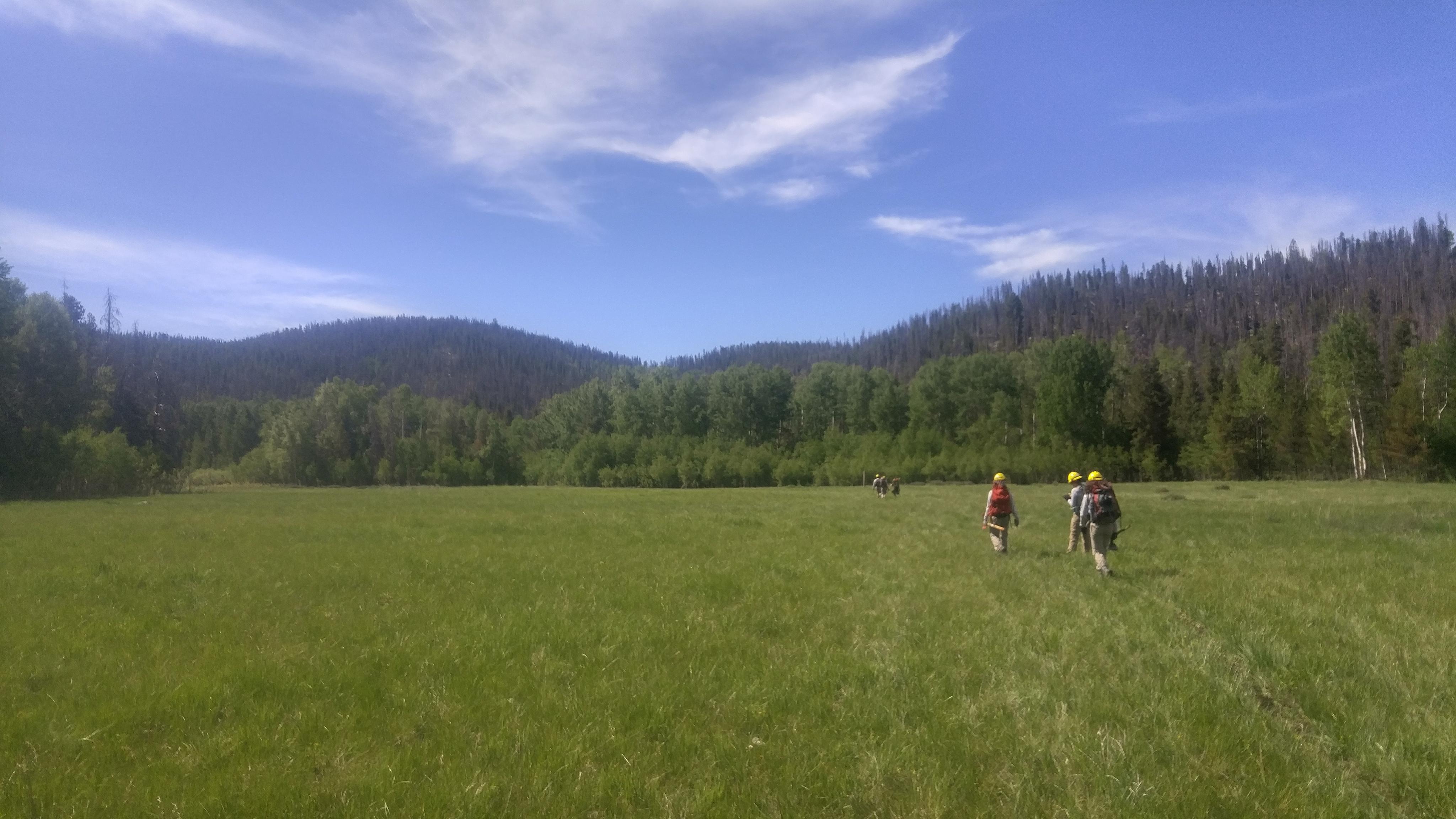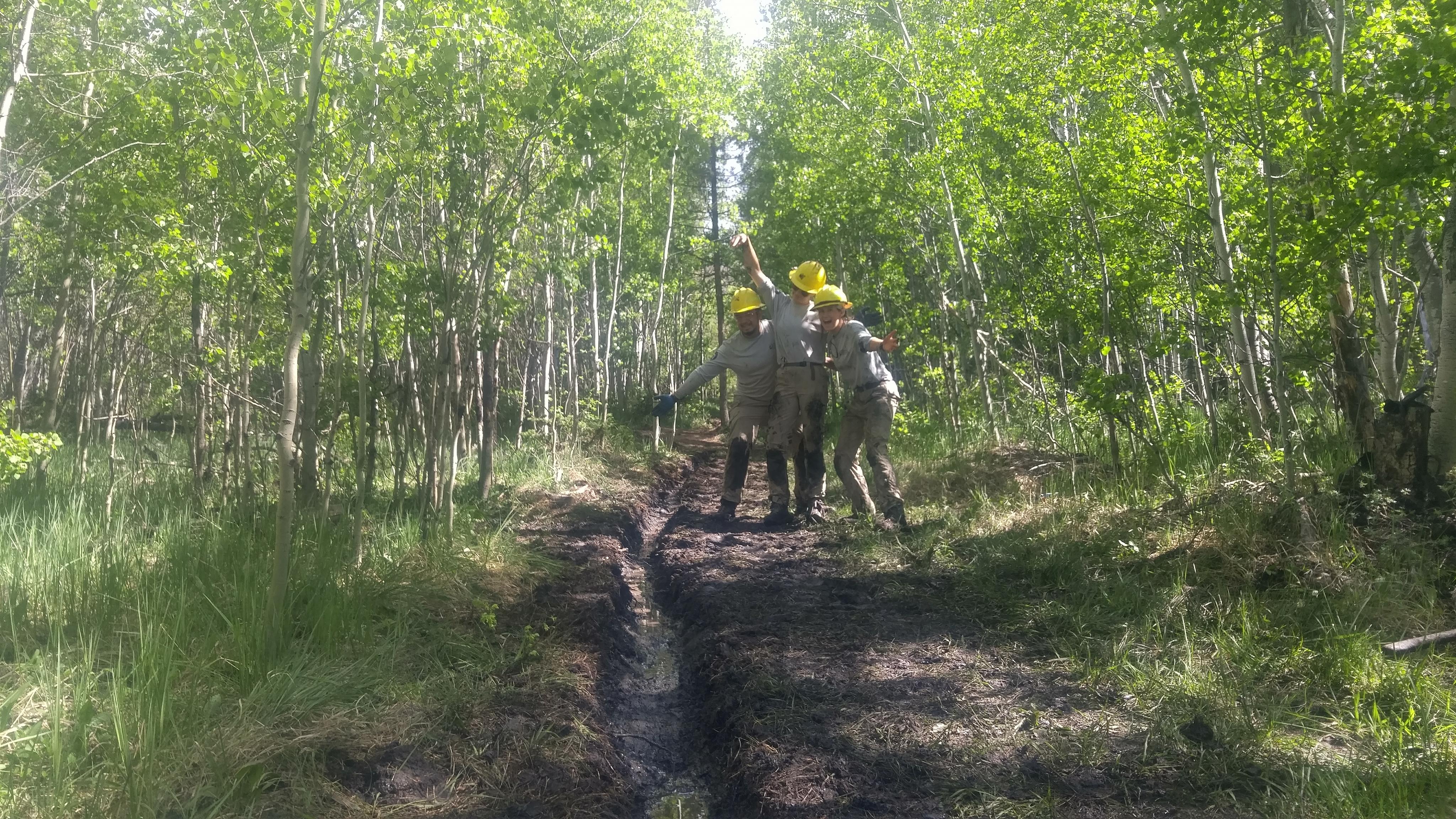 During lunch, we had an intriguing conversation about what air tasted like (feel free to comment your opinions below). In addition to this, with a bit of extra time at the end of the day, the crew cranked out 6 check dams. These were put in place to prevent further gullying of the trail, and topped off with a layer of fresh soil to ease travel.
Friday, the Shadow Mountain Crew made their way to the Williams Peak Trail, a long drive, but aided with a great jam session in our beloved Forest Service truck, Bruce. We had a great time, clearing almost three miles of overgrown corridor and reinventing drains and trenches in particularly tricky spots. The lunch break of this day was also notable, as the crew pondered ant exoskeletons, found a frog, named them Michael, and, of course, ate food. We reached a creek just as our turn-around time encroached, and paused for a quick splash to relieve the heat of the sun, much appreciated for the walk back to the car. This weekend, we travel back to Estes Park to climb mountains and take CPR/First Aid training and rejuvenate ourselves for another week of hard, rewarding work in the field!
-Mary (Shadow Mountain Crew Leader)
Estes Crew
6/4/2018 – A strong start for the RMC-CC Estes Crew! The work day starts with an early morning meet and greet at the National Park Service Trail Shop at 7:00 AM. The crew was introduced to 30 other professional trail workers including their NPS ambassadors, Marieke and Jessie. We can tell already that we are welcomed and expected to work hard. Next, we moved on to clean the horse stables, a 30-minute task that takes place every morning. Shoveling hay and horse poop is a great way to warm up the muscles, meet the pack horses, and get to know the NPS staff, who also participate in this daily activity. The rest of the day was spent at Aspen Brook, a trail that was destroyed during the floods of 2013. We restored around 100 yards of tread (trail surface) by removing 30 feet of berm that was causing water to flow onto the trail rather than off it. We also helped by moving unwanted rocks from the trail, some weighing up to 300lbs. Cora spent her time cutting new tread insuring that the back slope was properly cut at the correct angle. We covered the existing trail that was there before with sticks and pine needles, so the public will be encouraged to use the new tread, also known as brushing in or duffing. Another part of the day consisted of moving rocks to a section of trail that had been rutted out by rain fall. Adding large and crushed rock to these areas raises the tread up out of the gully and insures that water runs off successfully. After lunch, we spent the rest of the day clearing the slough, a mixture of small sticks, rocks, and pine needles that accumulates on the trail. This widens the trail and prevents people from walking out on the critical edge.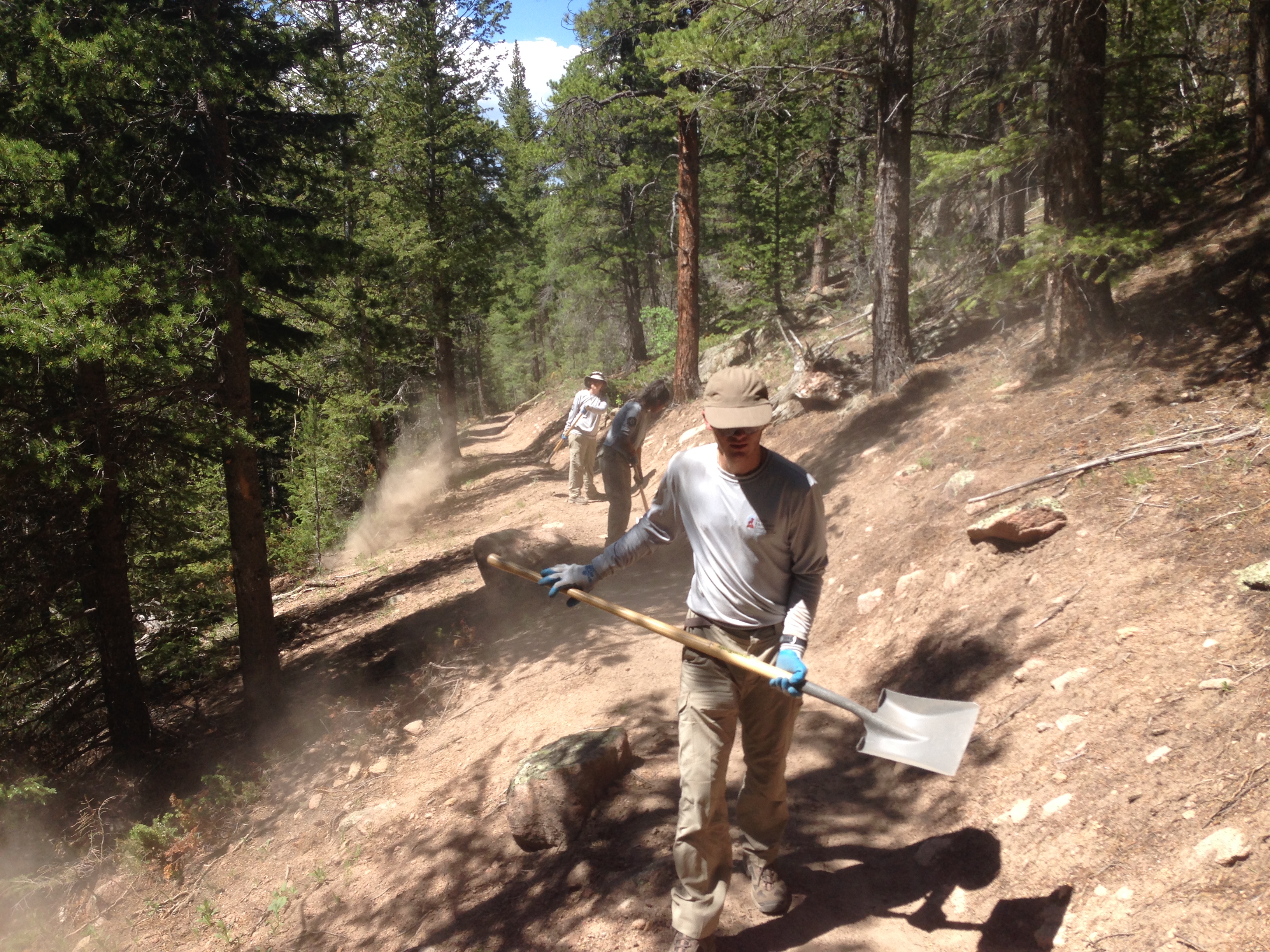 6/5/2018 – The day was spent with NPS trail crew member Ben, who took the crew back out to Aspen Brook. The crew spent the entire morning removing half a mile of slough from the trail. Clearing slough is beneficial for many reasons, one being that it creates a safer environment for backpackers and horseback riders by erasing trip hazards from the trail. Crew member Nate spent his time down trail moving rocks in preparation for new and improved tread. During lunch, we learned about the historical value of the Aspen Brook trail. It turns out, this was one of the first roads that lead to Boulder, with tea houses along the way. The afternoon consisted of a walk through on how to detonate rocks safely with small amounts of TNT. However, due to the softness of the rock, the explosion had very little impact. We instead used a double jack and a single jack to slowly chip away at the large rock.
6/6/2018 – On Wednesday, the 6th of June 2018, Estes crew set out to provide support on a future bridge project. We spent the day peeling logs of its bark, just like potatoes. Using proper body mechanics and draw knives, we were able to perfectly strip large chunks of bark off at one time. It's important to strip bark from the logs before a project because it will decompose much faster than the wood itself, making weak spots in the structure. Once the logs were peeled, it was time to move them to their new location. We were able to move the logs around 50 meters with 8 people and 4 straps that were placed evenly down the log. Each log weighed around 700lbs, so we were only able to move them a few feet at a time. This required extreme teamwork and communication throughout the process. Later in the day we also observed while Marieke fell two trees, giving us some insight on tree safety.
6/7/2018 – We spent the day participating in SAR training (search and rescue). After meeting the other members of the course, we split into 4 groups that would rotate throughout multiple stations. The stations included patient packaging, navigation, GAR scale, and check-in and check-out procedures, each of which are important steps in a SAR situation. Then after lunch we assessed in a mock rescue situation. During this scenario two groups responsible for locating an injured hiker, assessing the situation, packaging, and finally moving the patient. We as the Estes crew are now able to assist in search and rescue operations.
-Curtis (Estes Crew Leader)
Moraine Crew
WOW! What a first week for the Moraine Crew. It is amazing how quickly four days can go when you are having a blast! After getting settled into our "bunk houses", which are actually very homey cabins, over the weekend we were ready to get working.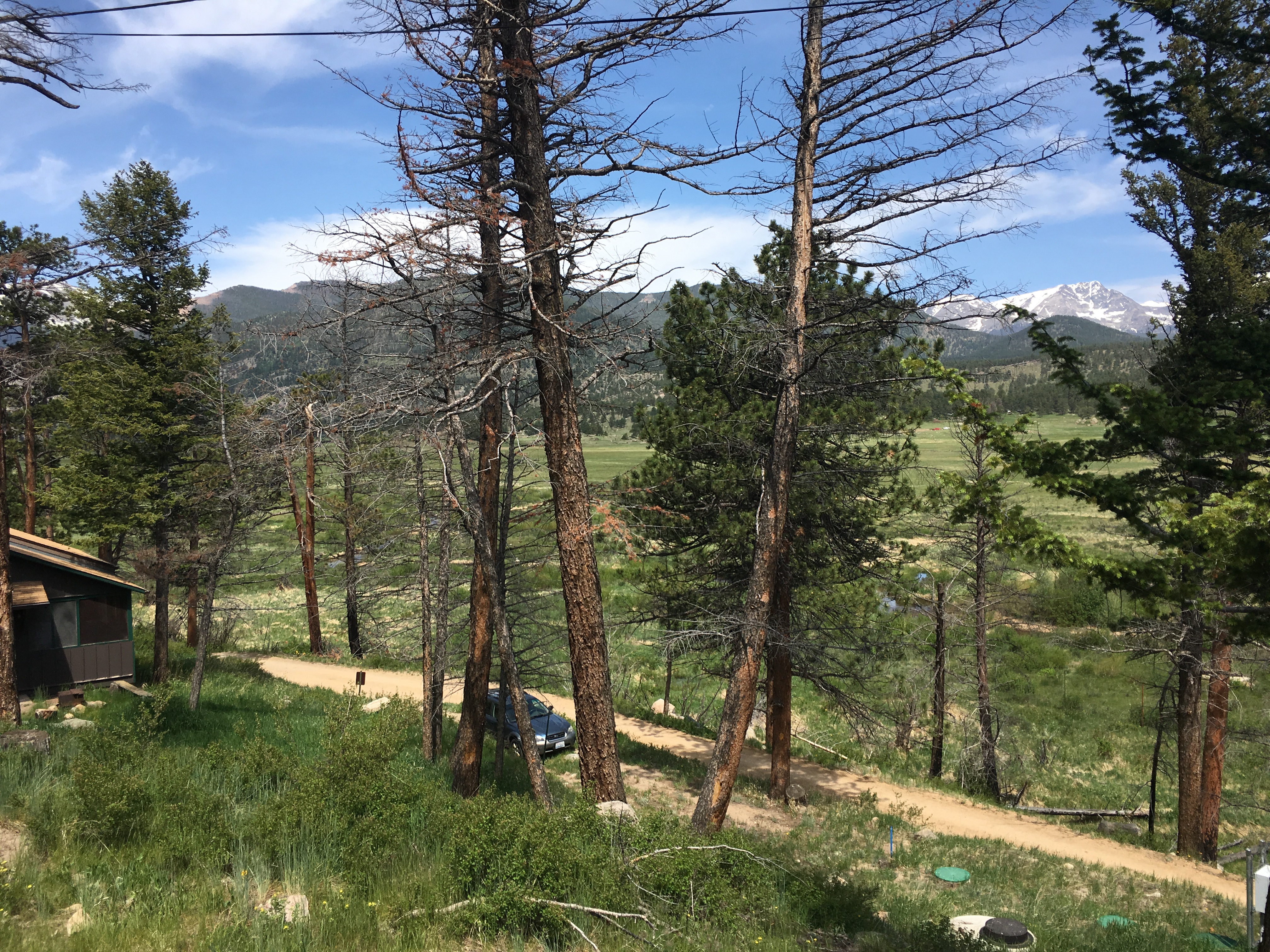 Monday started off with getting to meet our supervisors, Chuck and Bob, as well as the rest of the employees that we will be working with over the summer. Then, we were each given our tool buckets and were sent up to an area called Tortilla Flats to break down and reclaim the metal from old and broken picnic tables. This gave us all a chance to get tools in our hands and start learning how to use them. By the end of the day we were working together like a NASCAR pit crew breaking down tables in mere seconds.
Because most of our big projects this summer take place in campgrounds throughout RMNP, we do not want to start making noise and disturbing campers at 6:30am, so in the morning we will be working on side projects, like using the reclaimed metal to make new picnic tables for visitors to use for decades.
Tuesday started off by visiting the local lumber yard and learning how to assess lumber quality when buying the boards that will be used for the new tables. Once we had gotten enough high quality boards to start building tables we went back to the shop and learned how to use a router to bevel the boards, power sanders to make a smooth surface, stain to make the wood resistant to weathering/ rotting, and the intricate process of assembling a picnic tables (it is a lot harder then it may seem). By the end of the day we had about twenty boards finished and ready to be made into tables and one table near completion, building a picnic table is a bit trickier then one might first imagine.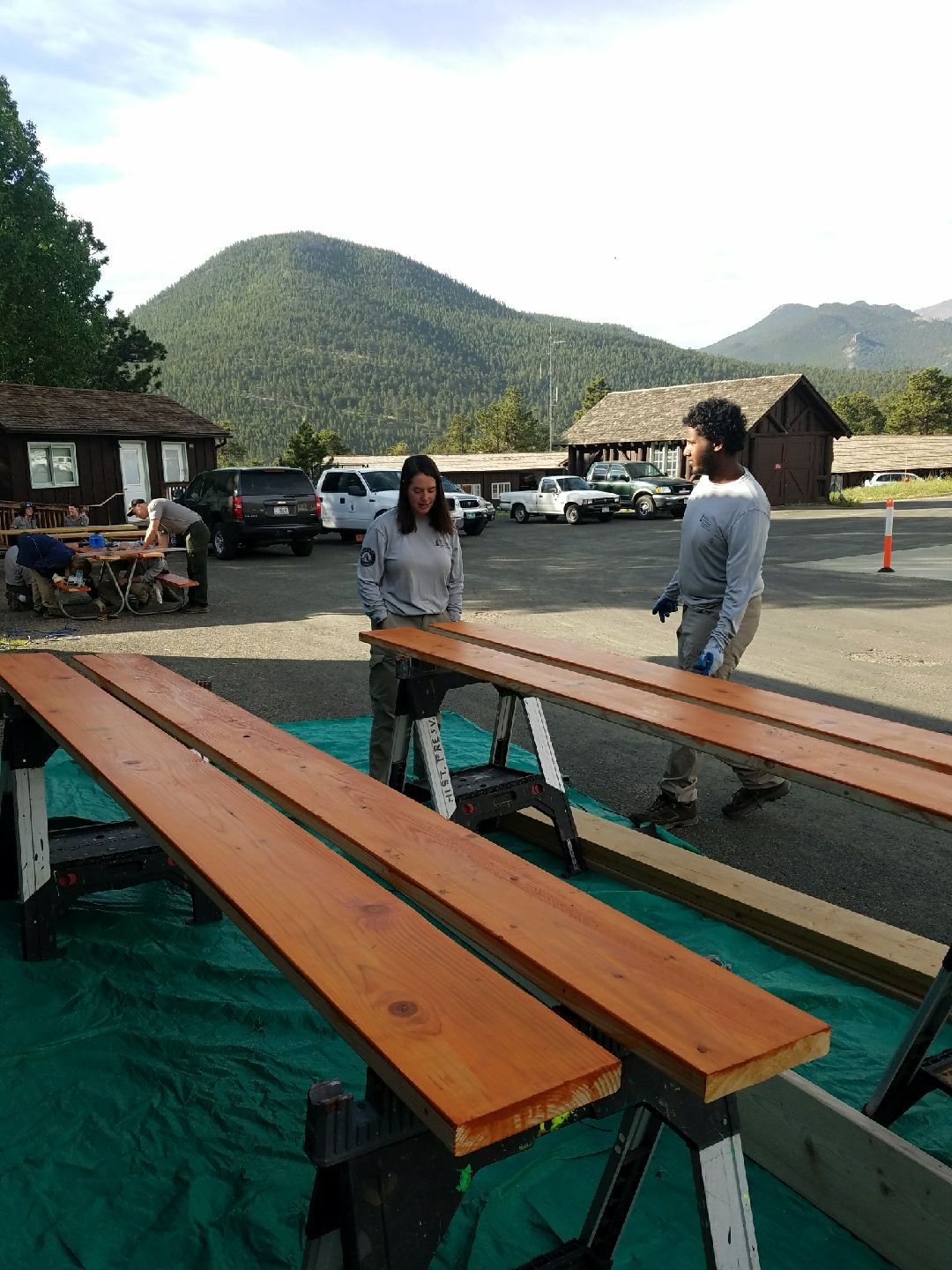 Wednesday morning after completing another table and finishing more boards we headed out to the Moraine Park Campground comfort station that we will be continually improving through the season. Today our task was to dig a 45 feet long and 18 inches' deep trench to allow electricity to be hooked up to the comfort station improving visitors experience. Although it was a hot day and we were all in the sun for hours, we all had a blast! The entire time we were working together laughing, joking and making the best out of what many would see to be hard work. During that time Hayley ended up finding her passion for digging trenches ensuring that her section was a perfect 18 inches deep with steep parallel walls. After the trench was complete and the electrical lines laid we replaced the soil and scattered forest litter to help the area recover and maintain the aesthetics of the area.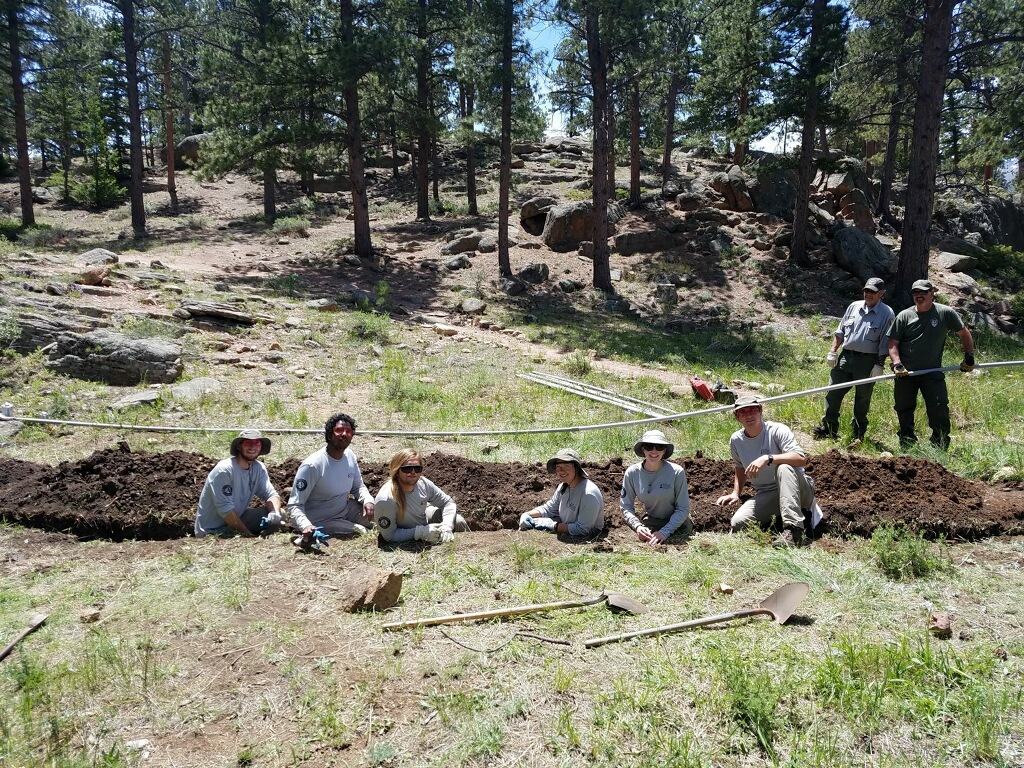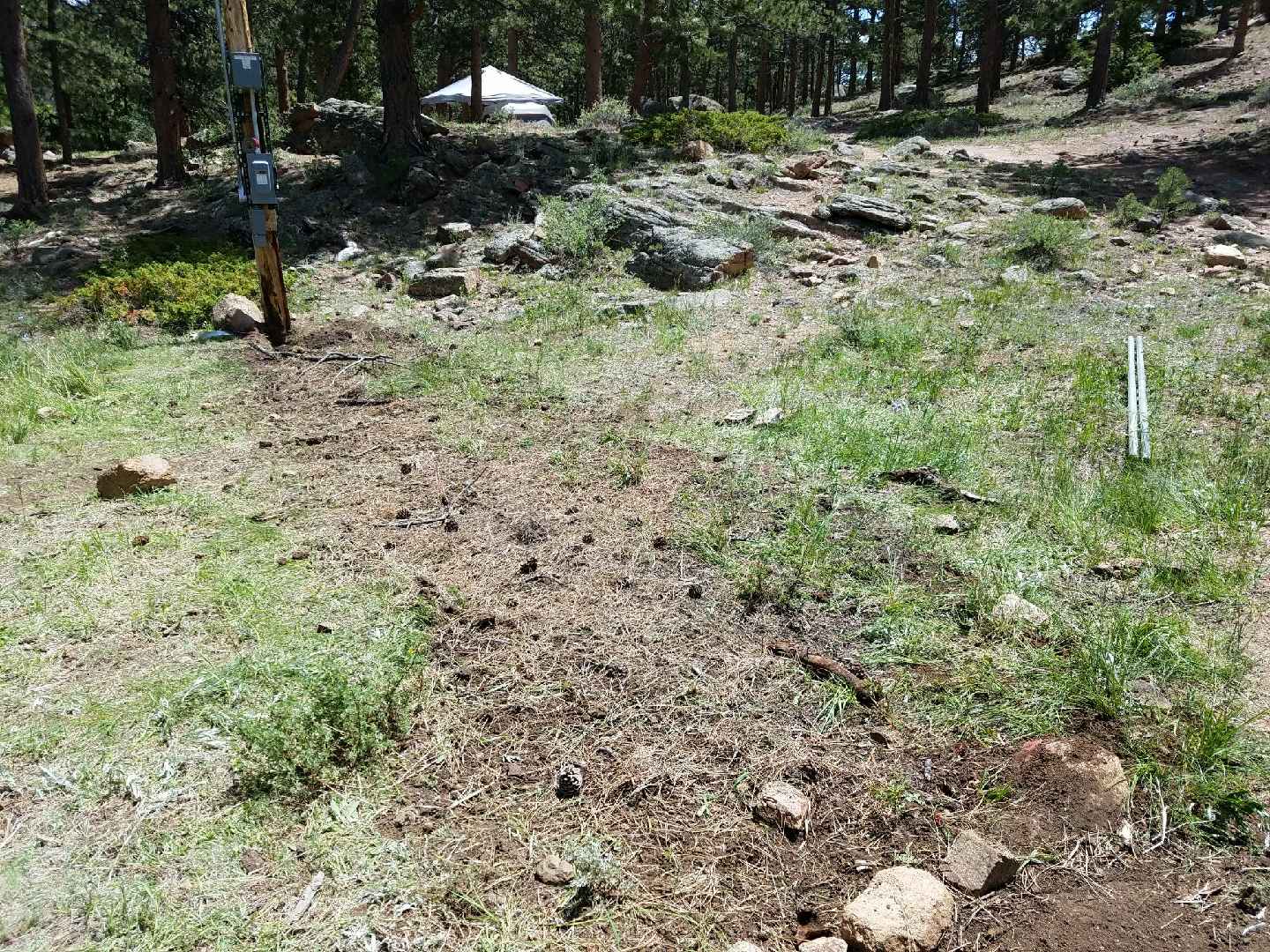 On Thursday, or as we call it Friday, we began prepping boards that will become the border for our accessibility path at the same Moraine Park Campground comfort station. The objective of these accessibility, or ADA, paths are to allow individuals with mobility impairments to utilize our facilities and enjoy the same comforts other campers have. The boards were anywhere from 10 to 22 feet long and required mutable coats of stain to insure they will last decades in the ground. Around lunch time while we were outside staining boards we saw the Estes park crew walking up to say high while they were on their lunch break during their search and rescue training. We had not taken our lunch yet so we decided to join them and put our brand new picnic tables to the test. It was very nice to get to use what we had been building all week and share some food and conversation with our coworkers. After lunch we continued our staining project and finished about 1/3 of the boards, which is good considering the surface area of the wood we have to stain is over ¼ of a football field and we are doing at least two coats!
All in all, the old saying time flies when you are having fun definitely applies to this first week of work. We all cannot wait to see what is coming next!
-Will (Moraine Crew Leader)