Boulder Crew
Sunday, 6/4
Sunday morning, we woke up bright and early at Moraine Campground in Rocky Mountain National Park and broke camp. We said our goodbyes to the ambitious, early risers and made our way to our new home in Nederland, CO. We met our National Forest Service contact, Ben, at the Nederland Work Center at 9am. The Work Center is where we are supposed to be taking showers and doing our laundry each week; unfortunately, it seems that we are coming into the Work Center situation a little behind as the last RMC Boulder County Crew was blamed for most of the previous messes. We often feel as if we are walking on egg shells as we maneuver around and use the facility, scared to make messes or leave anything disturbed. This aside though, we are extremely grateful to have a free shower each week and our doing our best to restore the name of the Boulder County Crew as the "Cleanliest Crew in the West". The rest of our day consisted of running errands (shopping, laundry, the much needed showers) and settling in to our new campsite and home at the campground "Kelly Dahl", which we have come to affectionately call "The Homestead" or "Club Ned", as some crews have called it in the past.
Monday, 6/5
We woke up bright and early once again in order to meet our camp departure time of 7:00am, sharp. We were a little slow moving as we were still hashing our our morning routine, but we all 6 of us were jammed in a truck and on our way just in time. Upon arriving at the Work Center, we learned that our project for the week would be a trail named "Ceran St. Vrain"; yes, it is a very odd, foreign name for a trail. Supposedly it was named after an early pioneer, fur trader, and militia leader (an informational sign and quick Wikipedia search informed me of this information, give it a try).
The trail was supposedly in pretty rough shape a week or two ago due to all of the downed trees; however, thankfully, a crew had gone through prior to our arrival and cut out the majority of the trees blocking the trail. Our task for the week was to repair some failing rock walls, restore degraded tread, clear the corridor (the walking space of the trail), and restore blown drains (structures which help water run off the trail).
We split into our crew in half to work on two different rock walls (I, Ryan, and Brendan on one and Ally, Louisa, and Andrea on the other. I promise we did not intentionally split ourselves up based on gender…). It was a fun first project to figure out the mechanics of a rock wall and haul huge rocks around the trails and slopes. Included in this rock work was the task of moving a near 1-ton boulder off of the trail; this was a fun test of our problem solving skills and understanding of physics. We finished up day one re-digging about 36 drains and restoring a section of degraded tread.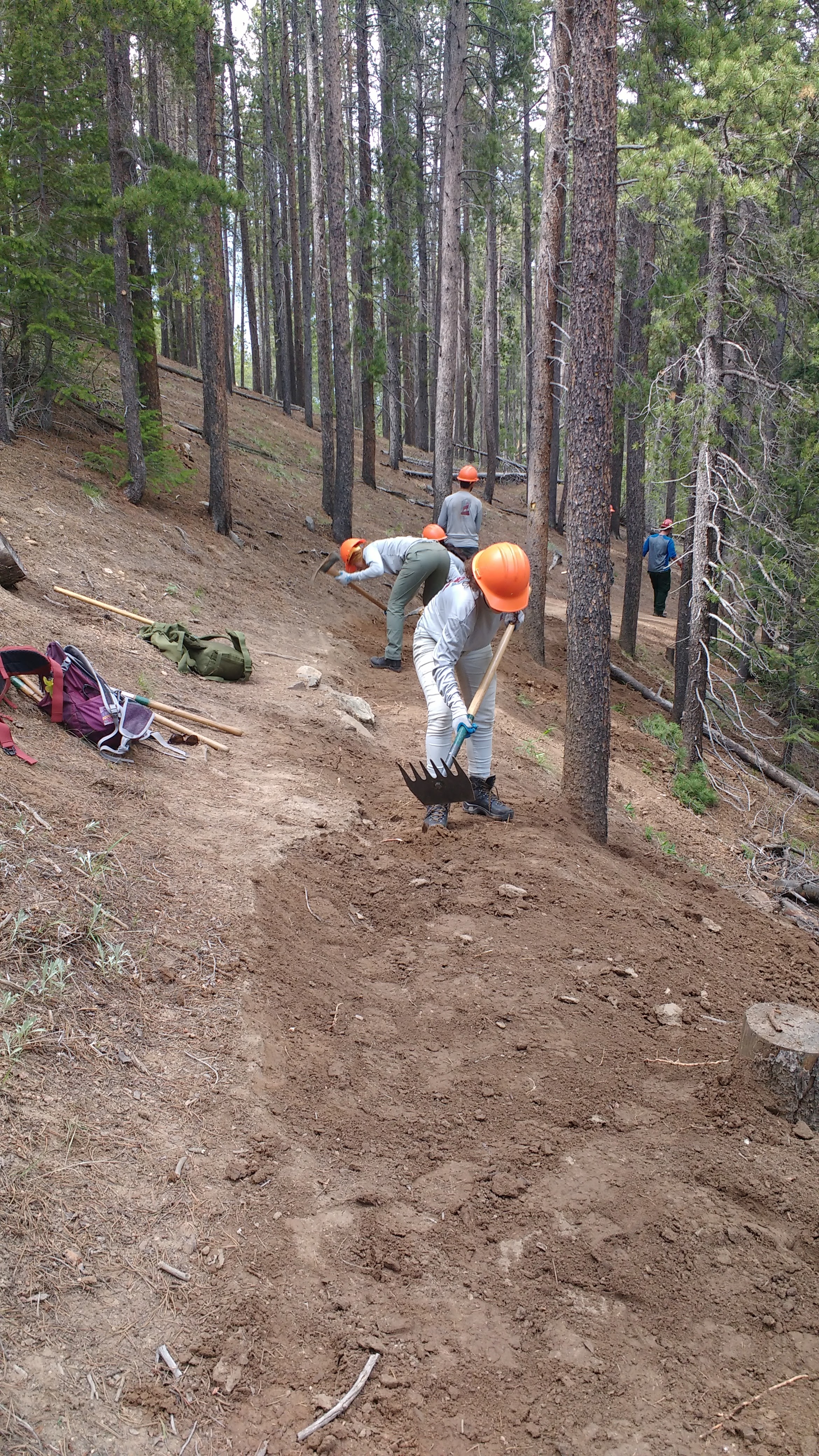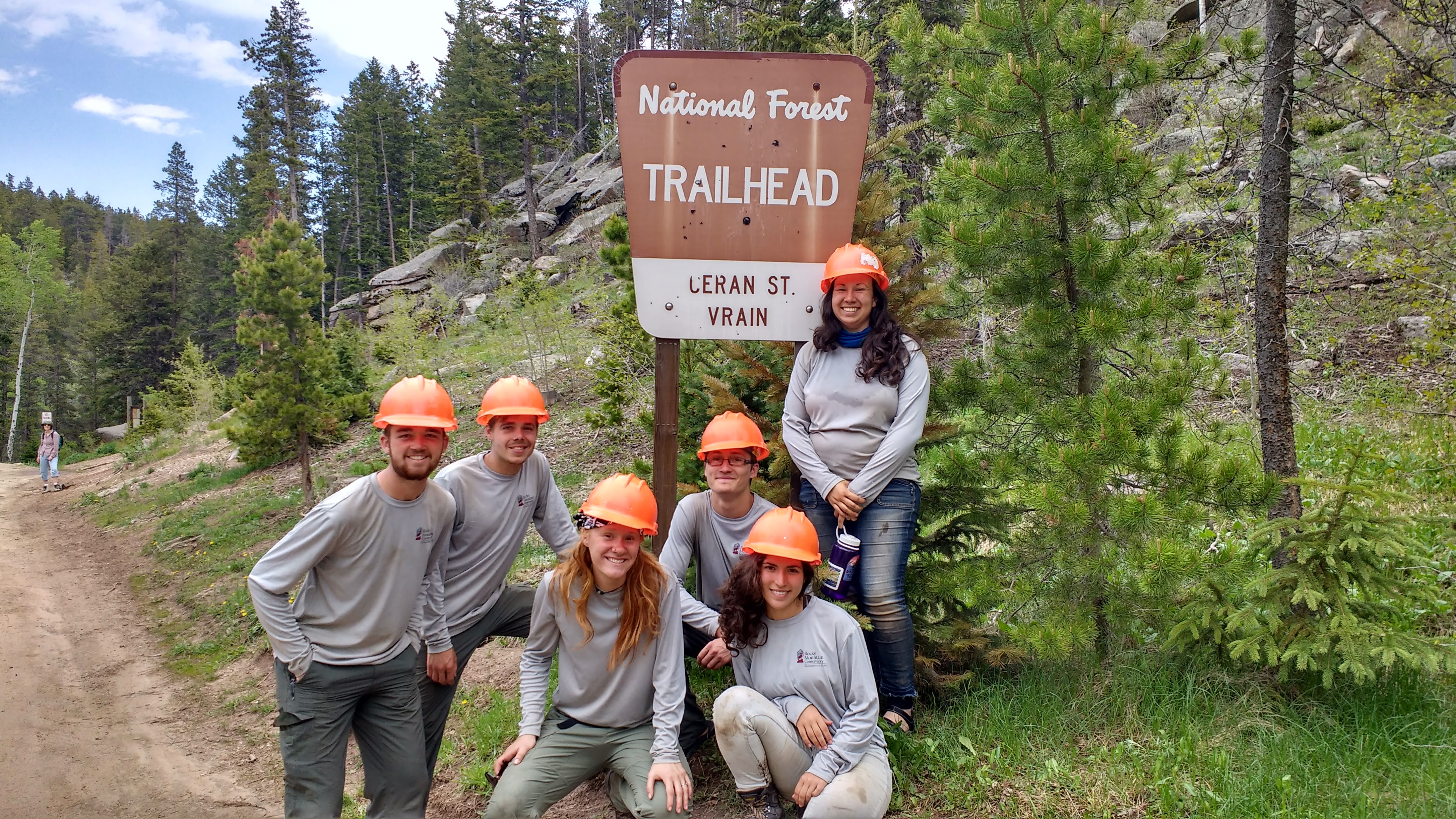 Tuesday, 6/6
Work Tuesday encompassed, well, a whole lot of lopping (cutting out branches and brush using loppers). We spent all day cutting and working our way down the trail. Needless to say, we got a mad triceps workout. That day we cleared about 1 mile of trail (the total length of trail being 1.9 miles, for reference).
Wednesday, 6/7
Wednesday was consumed with more corridor clearing and restoring some degraded tread (the surface of the trail in which you walk on). We brushed about a mile of trail, re-doing some areas we didn't clear thoroughly enough (give us a break, it's the first week). For the other half of the day, we worked collectively to re-grade some areas of tread which were either pooling water or way too slanted. It felt good to get a break from lopping and also to get back to tread work, it gives much more room for creative interpretation.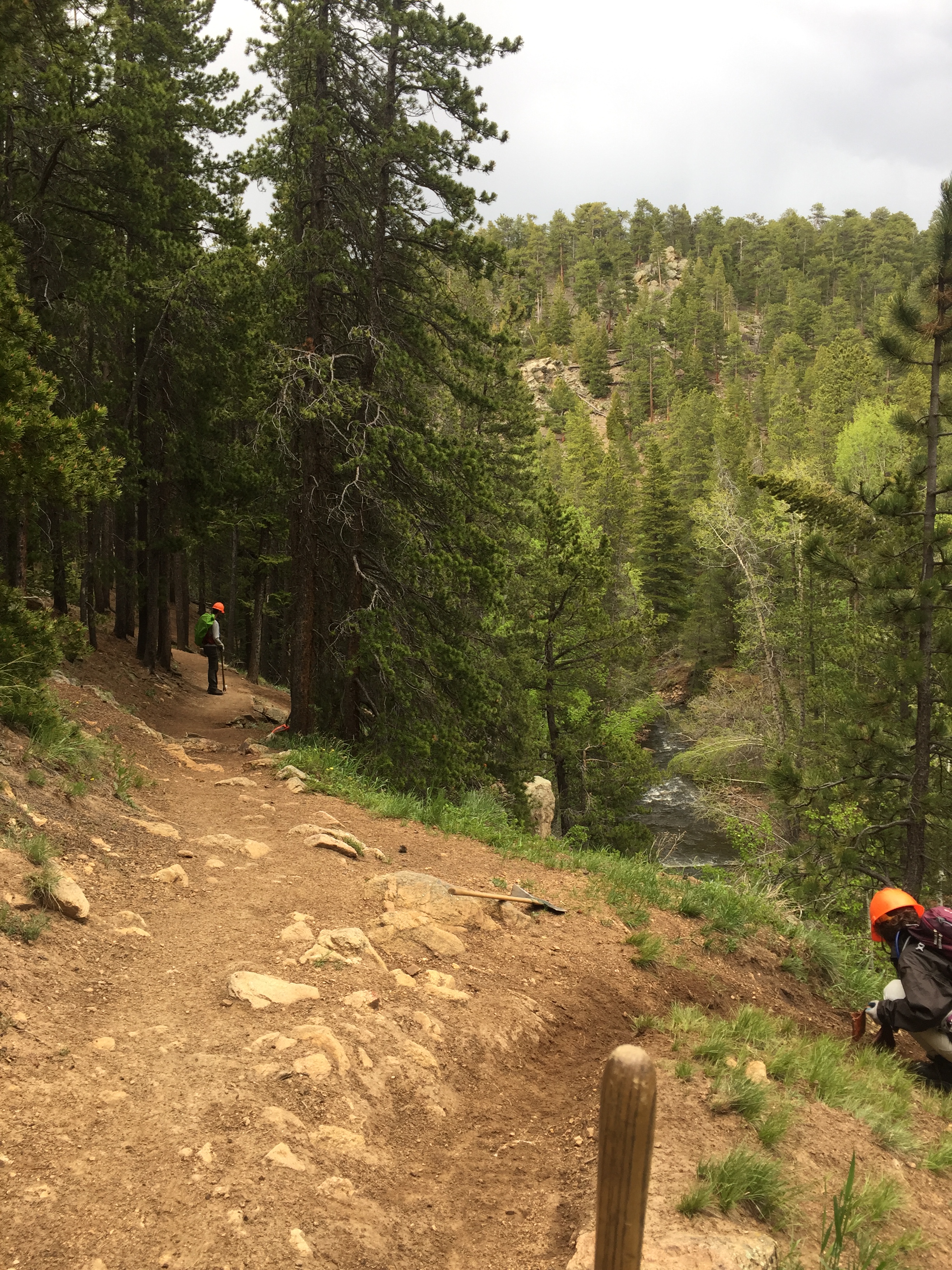 Thursday, 6/8
Thursdays are our last day of the work week since we are working 10-hour days (7am-5:30pm, Mon-Thurs). Upon arriving at the Work Center in the morning, we learned that we would be having two interns joining us from the Indian Peaks Wilderness Alliance (IPWA). The two extra set of hands from the interns (Jake and John) were much appreciated after a long, but rewarding first week of work. So, with the extra help we set out to finish up on the Ceran St. Vrain trail. Our lingering tasks included: digging the rest of the drains, finishing the corridor clearing, and completing our tread restoration work.
We, surprisingly, finished all of the trail work a little early, thus we headed back to camp and sharpened our tools to fill the rest of our allotted work time for the week. We consequently rewarded ourselves with a dinner of tofu teriyaki (cooked by our in-house chefs, Brendan and Ryan) and then with a post-dinner snack of pizza at a shop in Nederland.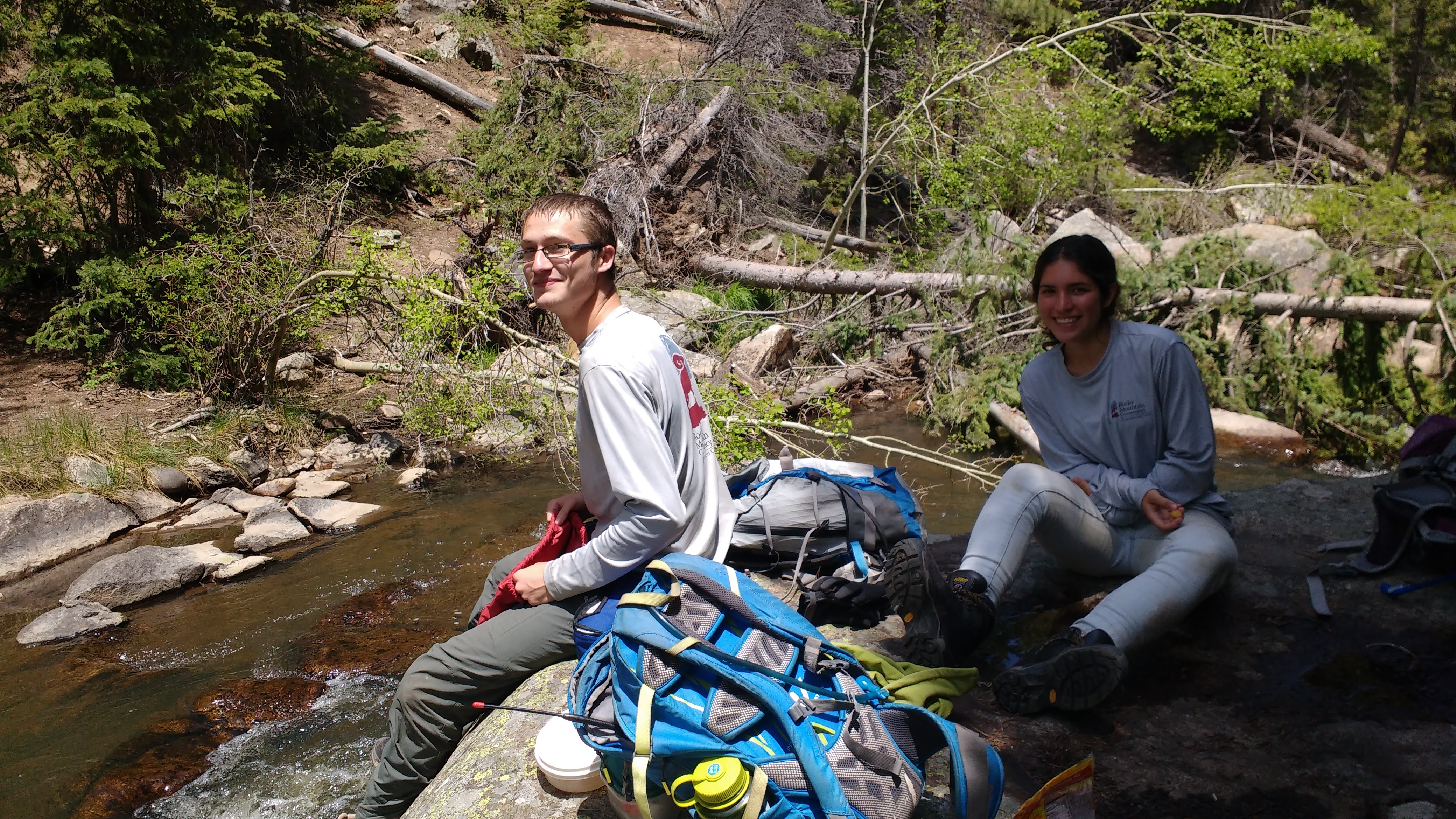 The Weekend
As I write this post on Friday morning from a quirky bookstore coffee shop in Nederland, our current, tentative weekend plan is to take it easy and explore the funky town of Nederland today, hike Twin Sisters in Rocky Mountain National Park with a few of the other crews on Saturday, and re-stock/catch up on everything in Boulder on Sunday.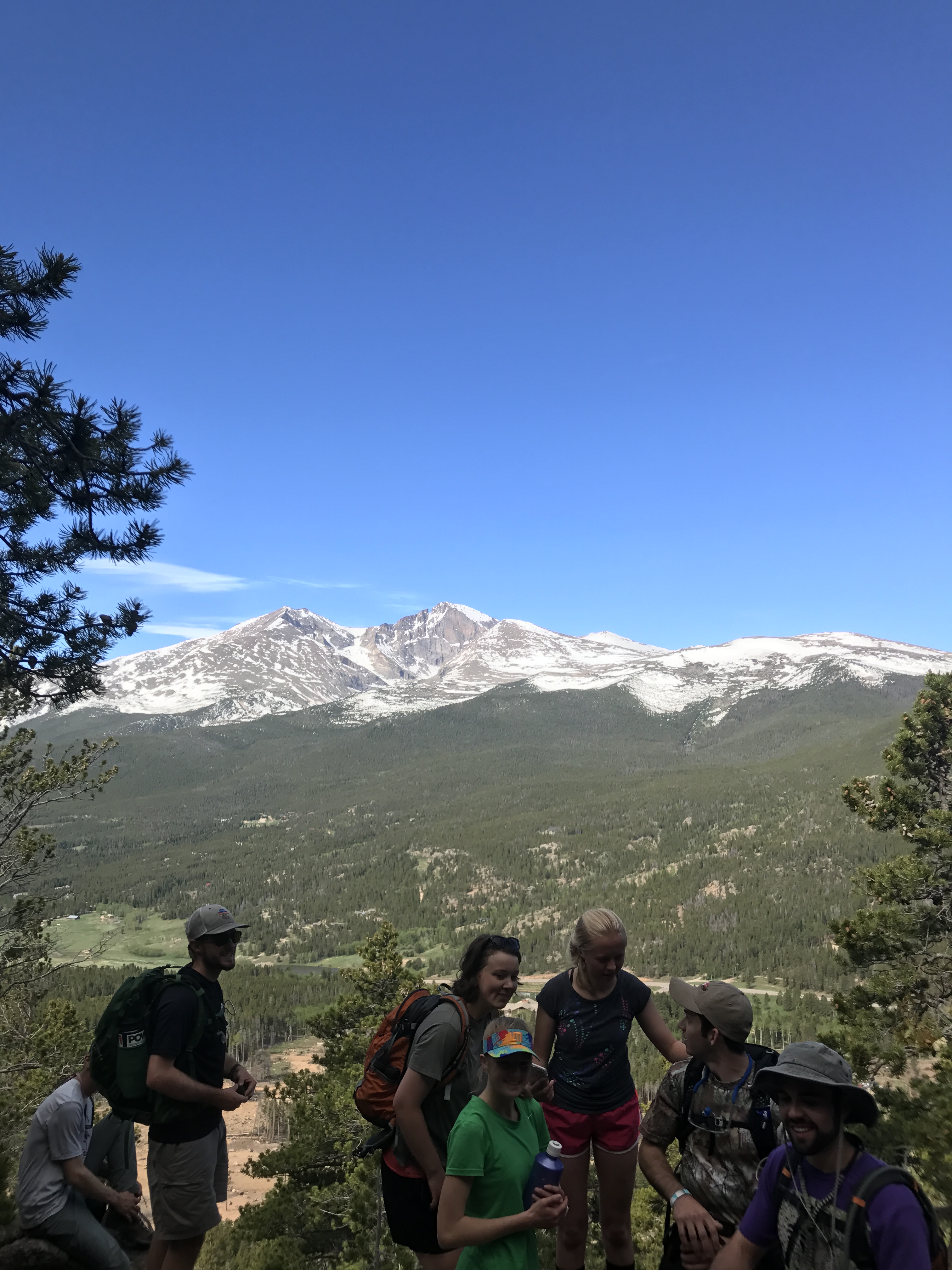 Closing Thoughts
It feels as if we are slowly beginning to get in our rhythm of life here. Our days usually consist of waking up at 6am, working until 5:30pm, cooking, eating, and washing dishes until about 8pm, carrying out a few camp chores until about 9pm, and lastly catching a few pages of a book before dozing off in our cozy tents and sleeping bags. Though this may seem hectic, it is so pleasant, at least for me, to be on such a set, consistent schedule. Back in "normal life" there are so many things vying for your attention: cell phones, internet, social media, etc., but out here, we are forced to focus on the tasks at hand and the few people around us. Although this type of work and lifestyle may not be for everyone, or even sustainable long-term, it is very good to be here now.
Until Next Week!
-Lucas McClish (Boulder Crew Leader)]
Rawah and Red Feather Crews
Red Feather and Rawah Training Week
Red feather and Rawah joined forces for training week to create the 12-person mega crew,"Radwah". On Sunday, we all trundled up the Red Feather Lakes region to stay in the ranger district bunkhouses, one officially named the "Hunker Bunker" and the other self-deemed the "Hodge Podge Lodge" when we decided it needed an alliterate name as well. We spent Monday and Tuesday cross-cut training with Forest Service Rangers Chris and Matt. They expertly instructed us in both the theory of crosscutting,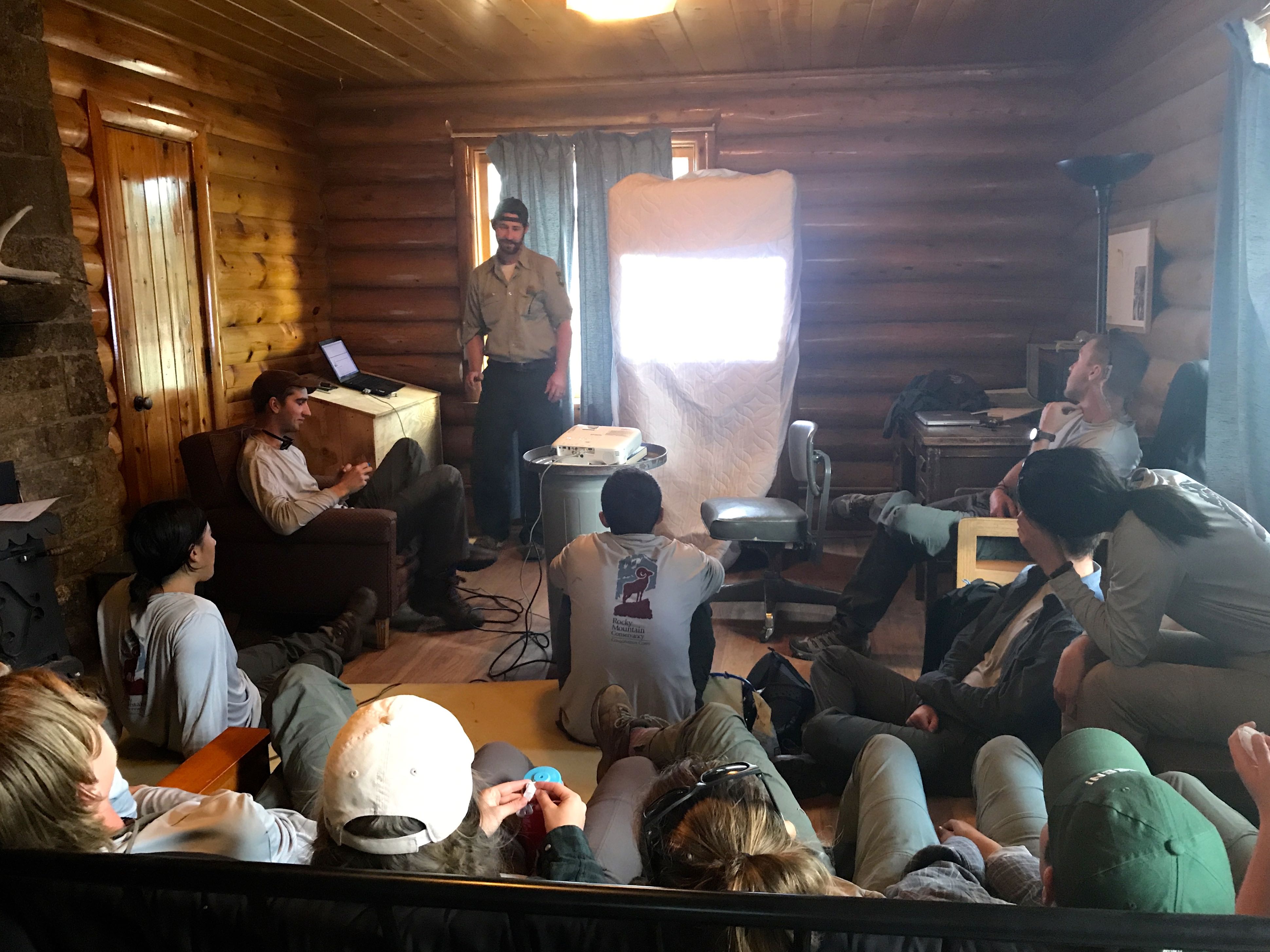 as well as the field practice techniques.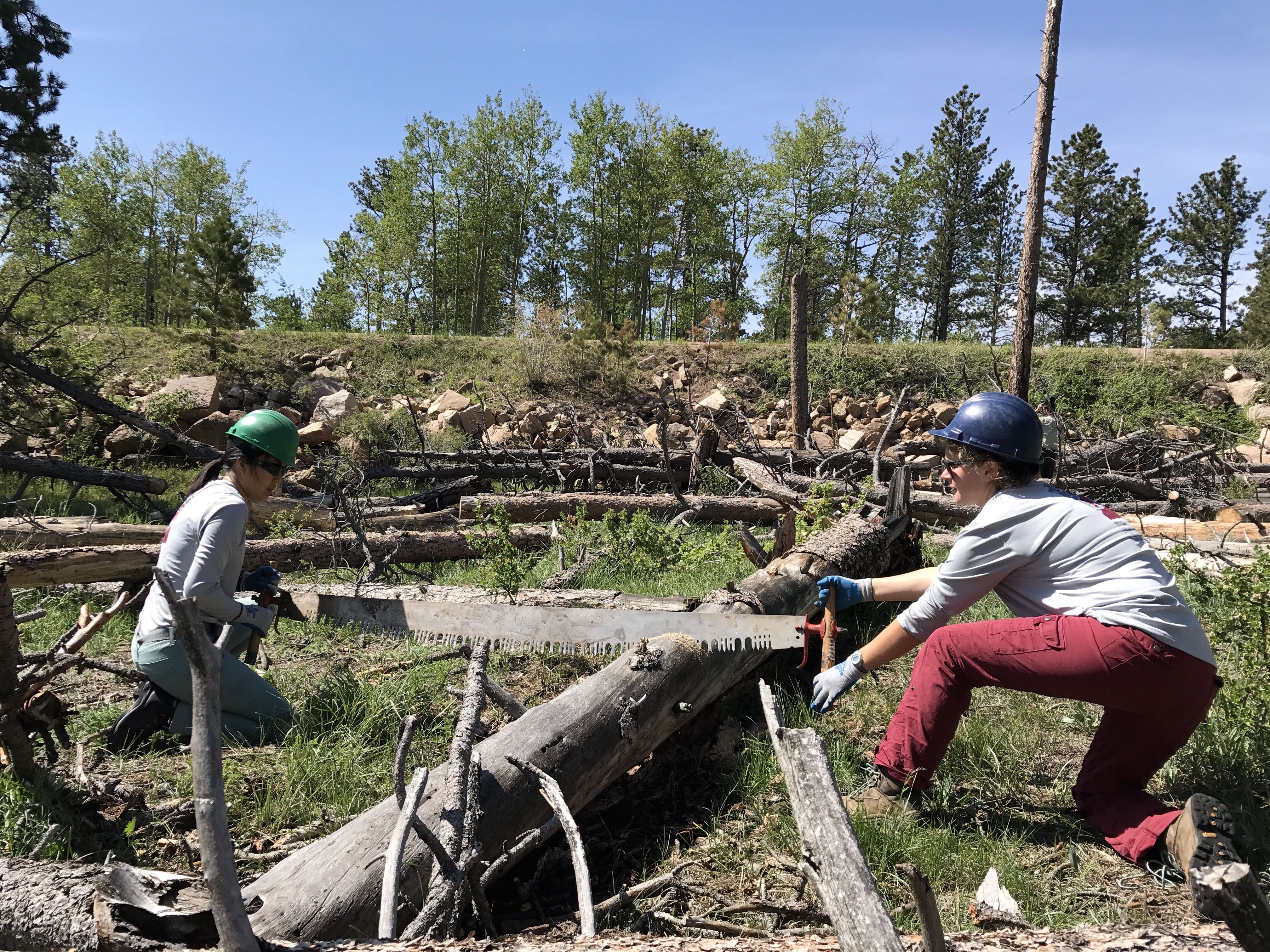 Davina developed a particular vendetta towards a log while learning to limb with a Pulaski and demonstrated that crosscut saws are only mildly essential.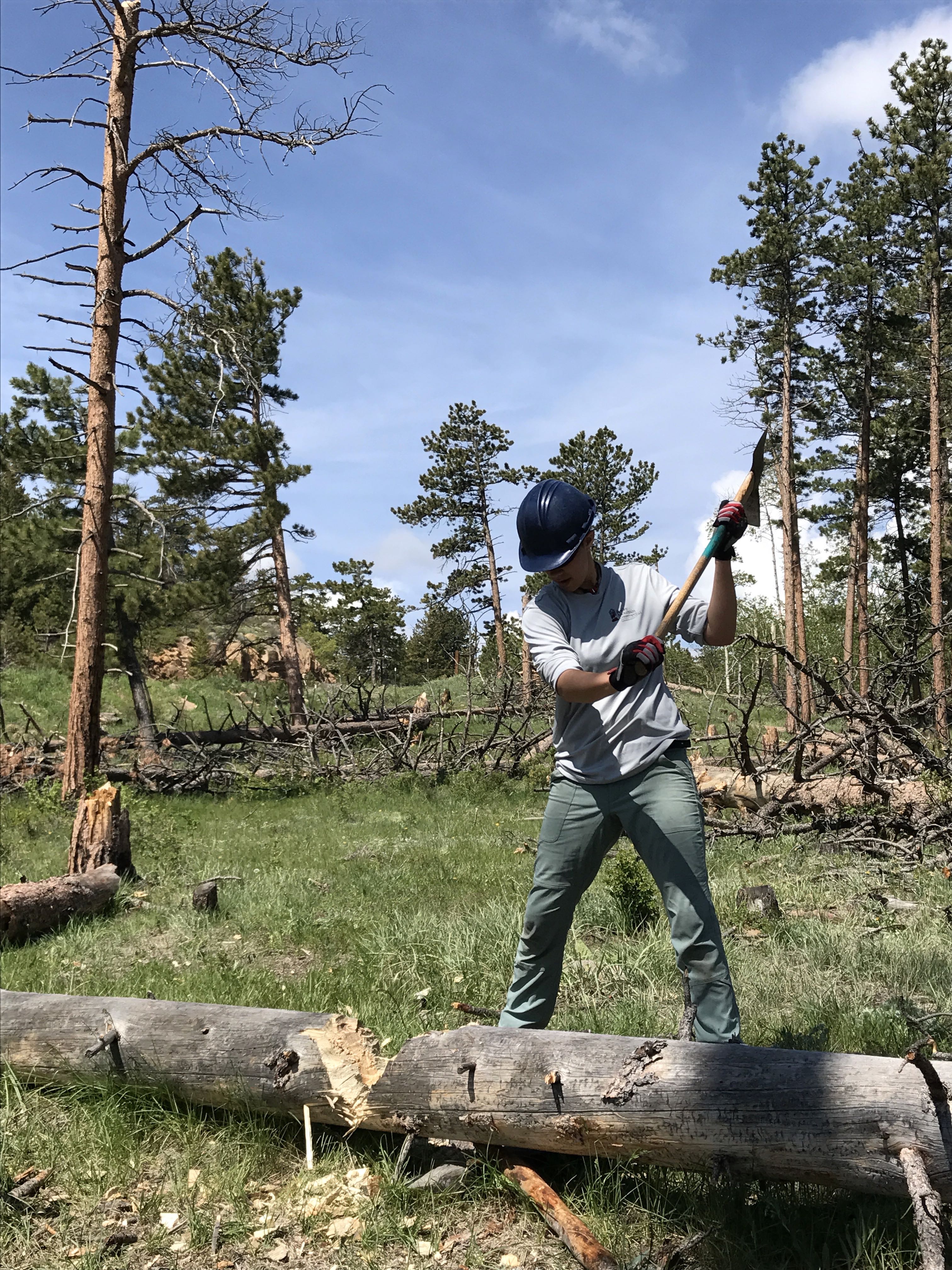 On Wednesday we got to exercise our tread-cutting skills in the development of a new trail out of Young Gulch that was double destroyed by both the 2012 fire and 2013 flooding.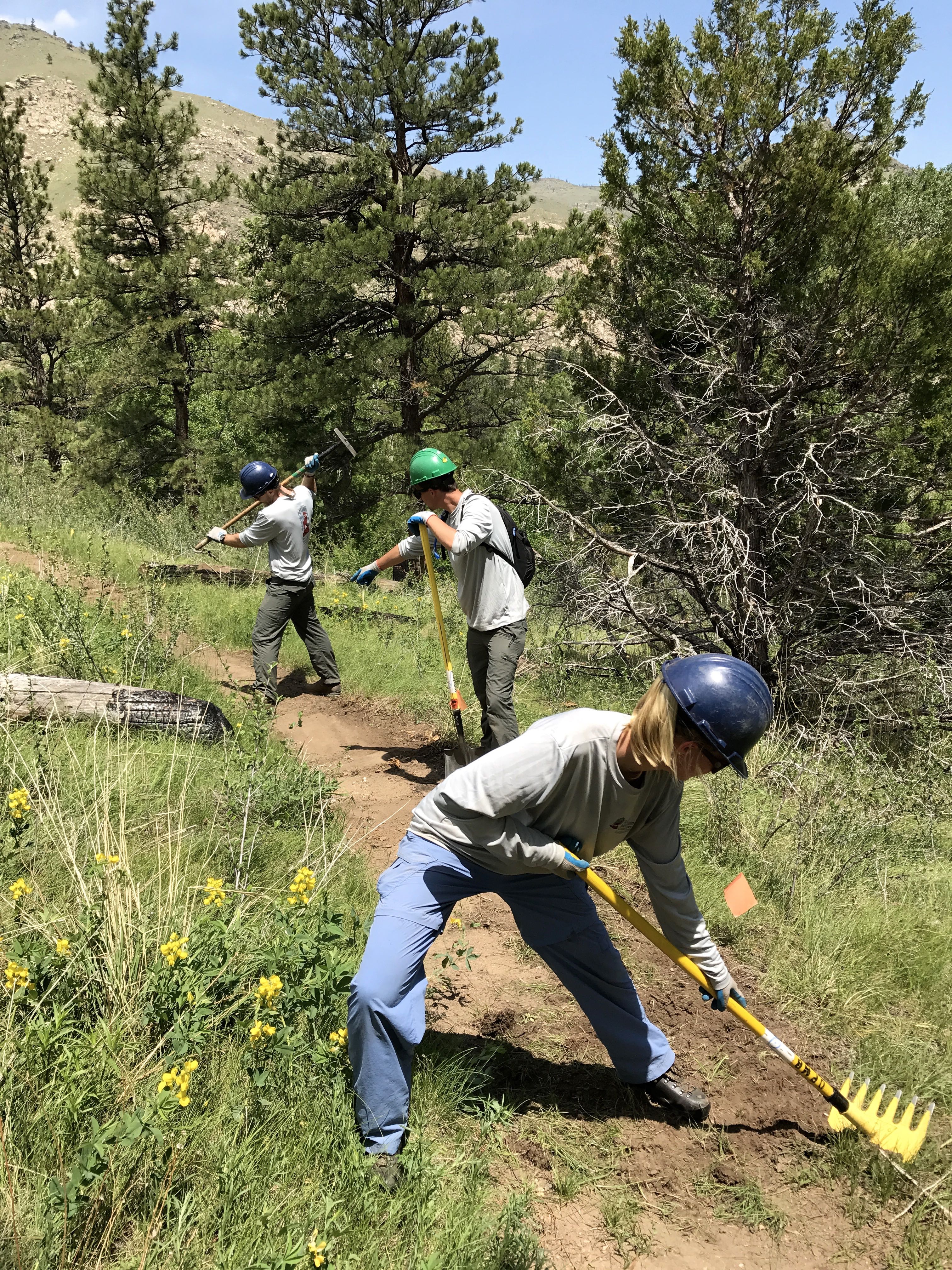 In the evening we enjoyed an ice cream viewing of the intensive hazard tree recognition and injury mitigation video. Gus utilized the opportunity to test out his new footbath.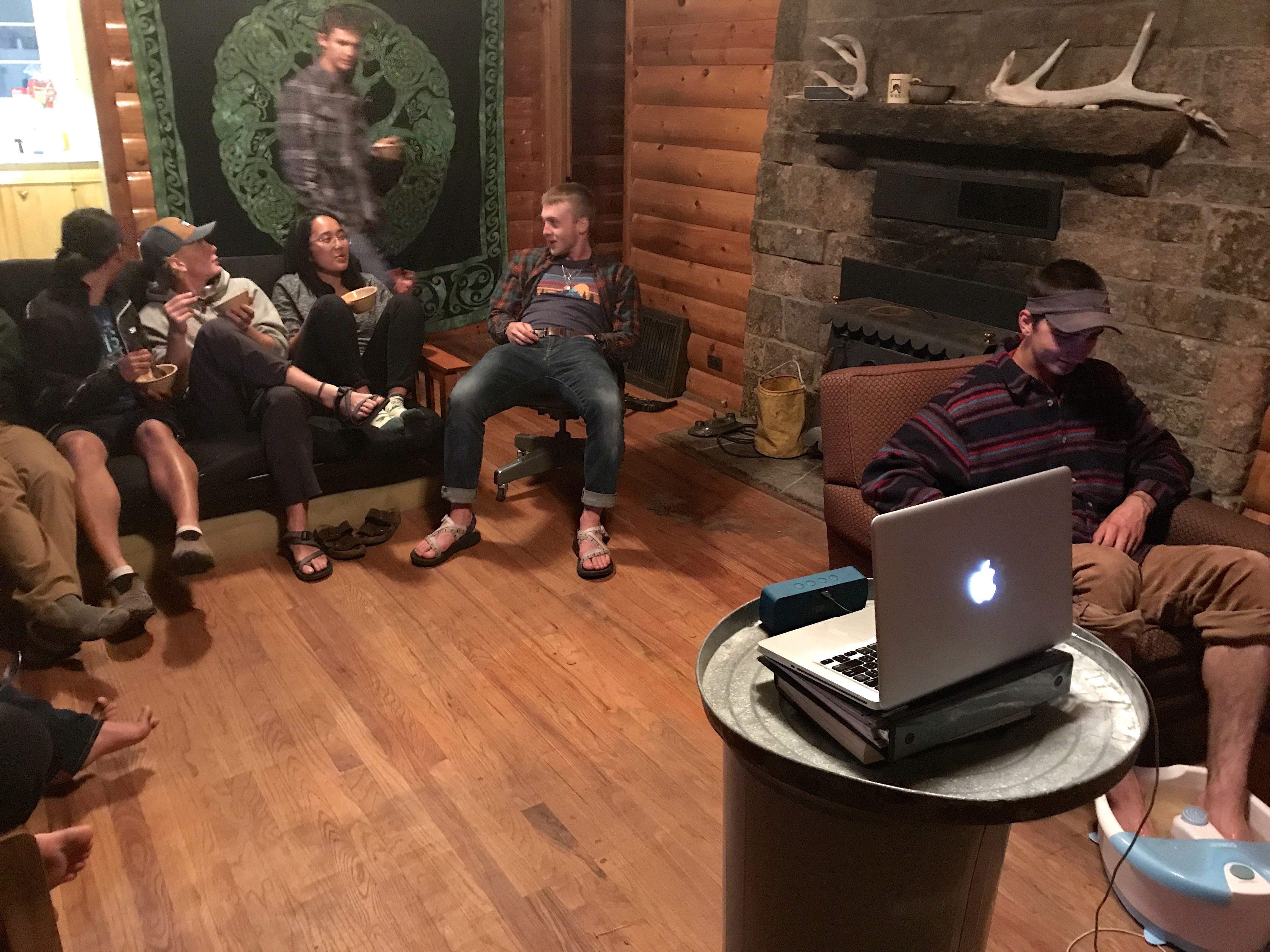 On Thursday, Radwah crewmembers learned how to dig stellar drains at the Big South Trail. And Ranger Chris headed the construction of a rockwall to stabilize a section of washed-out tread.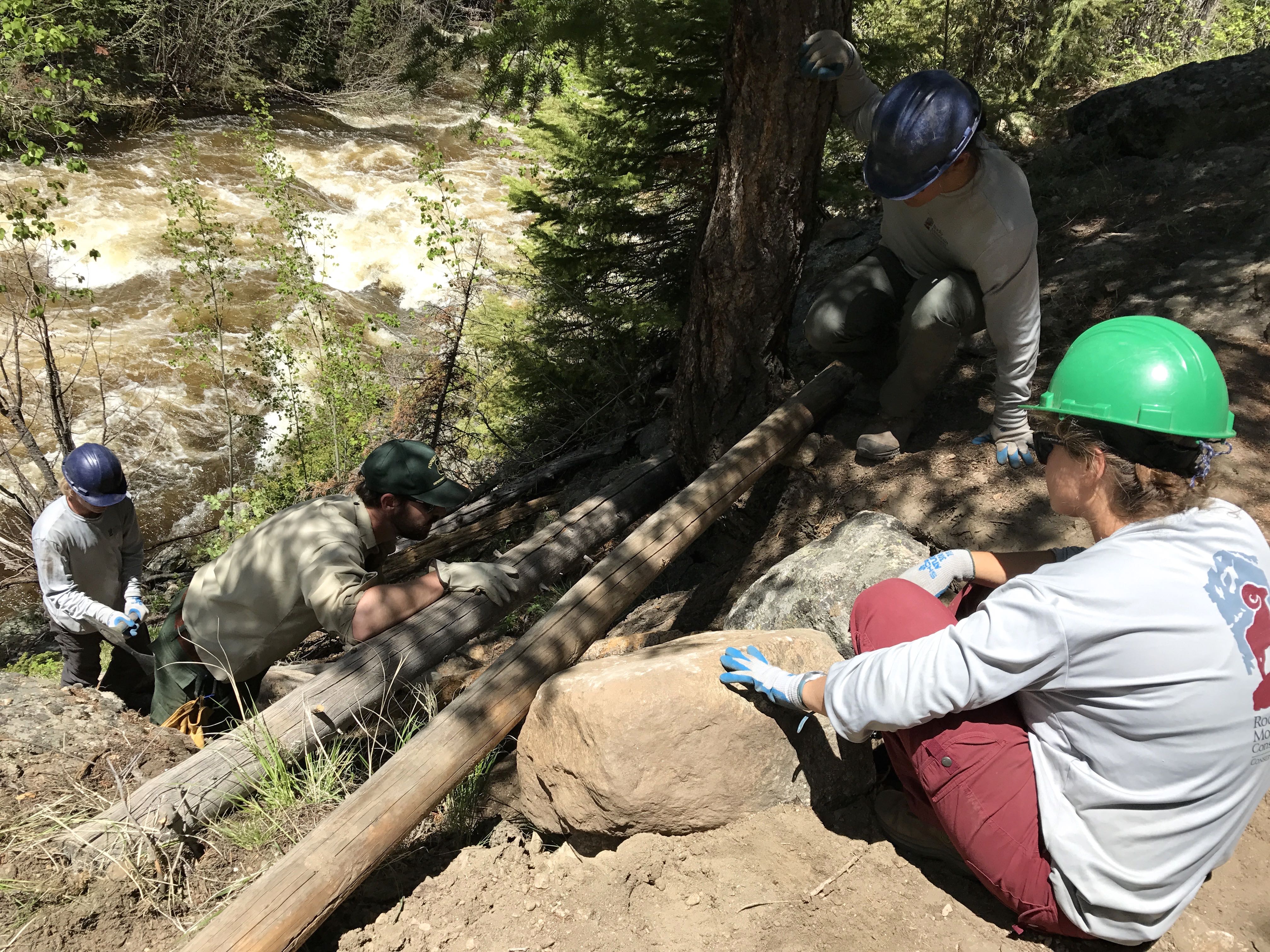 It was a feat of engineering excellence.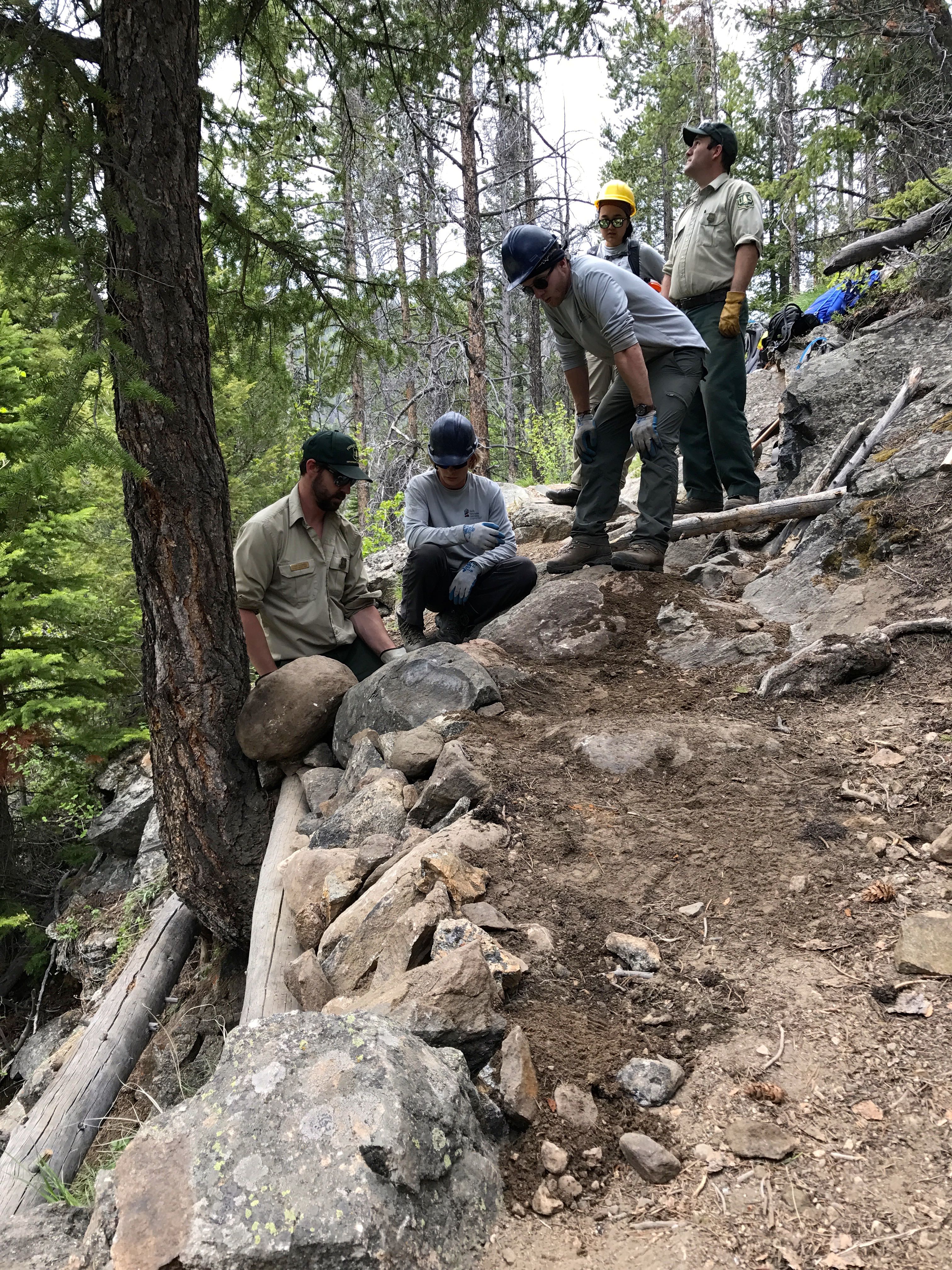 Friday was spent back at Young Gulch, edging the trail construction further up into the canyon.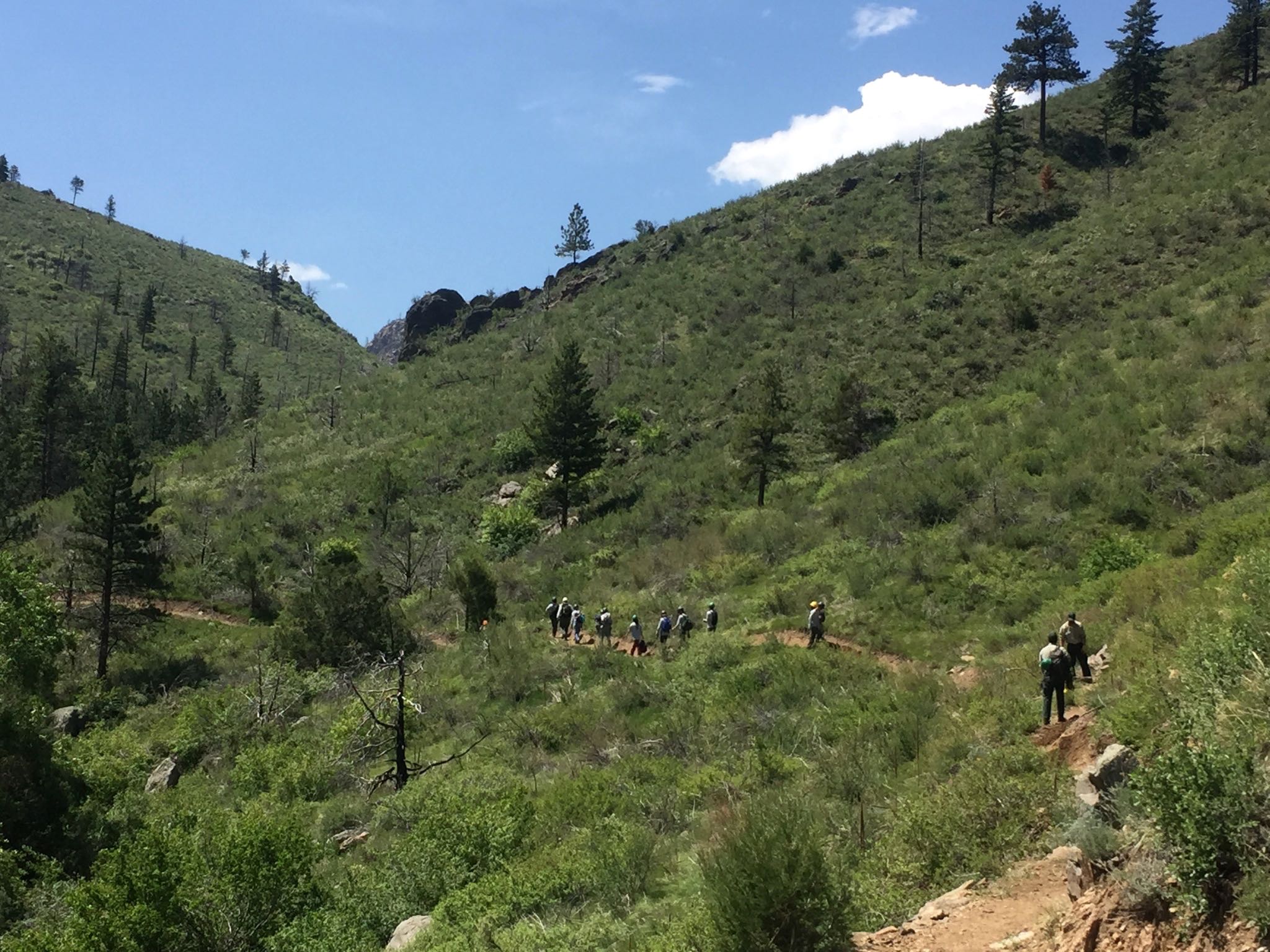 The Red Feather Lakes region is also chalk full of fun activities to tackle during Radwah's hours off trail. The lakes are prime for fishing. The trails are perfect for mountain biking.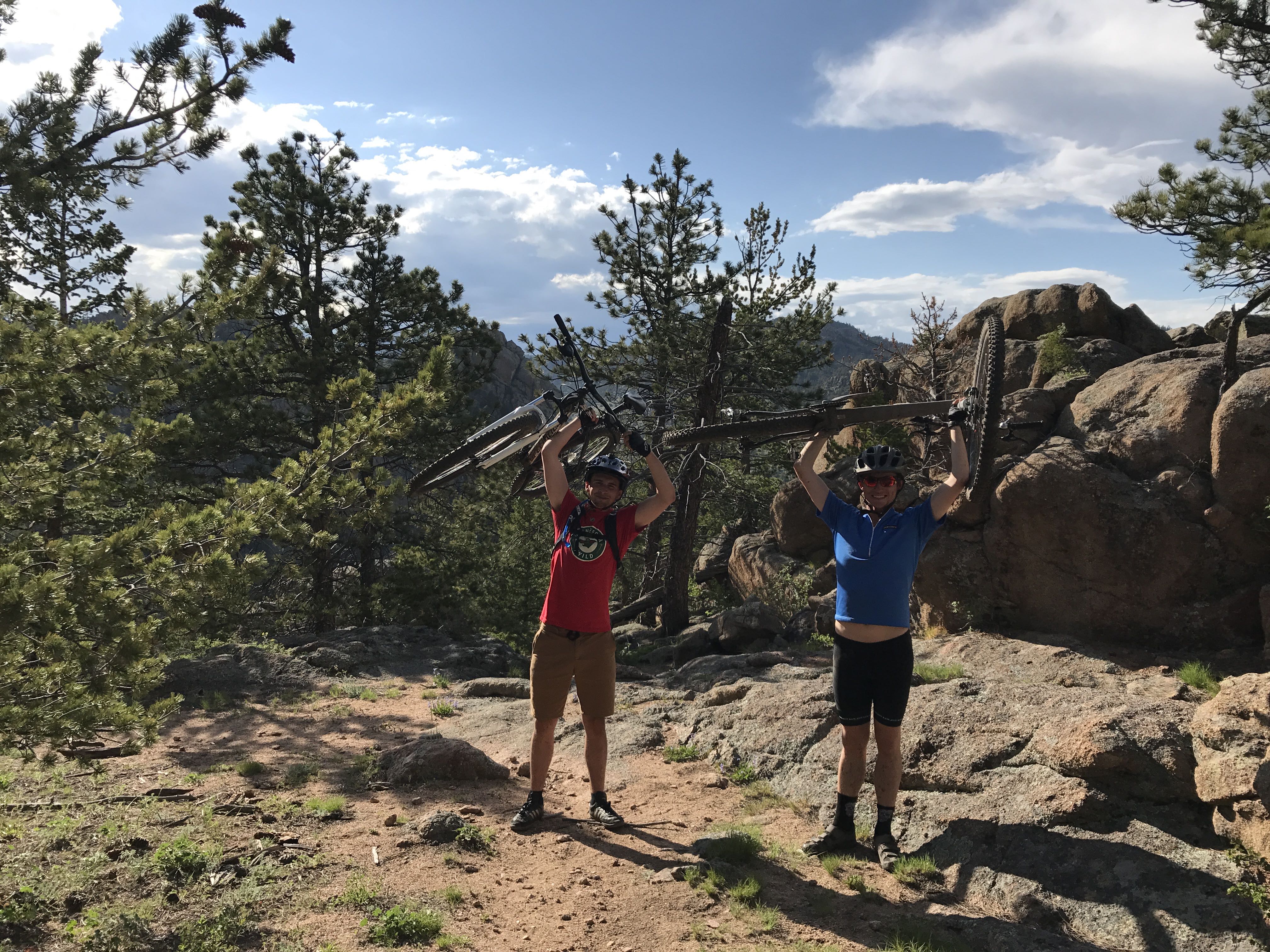 And several of us even paid a visit to the local Buddhist Stupa!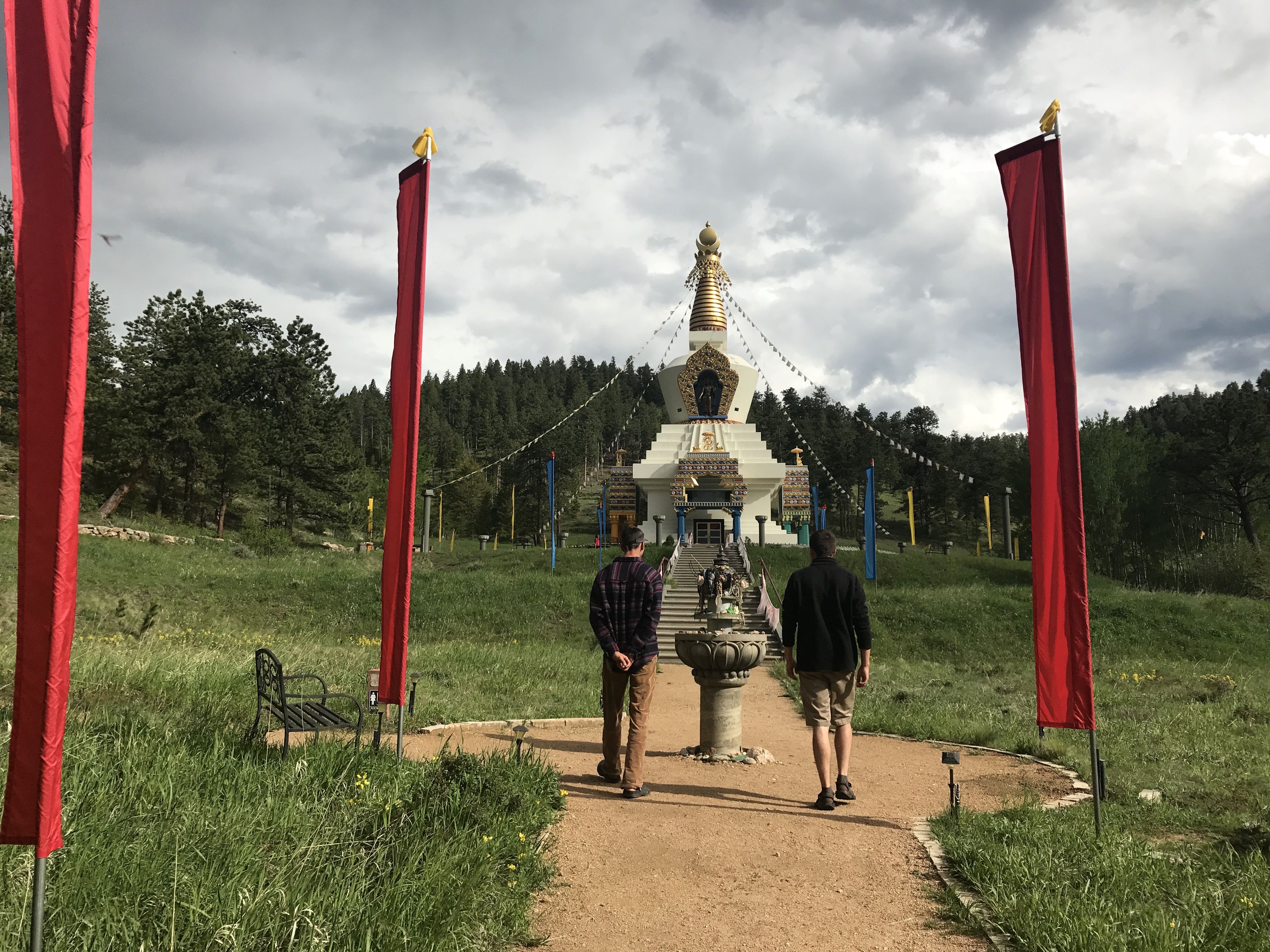 All and all, it's been a great kickoff to a summer of trailwork!
-Shelby Ahrendt (Red Feather Crew Leader)
Shadow Mountain Crew
Shadow Mountain crew here, checking in from the beautiful Grand Lake, CO!! On Sunday, we trekked over Trail Ridge Road to our new home on the west side of the Rockies. With help from former RMC-CC rockstar Amy Sullivan, the crew settled into our bunkhouses. We started orientation on Monday with a tour of Shadow Mountain village, teambuilding activities, discussions about safety, lessons on radio use, and even got to meet the pack llamas! We also created our crew contract, which included our goals and expectations for the summer. We spent Tuesday at the Sulphur Ranger district orientation, which was an awesome opportunity to meet a lot of Forest Service employees and see how our work connects with other groups within the district, such as the timber, fire, and wilderness crews.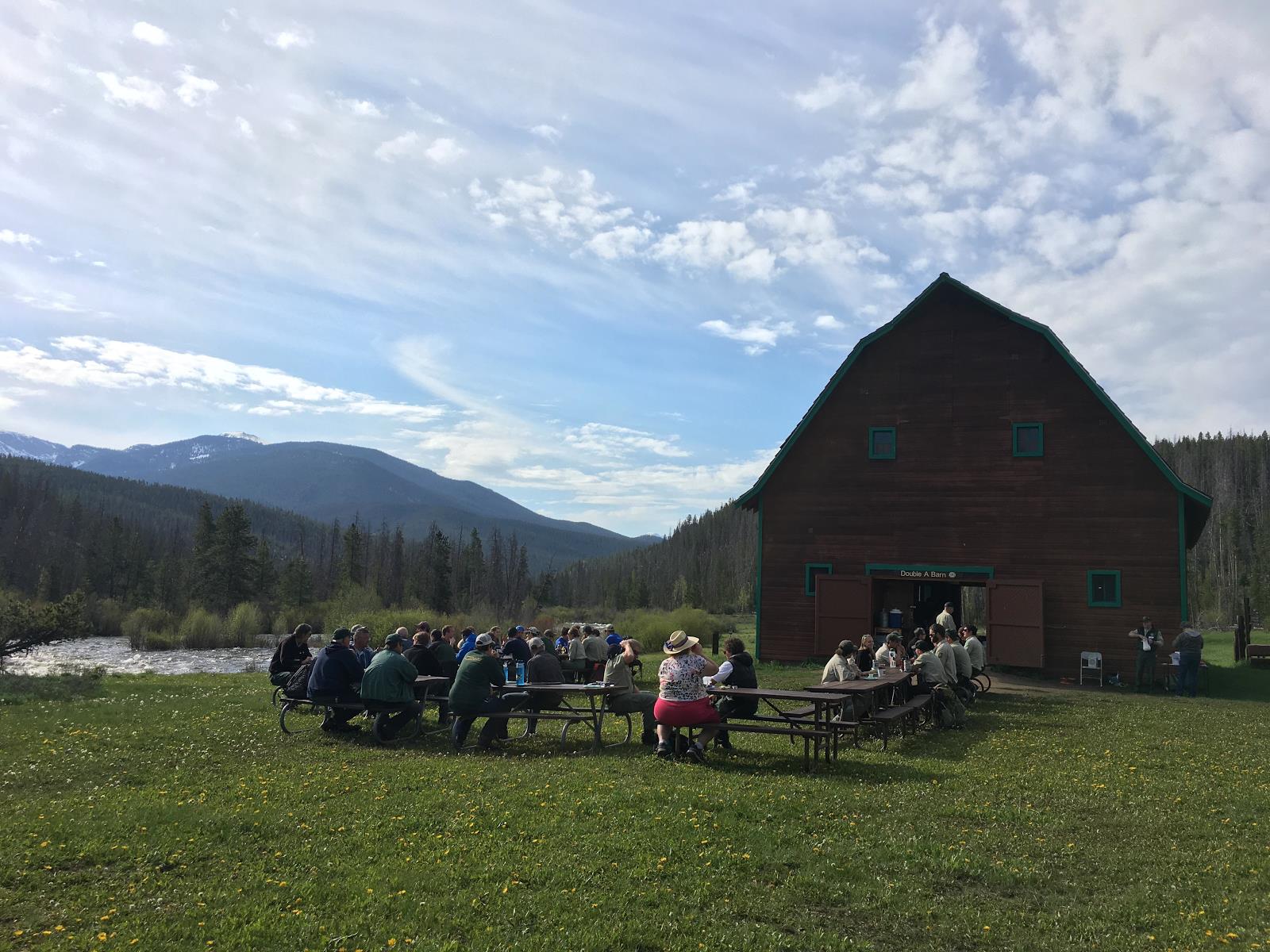 Afterwards, we feasted on a truly delicious chicken pasta salad, lovingly prepared by our very own Mary Cretney. The crew participated in crosscut saw training on Wednesday and Thursday, getting the chance to practice our skills in the field on the Roaring Fork trail.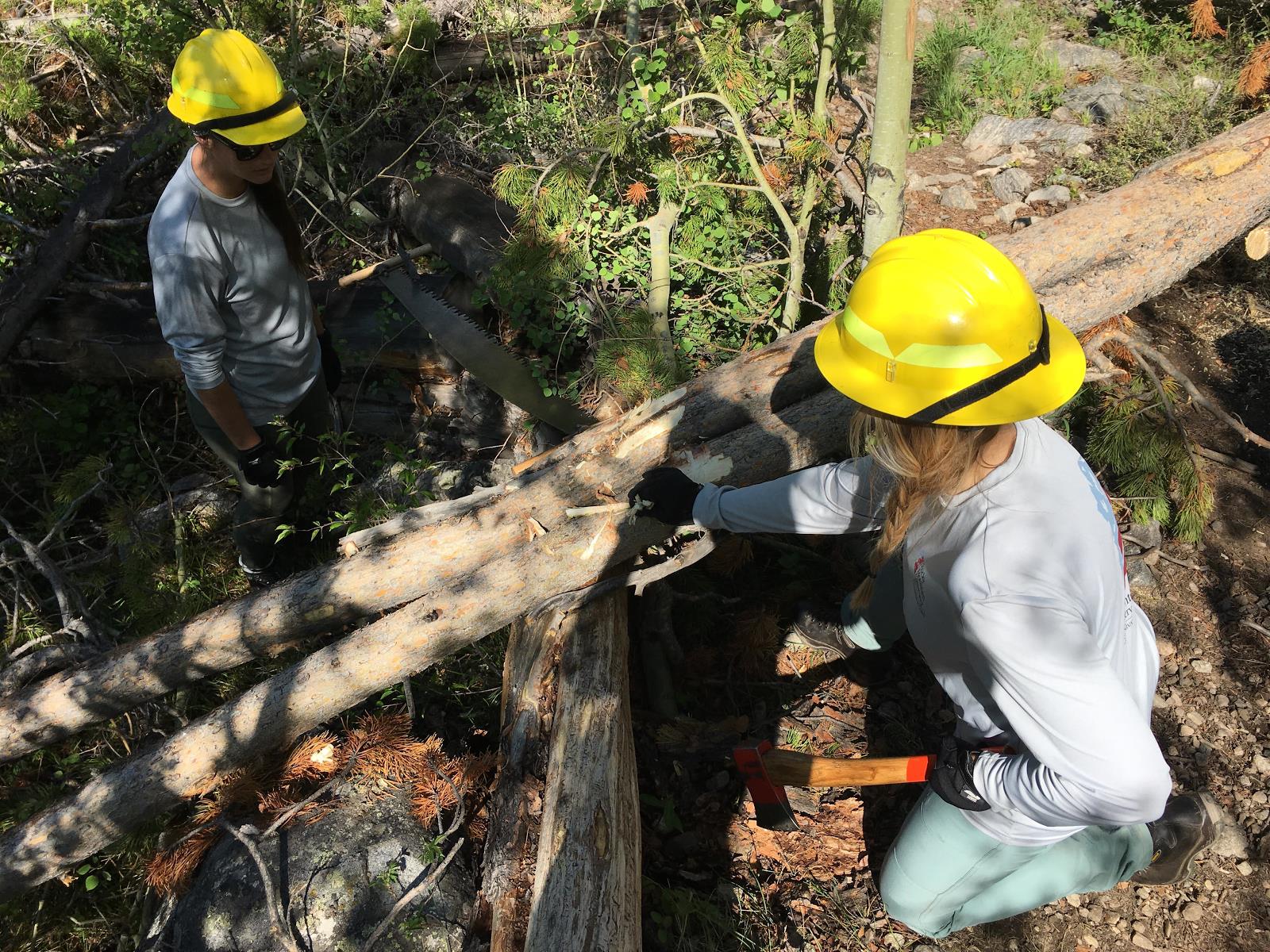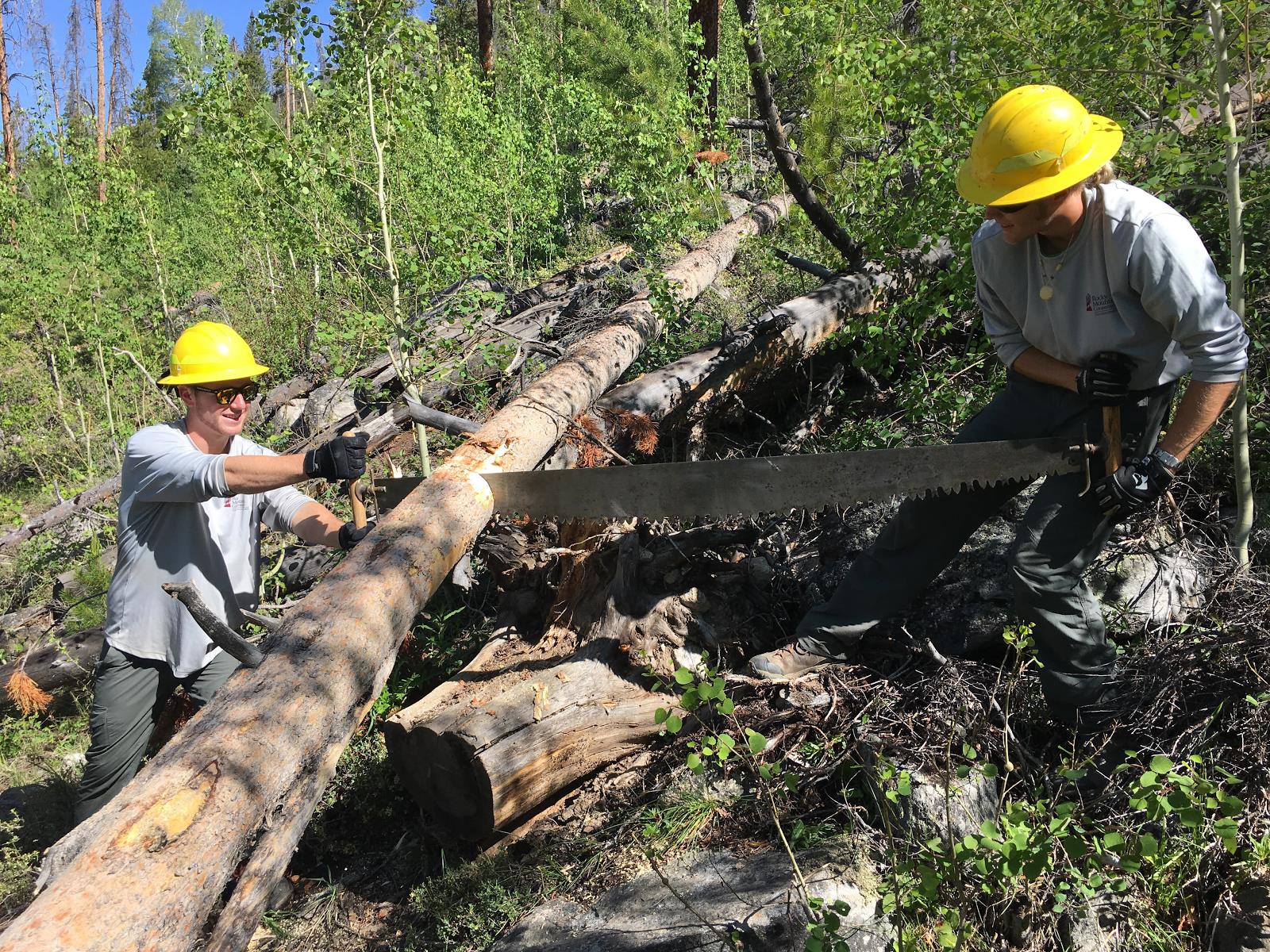 We had our first crew lesson on Thursday night, discussing gender, pronouns, and allyship. On Friday, we started our weekend off with an epic journey via rowboat from the village across the Shadow Mountain Reservoir into downtown Grand Lake and explored town. That's all for now – we're looking forward to getting out on the trails for some hard work this upcoming week!
-Izzy Owen (Shadow Mountain Crew Leader)
Kawuneeche Crew
Sunday
On a bright, sunny Sunday morning, we left Moraine Park. The Kawuneeche group was the last to leave the park, as our housing was only a few minutes away by car. We pulled off the main road onto a dusty, narrow dirt path.
Waiting at the cabins was Bob Maitland, one of the park's historic preservationists. He issued us each keys and we signed contracts: the cabins are ours until the end of the season. Our three cabins stand in a cluster on the hills, surrounded by pines. Each has brown paint with green trim, each in a slightly different architectural style. The cabins have enough bedrooms for us to each have our own, and full bathrooms and kitchens in each. A hodgepodge of furniture and a random assortment of kitchen utensils can be found in each. It's incredible thinking about the legacy of all those who have stayed in these cabins. One former resident was the first female federal judge to sentence a man to death. She left a bear mural in a closet with one of her girlfriends. It can be seen to this day.
Monday
Training
Each day the Kawuneeche Crew begins work at 6:30. We report to the Rocky Mountain Conservancy's cultural preservation office, where Bob Maitland and Chuck Tubb work. Their office has a large garage and workroom, filled with tools and supplies. Bob and Chuck have both worked for the park for years and have had backgrounds in construction. Most of our summer work will be related to construction, a big part of cultural preservation and restoration.
Monday was dedicated completely to training and orientation. As seasonal volunteers of the Conservancy, our crew had to attend orientation sessions alongside other seasonal workers outside of our program. The sessions covered the park's missions; these included commitments to the preservation of biodiversity and also the park's bequest of cultural value. Other sessions led by permanent park employees discussed health and safety, methods by which volunteers can take a first hand approach to helping preserve wildlife, and information about the proper procedure to undertake in the event that a historic object, such as a Native American artifact, is found.
After the orientation sessions, Chuck issued each of us sets of all kinds of construction tools, hard hats, tool buckets, and tool belts. We also met "Juan", a U.S. government vehicle that our crew will get to drive for work purposes this summer. Juan is a 1994 Ford F350 with 70,000 miles, two-wheel drive, and a huge truck bed.
We ended the day with a nice trail run as a crew. Our cabins back right up to several dirt trails. In the woods we saw elk, chipmunks, and crossed several streams swelling their banks with snowmelt.
Tuesday
Our cabins next to Moraine Park are only a fifteen minute ride from Bob and Chucks office and the construction headquarters of the conservancy. The truck we will be using to drive to work is a 20 year old government Ford F-350, which has a radio that can't turn off and remains at the same volume. The only thing we can change is the channel. Our first work site is near the head of the Longs Peak trail, up highway 7, and is a historic building we are "mothballing", so we will be boarding up windows. This building is not currently in use by the park, but it needs to be preserved. Bob said that they will contract workers for the roof. We may be using and setting up 30 foot scaffolding.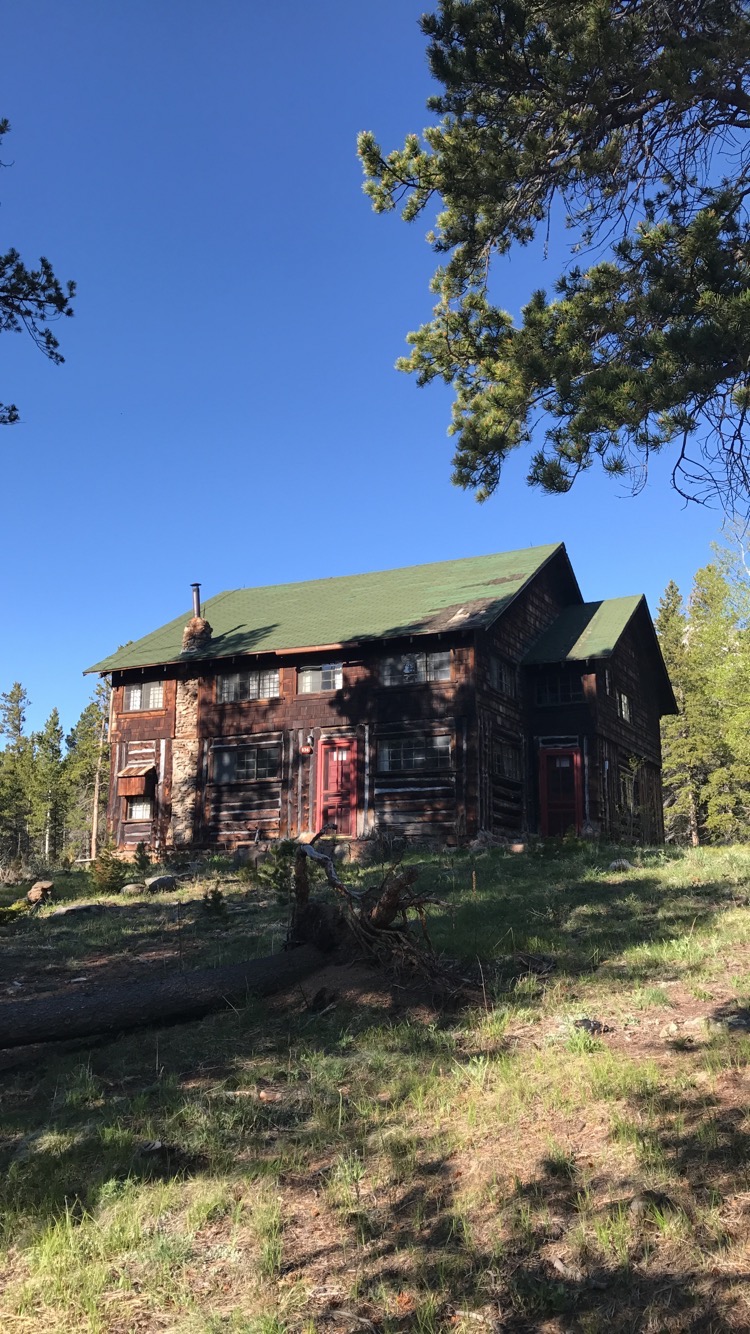 The morning started with our first job assignment of peeling logs for the Leifer cabin with draw knives and sanders. The log peeling lasted all day, since there were 75 total logs to peel and sand. In between peeling logs we had the opportunity to tour a tower in the back of the Leifer Cabin property that is operated by NEON, a climate data collection non-profit. We met the representative who explained the data collection process, the use for all of the tower's monitors, and the goals of NEON. The sensors for CO2 are so sensitive our short time beneath the tower was picked up in the data.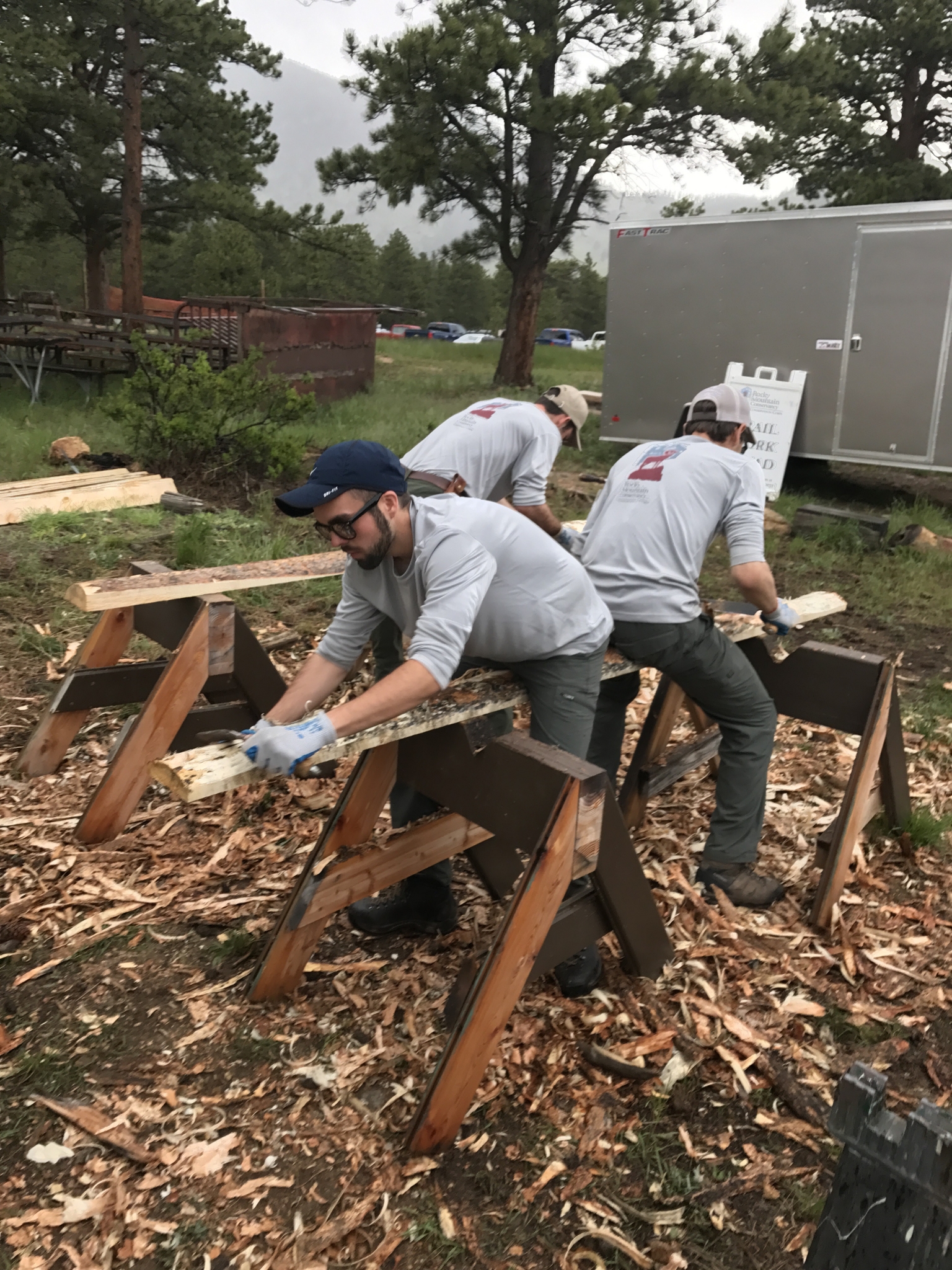 Once the logs were peeled, dropped off at the Leifer Cabin, and we waited for an hour to make sure our work was done, we returned to our cabins in time for an evening elk walk. We were able to see several new elk calves with their radio-collared mothers.
Wednesday 
Already getting used to the early mornings, Wednesday's work seemed to fly by. After loading up Juan with the necessary supplies, we followed Bob and Chuck through the crowds of Estes Park to McGraw Ranch, a historic property donated to the park that is nestled in wilderness behind Lumpy Ridge. There, under Chuck's experienced direction, we learned how to assemble, level, and secure scaffolding for our upcoming work on a cabin in much need of a fresh stain. Bill Peterson, the volunteer caretaker of the Ranch, then gave us a tour and the detailed history of the former dude ranch and its many inhabitants.
After the time consuming task of setting up scaffolding, we left the ranch to transport materials to Liefer. Then, we hauled a few picnic tables in trucks from the park back to the McGraw ranch. We were already learning new skills and making concrete progress. By Wednesday, we had gotten into the rhythm of early mornings and 10 hour days.
Thursday
Since we work four day weeks and have three day weekends as Conservation Corps volunteers, Thursday is our Friday. That morning, we set out earlier than the other days in order to make a stop at a local and well-loved Estes Park doughnut shop to buy breakfast for ourselves, as well as Bob and Chuck.
We headed out to the old McGraw Ranch, where we had previously set up scaffolding. Our main task for the day was helping Bill re-stain and paint one of the historic cabins, the home of the ranch's owner and his family in time gone by.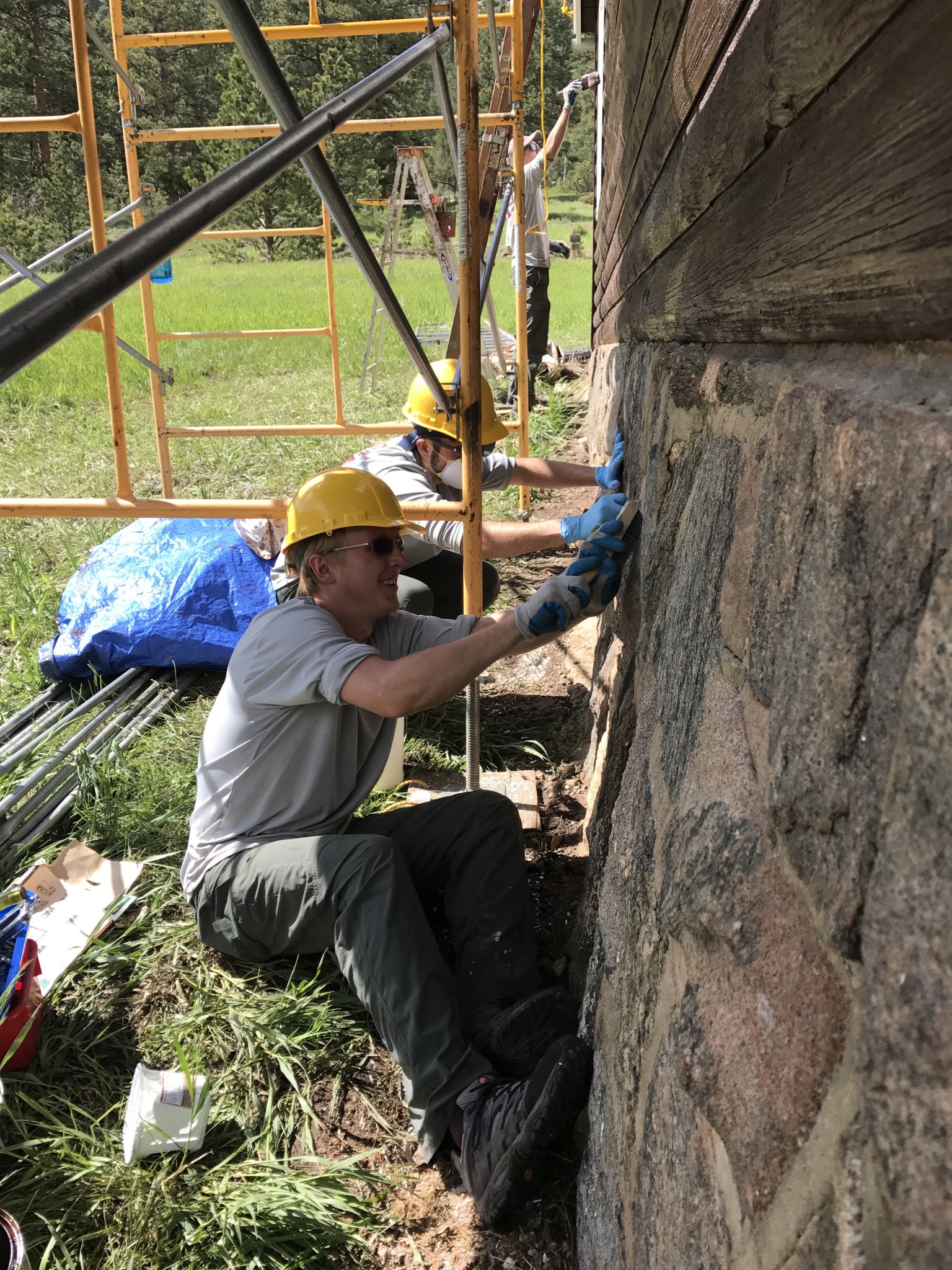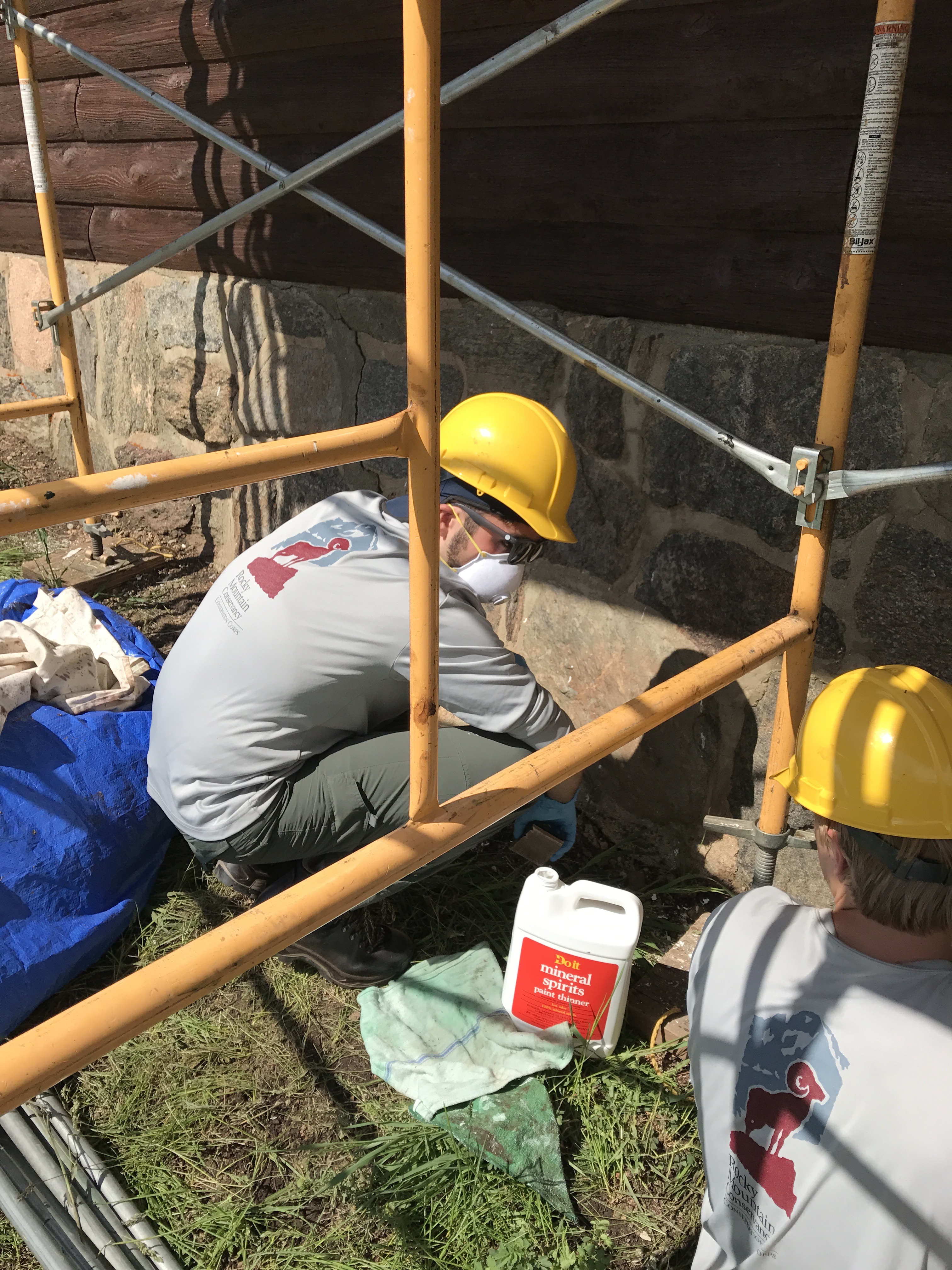 Before we could begin staining and painting, we had to remove storm window screens and scrape peeling paint. Then we repainted the frames of the windows white, the frames of the screens green, and commenced the largest task: staining the side of the wooden log siding.
We climbed up on scaffolding in order to cover the 15 foot tall sides of the cabin and using brushes restained it in a fresh maple color. We also filled in a few holes made in the side of the cabin by birds and other wildlife, securing it for preservation.
Late in the afternoon, Bill came by the bring us ice cream, and we took a break to enjoy the fruits of our work and the beautiful scenery of the ranch.
Weekend Plans
The majority of the crews, including four members of Kawuneeche, climbed the Twin Sisters trail to the peak. The hike was warm and sunny but the time at the peaks included a brief snowball fight and the construction of a temporary snowman.The mountain provided an impressive view of Longs Peak, and we could even spot the Leifer Cabin site in the valley below. The hike was a good start to a weekend and we look forward to exploring Rocky Mountain National Park and the surrounding areas on future weekends.
Estes Crew

After moving into their housing near downtown Estes Park on Sunday the Estes Crew began their first week in the field with the National Park Service (NPS). They arrived at the trails shop early on Monday and started the morning as NPS trail workers do– by shoveling horse and mule poop, loading it in wheelbarrows, and dumping it into a pickup truck. Some would say it's not the most pleasant way to start a day, but the crew found it to be quite relaxing and a good time to catch up and meet with some of the park service trail workers.
The rest of the morning and much of the afternoon consisted of NPS department training where employees from various departments within Rocky Mountain National Park (RMNP) spoke about their path to becoming RMNP employees, what their department does, and how it relates to the park service mission. Departments included the wilderness office, trails, search and rescue, wildlife, resource management, and interpretation. It was an awesome learning experience and a great way to learn about all the operations going on within RMNP. For the rest of the afternoon the crew went on a short maintenance run up the Twin Sisters trail and learned more about digging drains and how they help maintain a sustainable trail. The crew was also introduced to their government vehicle– a 1996 Ram pickup 6-pack with an extended bed that runs on propane. Yes, propane. It's not the most beautiful thing on the road, but the crew embraced it as their own and named it Jenny (after the women whom the famous "Rocky Mountain Jim" was in love with).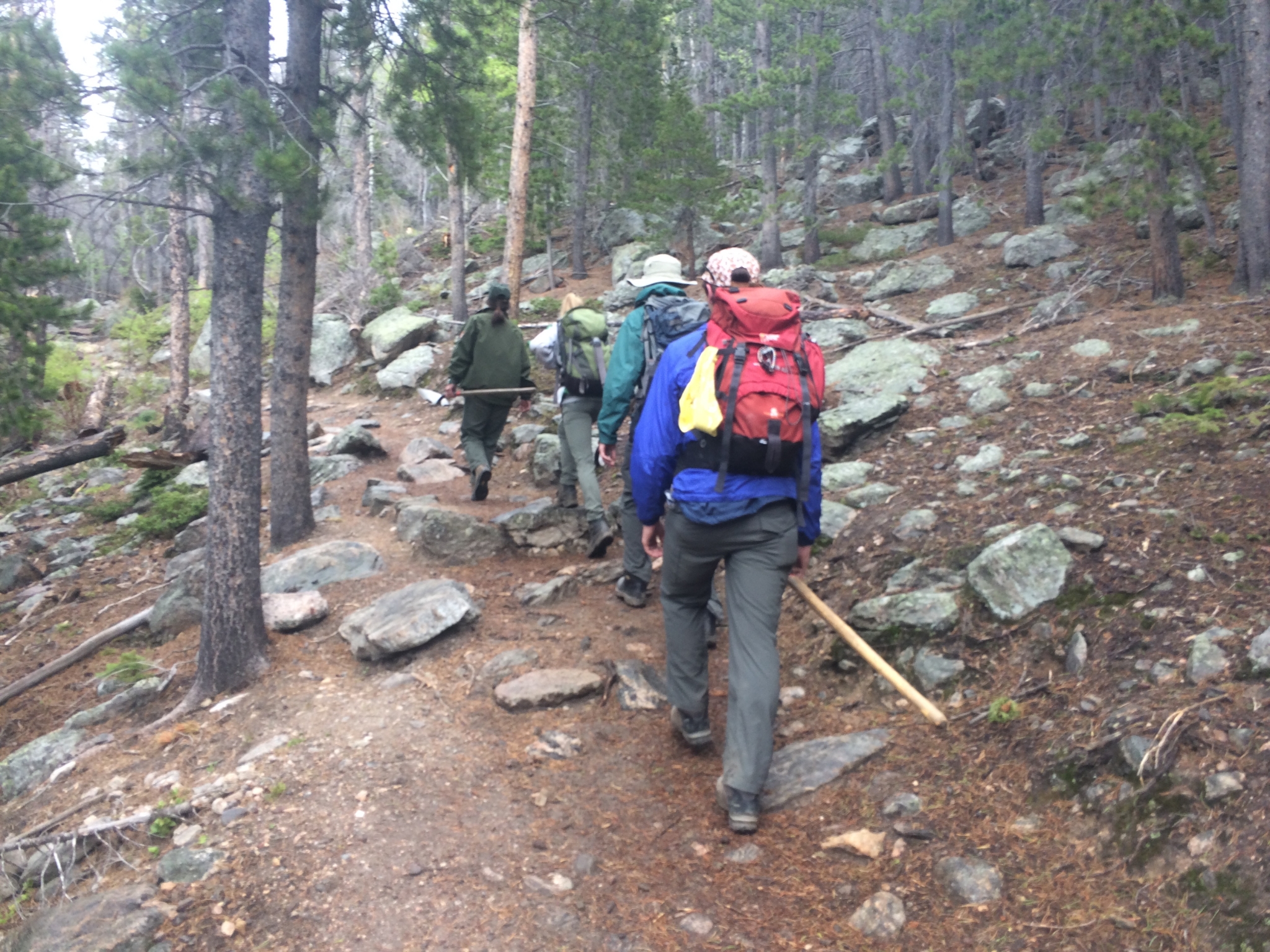 On Tuesday the crew once again began the day shoveling poop (this is how they begin every morning), and spent the rest of the day in "Search and Rescue Tech 3" training with the RMNP climbing rangers. The training familiarized the crew with search and rescue (SAR) equipment and taught them how SAR's are conducted logistically. They also learned how to package and transport patients and how to navigate in the backcountry using a map, compass, and GPS. The training was very hands-on and included scenario-based training in which they arrived at the search and rescue headquarters and conducted a rescue as it would be in the real world. By completing the training the crew can now volunteer to go on real search and rescues in the park!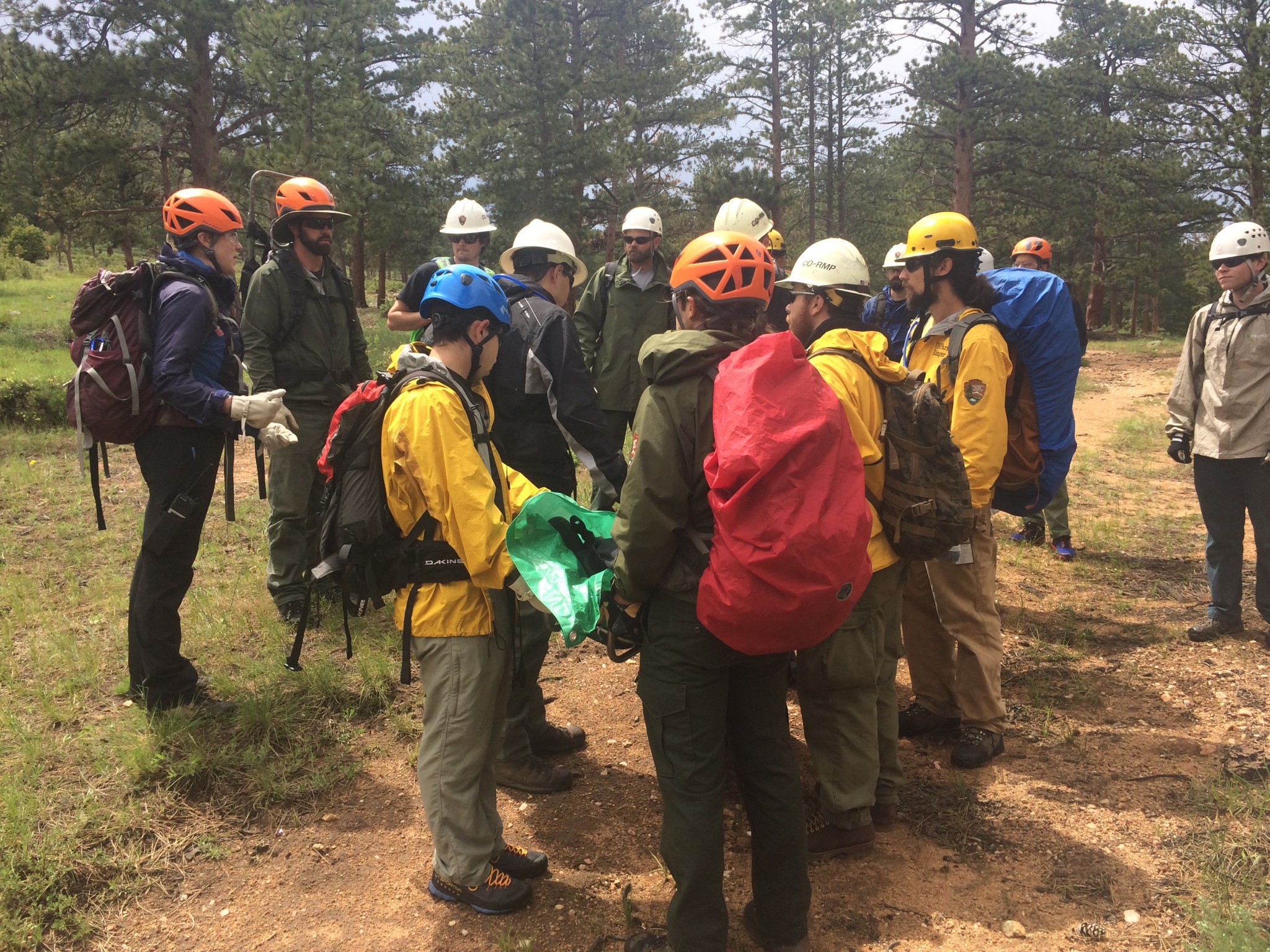 Wednesday was the crew's first full day of trail work. They went on a maintenance run on the Aspen Brook trail with MegEllen Kimmett, a current NPS employee and former RMC-CC crew leader! They set out with loppers and hand saws and cleared nearly 7 miles of trail from encroaching brush. They quickly learned that 10 hour days are indeed as long as they sound and went home completely exhausted. Nonetheless, they still enjoyed spending the day outside and getting familiar with trail work.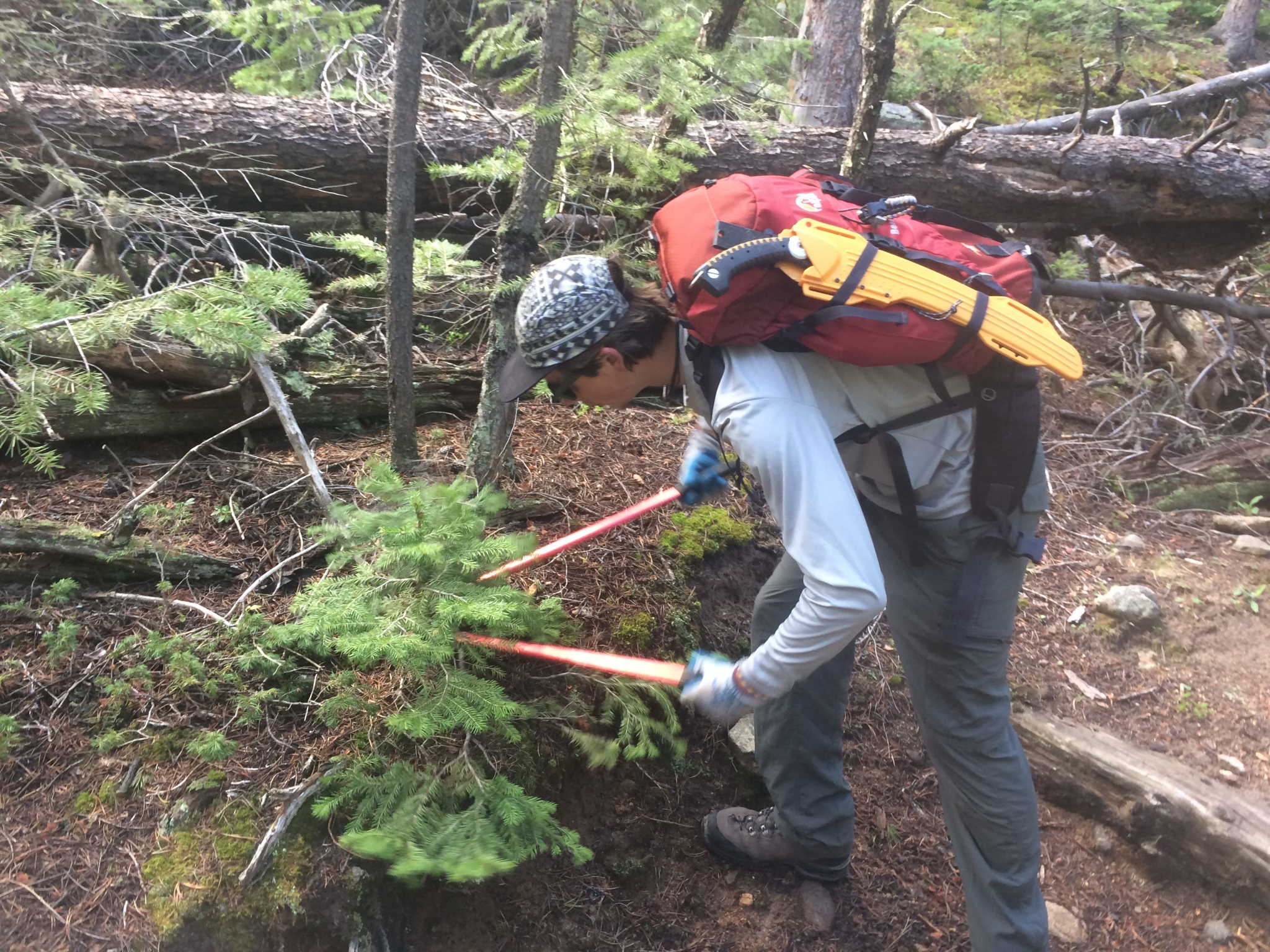 Thursday! On the crew's final day of their workweek they were entrusted to go on a maintenance run without NPS supervision, and they sure didn't disappoint! They worked on the Bierstadt Lake Trail, a trail they'll continue to work on for much of the season, and cleared brush from about 5 miles of trail and dug about 80 drainages.
The crew ended up working all the way to Bear Lake, and the most interesting part of the day came when the crew took the "park and ride" shuttle from the Bear Lake trailhead back to the Bierstadt Lake trailhead where their truck was parked. It was quite the site to see 5 sweaty and dirty interns riding a bus, trail tools in hand, with a bunch of tourists!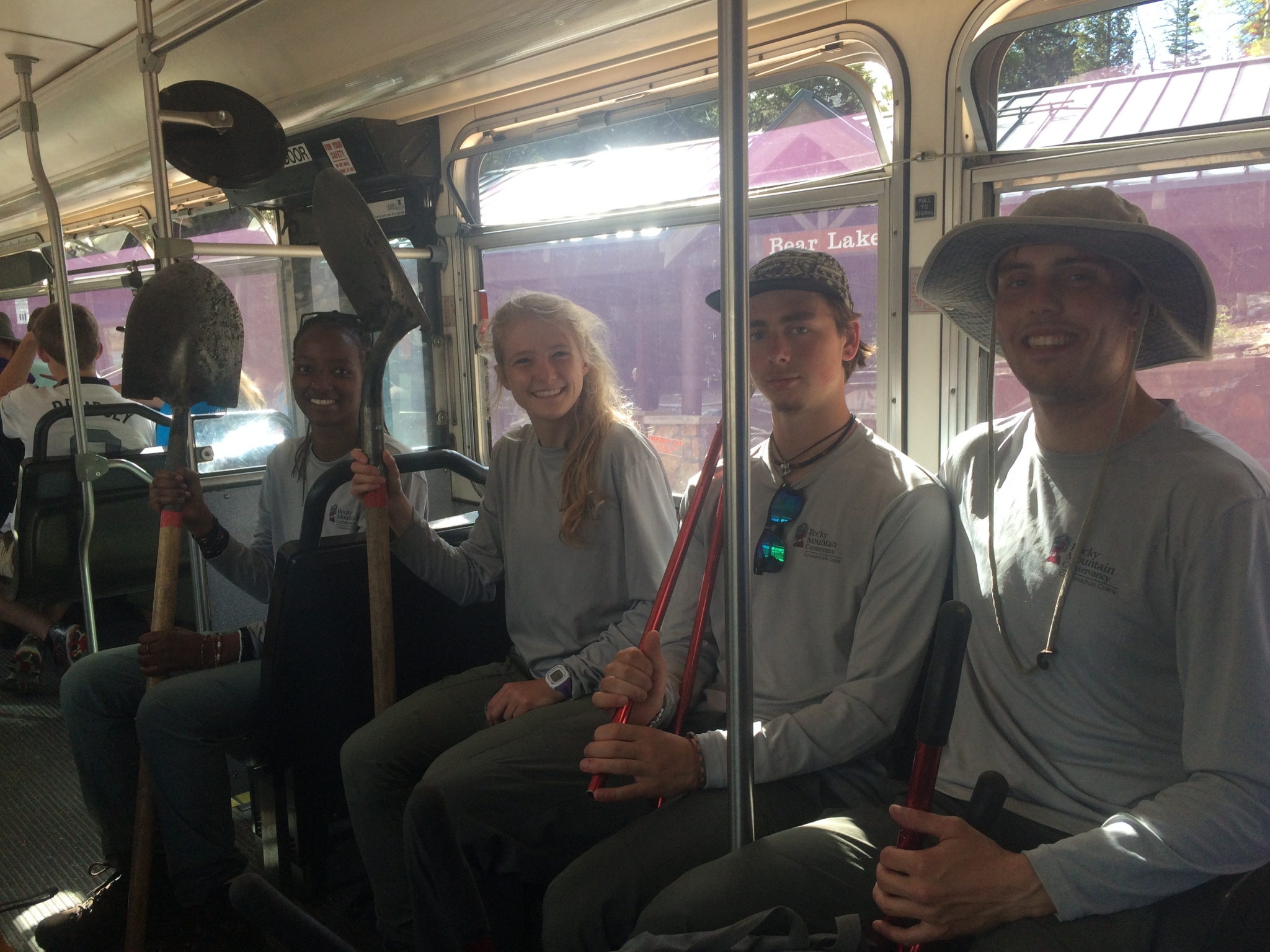 All in all it was a great first week in the field! The crew is still adjusting to early mornings and long work days, but they're enjoying every minute of it and look forward to getting back to work on Monday. Thursday's sunset atop Trail Ridge Road was the perfect way to end the week.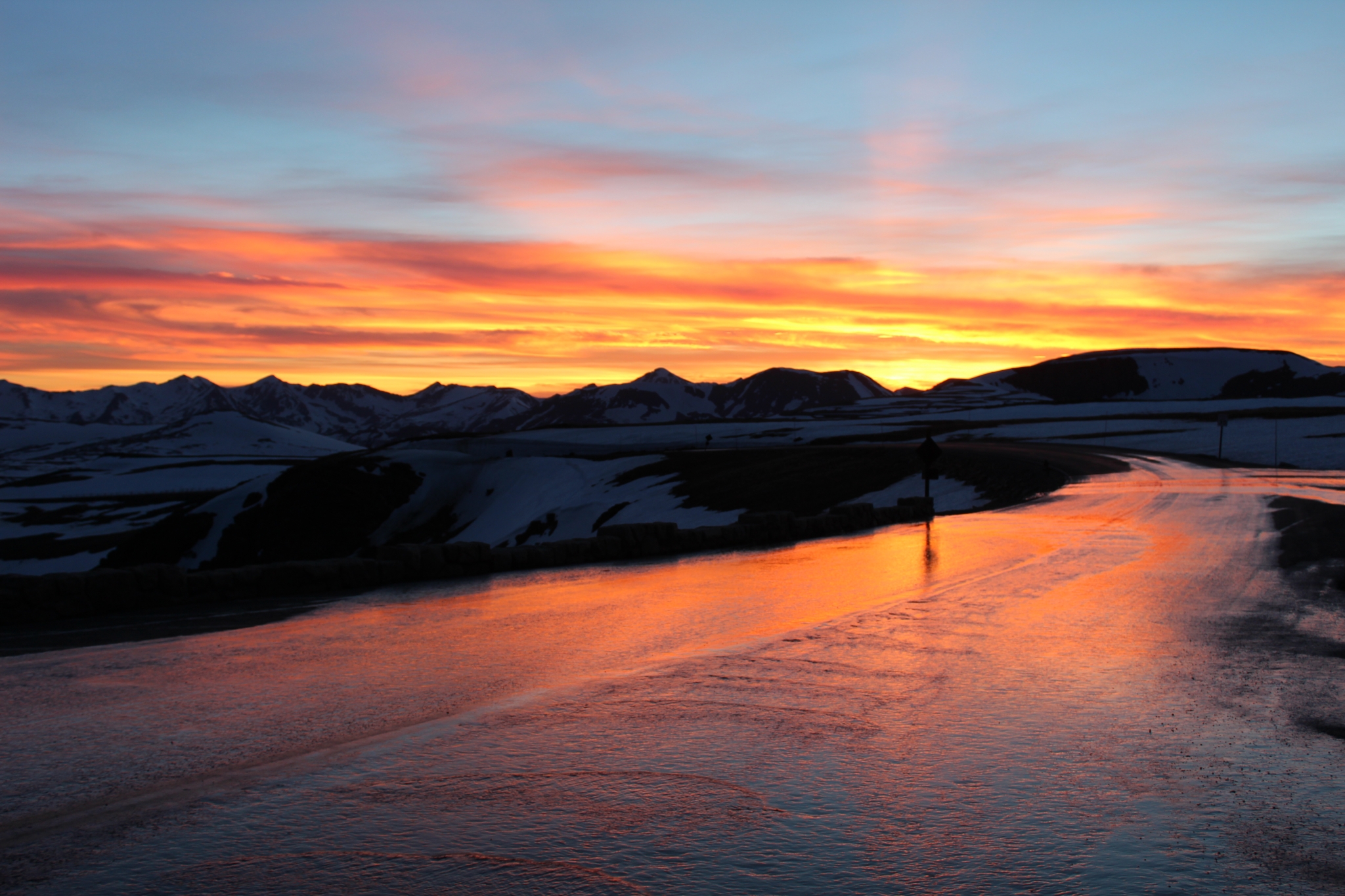 -Blake Crossland (Estes Crew Leader)