This week the Estes Crew had the opportunity to work on a special trails project with the NPS. On Tuesday there was a helicopter operation for transporting three 2000+ lbs metal support beams and 8 bundles of native wood to build and repair bridges backcountry on the trails. We were fortunate enough to help with this process as we were road and trail guards. On Wednesday we performed a maintence run to Pear Lake, a 12 mile loop, where over 11 trees were cut from the trail. On Thursday the week concluded by working near the Cow Creek Trailhead using pack llamas to help transport rocks and dirt up the trail to repair tread and eroded areas. .
This week the Kawuneeche Crew, geared up with their tool belts and buckets and began their restoration work on two historic structures in RMNP, the CCC mess hall at Lake Irene and the Little Buckaroo Barn in the Kawuneeche Valley. On Monday, Logan, Joseph and Dhante worked at Lake Irene with another crew of volunteers from the National Smokejumpers Association, removing 46 rotted rafter tails from the roof of the mess hall, and measuring new tails from fresh logs after stripping their bark off. Kristina, Jenna and Margaret worked on the Little Buckaroo Barn, hauling in and setting up scaffolding and removing the shingles and the end of the roof sheeting to expose the rafters. The barn is situated in a proposed wilderness area, so no power tools or motorized vehicles are permitted beyond the parking area, about a quarter mile from the barn. This means we carry in all tools and materials, and use hand tools like good old-fashioned hand drills, saws, and hammers! Kristina had some lovely thoughts on the concept of working in wilderness:
"After meeting with the wilderness coordinator at the Projects Division headquarters, I couldn't help but think about the meaning of the word 'wilderness'. From what the coordinator said, I gathered that from a political standpoint, wilderness is a region being returned to its natural state of being. When I think of this labeling, I can't help but reconsider the meaning behind this. Specifically the actual 'returning' of the land to its natural state. As in, we as the human race have eliminated so much of our true natural wilderness that we are forced to take what we have manufactured and revert it back to a native state. This is a critical point of understanding the creation of all our national parks. They are indeed created lands for the wilderness experience. This is a wildly beneficial uptaking, which many of America's citizens adore and appreciate, but it is also important for people to understand that the idea of a pure, untouched wilderness is nonexistent and romanticized greatly. The truth of the matter is that our 'wilderness' has been settled, used and abused by many people before us. Think of Moraine Park, a beautiful meadow that once contained a nine hole golf course. Or our project this summer, the Little Buckaroo Barn. The structure was on a ranch in the land that is now Rocky Mountain National Park. I believe it is important to maintain this building to above all else remind people that our 'wilderness' is the result of years of civilization, and then a conscious decision to bring the lands back to a natural state of being. Or to simply show there is a need to keep what protected lands we do have as close to their natural state of growth and development as we possibly can. We can therefore avoid causing the same invasion on naturally occurring lands as our ancestors practiced in our nation's history. For me, the Little Buckaroo Barn serves as a symbol for the need to protect these newly created wilderness regions. I am proud to be working on such a great reminder of our nation's environmental history for the public."
Tuesday our groups of 3 switched places, with Jenna Margaret and Kris attaching the new rafters with fiberglass rebar and Epoxy to the CCC Mess Hall. The Mess Hall work moves a little faster with the help of power drills and chainsaws, but there's nothing like using your own brawn to saw and drill, as Joseph, Dhante and Logan learned at the barn. Wednesday and Thursday the crew was reunited, all working on de-shingling the barn and replacing rotted siding boards. Wednesday night for crew dinner, Margaret taught the crew how to make quiche with homemade pie crust! To finish off the week, some of the crew hiked into the gorgeous Never Summer Wilderness, up to the Grand Ditch.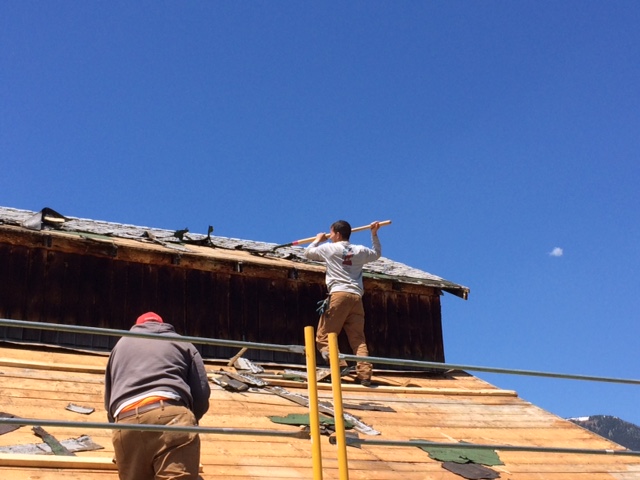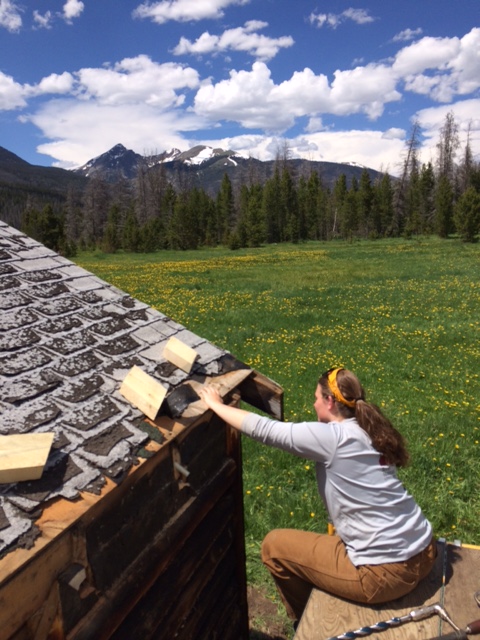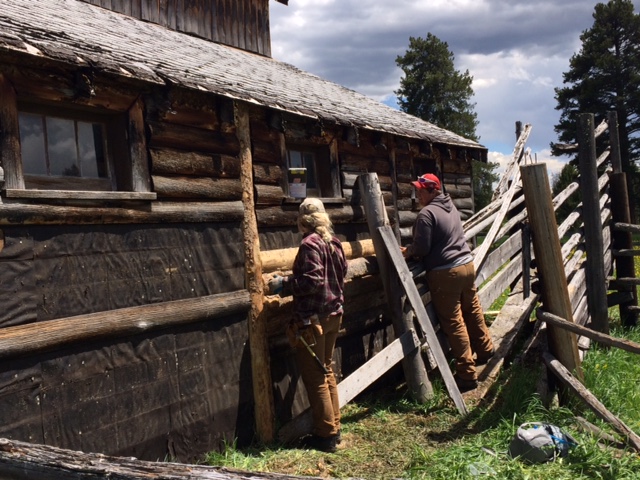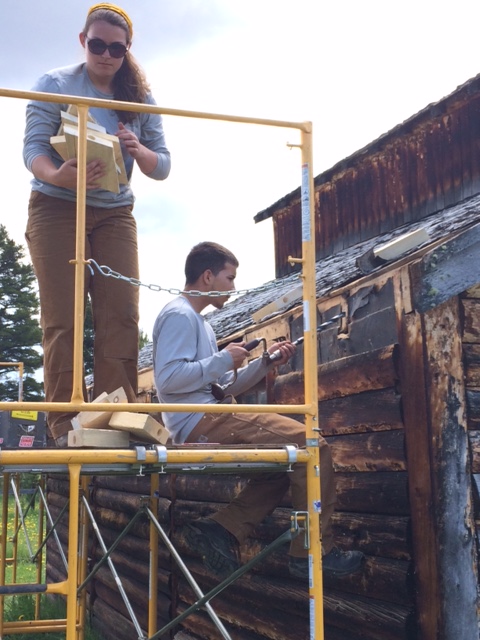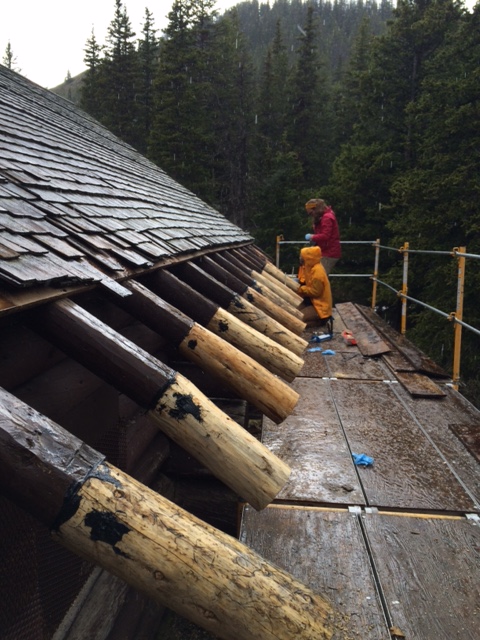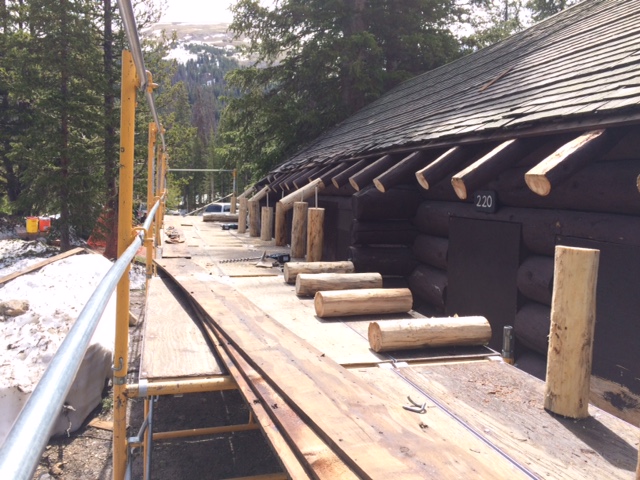 The Rawah Crew hit the trails hard this week clearing 45 trees and 154 drains on the Lower McIntyre and Link trails, and all the way to Blue Lake and Zimmerman Lake. Our first two days were spent on the McIntyre Trail where a portion of our time was spent repairing a large flooded out area of the trail. The crew built a 30 ft long rock wall blocking the flow of Stub Creek from rutting out the trail further. The next day we headed south to work on the Blue Lake Trail. Focusing on clearing trees at the beginning of our day, we were rewarded with an awesome view of the Mummy Range in RMNP once we reached Blue Lake to rest and eat lunch. On Thursday, we started the day on the short Zimmerman Lake trail and then spent the rest of the day clearing tons of hazard trees from the Link Trail. We only got a mile and a half up the trail and cleared at least 30 trees! We are excited to receive our crosscut next week and can't wait for the snow to melt so we can work and explore the Rawah Lakes at higher elevations!
The Boulder Crew received a taste of trail success during week number two of our conservation work. Our Forest Service supervisors of the Boulder Ranger District directed our team of young conservationists on trail projects in two beautiful and diverse locations in the Roosevelt National Forest. Our week started bright and early at the Buchanan Pass Trail as we started construction of a turnpike extension over heavily used and poorly drained soil. A turnpike in trail terms is an elevated tread way that is arched so that water drains off the surface an into a trench dug to the side of the sidewalls. This was a tiring yet rewarding project that proved Boulder's dedication to improving our public trails and working as a team of land stewards. We had a break from the turnpike on our third day of work as we laced up our boots and completed a day of maintenance to the Lost Lake campsites, where we removed unnecessary fire rings that scarred the earth and increased forest fire probability. This day also consisted of removing hazardous dead trees over the trail and fire rings that posed a threat in riparian zones around the lake. On Friday we could see our turnpike come together to look like a an effective trail feature, something we are all so proud of! This week let us better understand our growing appetites, typical of a trail worker after a long day of improvements, and has left us hungry for more conservation work this summer season!