Red Feather Crew
This week the Red Feather Crew started out at Signal Mountain on Monday and hiked roughly 3.5 miles in. They ended up working until their first much needed 15-minute snack break with guests Geoff Elliot and Tommy Egland. After the two left, the crew continued on and dug 56 drains total that day just before getting stopped by a wild Moose. They hiked through a beautiful trail that went through what crew members Zach and Colin believe to be an end moraine based off of their education from college.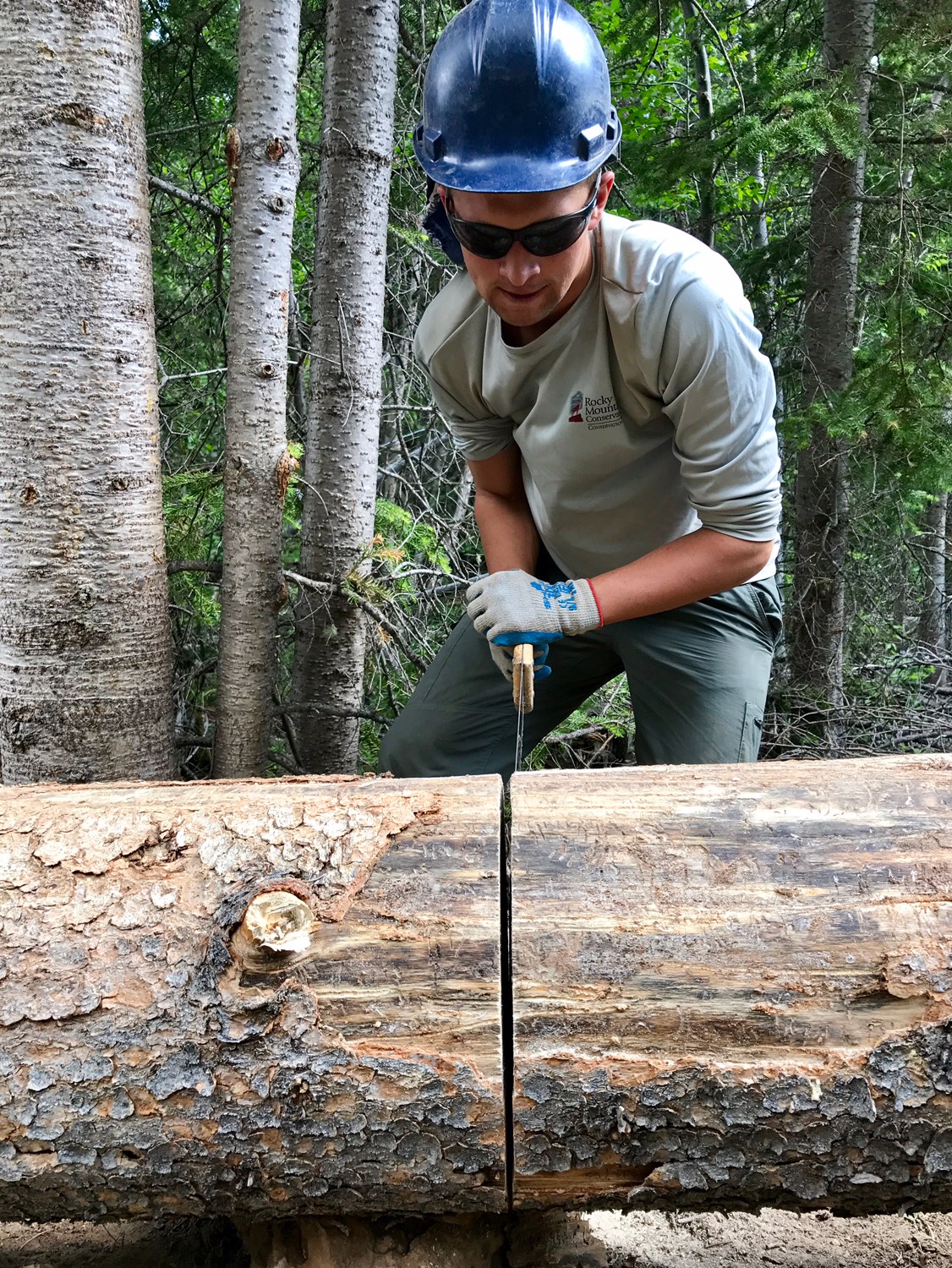 On Tuesday the crew headed to Flowers Trail to start their one-day hitch. Little known to them they had a massive section of trail to clear of downed trees. Approximately 3.5 miles in crew members Stephanie, Zach, and Davina stumbled upon the mess while realizing the crew had left the cross cut in the vehicle. Stephanie took the lead and trekked back to get it while the two other members started limbing the branches.
Crew Lead of the week Colin was hiking back to find member Abby and Co-Lead Shelby who were about a mile behind because they noticed a large section that needed a drain and water bar. Much later that day the crew finally cleared the downed trees the covered much of the trail and headed out for the day.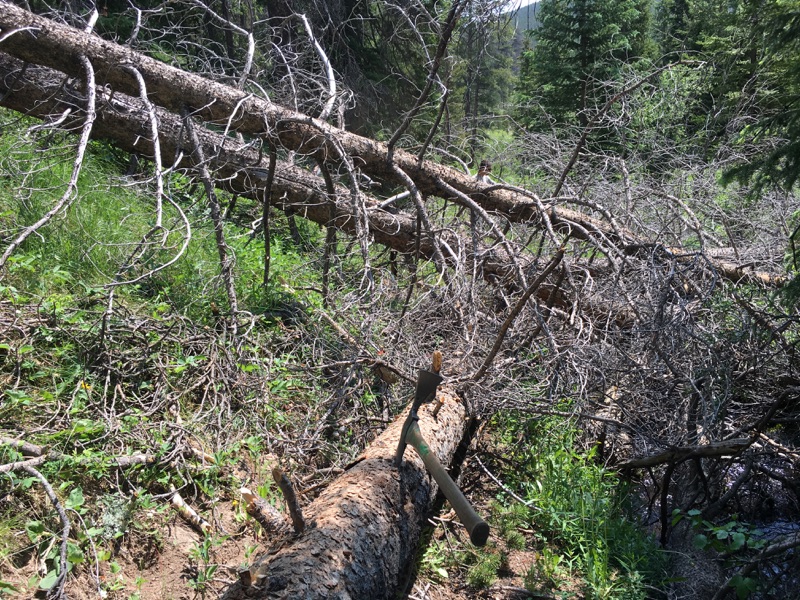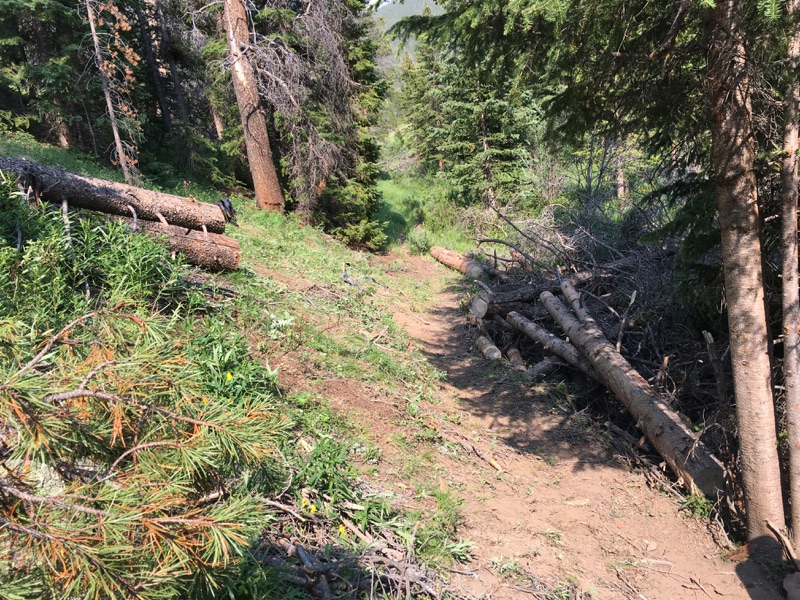 The lessons learned of the day were 1) ALWAYS bring every tool you need regardless and 2) Cross cutting is a tiring endeavor but well worth it.
On Wednesday after a much needed rest at a beautiful campsite in the Comanche Peaks, the crew headed back to Signal Mountain in hopes to work until they reached the peak and in hopes that the moose had wandered off. They discovered that the latter half of Signal Mountain had not been maintained for a very long time and began to work on drains and downed logs. They cut 11 trees that day and dug 24 drains. Crew members Davina and Shelby were working on cross cutting a tree 2 foot in diameter when all of a sudden their saw got stuck. With no way to get it out they thought up some ingenious ideas. After nothing worked, with quick thinking Davina suggested to cut where the tree was resting on another. Soon after they finished that cut the tree dropped and the saw was free! As Shelby and Davina were cutting the large log, the rest of the crew decided to head on and see what was up the steeper part of the trail. They realized that there was so much work to be done and that the latter half of Signal could potentially be a project for another time. When the rest of the crew members got back, Davina and Shelby showed their success and took to using the large log to canoe down the mountain and into the Poudre.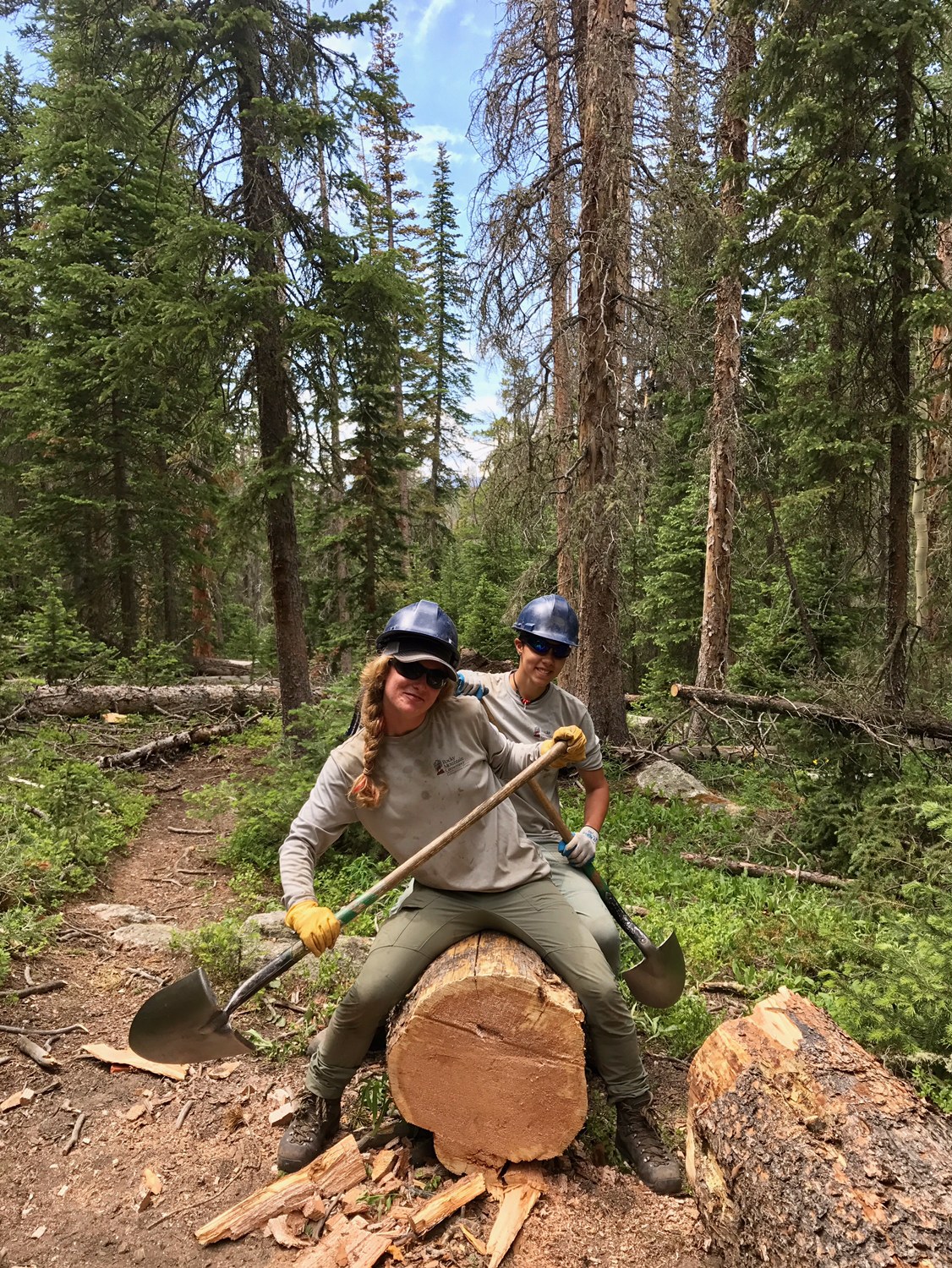 Thursday the Crew headed to Dadd Gulch just before splitting up for the weekend. The crew ended up hiking 7 miles that day and maintaining the frequently used trail. On their hike they ran into numerous trail goers and some Poudre Wilderness Volunteers. Most of the trail goers thanked the crew and gave recognition to the hard work that they were doing. After completing a very large water bar and drain Abby and Stephanie decided it was time to rest in their finished product because their work was so draining. The crew then headed out for the weekend with members Colin, Davina, Zach, Abby, and Stephanie all headed to Moab, UT while member Shelby trekked from the Poudre Canyon into Estes Park!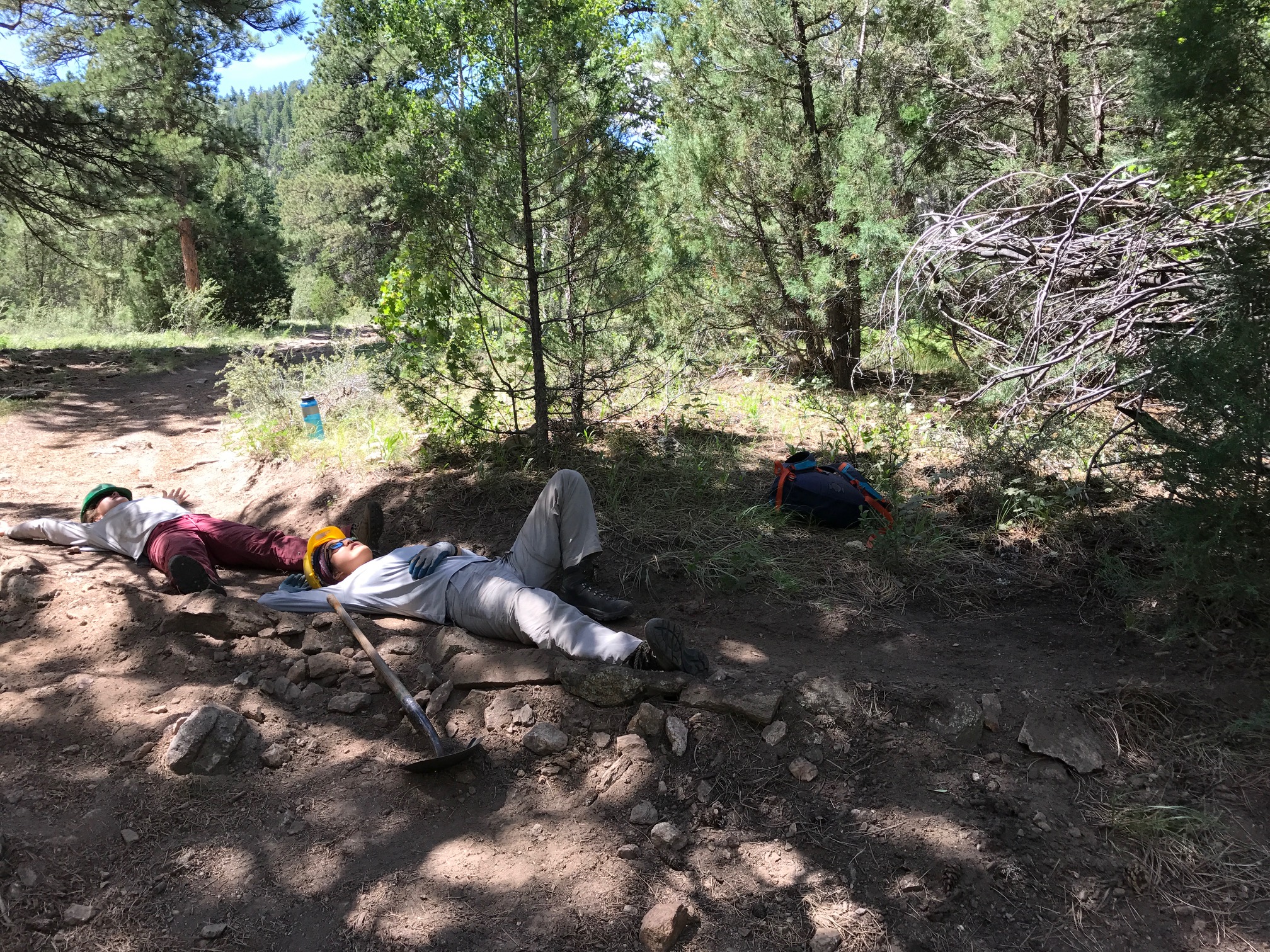 -Colin Mortemore (Red Feather Crew Leader of the Week)
Shadow Mountain Crew
This past week, the Shadow Mountain Crew joined forces with the Rocky Mountain Youth Corps to tackle an incredible project. In recent years, the Morgan Gulch trail was rendered useless by pine beetle deadfall. Along with Arapaho National Forest USFS representatives and the RMYC, we set out on a four day long backcountry hitch to restore the trail and make it again accessible to the public.
Over the course of the week, as a direct result of hard work and camaraderie, approximately two miles worth of trail saw all deadfall removed. Final numbers soared, the crews removing hundreds upon hundreds of trees that had previously fallen on the trail and felling nearly a hundred more that stood alongside the trail and would imminently fall onto the trail if not attended to. The saw work was completed so efficiently that the crews had to readjust their plans as ensure there was work to be done the remainder of the hitch. In addition to the numerous trees removed, the crews were able to reestablish tread along two sections of meadow marked beforehand solely by orange and pink ribbons tied on the stalks of green corn lilies. The entire corridor was brushed, from the trailhead we began at to the point of our end goal. Drains were dug dutifully in areas that required better watershed. In addition to basic drain work, two large trenches, reminiscent of turnpikes, but not quite as extensive, were installed in especially muddy spots along the trail.
This hitch was not only successful in terms of work accomplished, but also brought our crew closer together. We bonded with each other on a deep level, through conversation held around the fire and on trail, cooperation regarding camp chores, and by encouraging each other to give it all we had, even on days we felt a little bit off. The work we completed on this trail established meaningful connections between the Shadow Mountain crewmates and the forest around them.
On the final day of the hitch, as we were finishing up one of the sections of meadow being retreaded, some gentlemen rode by on their horses. All thanked us for our hard work, and praised the quality of the trail. As they exited the meadow, the last man in line tipped his cowboy hat towards us all in gratitude. Though he did not ride off into the sunset, the admiration in his eyes was all we needed to witness, as we wiped the last drops of sweat off our muddied foreheads, to know that the job we did was truly meaningful to those who have stepped, and those who may step, into the wilderness of the Morgan Gulch trail.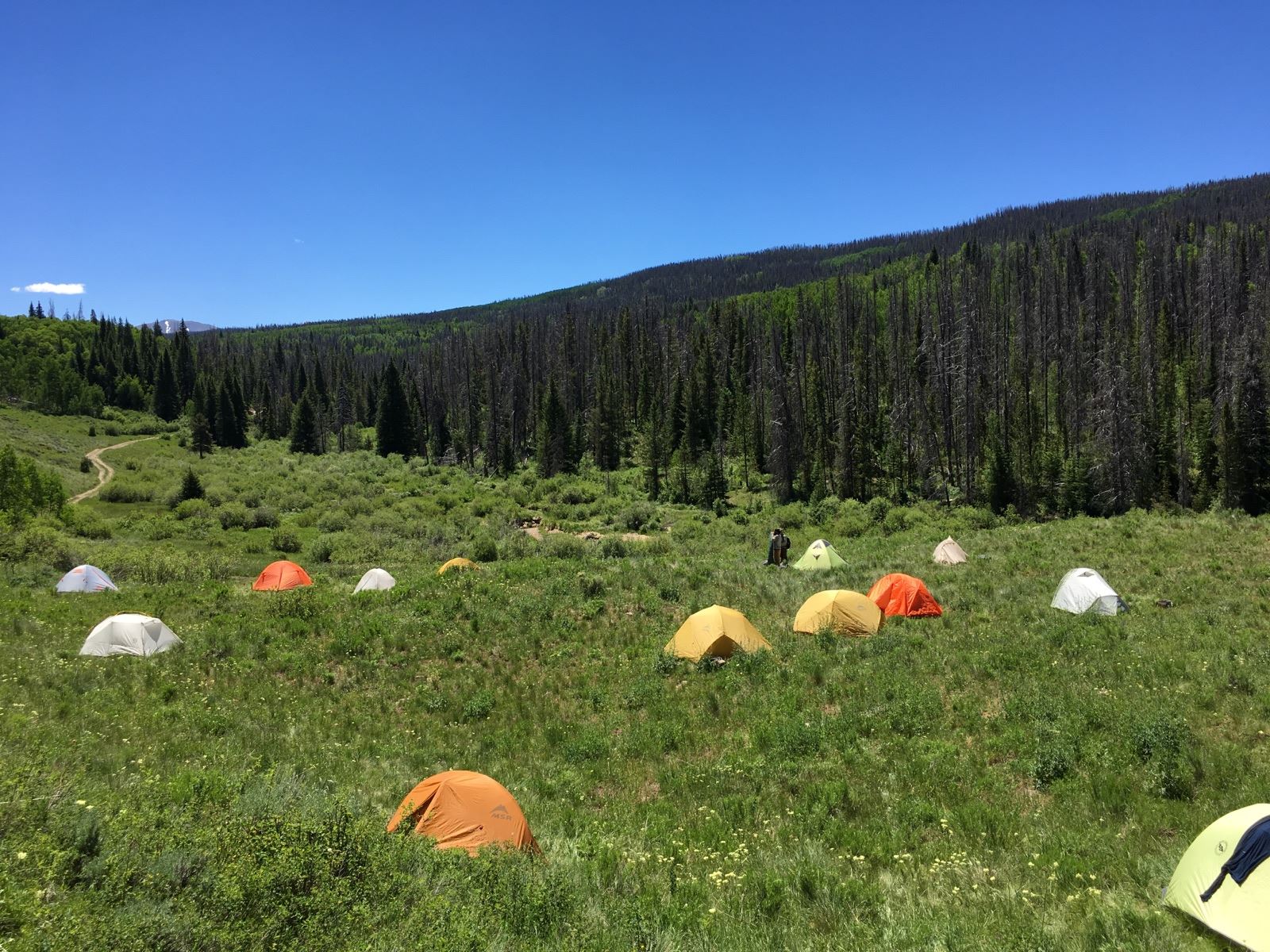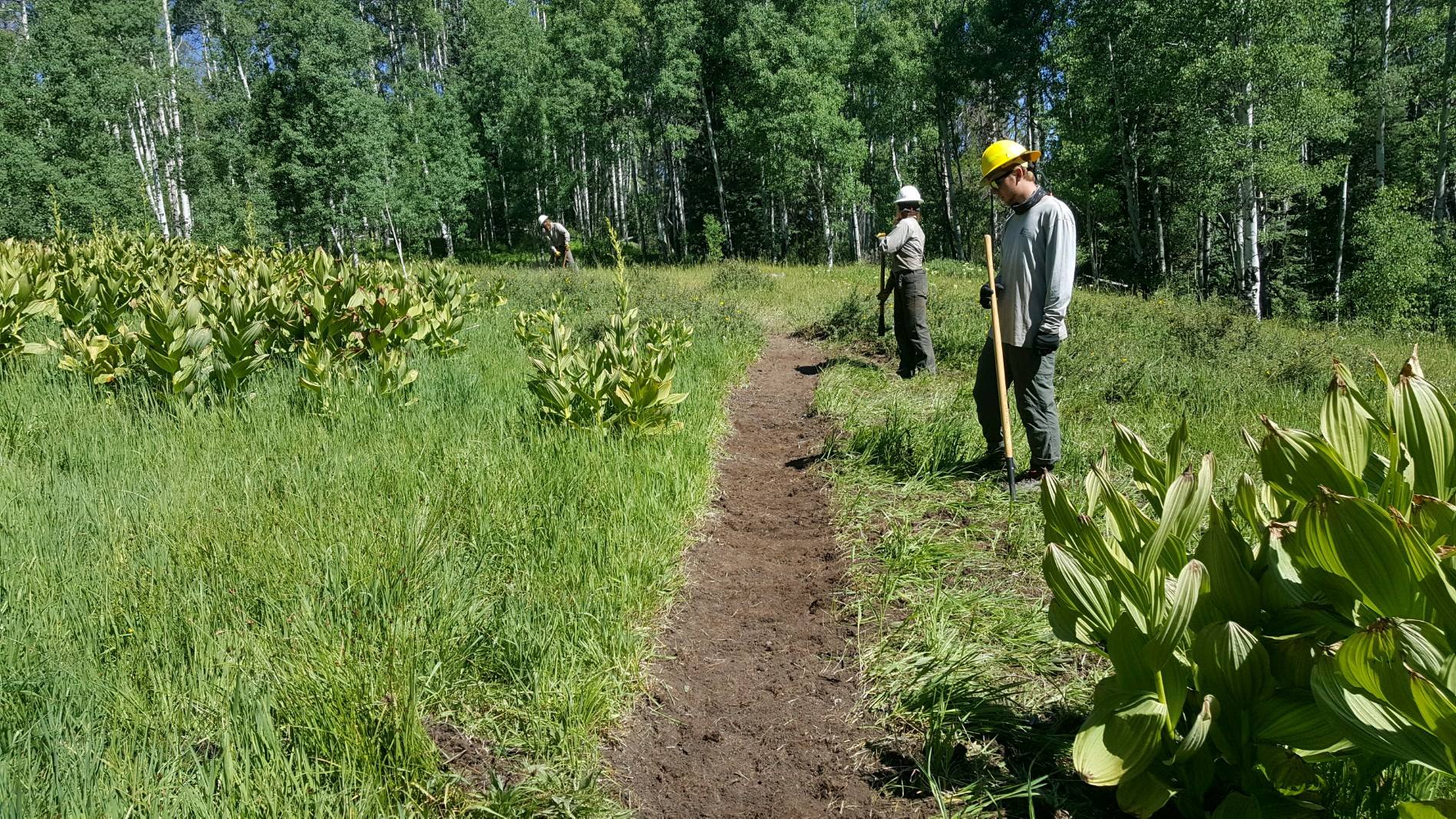 Additionally, below is a link to a video of the Shadow Mountain Crews first few weeks in the field!
-Mary Cretney (Shadow Mountain Crew Leader of the Week)
Estes Crew
This week, the Estes crew was back with the trails division. Most of the trail crews were starting to do work on their summer projects rather than routine maintenance runs. This means that they hike to their work site and work in one place all day rather than maintaining the trail as a whole. On Monday and Tuesday, the Estes crew worked on the Lawn Lake trail. They helped to re-route a 100 ft. section of eroded and muddy trail. To do this, they built a 20 ft. log check drain, moved many big rocks and trees, removed sod and duff, and hid the old trail with logs and brush. On Tuesday, a large bull moose wandered into their work site and poked around for a few minutes before running off into the woods.
On Wednesday, the Estes crew worked at Lawn Lake trail again, but hiked a mile farther to help with a much longer re-route. This project had already been started, and all that was left to do was remove rocks and build rock reinforcement walls on the downhill side. They adopted a section of rock wall that will be left for them to build. On Thursday, the Estes crew went straight to Glacier Gorge Trailhead in the morning so they could find parking before the crowds came. They hiked up to a river overlook where large safety rocks had been placed near the edge to prevent people from getting too close to the cliff. There was a large gap in the rocks where they had been pushed over the edge. Along with two NPS trail workers, the crew spent the majority of the day finding big rocks in the woods, digging them out, and rolling them into place along the cliff. In total, they set four enormous rocks in place using rock bars, picks, and their hands.
The Estes crew wrapped up their week by completing the "Grand Slam" on saturday (Flattop Mountain, Hallett Mountain, Otis Mountain, and Taylor Mountain). The hike reached 13,185 ft., and was 20 miles long. At the end, they glacaded down Andrews Glacier and hiked back to the Glacier Gorge trailhead.
-Sal Sharp (Estes Crew Leader of the Week)
Rawah Crew
This week marked our second week of work on our home turf for the Rawah Wilderness crew. After a slightly longer commute past Chambers Lake, we began work on the Blue Lake trail on Monday. We worked through a mile cutting trees and digging drains before hitting an old logging road. There wasn't much work to do on this section of the trail, so we were able to cover some easy mileage. After the road ended, it was back to work as usual. Besides the typical fallen trees and filled-up drains, we ran into a couple of very muddy patches which required digging new drains to try to dry up the area.
We made it about 3.5 miles up the trail, and in our fervor trying to make it to a river crossing just up ahead, we accidentally ended up working about two hours of overtime.
On Tuesday, we returned to Blue Lake to work further up the trail. Today, however, we were graced with the presence of our RMC supervisors Geoff and Tommy. It took us an hour to hike back up to where we finished yesterday. It was pleasant to warm up by hiking along the stream and admiring our work from the day before. Past the stream crossing, we encountered a number of very large trees which had fallen across the trail. Plenty of work for the crosscut saw. Before Geoff and Tommy had to hike back, we decided to trek up to a nice meadow for a little break. Geoff pointed out some pretty yellow flowers called glacier lilies and mentioned that they were edible, so of course we had to sample some.
After our break, Geoff and Tommy bid farewell, and the Rawah crew decided to use some of our overtime to hike all the way up to Blue Lake. Along the way, we ran into more and more snow patches covering the trail. Once we reached the lake, we went for a little swim. It was rather chilly, as could be seen by our vigorous jumping jacks after getting out. Hiking back, we realized that we wouldn't really be able to do much trail work with the path buried under snow. This being the case, we worked up as far as we could before enjoying a long hike back to the trailhead.
Wednesday brought us to the West Branch trail, one of the most popular of the Rawah Wilderness. We ran into a number of hiking groups grateful for our work. Work on this trail was slow due to large, rocky drains. We think the drains on this trail haven't been maintained for at least a year or two, which would explain why they are so packed with dirt and debris. Nothing too exciting happened today, other than the usual fantastic views of the Rawahs.
Thursday! The end of a good week of work. We were back at West Branch to work a bit farther up. The crosscut crew walked a mile or two ahead, but to their disappointment, they found no fallen trees, and so they helped out with digging drains. After our morning break, we found two projects to work on: closing down a large social trail, and re-installing a missing rock check. The rock work brought back memories from previous weeks building rock walls, although we were thankful we only had to find and place a single rock. After returning to the luxurious Stub Creek bunkhouse, we cleaned and sharpened our tools, and then crew-leader-of-the-week Jacob Ng gave a lesson on tree identification.
For the weekend, our crew split up. Some members took a trip to Moab, Utah for a sweet few days of hiking through mind-blowing rock formations of arches and towers. The others decided to hike from the Comanche Peak Wilderness down through Rocky Mountain National Park into Estes Park, where all of the crews will be reconvening for our midweek training. We experienced some navigational confusion, and ended up hiking an unintended route. Nevertheless, it was a great weekend of backpacking through a beautiful area. Sadly, it will be another two weeks before we get back up to the Rawahs for our first backcountry hitch, so stay tuned!
– Jacob Ng (Rawah Wilderness Crew Leader of the Week)
Kawuneeche Crew
Monday:  To get into the swing of week four, we started out by staining a few picnic tables we had built before the weekend and then took a field trip to the west side of the park to see some of the projects that had been completed in past years with our supervisors Bob, Chuck, and Wilson. We first stopped and looked at the old CCC mess hall near Lake Irene that had been refurbished by a previous RMC crews. Following a stop at the west side project shop, we then had lunch and went to see the ice house rebuilt by Bob and Chuck, and got a down and dirty lesson of how to lasso by Wilson.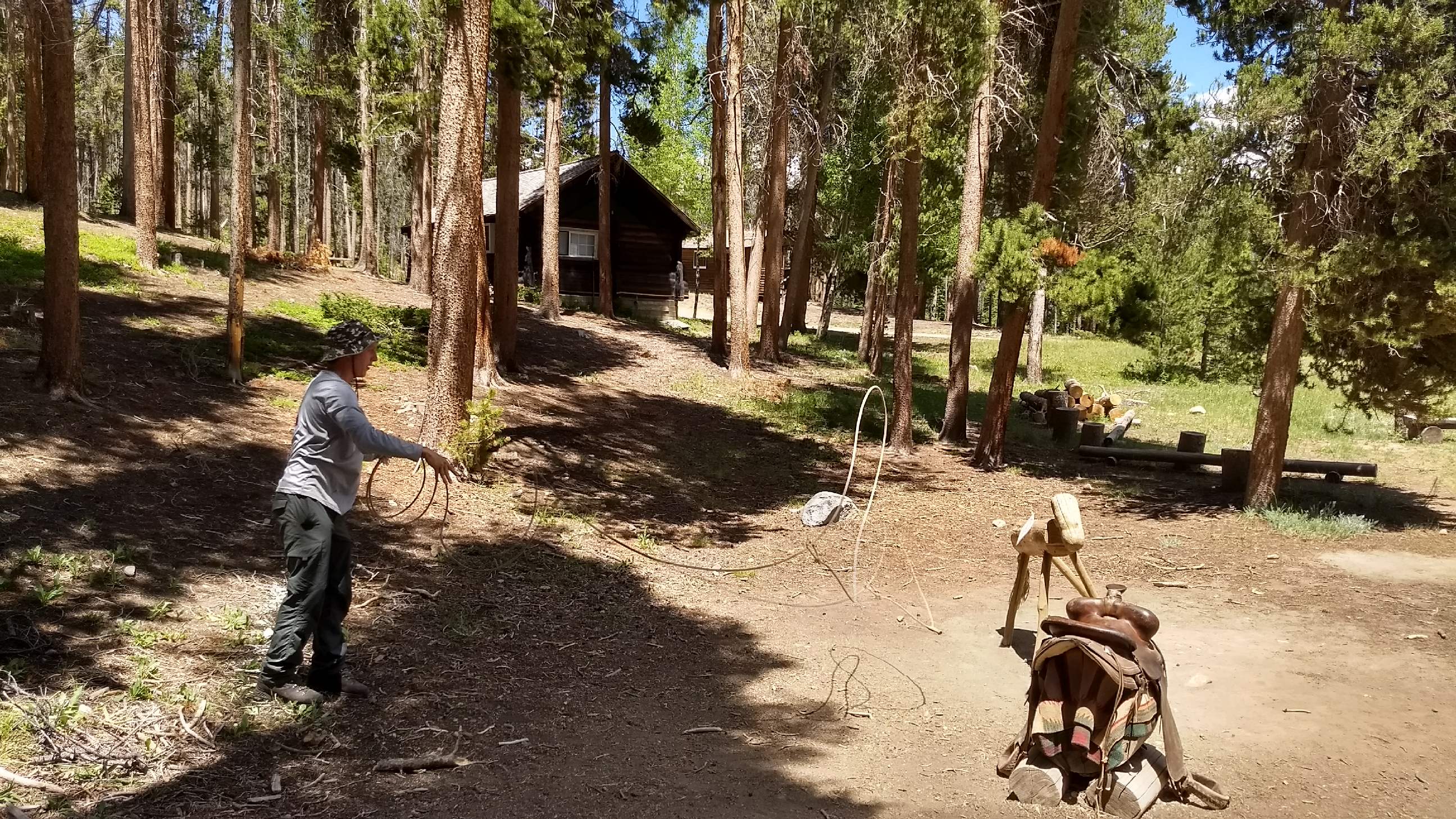 On the return drive home we came upon a motor cycle crash off trail ridge road, and had to quickly jump into action as we were the first responders to the accident.  After radioing in for help, some of us helped direct traffic around the scene while others grabbed the first aid kit and went down a twenty-five yard embankment to the crashed motorcyclist.  Luckily for all parties involved, the rider was not seriously injured and did not need immediate first aid.  We stood by and did what we could until the first park ranger/paramedic arrived, and then left the scene to clear the road while our supervisors stayed to direct traffic.
Tuesday:  For our second day of work of the week, we alternated between breaking down old picnic tables, sanding new boards, and assembling and staining new tables.  All in all we broke down twenty five tables, which was the easy part, and then assembled five masterfully crafted tables to be delivered to eagerly awaiting park staff.
Wednesday: Wednesday brought a change of pace for the crew, with the highly-anticipated arrival of shingles necessary to continue progress at the Liefer cabin.  After running out of shingles for the second story coverings last week, we were eager to continue work on the cabin and hit the project hard all day making great progress.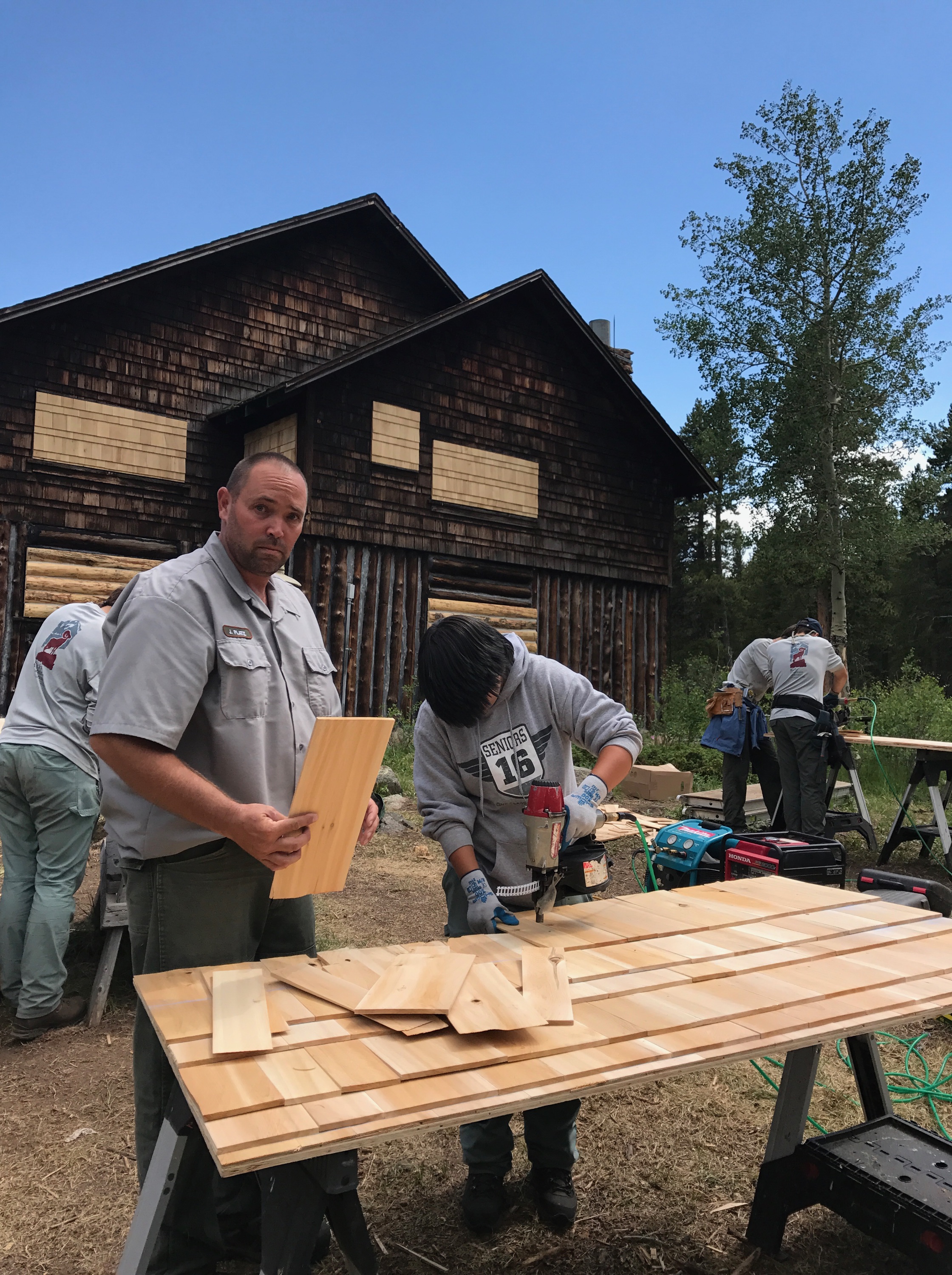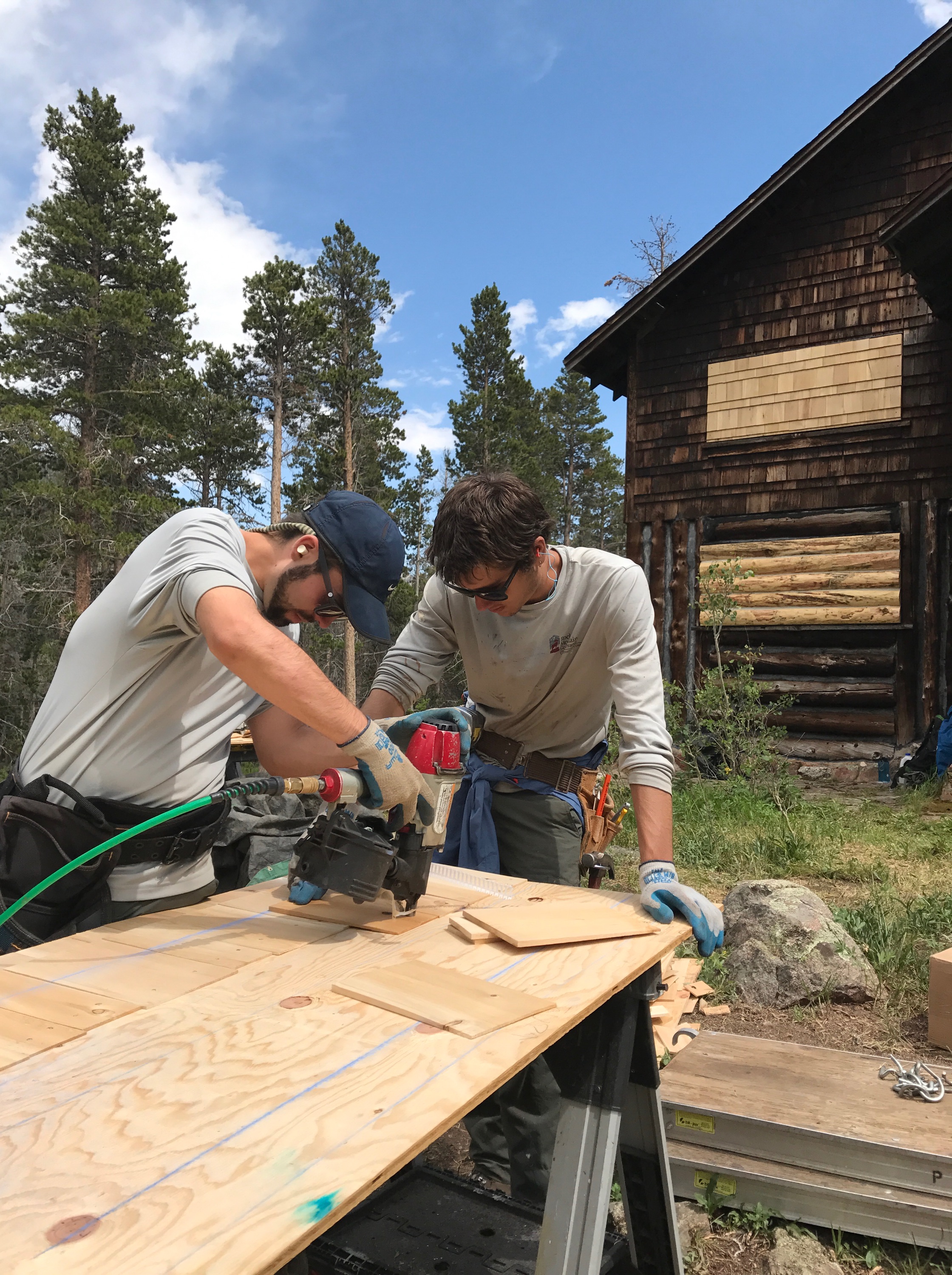 Thursday:  To finish off week four we wrapped up the Liefer cabin project by finishing the remaining shutters that required shingles, and then installing them around the second story of the cabin.  We then broke down all of the scaffolding, packed all the equipment and tools, and cleaned the area of all debris.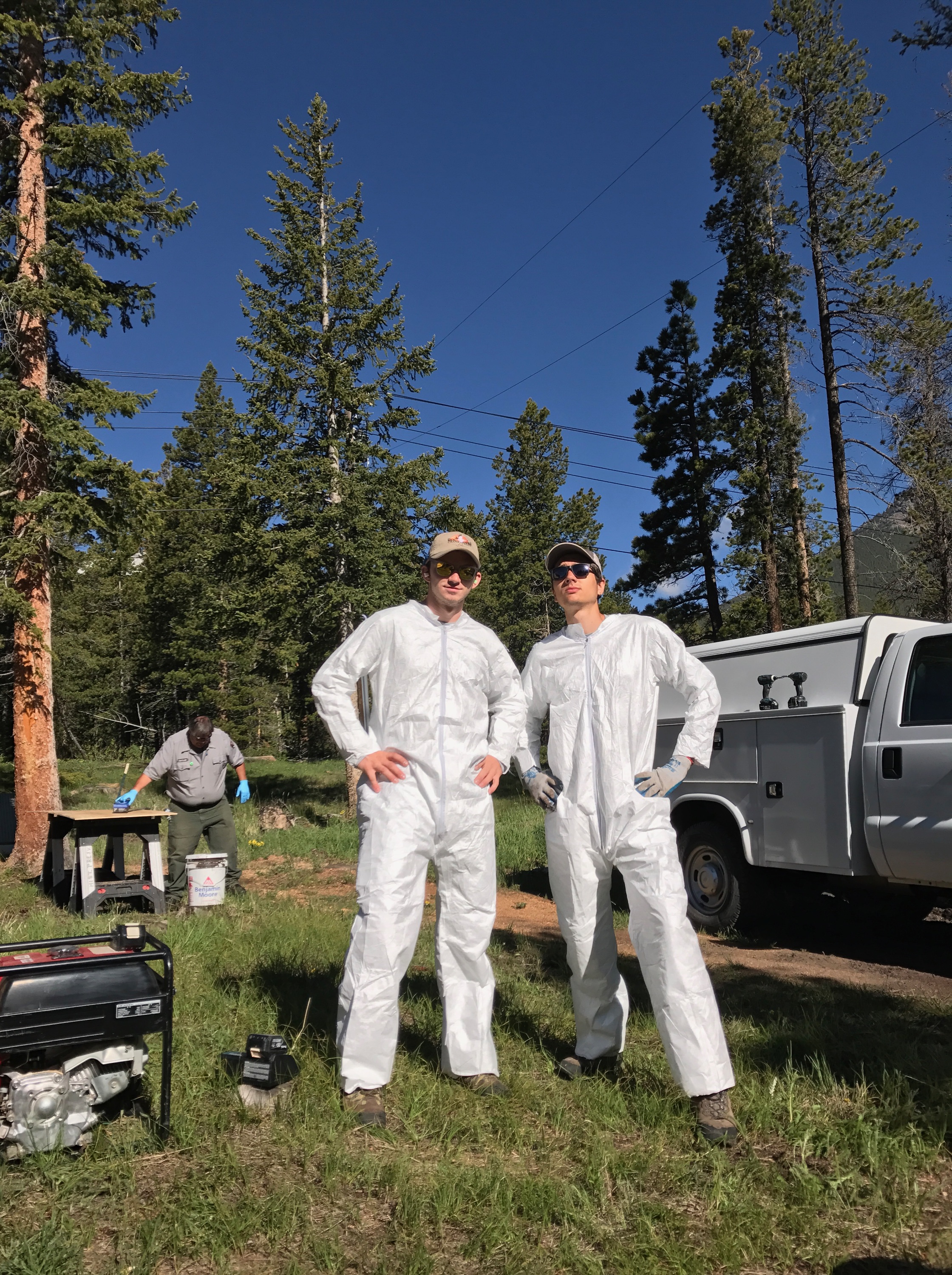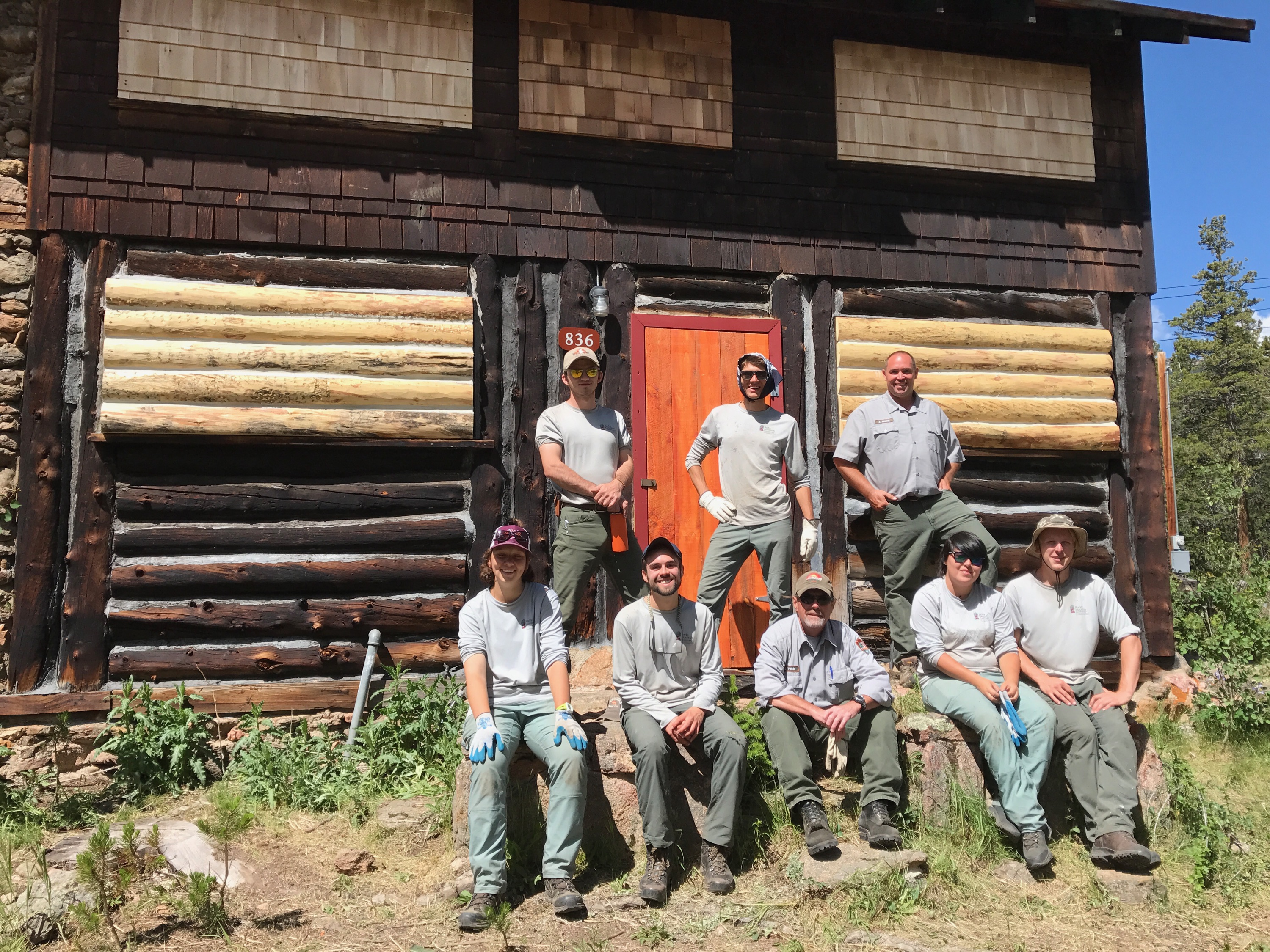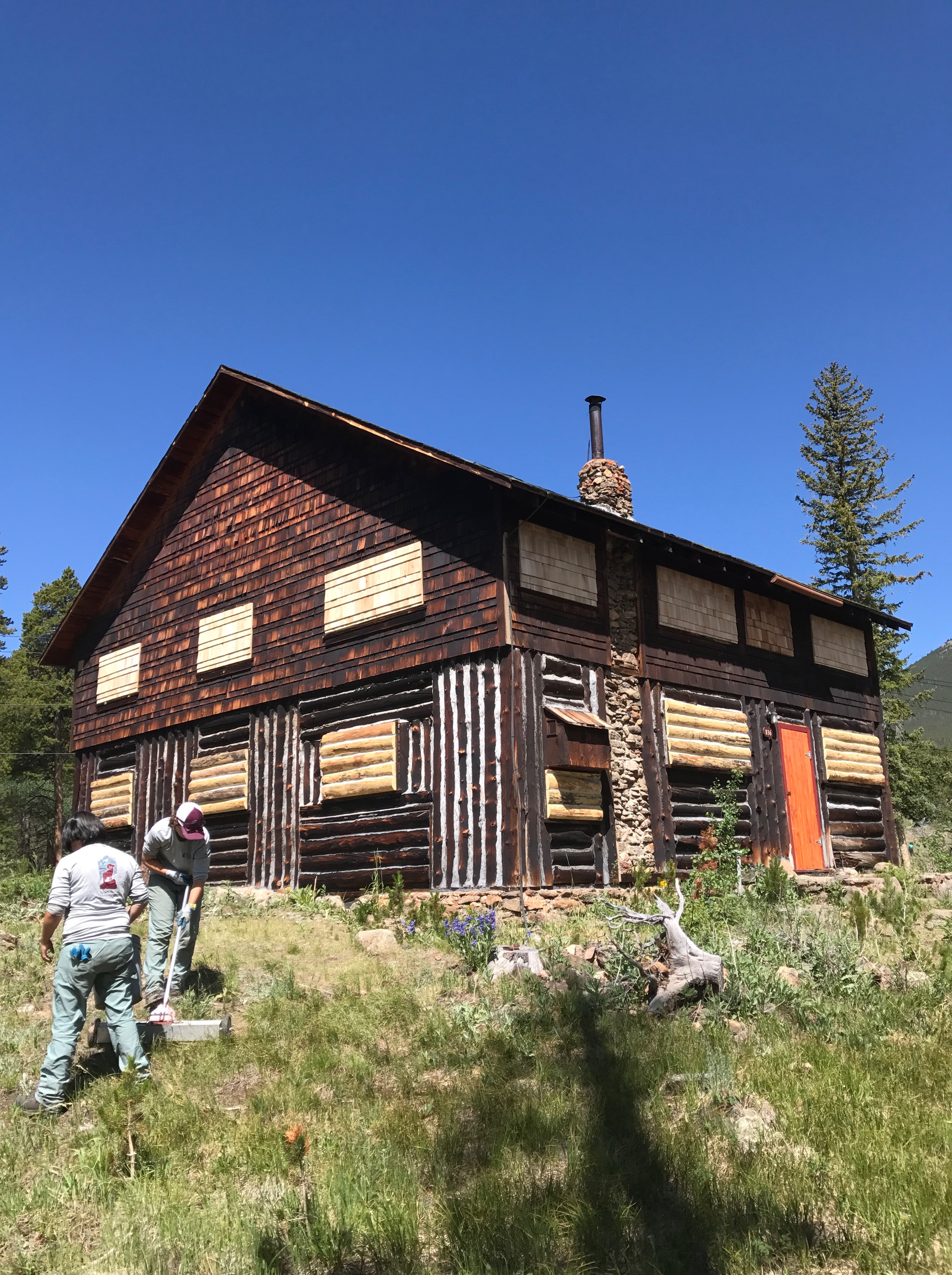 Boulder Crew
Sunday
As the teeth of a crosscut saw bite through a log, pulled back-and-forth between two sawyers, the saw begins to sing. It is a high-pitched, undulating noise, and we created that melody many times on Sunday, when we finished up our five-day workweek with crosscut saw field training and certification. We, as well as ten volunteers for the Indian Peaks Wilderness Alliance, learned how to properly use single- and double-bit axes, saw wedges (which hold open the cut, or "kerf," while sawing), and of course the crosscut saws themselves. Everyone in the program received intermediate sawyer certifications. Now we can operate crosscuts without a supervisor, so long as we stick to cutting smallish fallen logs off the trail, known as "bucking" trees. We unfortunately can't fell live trees, but this is admittedly a good thing. Nobody wants a flattened RMC crewmember.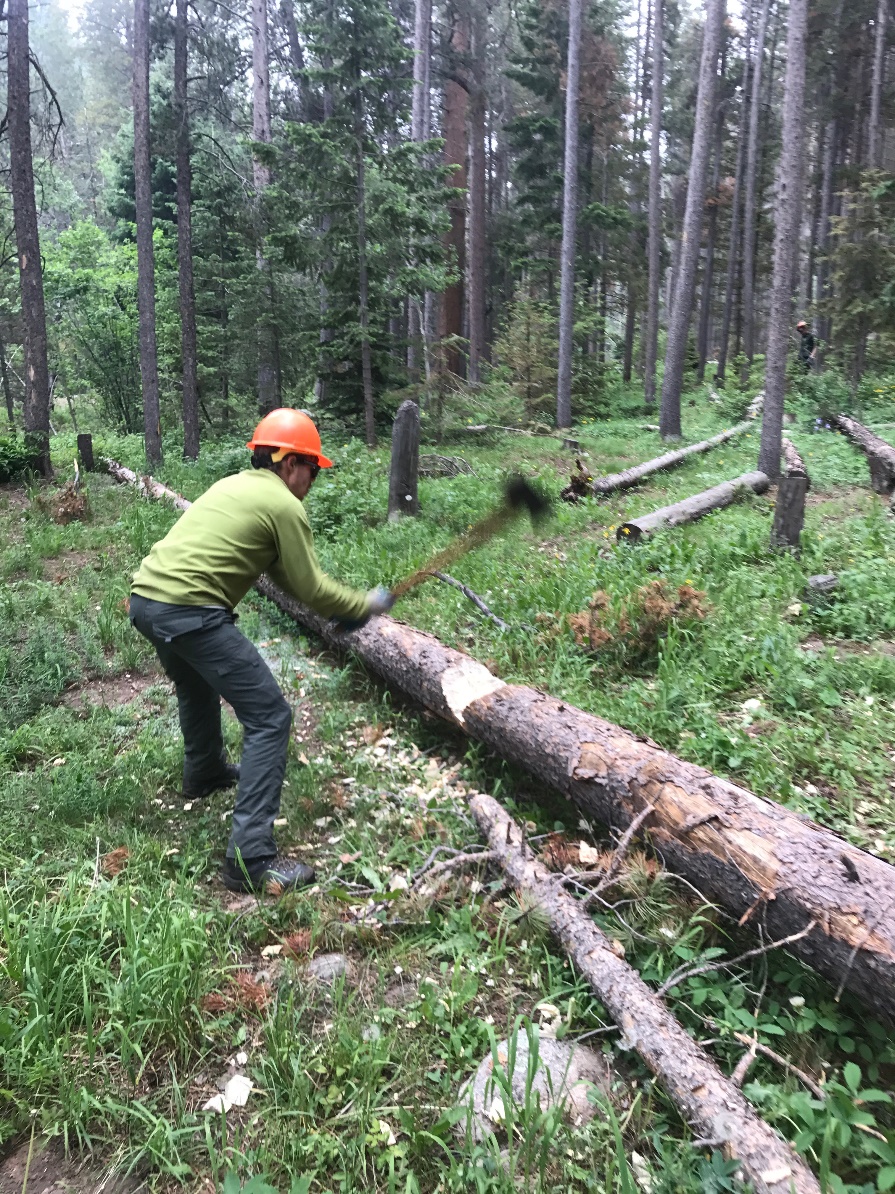 Monday
Monday was the only day we had off in a grueling nine-day stretch that began on the previous Wednesday. That didn't mean we were content to relax at the Homestead, however. After a short stop at the Happy Trails coffee shop in Ned—which has quickly become our go-to coffee and internet joint—we headed down into Boulder Canyon to (appropriately enough) do some bouldering. Next, it was on into Boulder itself, where most of the crew hiked and/or climbed the Second Flatiron, a steep, slablike mountain, and Andrea utilized the internet at a coffee shop to finish up some important tasks. We shopped for groceries following the hike and then drove back to the Homestead, our headlights chiseling out a path for us through the dark stone of the night. We got back late and went to bed, tuckered out.
Tuesday
The new workweek began at Buchanan Pass, a pass on the Continental Divide and its corresponding trail near the northern boundary of the Boulder Ranger District. We split up into three subcrews. Brendan swamped for Ben, our Forest Service contact, removing some forty fallen logs from the trail that Ben cut out with a chainsaw. Lucas and Louisa had a rough time trying to refurbish a miry drain before moving onto others for the rest of the morning and afternoon; Ally, Andrea, and I (Ryan, this week's Leader of the Week) spent the day clearing corridor with loppers and a small handsaw. All told, it was a reasonably productive day, although everyone admitted that the ten hours had seemed more like twenty. We were all sluggish due to the dastardly duo of a five-day workweek and one-day weekend.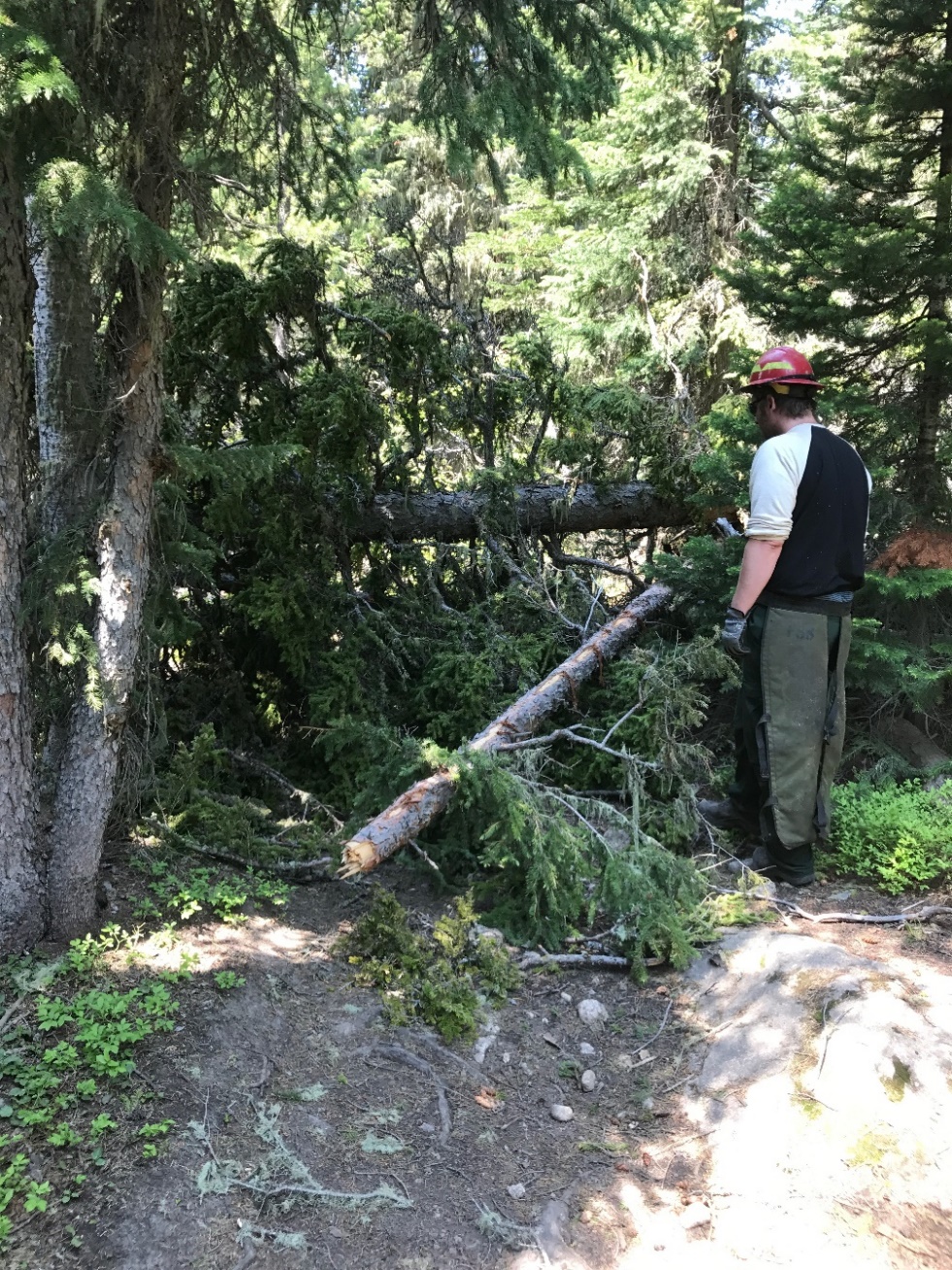 Wednesday
The road from Kelly Dahl to Nederland is steep and serpentine, winding down from our campground into town a few miles away. We make the drive every workday, so we know the curves by heart. But today we were in for a surprise. Coming around a bend, we met a government vehicle cruising up the road. The driver? Ben, who gave us a quick wave and then blew past us, headed for destinations unknown. We later discovered out he had been called up for fire duty in Brian Head, Utah. Unsupervised and unsure of what to do with our day, we called him and learned that we were to return to the Rainbow Lakes trail and brush it out. So that's what we did, hiking past all four lakes and clearing 1.5 miles of corridor on the way back to the trailhead. Then we dug some drains, put in a short rock wall, and closed off some trail. During a snack break, we searched for a dead moose purported to be decomposing at the third lake, but to no avail.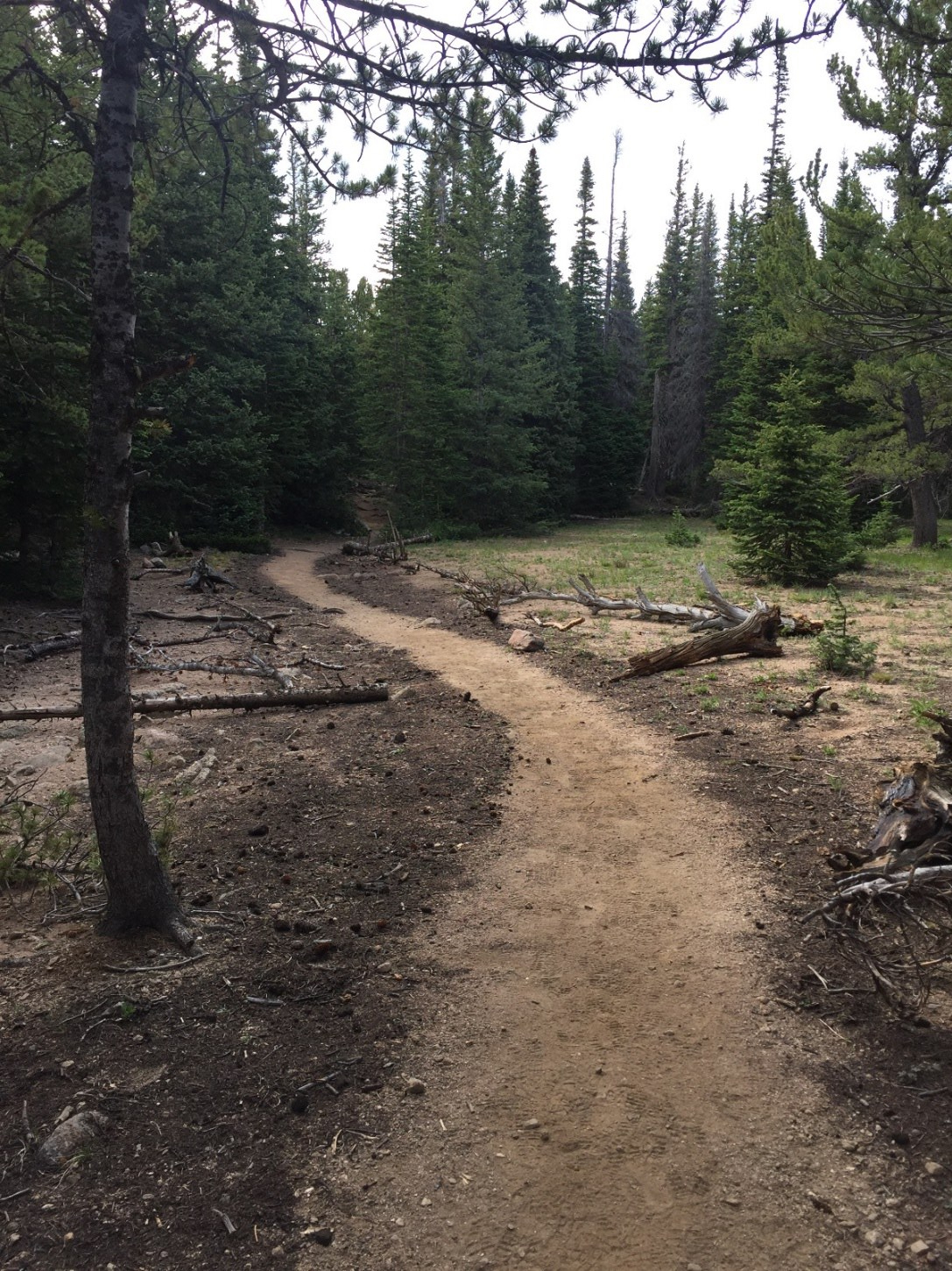 Thursday
With Ben gone, we slept in. There was no reason for us to get up early as no one would be at the work center when we arrived. Jon, Ben's boss and our supervisor for the day, was going to meet us there at 8:30. Thus, we started our day after an extra hour of sleep and a leisurely morning. Our worksite was up at the Brainard Lake area. Louisa and I worked with Jon, as well as Jake and John, two Indian Peaks Wilderness Alliance interns, to repair a handrail on a footbridge near Long Lake. I must say, it felt good to be working with wrenches again after weeks of using solely cutting and digging tools. Once we reached a good stopping point on the handrail, which we didn't quite finish, we headed back to the Beaver Creek trail. That's where Lucas, Ally, Andrea, and Brendan were using their newfound crosscut skills to buck eighteen fallen trees from the path. The day ended with some much-needed tool sharpening. We got back to camp at around 7:00, an hour later than usual.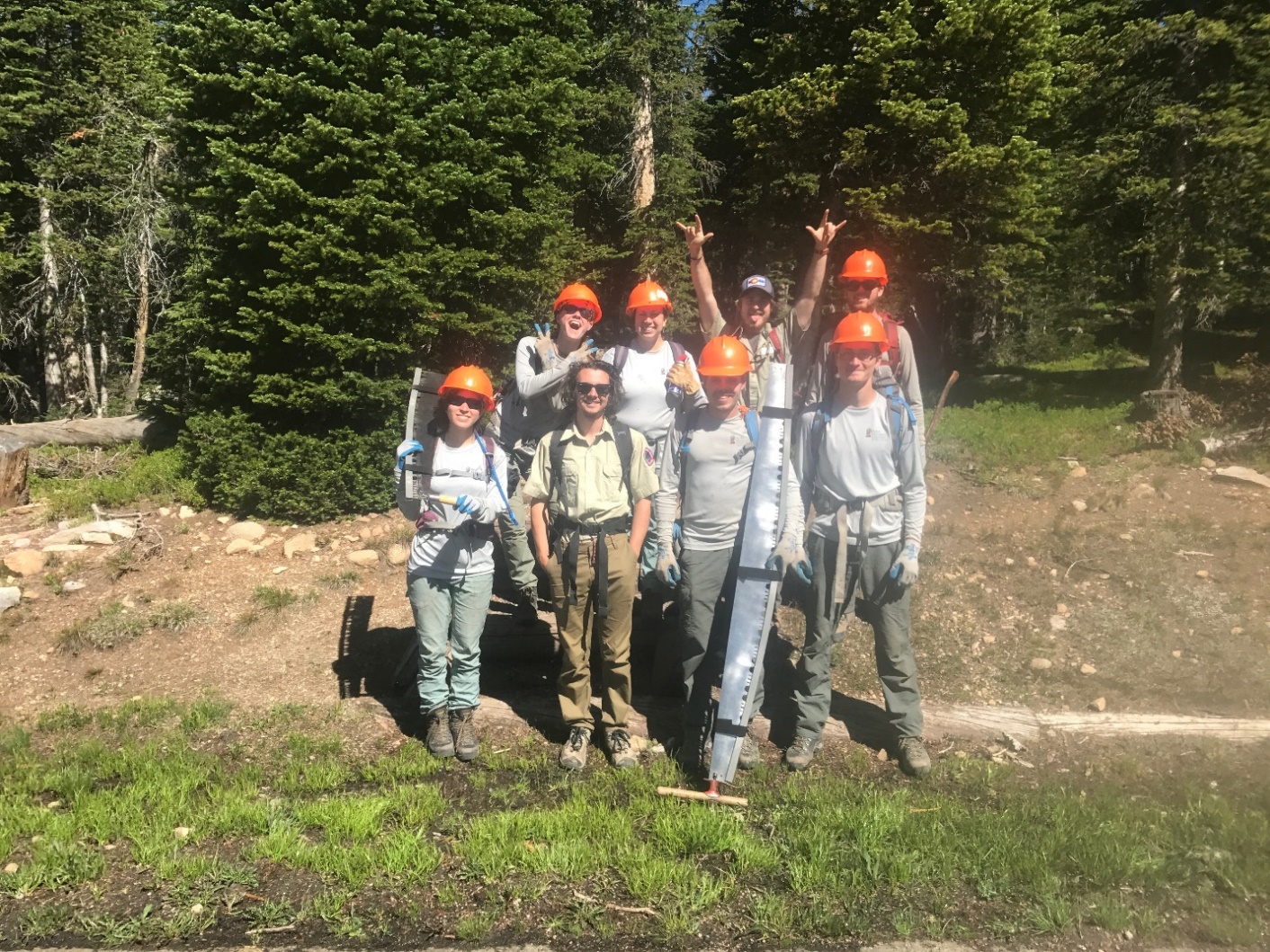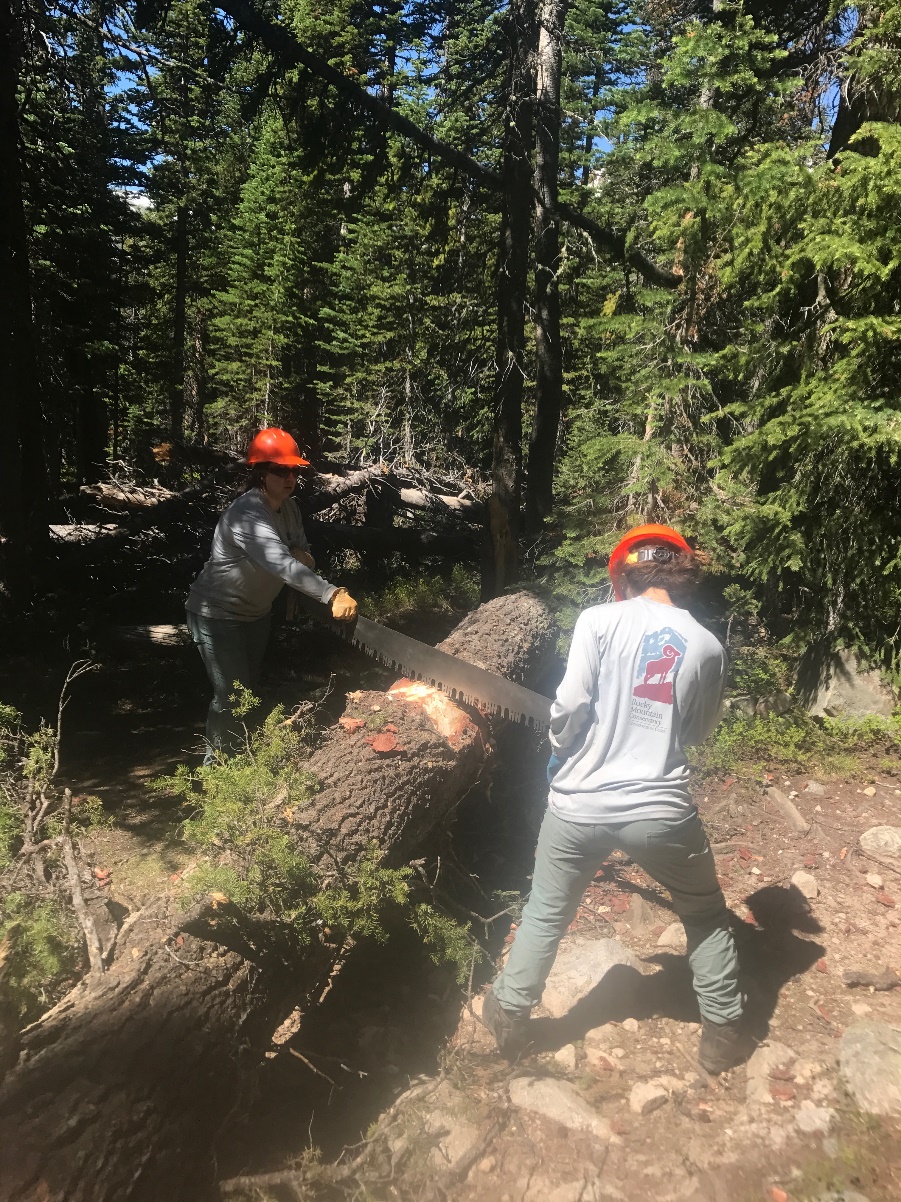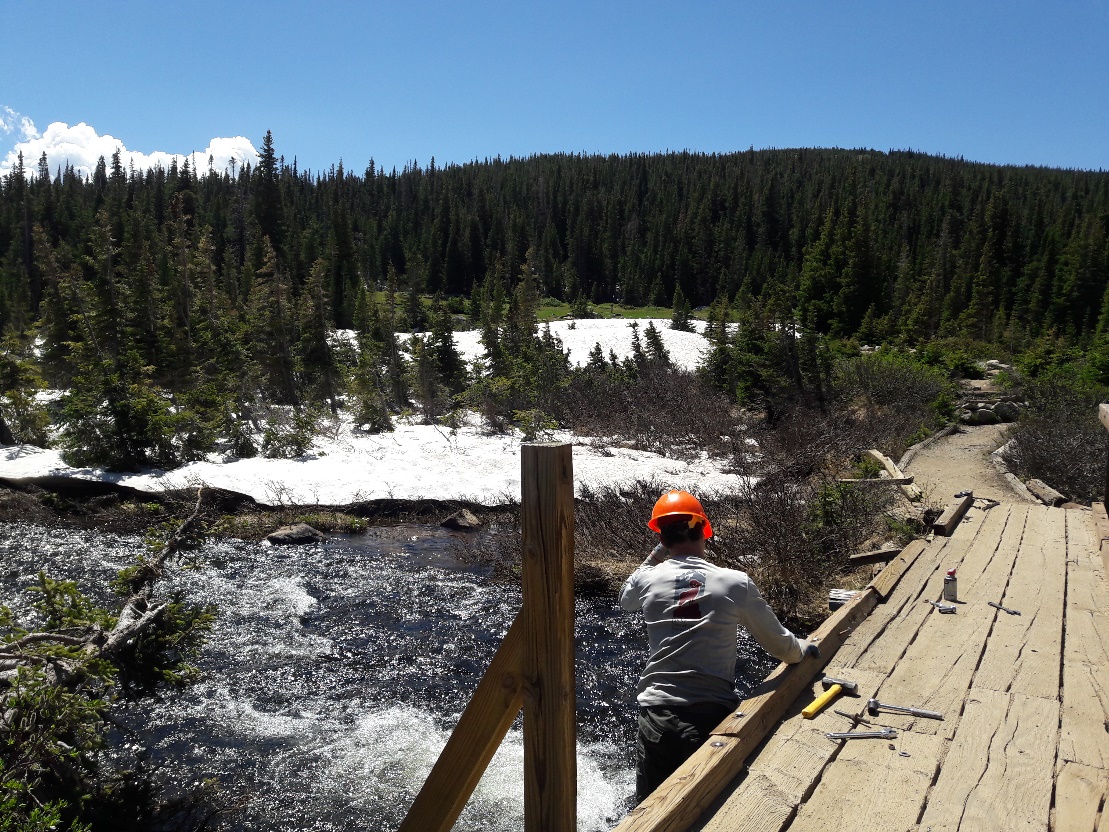 Friday
The weekend arrived on Friday, and we made the most of it. Brendan, Louisa, and Andrea headed to Boulder in the morning. There, Brendan and Louisa bought some new climbing shoes and dropped Andrea off with her mother, who had flown in from Puerto Rico to visit. Meanwhile, Lucas and I worked on some things back in Ned. Ally had gone home the night before to see friends and family, so by the afternoon there were only four of us remaining. We decided to cap off the day by climbing in Boulder Canyon.
Saturday
The Homestead is still chilly at 4:45 am, which was when Louisa, Brendan, and I grudgingly rolled out of the warm cocoons of our sleeping bags to go for a hike to Arapaho Glacier, a forty-minute drive away. The early start was ultimately worth it. We beat the crowds and summited South Arapaho Peak (elevation 13,397 feet) before eleven in the morning. The panoramic scene from the mountaintop was spectacular. It included a clear view of Winter Park, where Lucas was downhill mountain biking with a friend at that very moment. Come evening, Ally returned from an enjoyable stay at home, while Andrea continued to spend time with her mom in Boulder. Ally brought with her one of the most exciting purchases of the summer (except for a small bottle of I Can't Believe It's Not Butter spray, which has easily been our best investment). We had bought a miniature battery-powered projector on Amazon and had it shipped to her house, and now it was at the Homestead. We eagerly fired it up after eating. Sully was the movie of the night. The inaugural showing went well; there were only a couple minor hitches. And although the picture quality was subpar (this is a $60 projector, after all), we all agreed that it was a good buy. We finished the movie at around midnight and went to bed. In the morning, we would rouse ourselves and head to Estes for midweek, but for now we were content to sleep among the mountains we had called home for four weeks.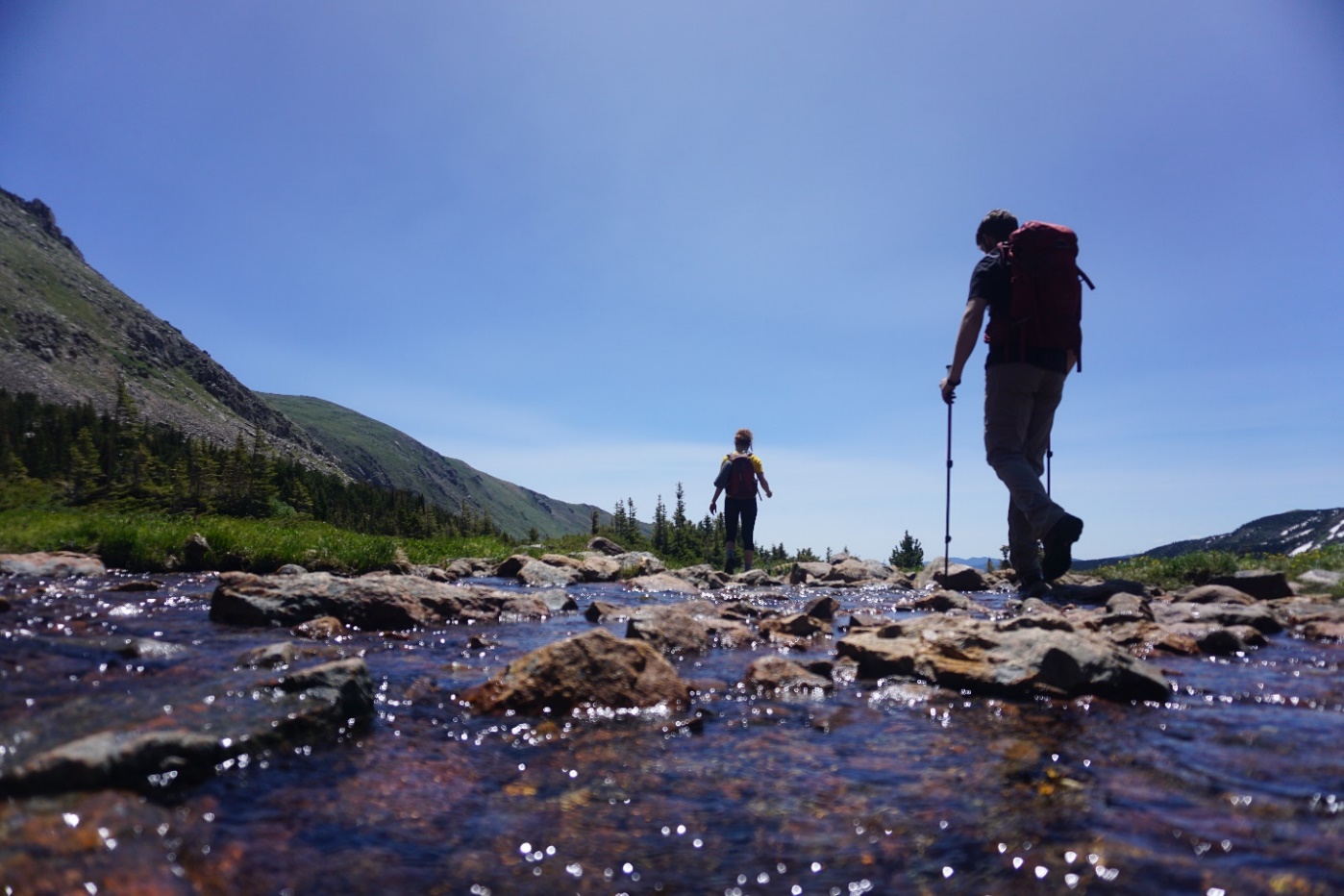 Until next time,
-Ryan Bodlak (Boulder Crew Leader of the Week)
Above: Estes crew members Claire Gillett and Chris Rokusek along with crew leader Blake Crossland stand at the top of Andrews Glacier before glacading down it on feet, butt, and back.
Written by: Sal Sharp (Estes crew leader of the week)