After a week long hiatus from field work for the Conservation Corps' Mid-Week where crews learned about NPS careers, reflected on their goals, participated in educational field classes, and helped set over 50 bear bins in Moraine Park Campground of RMNP, the crews are back in the field.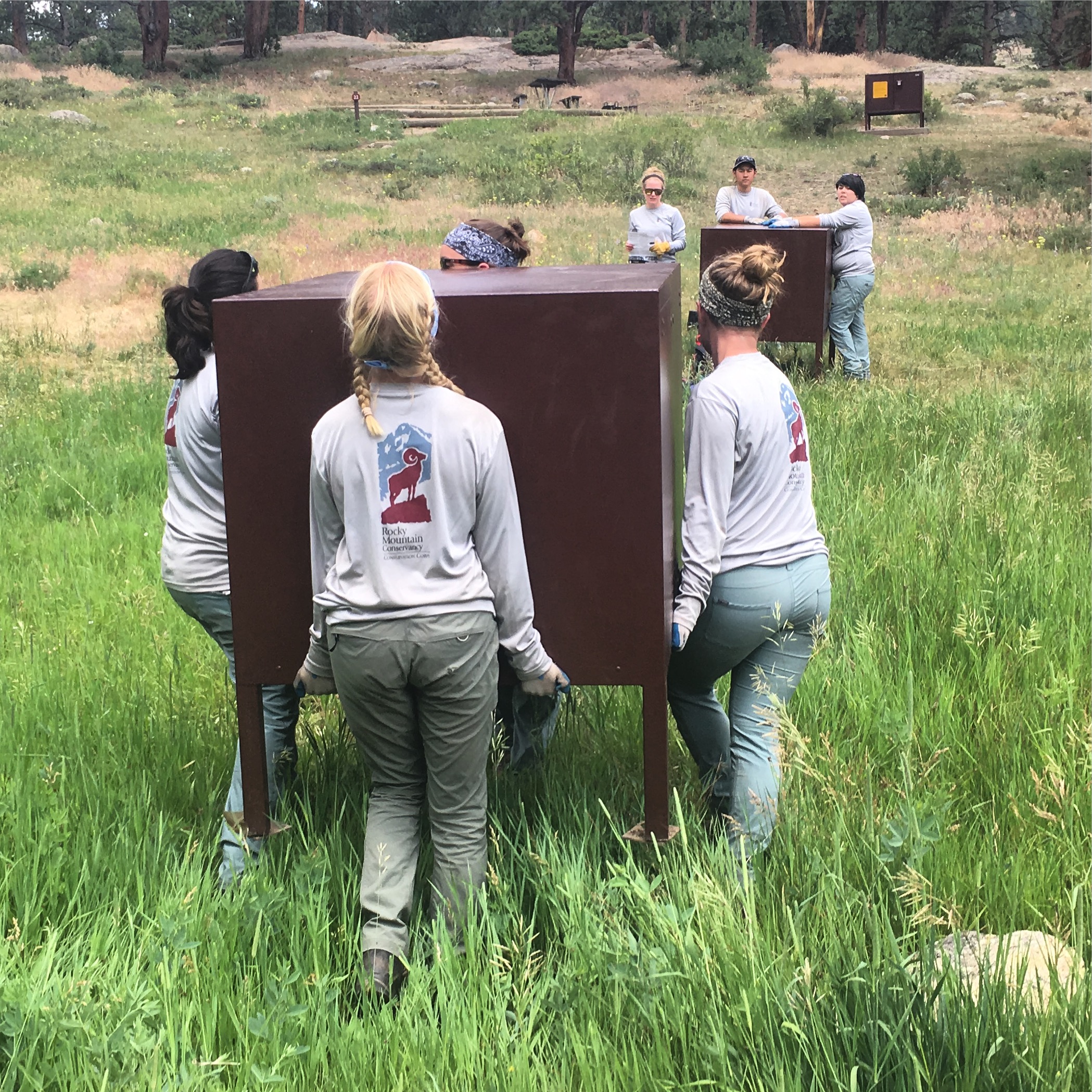 Estes Crew
After a fun week of camping with all the other RMC Crews, in Moraine Park, the Estes Crew moved back into the Chamberlin House. This time with a new member to the family, Grace Oh-Willeke! Grace has joined the Estes Crew for the remainder of the season after participating in the Corps High School Leadership Program. On Monday, the crew hiked up 1.5 miles, over twelve switchbacks, to get to their project site, next to Bierstadt Lake.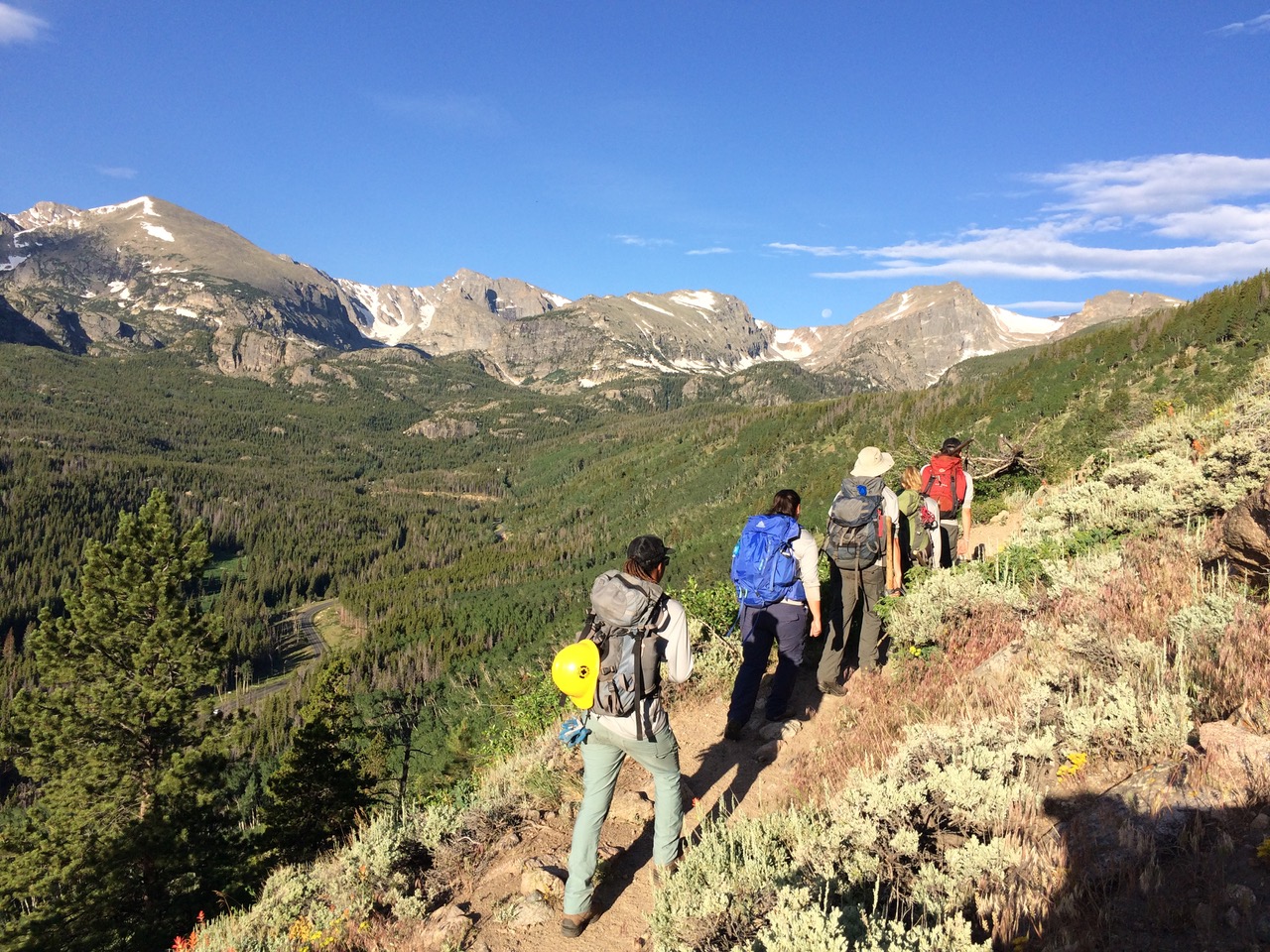 Once at the worksite the crew was briefed on what steps would be needed to complete the turnpike project. Turnpikes are built on poor drained areas of a trail to raise the trail surface for better drainage. The rest of Monday consisted of the entire crew peeling logs, in preparation to build the turnpikes later in the week. Tuesday was identical to Monday. The Estes Crew hiked up the twelve switchbacks and continued to peel logs for the day. In all, the Estes Crew peeled over 350ft of logs!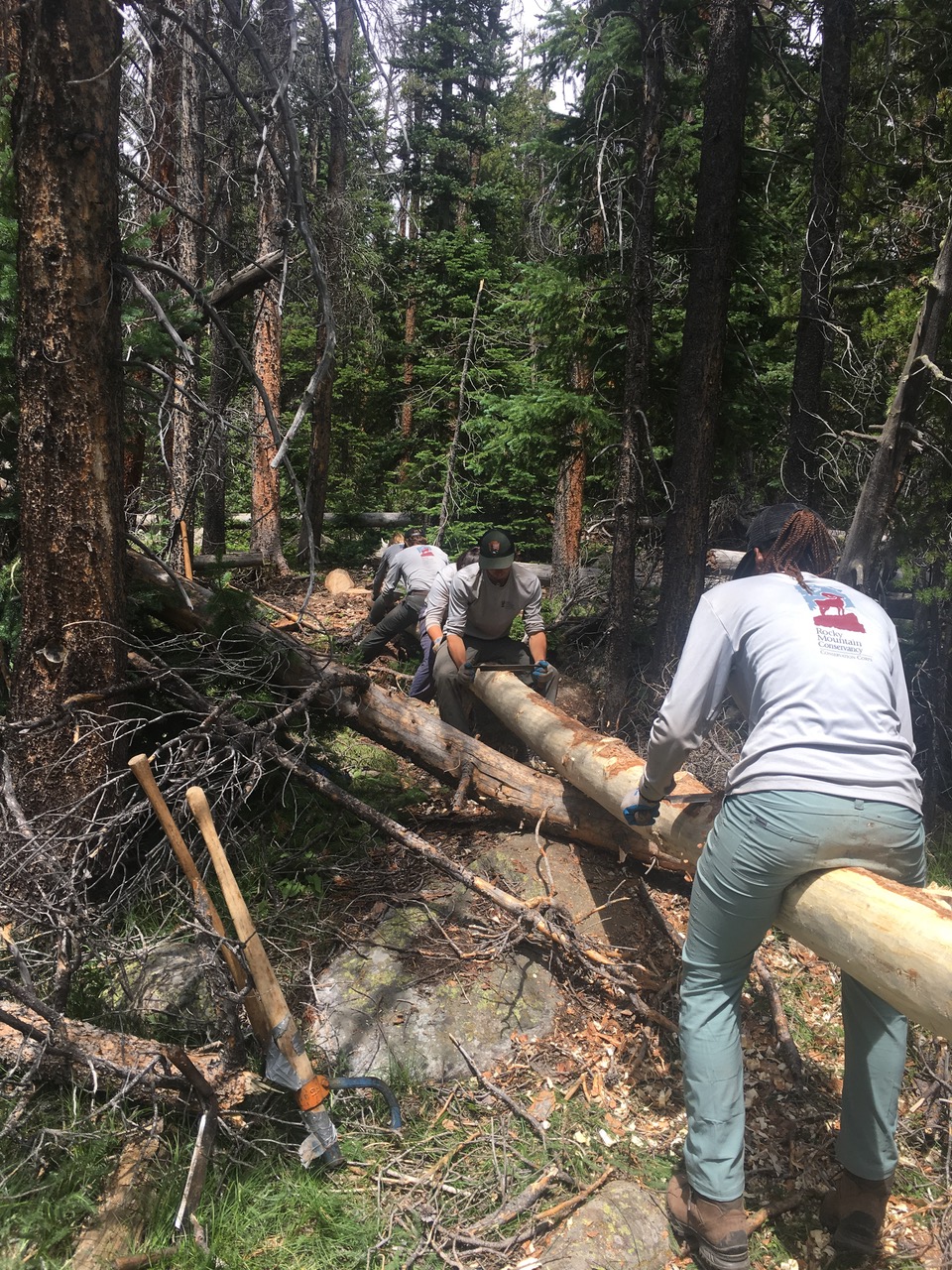 Wednesday was bring your boss to work day for the Estes Crew! Geoff Elliot, Conservation Corps Manager, and Estee Murdock, Executive Director, came out to the project site to work with the Estes Crew for most of the day.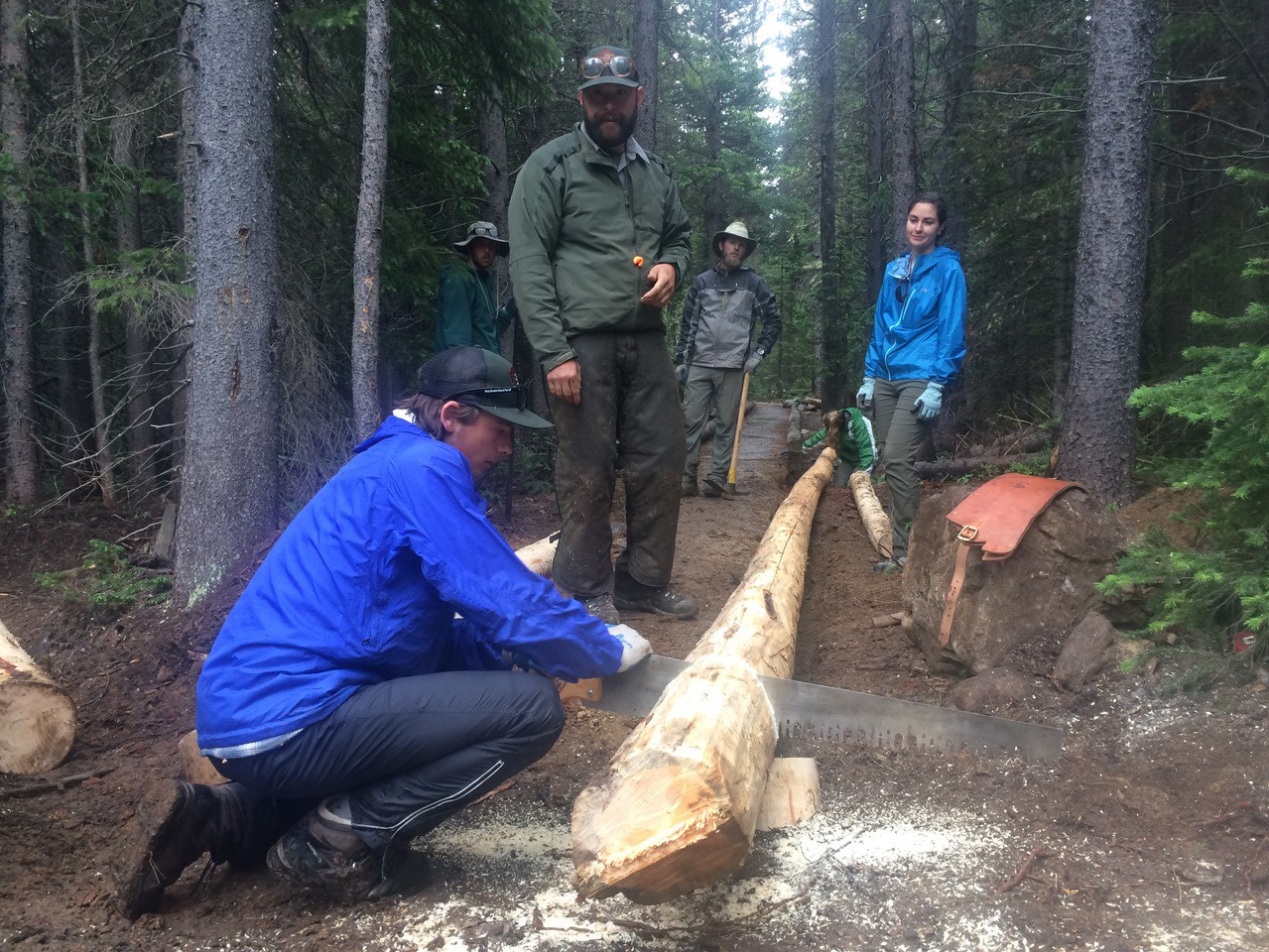 Sal Sharp fitting a log into place for our first turnpike
The work on Wednesday was comprised of ripping out the old, rotten turnpike logs, and digging trenches for the new logs. Once the trenches were cleared for the new logs, the rest of the day was spent trying to find the perfect fit  and cut precise angles to secure each log together.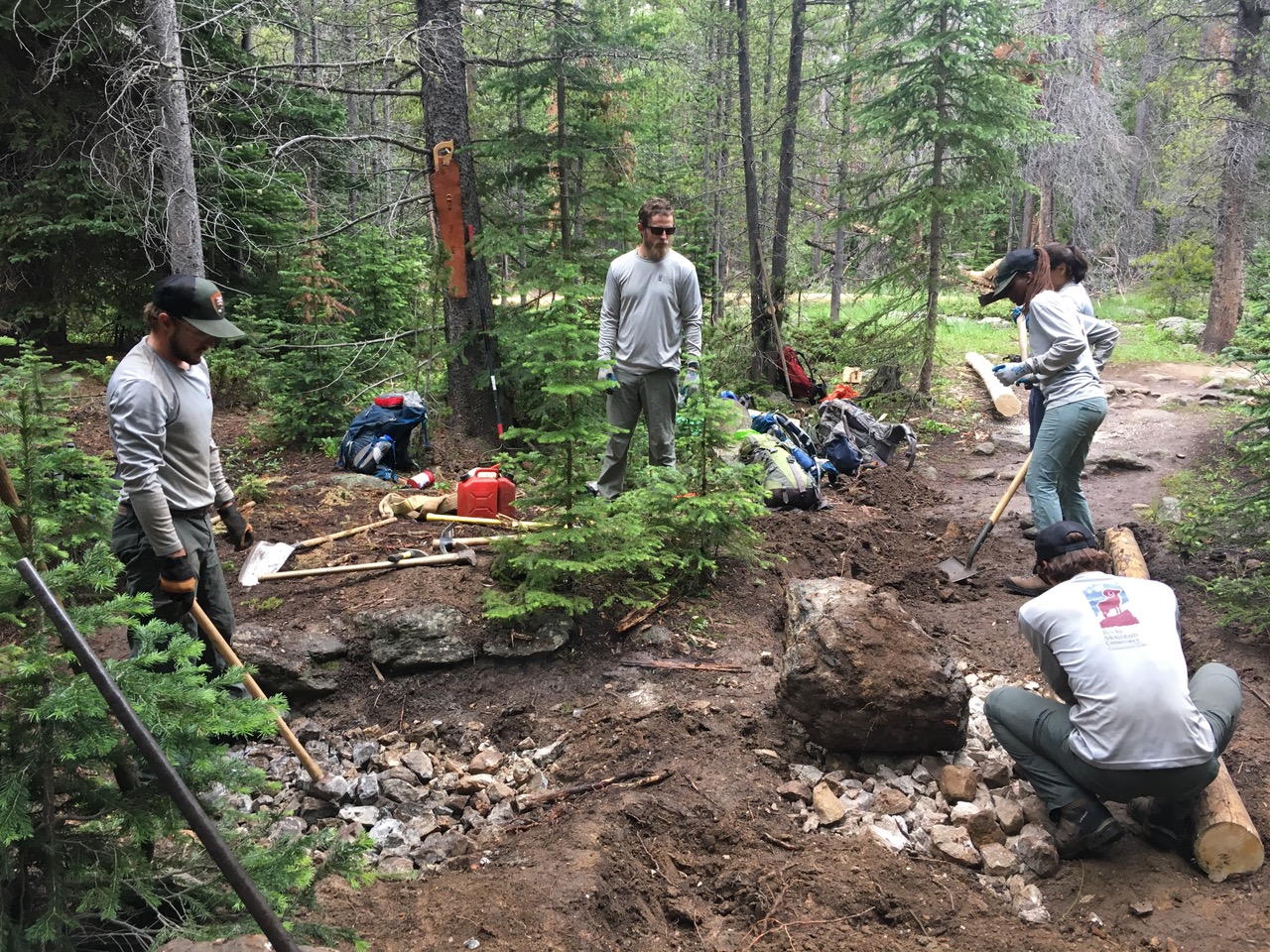 Blake Crossland and Geoff Elliot Supervising the Work of Sal Sharp, Simbi Umwali, and Grace Oh-Willeke
On Thursday the Estes Crew traded in their log peelers for some explosives! After discovering two large rocks in the middle of a turnpike trench, the Estes Crew needed the help of micro-blasters to remove the rocks. However, the crew ran into a few snags on Thursday, drill batteries were dead and not all of the equipment was working properly. This resulted in a less productive workday, but the two large rocks were removed from the trench. After a strenuous workweek, the Estes Crew is looking forward to a relaxing weekend!
– Chris Rokusek (Estes Crew Leader of the Week)
Boulder Crew
Homestead Ned was a sight for sore eyes for the Boulder Crew after being away for almost a week for midweek, but nobody stayed long before we were all off again. Most of the crew headed down to The Great Sand Dunes and I (Ally) went to camping with my family. Everybody had a good weekend despite all the mosquitos and came back Sunday night to get ready for the next day and get back into the groove of work. My little tent and my bed inside feel like home now and the peace and quiet is a welcome change from what I am use to. All of us are more than use to tent camping now and fell back into the groove of camp pretty quick.
Monday was a day of crosscutting. We were back up in the Brainard Lake Area to help clean up some of the trails before they opened the gate for more easy access. We were without our main supervisor Ben because he was still out on a fire but our higher up supervisor Jon gave us direction for what we would be doing for the day. We would be up on Long Lake Trail which loops around and gives access to other trails. Our task was to use our crosscut abilities to buck out the trees that had fallen on the trail. We have all become more comfortable with crosscut now that we have some experience under our belt. We were tasked by Jon to take our time and enjoy ourselves. A task not hard to enjoy with the beauty that is the Brainard Lake Area. High peaks surround you and there are so many lakes and creeks around to listen to and enjoy. We formed two teams of three. Team Alpha and Team Better than Alpha. I was on Team Better than Alpha with Ryan and Andrea and we got to work bumping from tree to tree on the trail. This took up most of our day and we cleared out 16 trees that had fallen on the trail. Our crosscut skills further refined we finished up early and went to work on some drainage on a nearby trail. We got started putting in some new drains on Mitchell Lake Trail and cleaning out some old ones. We only got about a quarter mile in before turning back for the day and heading to Homestead Ned.
Tuesday was another day of crosscutting but on a different trail. We kept our crosscut gear from yesterday and headed up to Fourth of July Trail which hooks up to the trail we would be crosscutting, Diamond Lake Trail. Getting to the trail was a bit of a drive and a bumpy one at that. This trail was one of the higher elevations ones we had been on and we were joined by Tommy from the Conservancy for our work day. First thing on our list was to get to the first downed tree on the trail which didn't happen till about a mile and a half in. We switched up the crews a bit from the day before. That day I had Brendan and Louisa with me on our team and Lucas, Ryan and Andrea were on the other. Lucas and I played Rock, Paper, Scissors for the first tree and we were off from there bumping along from tree to tree. Alpine lakes are always really beautiful and Diamond Lake was no different. For the amount of hiking we did, there weren't as many trees to clear out as the day before but we still managed to clear out 12 trees. A hike up to tree line and a bit of playing on a snowpile around lunchtime rounded out our day. We hiked back the 3.5 miles to the truck giving us 7 miles for the day. We were tired but happy as we headed back to the Work Center to put away our crosscut gear and then headed back to camp for a delicious meal. We don't know what we will do once we don't have Brendan to cook for us anymore.
Wednesday we luckily got to sleep in after a long hike the previous day. In fact we didn't even have to leave camp because the work we would be doing that day was taking place at our campground Kelly Dahl with the people in the Recreation Department. We took our time in the morning and got out of our campsite ready to do some work in the place that we call home. Tommy from the Conservancy joined us again for the morning and our task for the day was to install these wooden frames into the ground. They would then later be filled with concrete in order for the Forest Service to install bear boxes in the campground. We split up into three teams of two, though Louisa and I had a volunteer named Brian with us that had come up from Arvada. The three groups bumped from campsite to campsite digging holes for these frames to fit into. After a while we had another team going when Jared the Recreation Manager and his coworker finished the flagging of where the frames would go. With four teams going we finished a bit early. In total we installed 46 frames for the eventual bear box installation. The Rec Crew gifted us with cookies and peanut butter which we were really excited for and then released us for the day. We drove the like 1/10 of a mile back to camp and got started on dinner. We were joined for dinner by one of the Indian Peaks Wilderness Alliance Interns John who is a veteran of the Conservation Corp. After dinner I taught a line dance to my crew and John for my lesson plan. I taught the line dance Good Time and it went over really well. Everybody got it and if there is time in the rest of the season I will take everybody down to my favorite dance spot, The Grizzly Rose, to do the dance in a more real setting.
Thursday was our last work day of the week and we were back up in the Brainard Lake Area for some more trail work before they opened the gates. We had a higher up supervisor Jon with us that day and we divided into two groups. Ryan and Brendan went with Jon to complete bridge work they had started on the week before midweek on the Long Lake Trail. The bridge had lost one of its railings so they installed another. The other group made up of Lucas, Andrea, Louisa and me were tasked with continuing the work we had started on Monday on the Mitchell Lake Trail. We worked on drains for the whole work day. We took our time to make sure the drains would last and went through some of the drains we dug on Monday making sure we were through. We were joined later in the day by Ryan and Brendan after they finished their bridge work and we made it 1.5 miles up the trail between Mitchell Lake and Blue Lake. We will probably be back on that trail in the coming weeks to finish all the way up to Blue Lake. We cleared out about 20 drains and dug 40 new ones in that 1.5 miles giving us 60 total on that trail. We wrapped up our work and headed back to camp to start our weekend which was filled with a variety of activities.
As we go along I realize how little time we have left. Three more weeks of work and one week to wrap up the season. I don't know how I will feel when this comes to an end, I am just trying to enjoy it while it lasts. Time keeps passing and things keep changing. We are celebrating one of our crew member's birthdays on Sunday. We baked Louisa some peach pies and we are going to Katmandu for some delicious food. We are enjoying the time we still have together before we say goodbye to each other and Homestead Ned. This experience is truly one of a kind and I am grateful every single day that I get to be a part of it.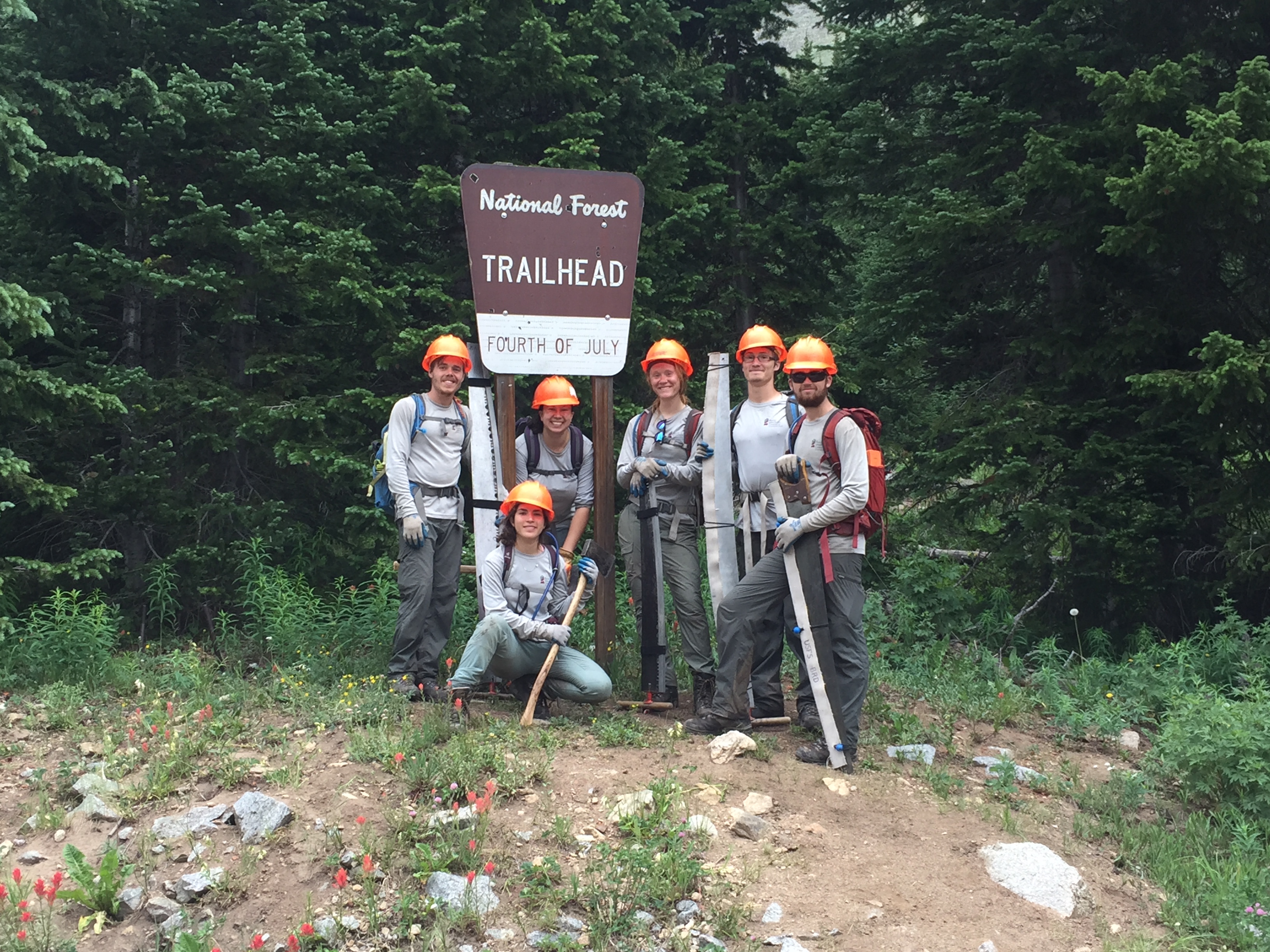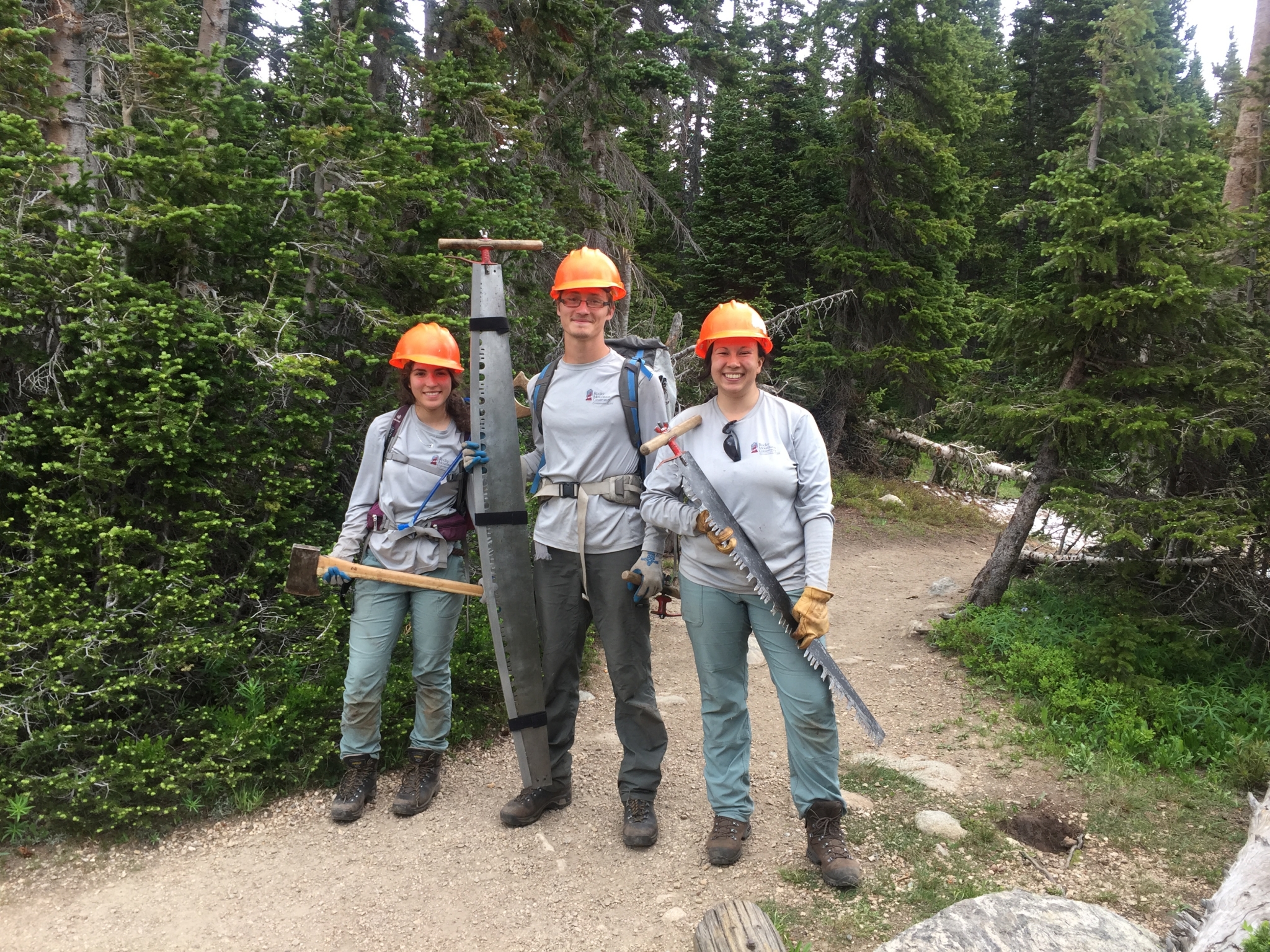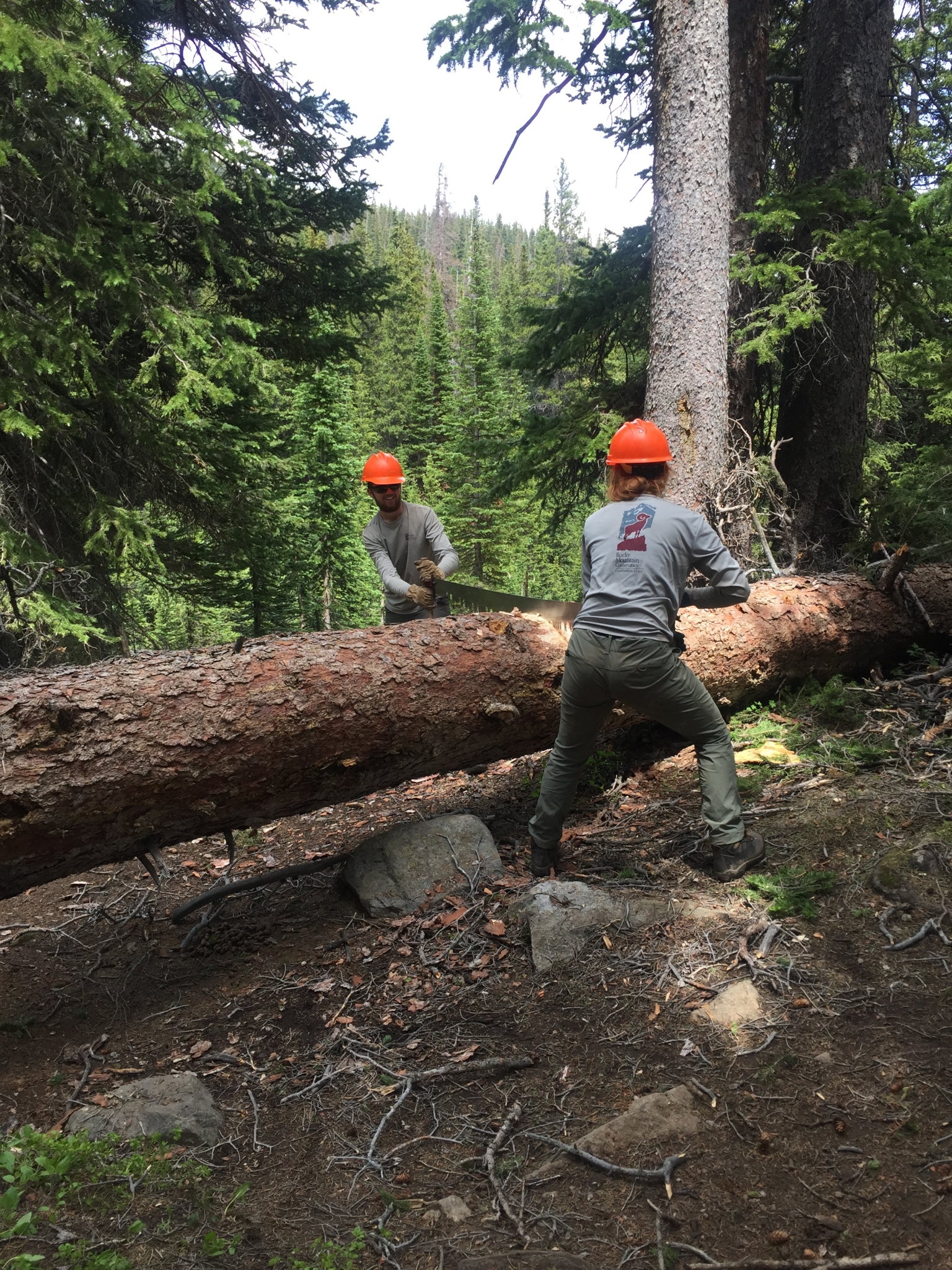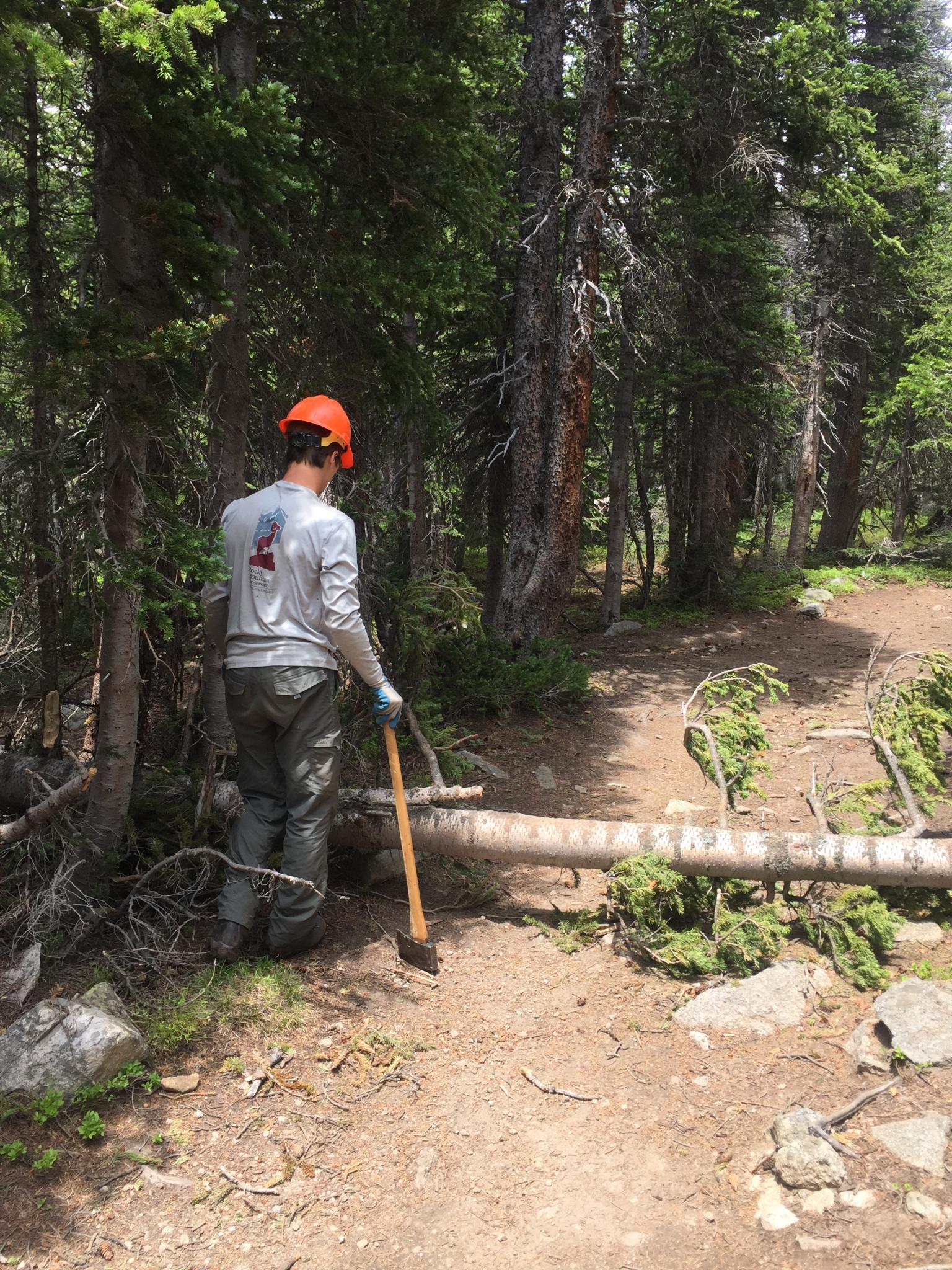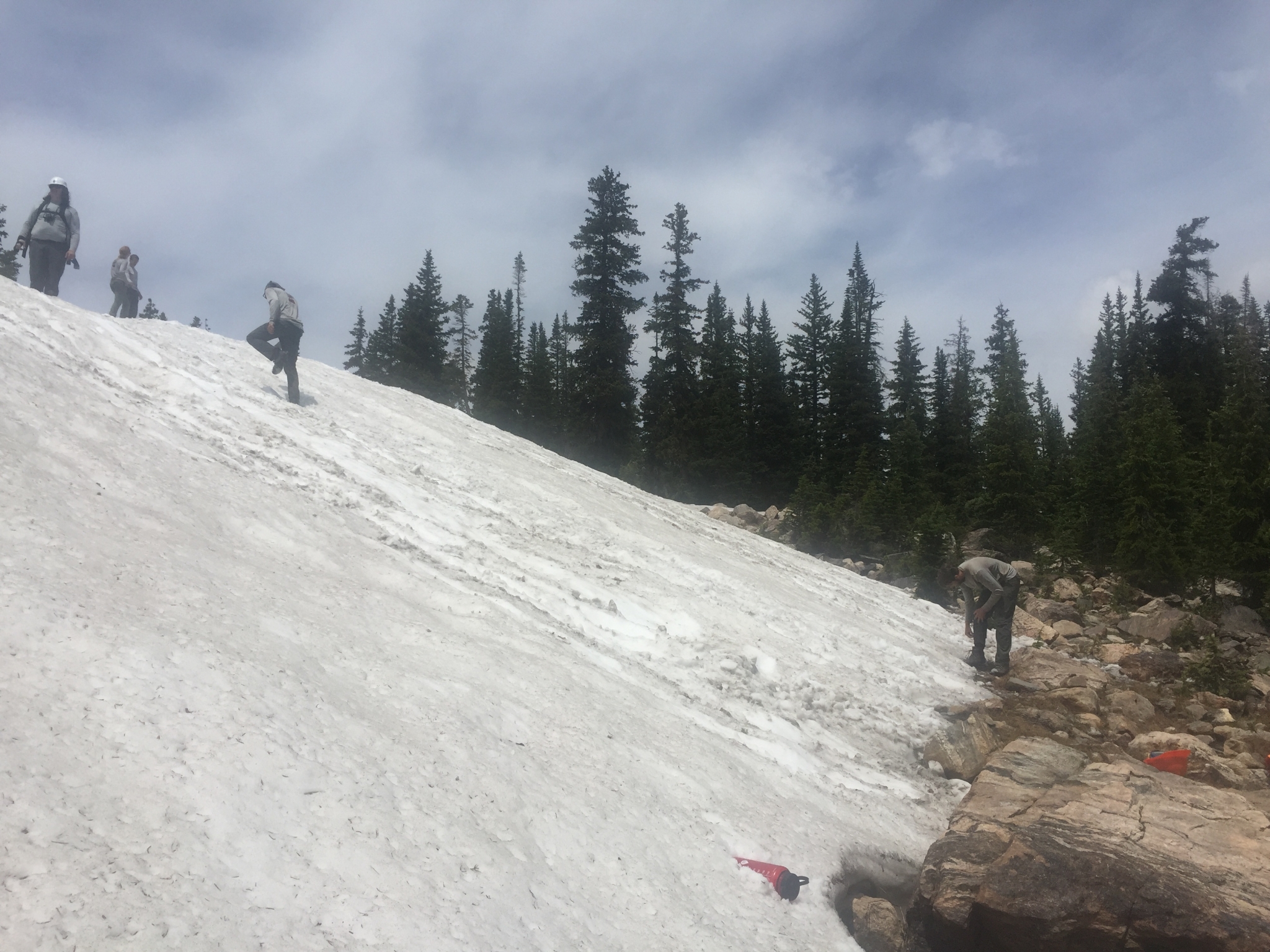 Signing off from Nederland,
-Ally Gustafson (Boulder Crew Leader of the Week)
Shadow Mountain Crew
This week was incredibly productive and fun for the Shadow Mountain Crew! We got to experience a wide range of weather, which is always interesting, as well as a variety of trail topographies and assignments.
Our week started Tuesday with the monthly Sulphur Ranger District meeting, during which every employee on the district comes together to Grand Lake to discuss important issues, events, and concepts. This district meeting happened to be the annual Shadow Mountain Village cleanup, so we spent all day in the village (the housing in which we and about 20 other seasonals live) doing various work to straighten it up. One group scraped, sanded and repainted around 25 picnic tables; another cleaned out two defunct houses filled with random furniture and appliances that need to be demolished; another organized "the Boneyard," the outside area where the district keeps raw materials for later use; another installed new doors around the village. The cleanup was such a nice change of pace and was especially enjoyable in that we got to hang out with some amazing, wise, fun employees whom we normally don't see and many of whom have been working for the USFS for decades. They have so much knowledge and grace to offer, and we all feel quite lucky to know them.
On Wednesday, our crew split into two groups and took on two sections of the High Lonesome Trail, which starts in the Indian Peaks at Lake Granby and continues into private land near Fraser and Devil's Thumb. One group started at Devil's Thumb and worked its way seven miles to Junco Lake. Kendra, our Forest Service boss, was bucking trees off the trail with a chainsaw while Curtis swamped for her. Elise and I trailed behind them all day clearing and creating drains, which was something of a challenge, as the trail was relatively flat. The other group, led by Amy, worked from Junco Lake to Monarch Lake crosscutting and doing drain work. While all of us got significant work done, it felt like a rather mellow day; we felt relaxed and, quite frankly, spoiled by the lack of elevation gain in our trail sections. The heavens did decide to open, though…we were poured on by rain, freezing rain, and hail literally for hours. We were soaked to the bone, even with our rain gear, and were freezing by the time we got to the trucks. It made for an exciting day and story, and we felt like we'd had a small adventure that day.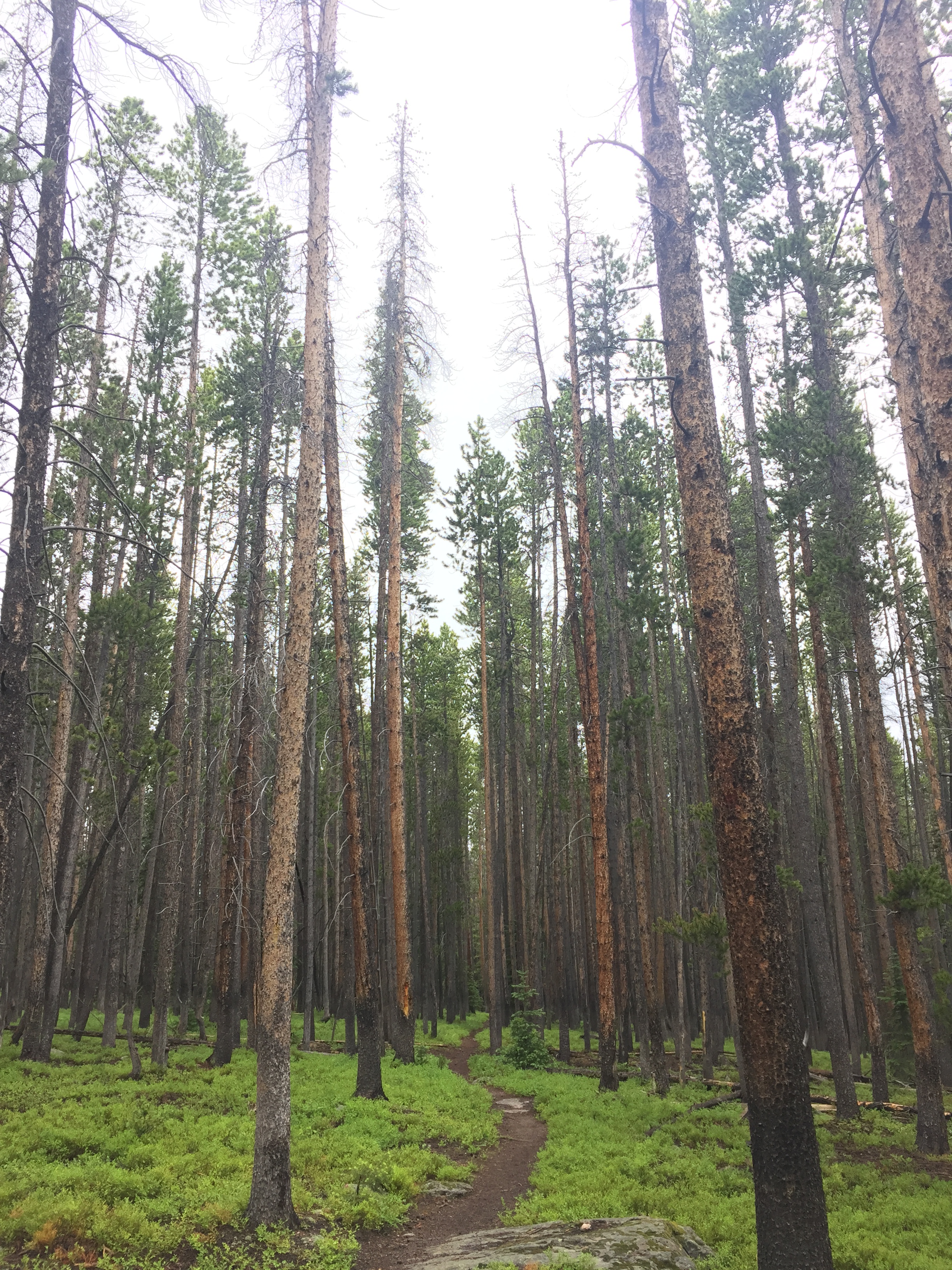 Thursday brought us to the Byer's Peak Wilderness, where we worked on the Bottle Pass trail under the supervision of Andrew Otter, a veteran seasonal. We spent the whole day crosscutting fallen trees, as the beetle kill and wind exposure are both high in the area. We worked our way up steep switchbacks in the trees until we reached a large, open ridge from which we could see Byer's Peak, mountain cirques, and the Gore Range in the distance. (Elise and I were so in awe of the view of Byer's that we went back on Saturday and hiked it!) From there, Otter's group hiked up the ridge, and Tommy's group hiked across it and down into some trees. I was walking along with Tommy and my group when we heard a terrifying, raspy growling noise. We stopped dead in our tracks, and every one of us thought we were about to fight a mountain lion or bobcat. We were surprised to see Otter and his group traipsing down the hillside through some trees to our right. Otter is notorious for making all sorts of animal noises on trail and taking pleasure in psyching people out…he was beaming as he appeared amidst the trees and saw our pallid faces. It was ultimately a hilarious end to a great day.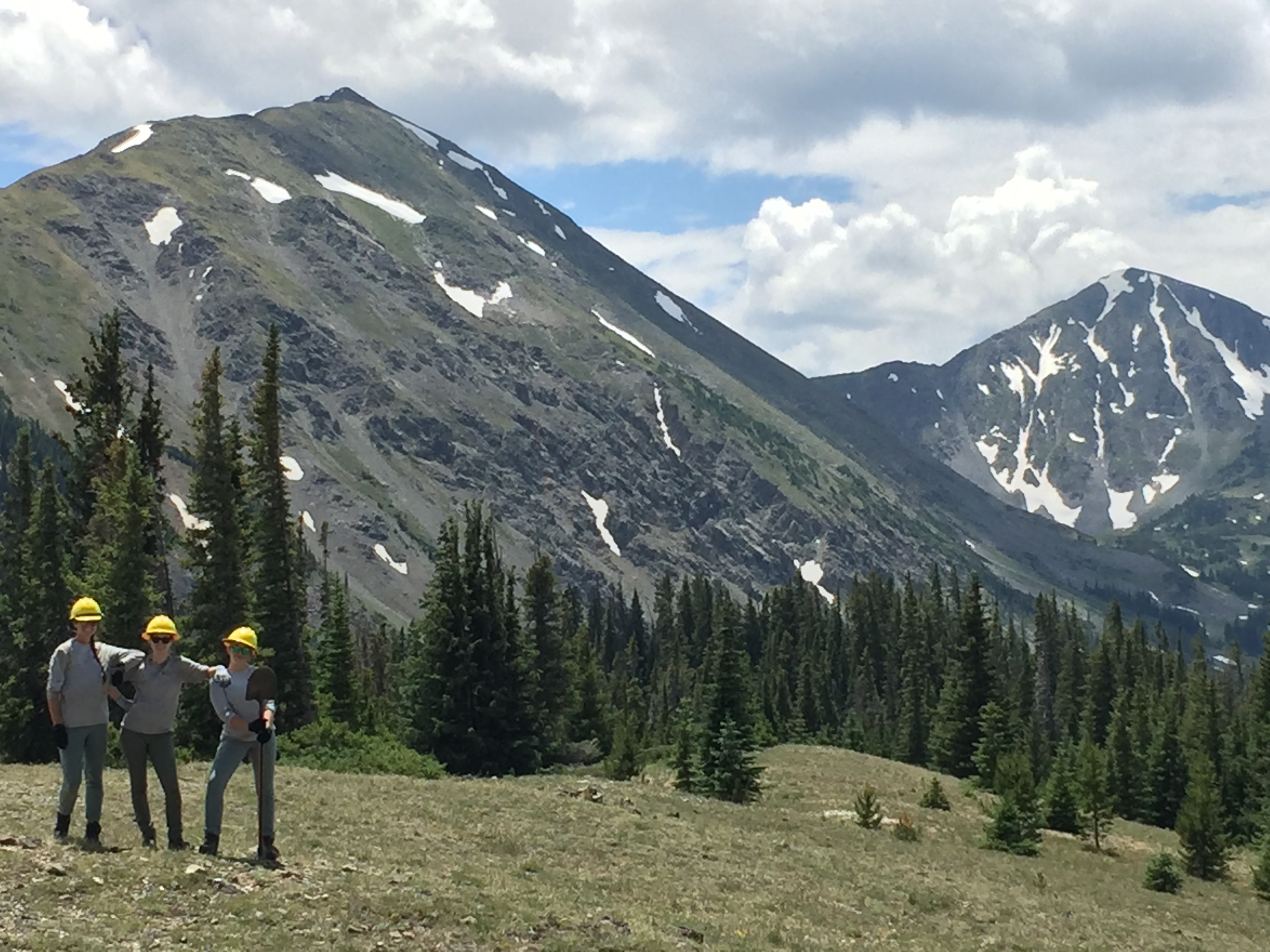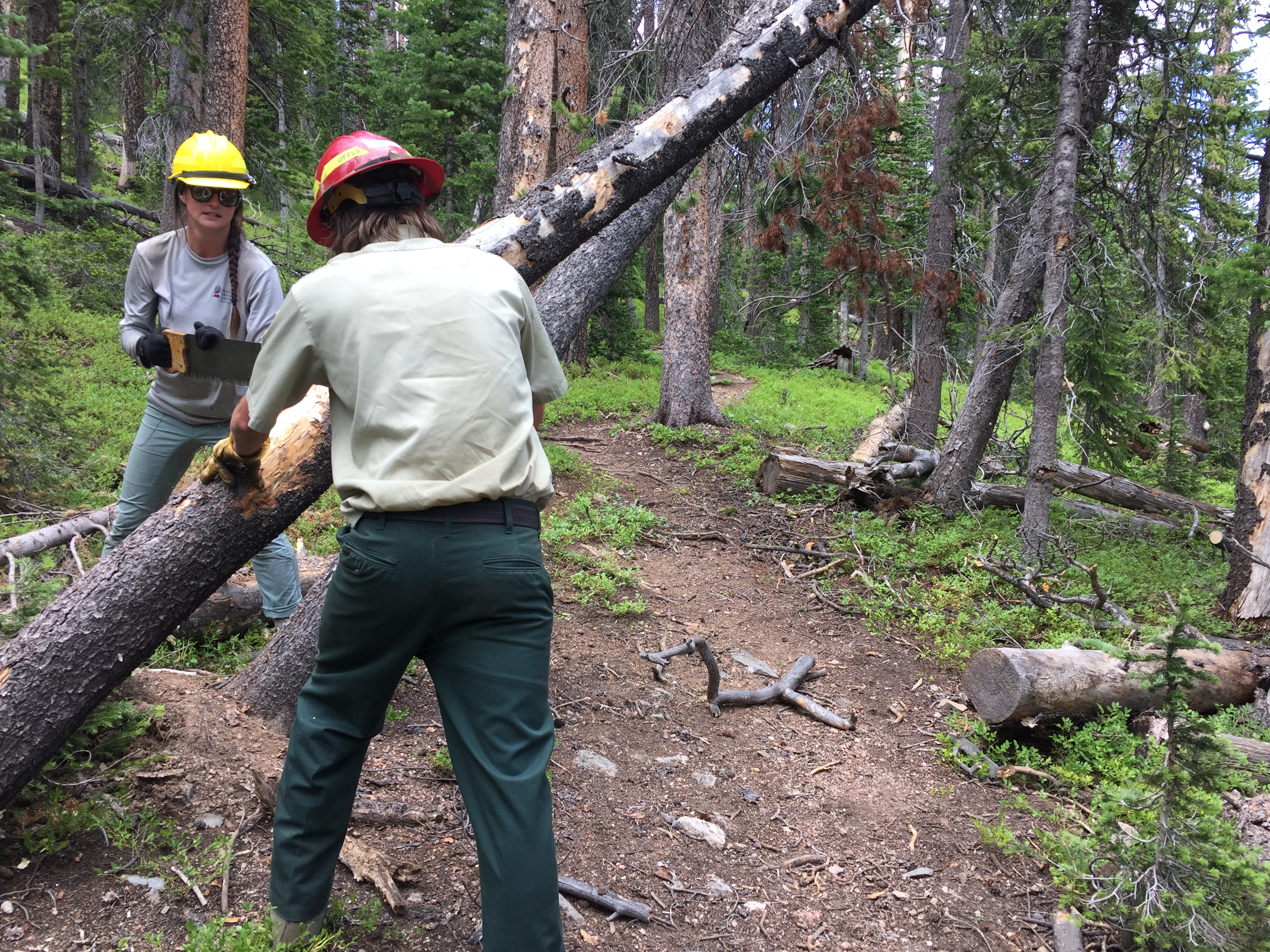 Friday, we drove out into the Williams Fork and worked on the Williams Peak trail. As a crew of seasonals had gone on hitch last week and cleared the whole trail, our job was to brush all day. The trail and topography felt vastly different from anywhere we've worked so far. It was far more open and Western feeling, which was a neat change. We brushed up the trail through open areas, lodgepole groves, and aspen stands. Eventually we reached the area that was our main objective for the day, a place we called "Baby Tree City." The trail was clear cut a few years ago, and in turn, hundreds of baby lodgepoles had sprung up, and in this area they were so dense that you could hardly see the trail. We got to it with our loppers and silkies, clearing a seemingly countless number of baby lodgepoles. After this we took lunch, from whence one group went on to Hamilton Creek to brush and another stayed and worked on tread in a horribly trenched out section of the trail. At Hamilton Creek, we encountered a huge herd of cows that seemed very curious about us…Mary was stalked by a few of them, but she came out unharmed. We brushed along brand new corridor that Amy and Kendra had cut out the previous week, working our way back to the tread crew. At the end of the day, we all felt that our weekend had been duly earned.
-Anna Floyd (Shadow Mountain Crew Leader of the Week)
Rawah and Red Feather Crews (Redwah)
This past week the Rawah and Red Feather crews teamed up for another week on Youngs Gulch Trail in the Cache le Poudre Canyon. Instead of working from the trailhead, the crews focused their efforts on the upper stretches of the trail. This area was touched by the High Park Fire in 2012 and the floods in 2013, so it hasn't seen much use in over 5 years. With that much of the work centered around establishing new tread and corridor. This required a lot of work in the dirt, some rock wall construction, and a few trees to be felled. On the first day alone, we estimated that the crews dug over 600 feet of new tread!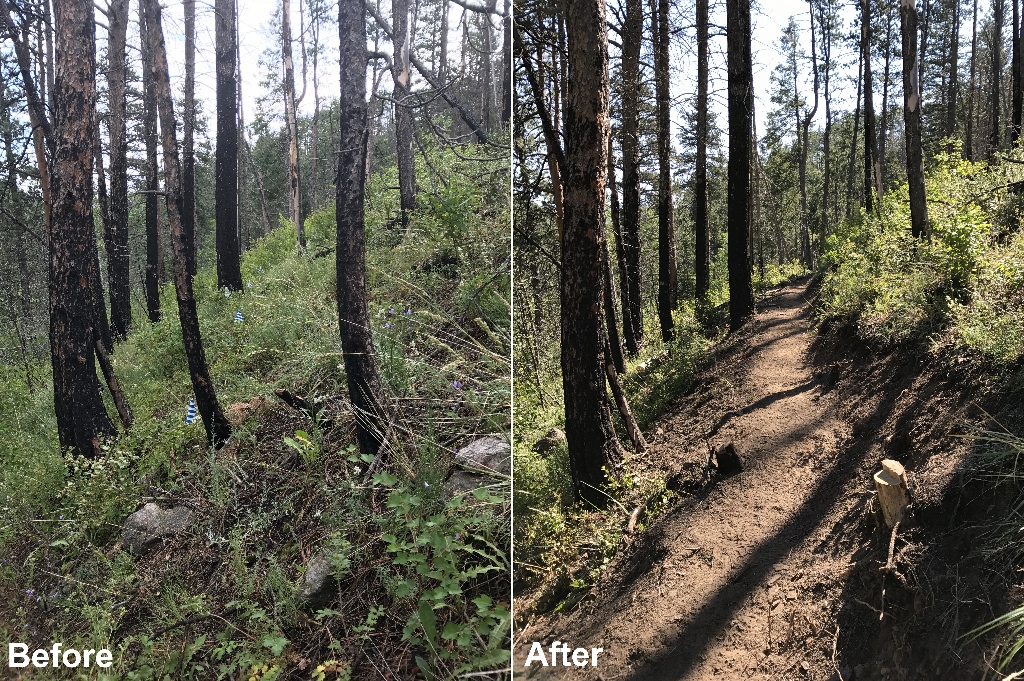 -Geoff Elliot (Conservation Corps Manager)