Moraine Crew
This was a long week for the Moraine crew. It was full of ups and downs but ended on some pretty high notes. Throughout the week we remained split up into two or three groups to finish up the solar shower project at Glacier Basin Campground and the ADA pathway at one of the Moraine Park Campground comfort stations.
Max, Anna, Randy, and I worked on completing the frame for the path using some of the beams that we stained earlier in the season. Once this frame was completed we packed down about an inch or more of a clay, sand and pebble mixture, known as road base, using a motorized compacter. This gave us a smooth and even surface to lay the asphalt on. Unfortunately, the compactor we used for the road base was not heavy enough to pack down the asphalt layers. This was a big hiccup and slowed our project down a lot because we had to find a larger, and harder to operate, asphalt compactor. Also this thing weighed about 500 pounds making it very hard to transport requiring some creative thinking and clever engineering to both load and unload it from the dump truck. But it was well worth it in the end because after about 10 passes with this we had made a nice hard layer that can be used for years to come.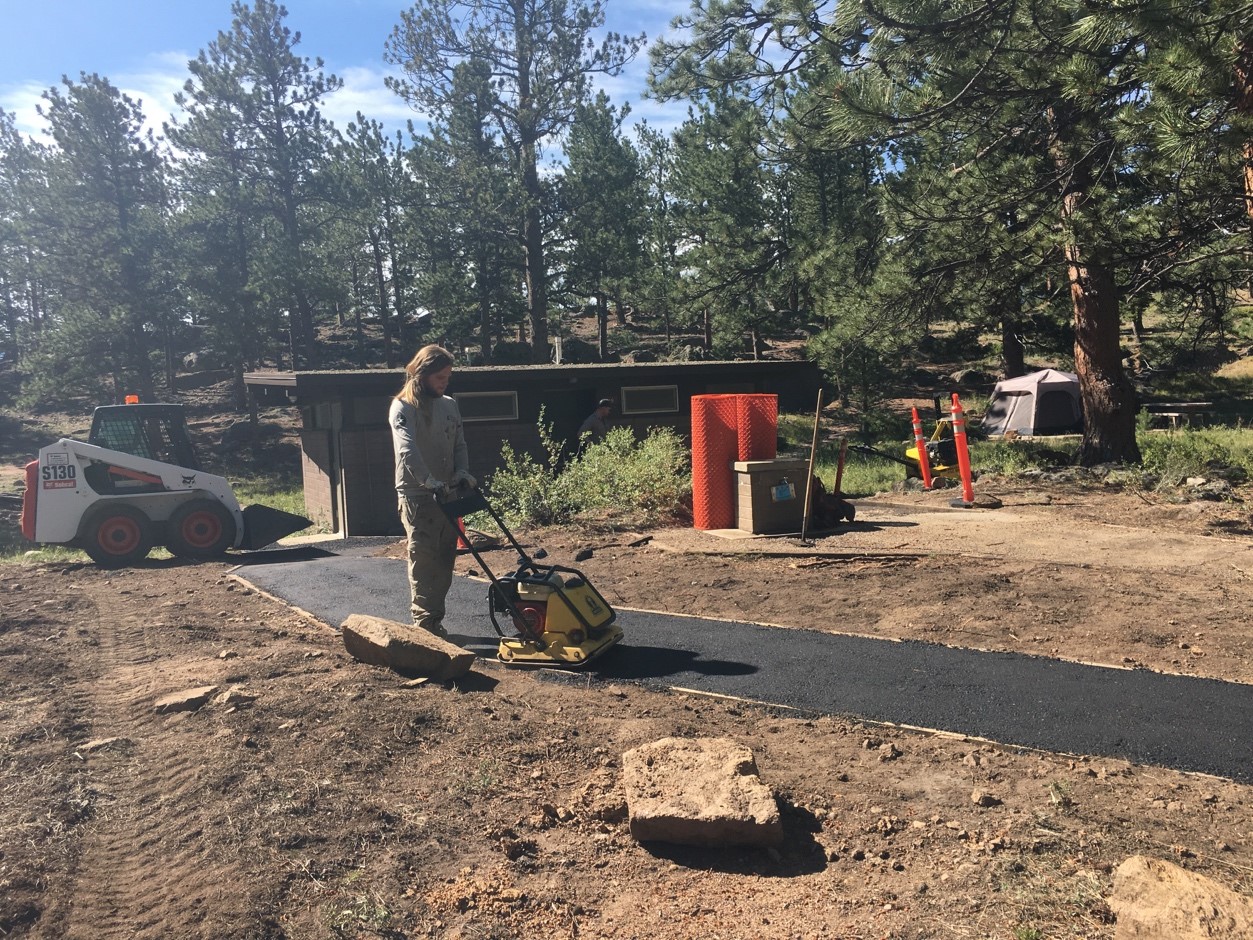 Over in Glacier Basin Campground the solar shower was well on its way to total completion before Thursday. It only needed a bit more on the final coat of paint and the doors that Anna built with Wilson needed to be hung. But mother nature did not care about our plans. On Monday and Tuesday painting got derailed because of rain storms, and the rain caused paint from the morning to run and dripped onto the pavement! Little hiccups like this are a major pain because we had to take over an hour to scrub and clean the paint up. Also, the wind caught one of the doors before the stabilizing spring was put in place and broke the hinges causing another partial day setback. But just like in the rest of our lives we need to learn to work with the unexpected and try to make the best of it.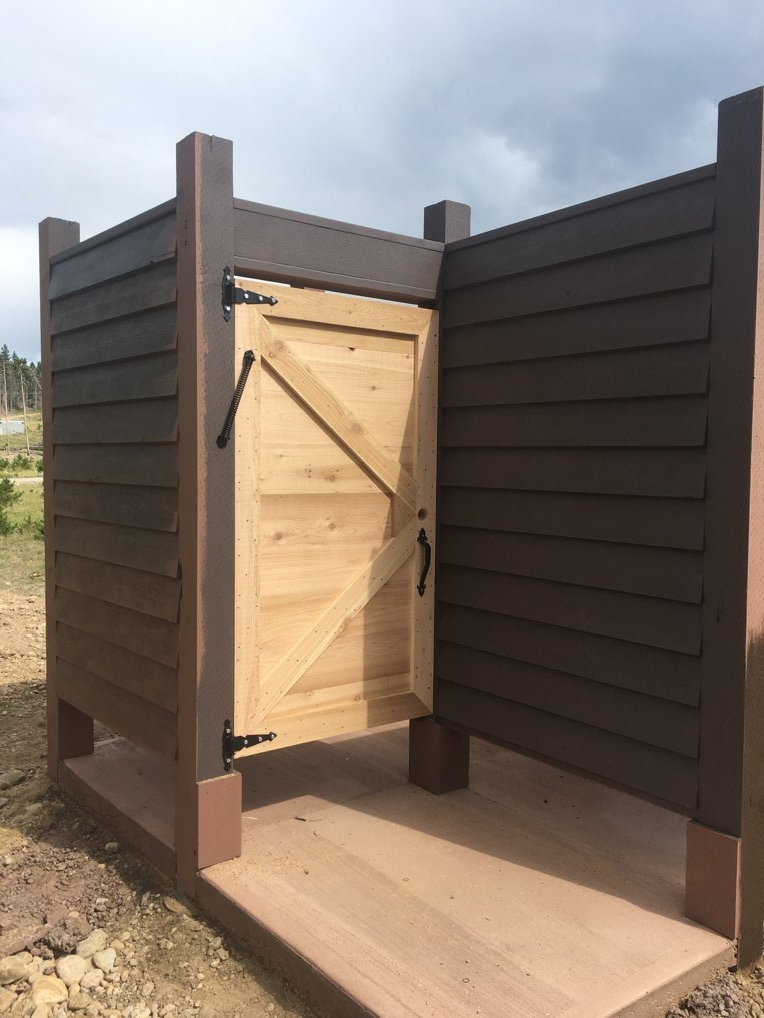 Our excitement with the completion of these projects was partly because we got them finished and get to see the final product but we are also excited for the next project to start! Next week we will all be working together on building over 150 feet of elevated turnpike style trail to connect the new solar shower with a parking lot we will construct and the nearby comfort station. This will provide a durable and long lasting surface to access these amenities and allow for vegetation to regenerate and thrive in the area.
Aside from work this week we all got together for Randy's lesson on Wednesday night. We had to wait until after dark for this one because Randy would be teaching us how to orient with the stars! We all learned how to identify the constellation Ursa Major, or the big dipper, and use it as a reference to finding the North Star. Once you know where it is you can extrapolate out the other cardinal directions.
Also Moraine Crew got a visit at the Kelly cabins by a local bear! Luckily it did not break into any of our cabins, but it did try to get into our neighbor's cabin and checked some of our car doors which were locked! Hayley woke up in the middle of it happening and spooked the bear off after getting this picture from the safety of her room.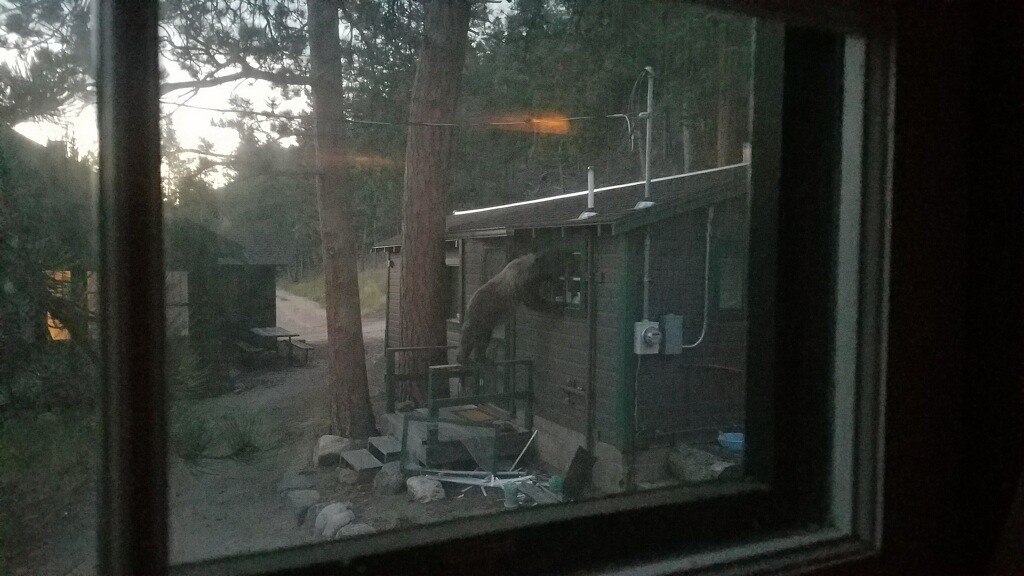 -Will (Crew Leader)
Boulder Crew 
The dawn of our big project is finally upon us! This week, Boulder Crew packed up camp and headed to Pawnee Pass to do some critical trail repair. We found ourselves challenged, intrigued, and extremely satisfied by the past week of work.
Working on Pawnee Pass meant that our crew was allowed to camp in an area that isn't open to normal recreators. We felt extremely lucky to be allowed to stay in such a pristine and beautiful place.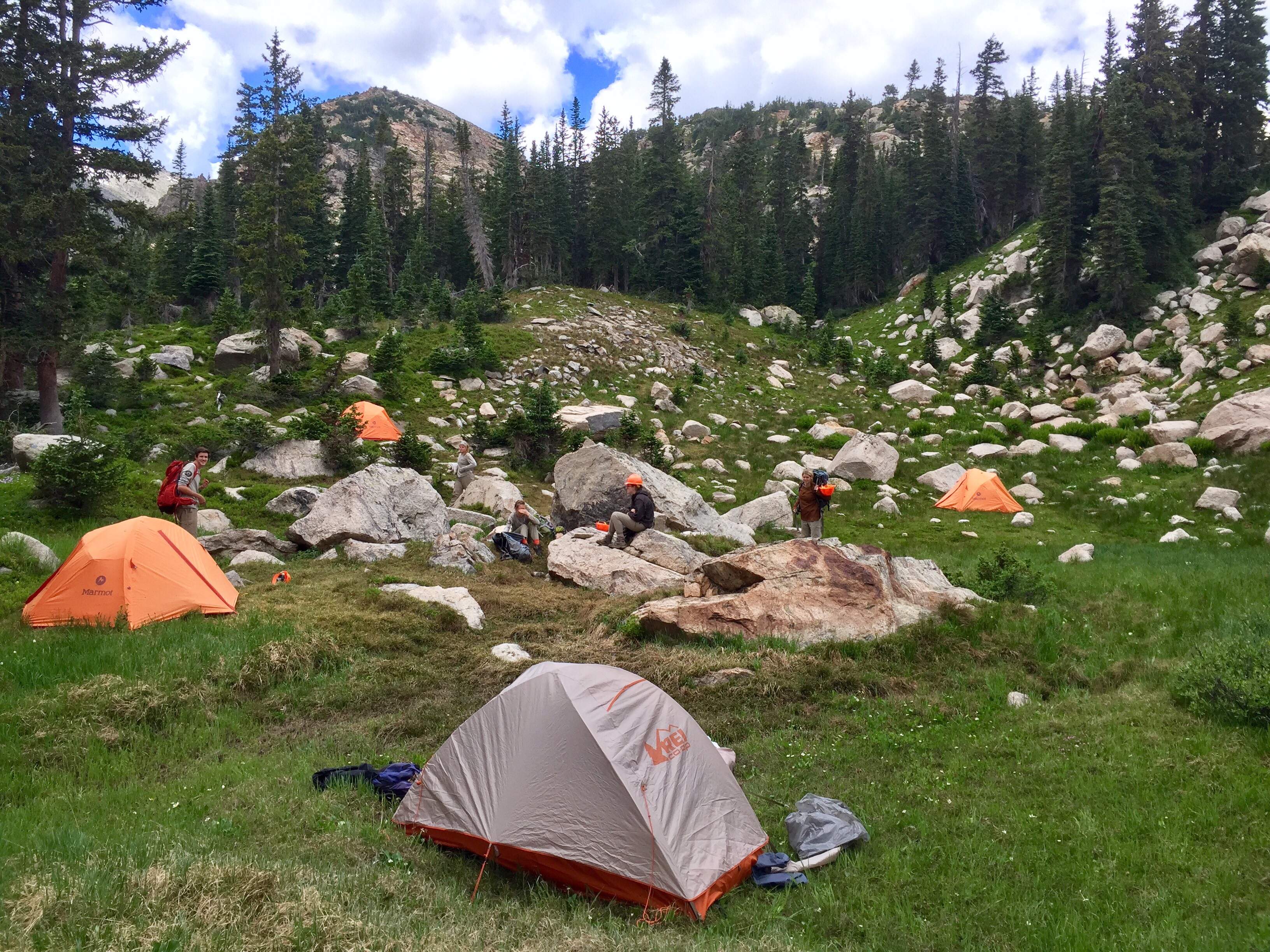 From our little camp, we had an incredible view of the massive alpine lake nearby. With wildflower season peaking, and plenty of wildlife around, there was no shortage of eye candy during the week. We even had a curious coyote approach camp one evening!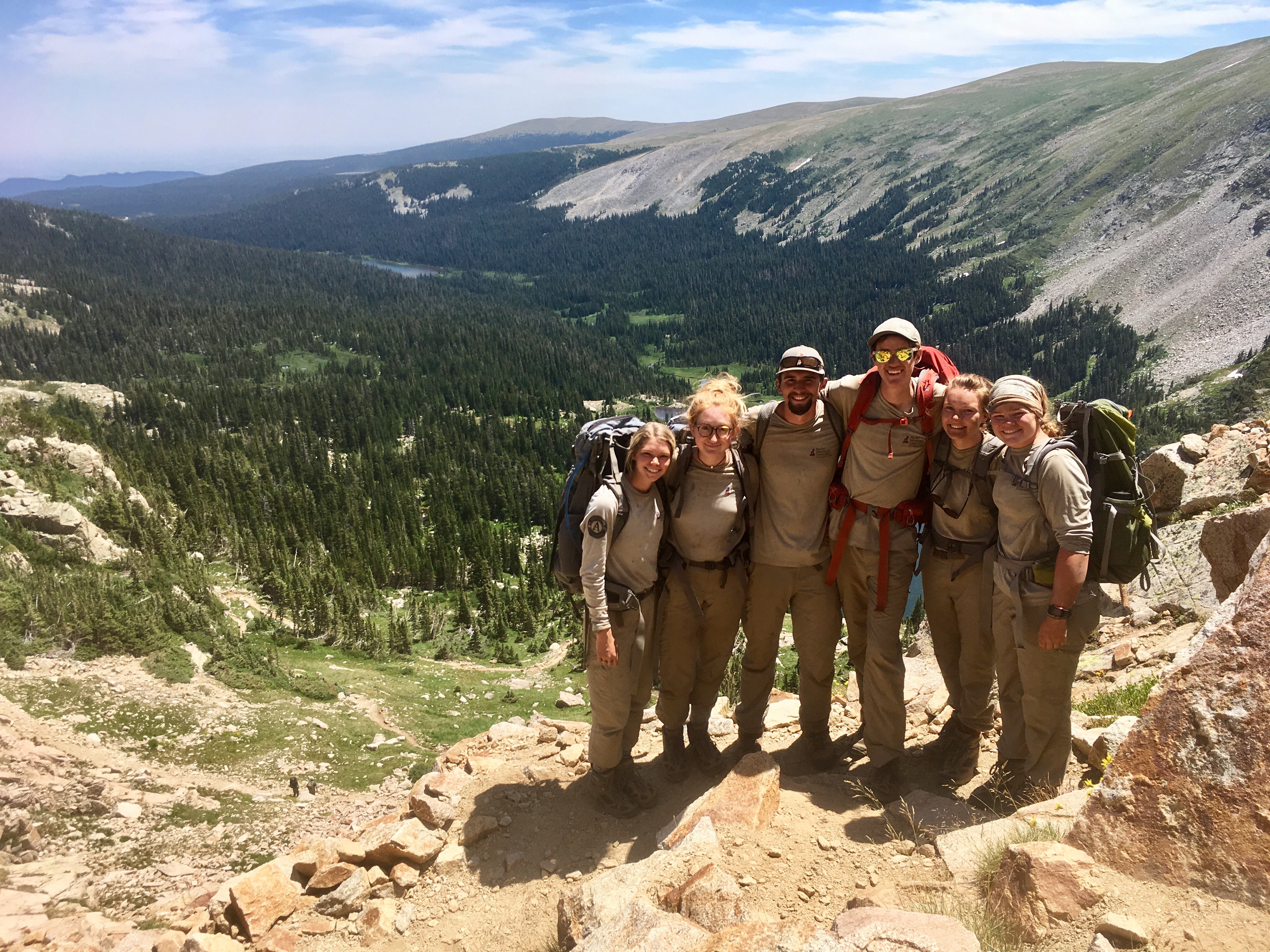 Our work consisted primarily of removing obstacles from the trail so as to create a more even and accessible surface. Some of the objects removed include: massive rocks, huge rocks, and really big rocks. We also spent considerable time trimming brush along the trail, and installing rock steps. This type of work is exceptionally satisfying as one can see improvements become immediately beneficial.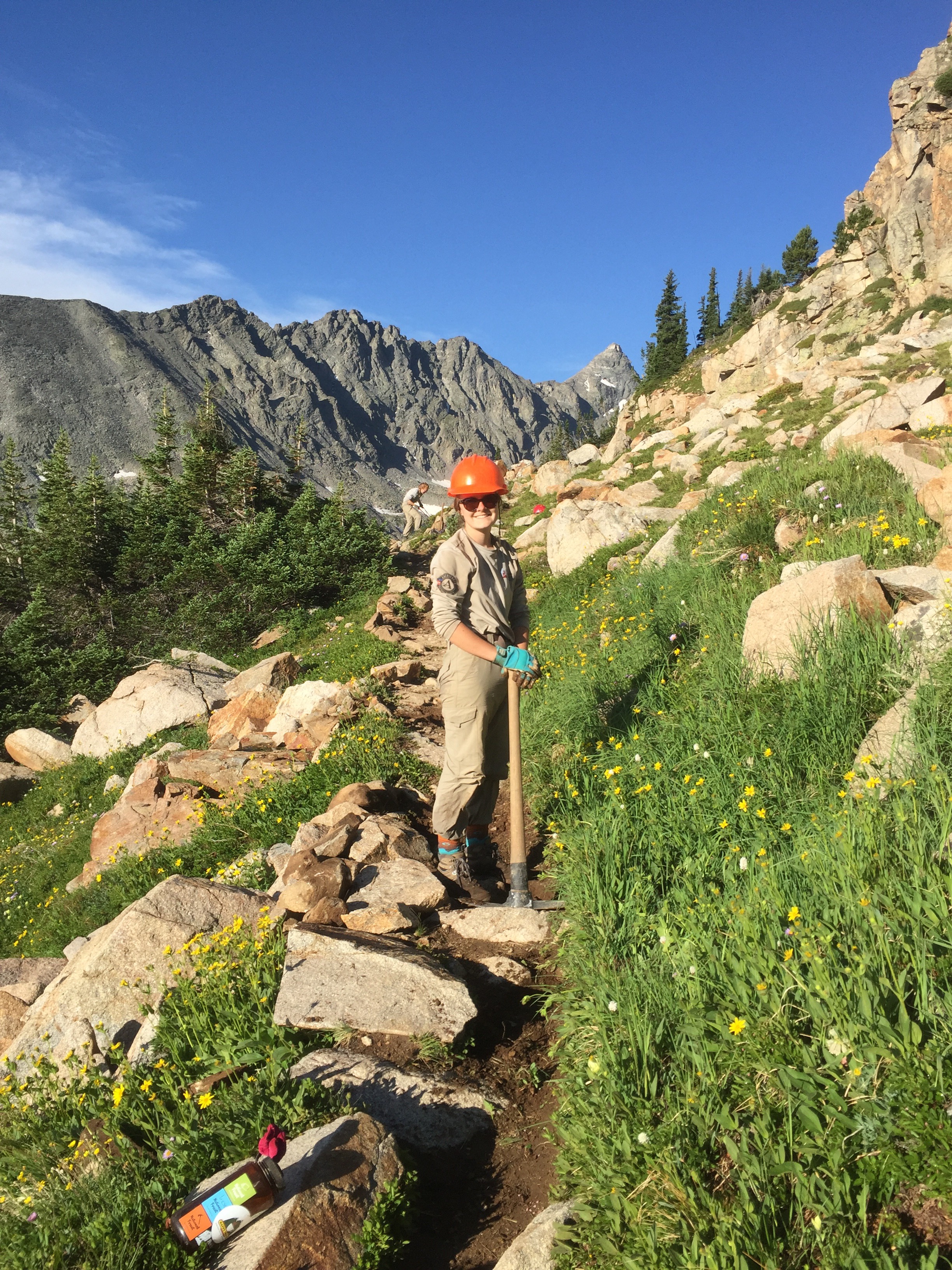 Having the opportunity to work in the high alpine is an awesome way for the crew to round out the season. We are looking forward to our next two weeks of work, hoping to finish strong!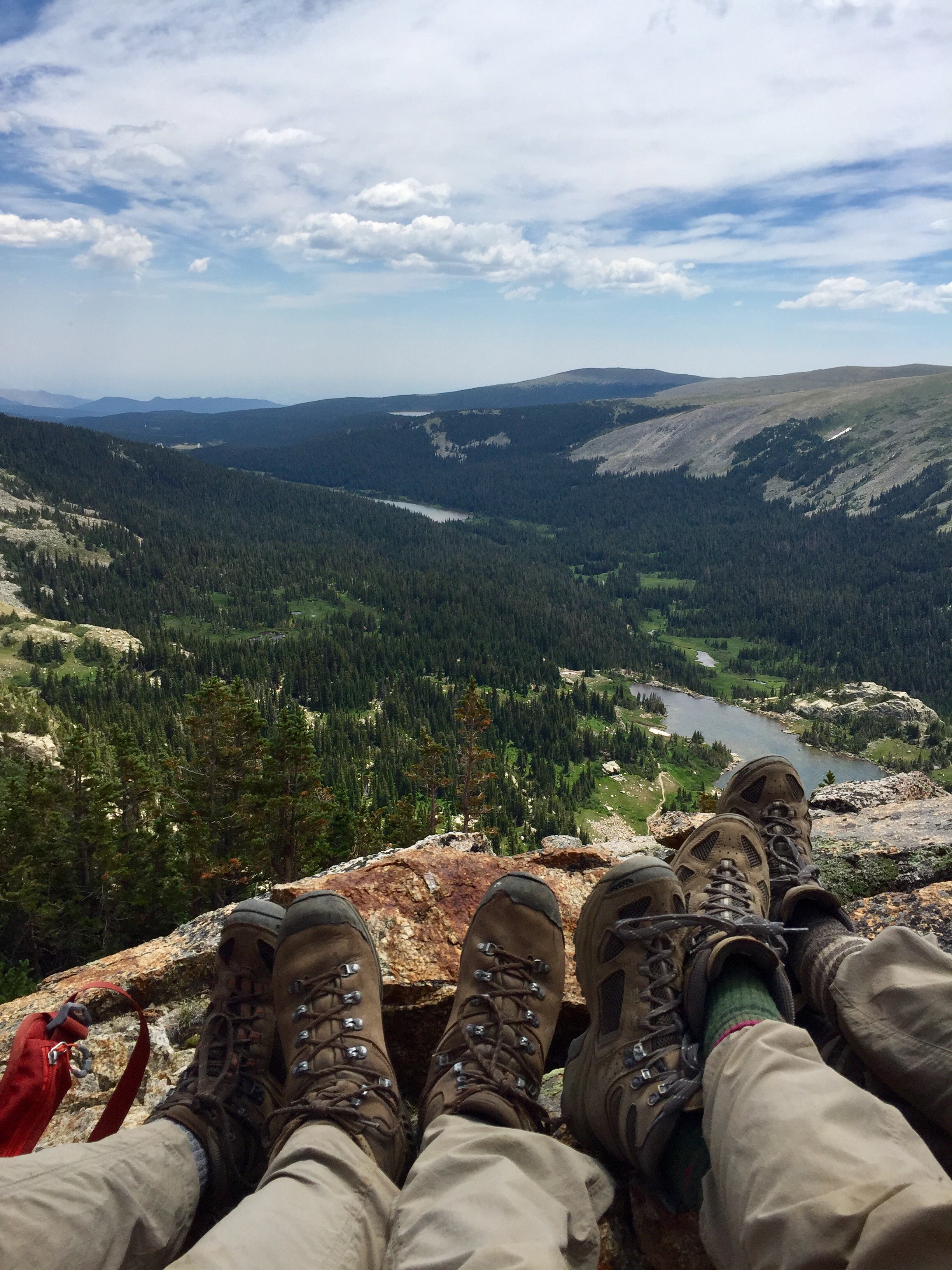 -Zach (Crew Leader)
Estes Crew
This week, (B)estes crew worked alongside the Vegetation Crew in RMNP for the duration of the week. Monday through Wednesday we had the opportunity to walk the meadows around the park and spray some invasive species on the west side and east side of the park. We sprayed leafy spurge, Canadian thistle, hock weed and a few other plants that were non native to the park. The real fun came on Thursday as we drove up trail ridge road to recover some old fencing that was dropped off by helicopter in the 90's. The intended purpose for the fencing was to make some enclosure to study tundra ecology, however this never happened and the fencing was left to sit. The "Veg" crew decided they could make use of the fencing and decided to take a day to retrieve it. We rolled five 400lb rolls of wire up a mountain to our trucks and then hauled them back to headquarters. The work was hard but incredibly rewarding! While we only were able to work two weeks with veg crew, it was jammed packed with tons of learning and valuable experience.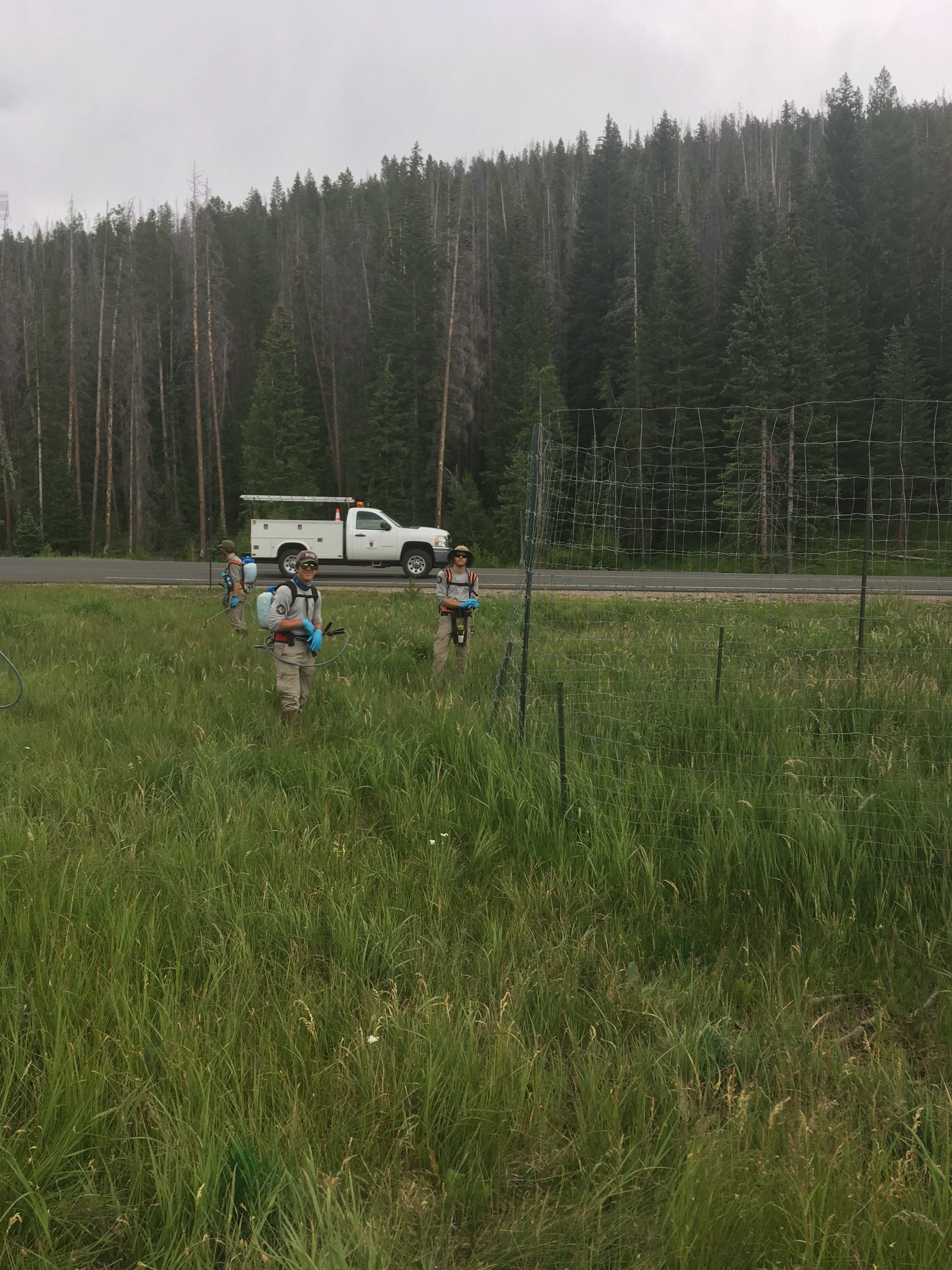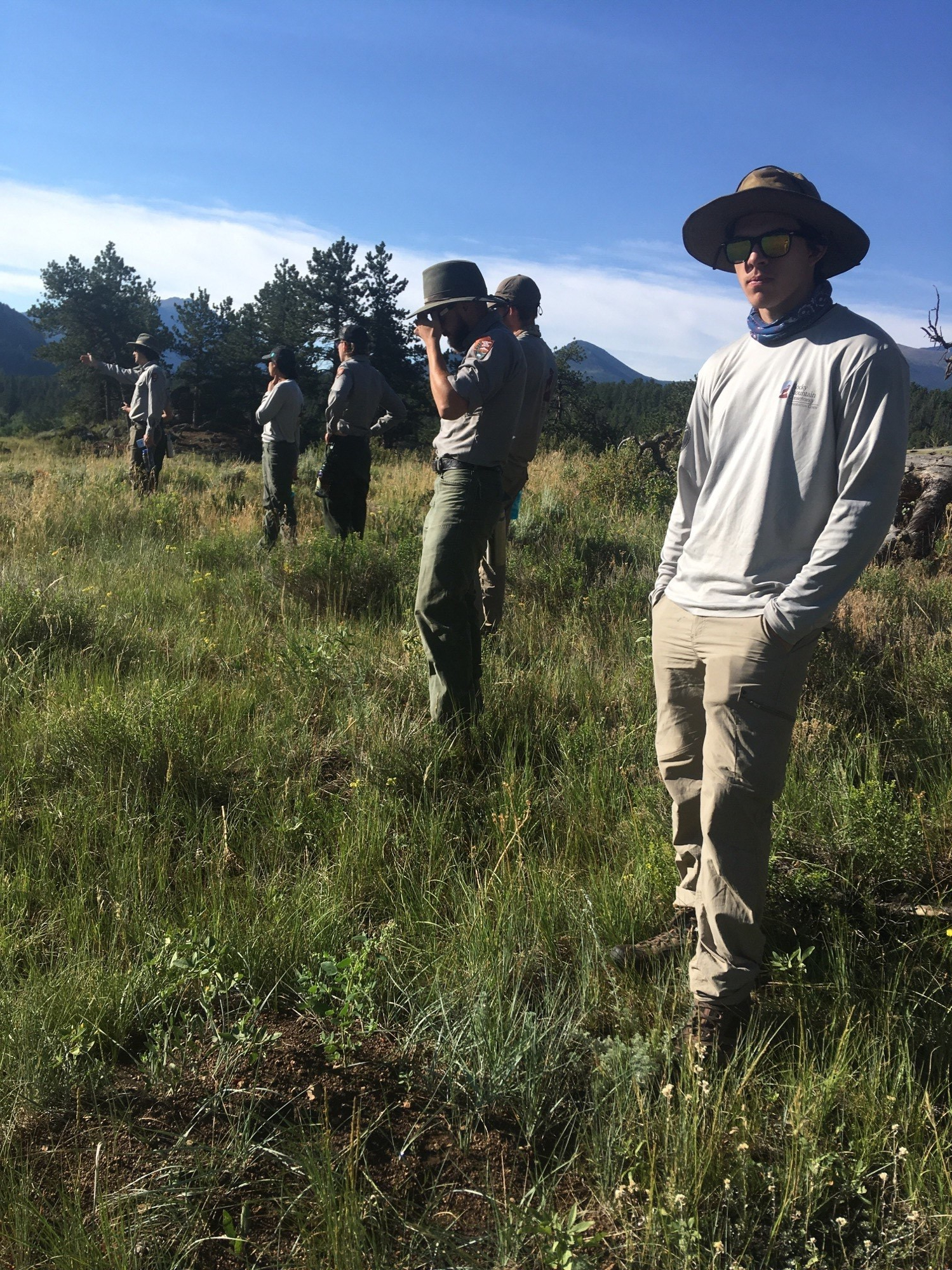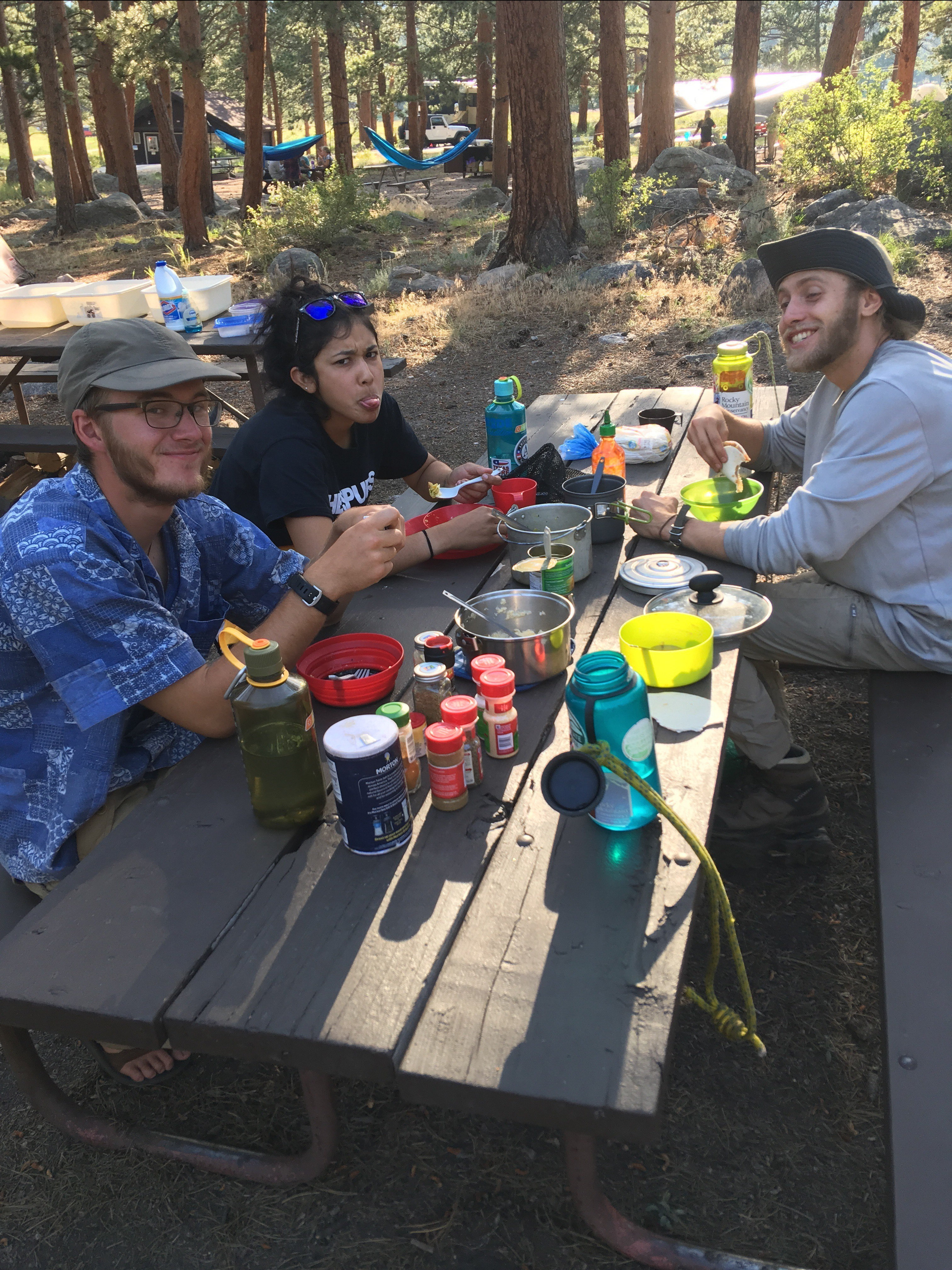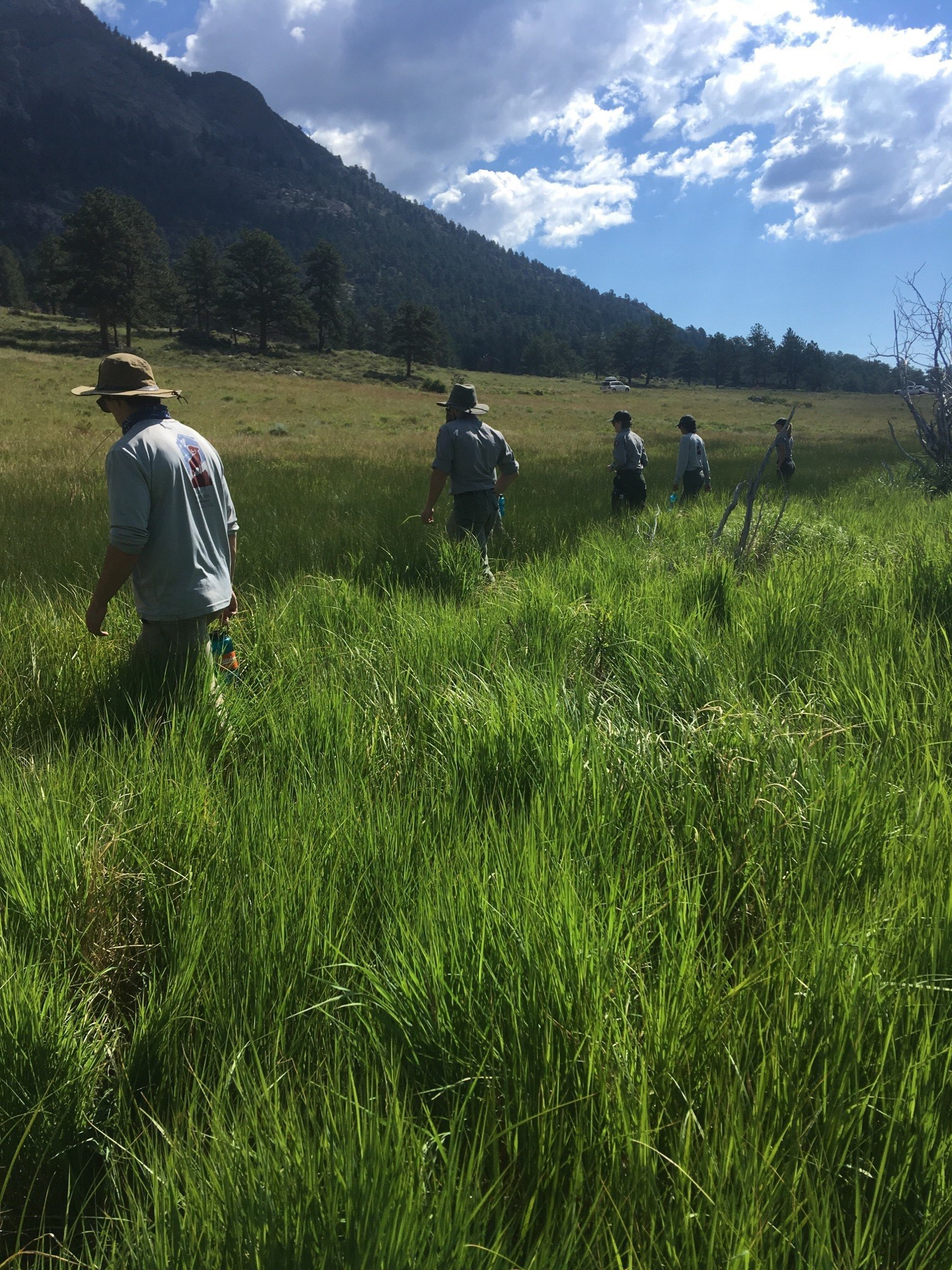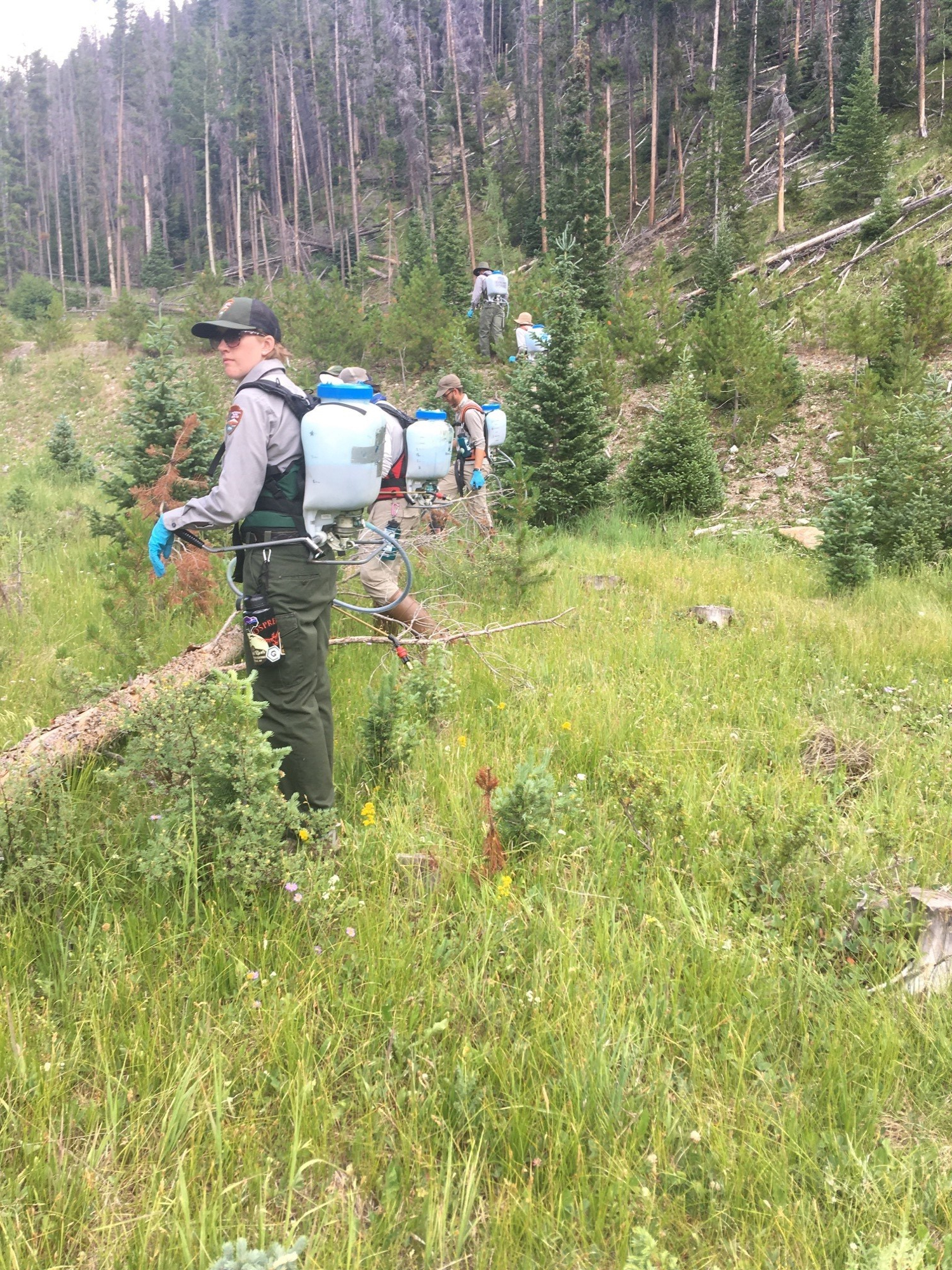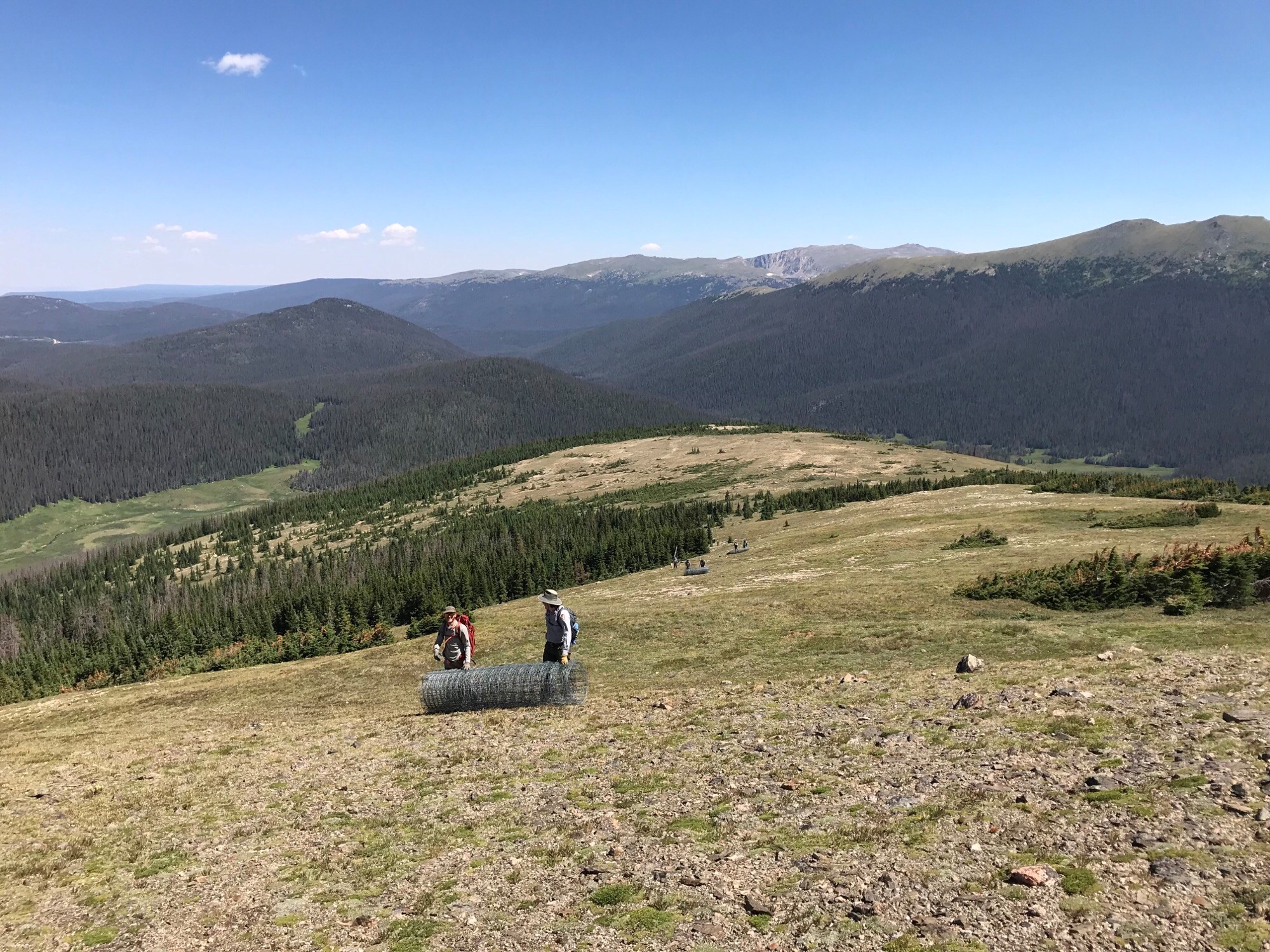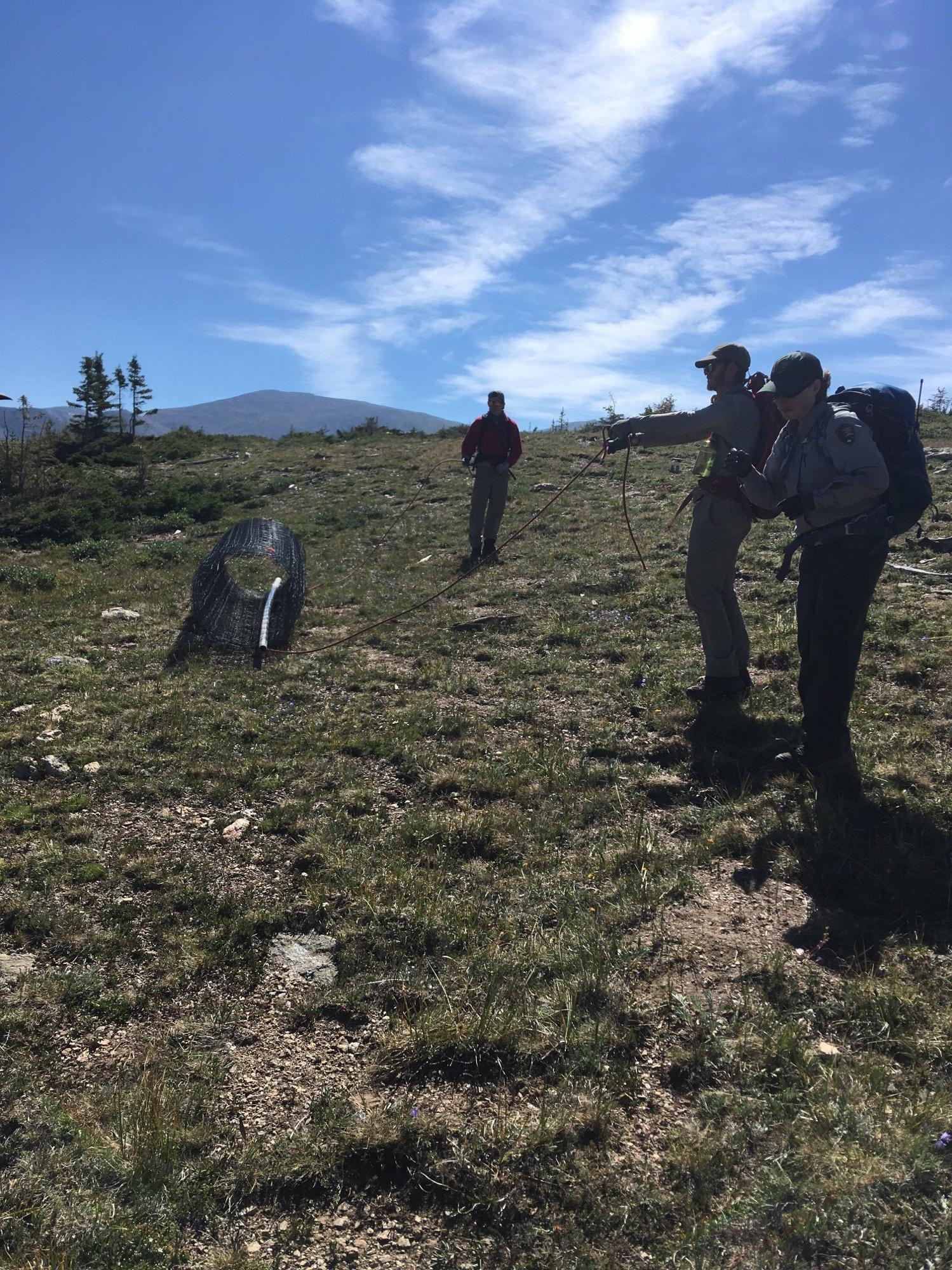 -Nate (Crew Leader of the Week)
Rawah Crews
During our sixth week of work, the Rawah Crews spent some quality time in the Comanche Peaks Wilderness. We returned to the Big South Trail to pick up where we left off a couple of weeks earlier. On Monday, most of our day was spent hiking six miles to set up our back-country base camp for the week. For some of our crew members, this was the farthest backpacking trip they had embarked on (carrying tools no less). This trail follows the meandering Poudre River in a wilderness travel zone, which made for a beautiful week of work. When we arrived at campsite sixteen we were greeted by remnants of campers-past. We decided that we would do a thorough camp clean-up to start the next day.
Tuesday morning, we were greeted by a curious moose strolling the perimeter of our camp. After a morning trash pickup, the crews split in half to work on the Flowers and Big South trails. This was the first time we had split our ten person mega-crew this summer. The Flowers crew would soon experience a merciless calf workout. This trail had few, if any, switchbacks and even fewer drains so much of the day was spent constructing new ones. That afternoon, the saw team encountered a large and difficult tree that had fallen on the trail. On the hike down the drain crew came onto the scene and as a team, all five crew members conquered the task and were able to hike back to camp as a family. The Big South crew had an exciting start to their day with a river crossing. This was a great way for our crew to work together as a team and create a plan of action for crossing with packs and tools. Soggy feet could not dampen our spirits, and the crew went on to dig many drains and cut many trees.
Wednesday the crews did a switcheroo to experience and finish up the two trails. After successfully crossing the Poudre, the new Big South crew went on to finish the trail, landing them out of the wilderness and into Rocky Mountain National Park. This felt like a major accomplishment connecting the northern woods of Colorado to the glory of the national park. The new Flowers crew spent the day climbing 2000 vertical feet into alpine, marking the completion of maintenance up to the Mirror Lake Trail junction. Reche and James bucked 14 large trees while the drain team cleared drains to treeline.
Thursday, we packed up camp and finished the 2.5 miles of trail on the way back to the trailhead. This week was full of exciting challenges! From river crossings to calf-destroying climbs, each member of the crew had to meet the challenges that these trails presented. We were all thrilled about finishing the trail. Each of us are grateful to be a part of a team that cleared the way for people to enjoy their national forest. Our hard work has made this beautiful walk into Rocky Mountain National Park accessible once again.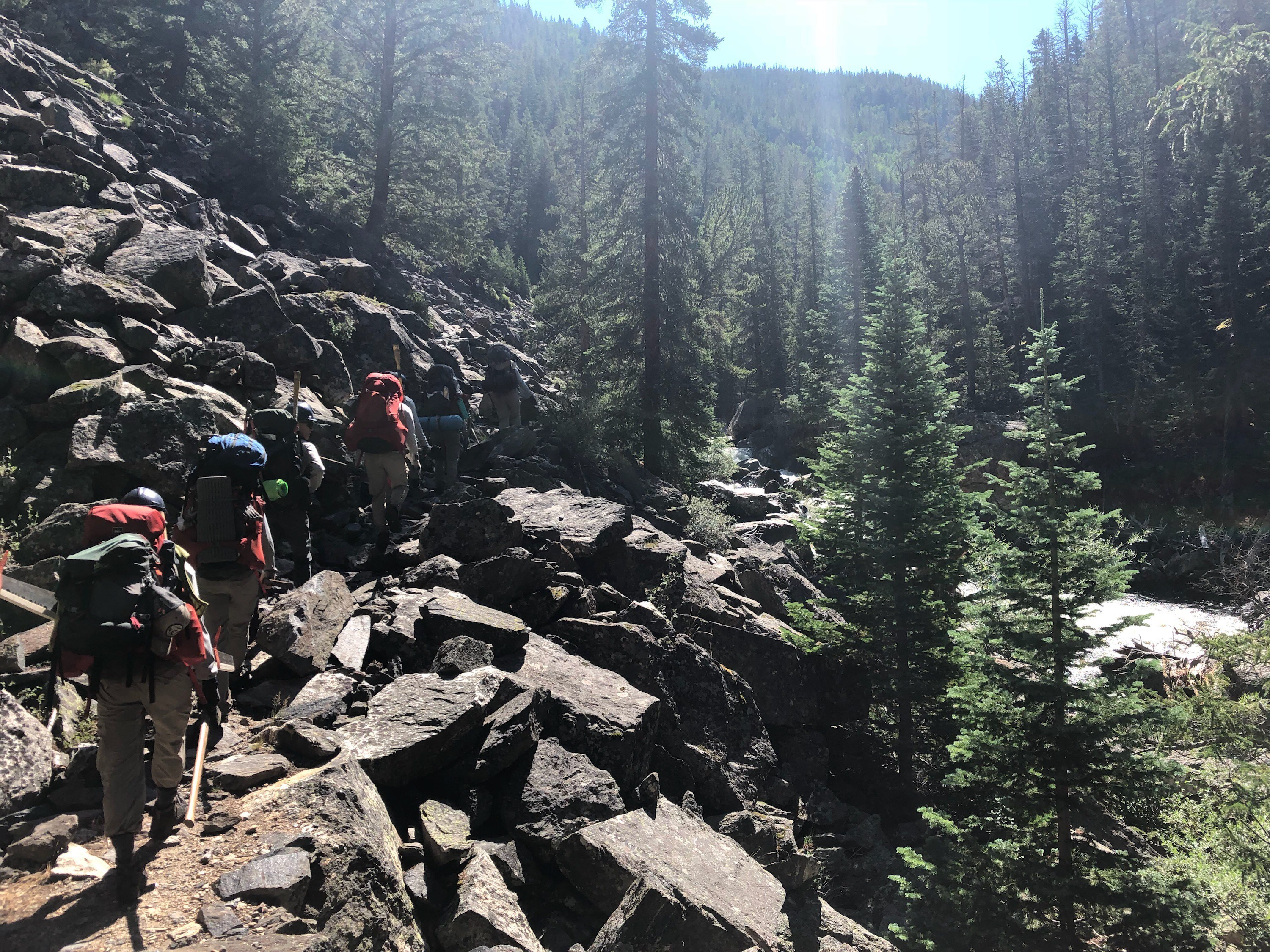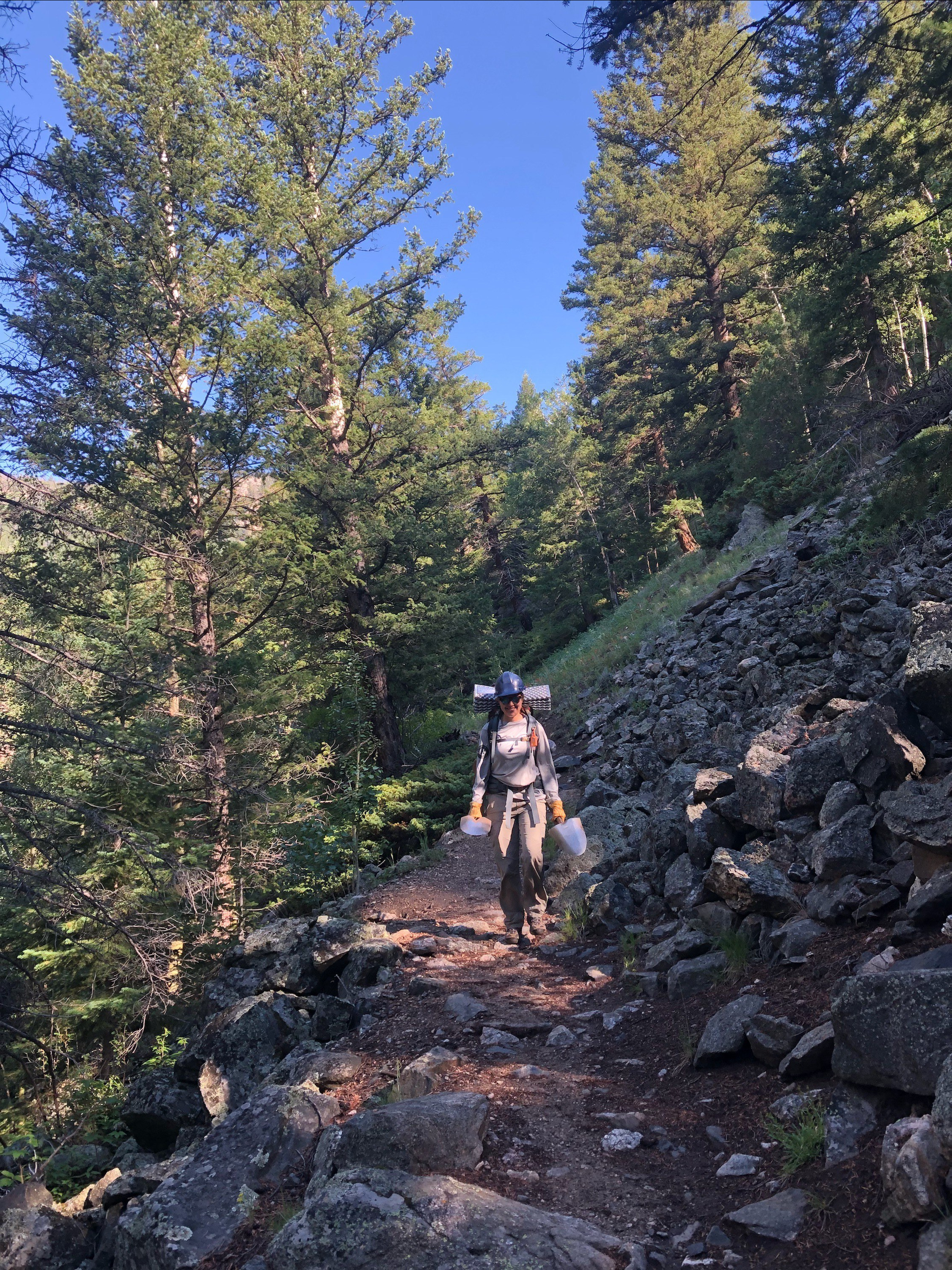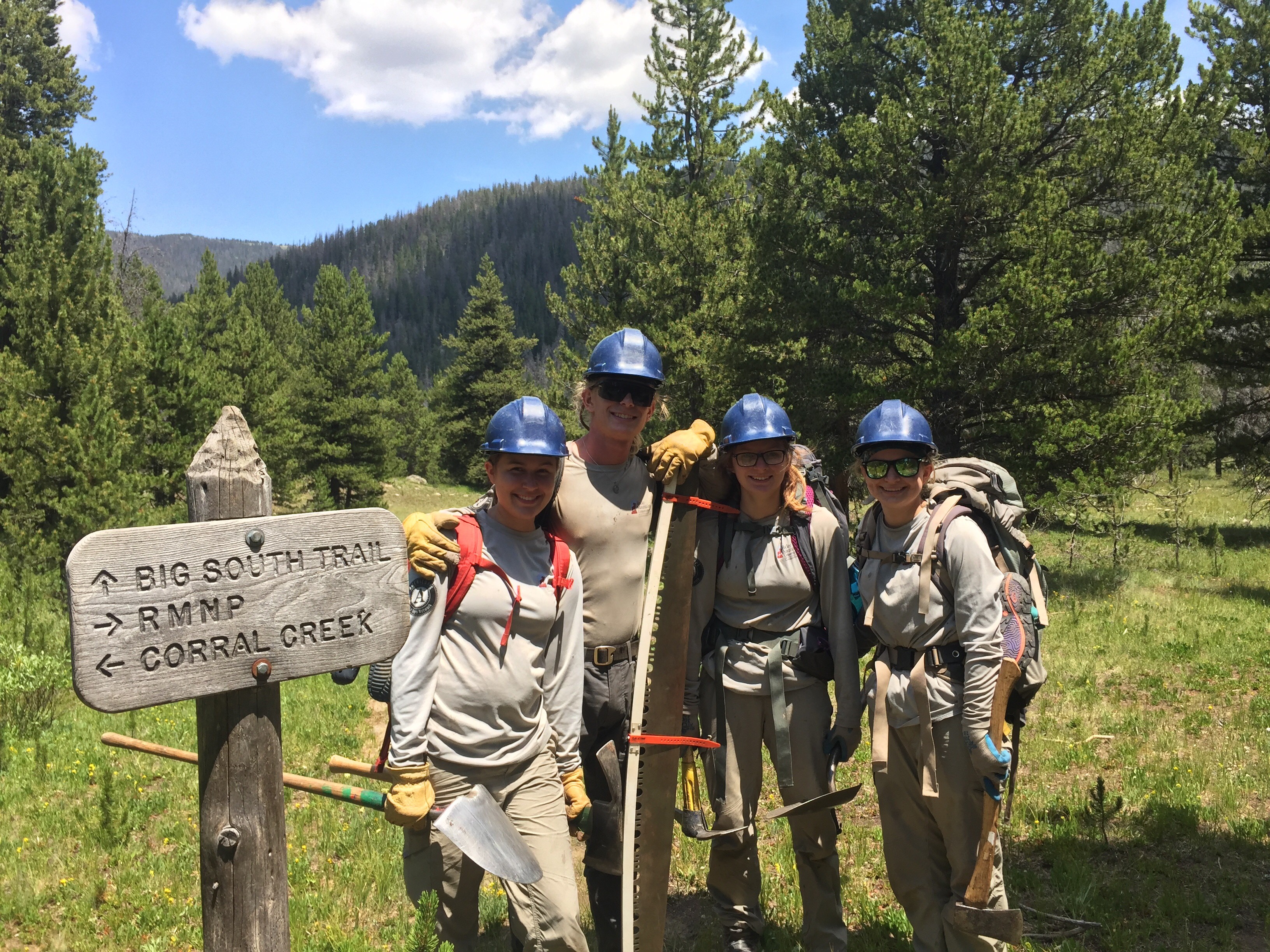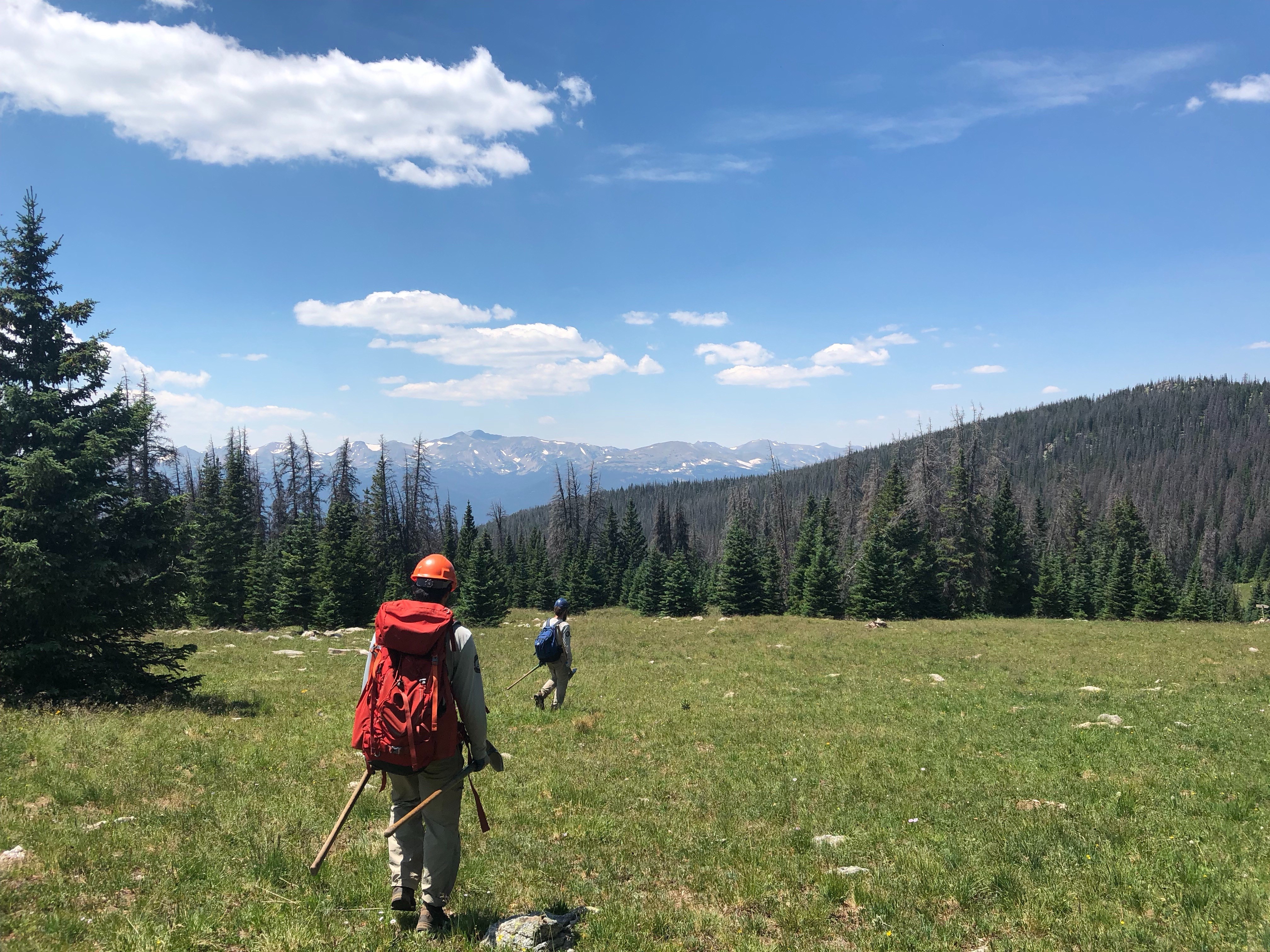 -Madi & James (Crew Leaders of the Week)
Tuesday morning, we were up and gathered around with the team, ready to start stretch and safety when special guest Geoff Eliot arrives. Unfortunately, not everyone was able to enjoy Geoff's presence for two of our team members were to work with another team that specializes in building fences that prevent unauthorized vehicles on trail. Regardless of the separation, we all had the opportunity to hear the sound of Geoff's spirit animal, a river otter. The rest of our team worked on the Strawberry Lake Trail doing the normal routine of brushing and digging drains. With Geoff in our presence, the day seemed to go a lot faster.
On Wednesday, the team was all together, we hopped into Bruce(the forest truck) and drove to Rogers Pass, the trail we would be working on. The drive seemed pretty chill at first, until we drove up a dirt road. This road had rocks, rocks big enough to make the truck dance. We were bouncing up and down, left to right, it was like a mosh pit inside the truck. It was not fun for the poor soul that had to use the restroom. We finally arrived at the trailhead, grabbed our tools, and began to hike. We hiked and hiked, not a single stop to brush. We stopped a couple of times to clear the trail of fallen tree but that was it, the trail was in great condition. On the other hand, the trail was different from past trails I've worked on. With unstable rocky ground, strong winds, and heights that can end it all with the roll of an ankle, what can go wrong? Absolutely nothing! The hike was amazing! It had great scenic views and the wind was powerful enough to cool you down.
Thursday we were split up again, but we were essentially on the same trail. We worked on the High Lonesome trail. One half worked on the beginnings of the trail and the other half worked towards the end of the trail. We split up to cover more ground and it worked. We brushed most of the trail but unfortunately we didn't complete the whole trail due to time. The trail itself was really peaceful, we had a great time.
Finally, Friday comes around and we are back together as an entire team again. Friday was different from other days. We worked on the Knight Ridge Trail, but we didn't drive to the trail, we sailed the waters of Lake Granby on a speedboat to get to our location, we had a blast! Our goal was to get rid of as many fallen trees as we could, so we brought our cross cuts and got to work. In total, we got rid of a of 27 trees, it doesn't seem like much but for hand to hand labor it was plenty. Although the sail to our location was fun that was not the highlight of the day. We sat down and had lunch and not one, not two, not three, but four moose walk in our lunch break one by one. We were surrounded by four large male moose, fortunately they were more interested in their organic, non-GMO, all natural, gourmet vegan grass than our generic sandwiches. No one was hurt that day and we all sailed back home in peace.
-Rick (Crew Leader of the Week)