Last week, the Estes Crew unanimously decided that this summer has flown by. It's been an amazing season already and this past week of hiking, camping, working, and cooking group dinners has brought our crew even closer. Now, we realize that it's time to make the best of this internship and the time we have left as Estes Crew. With only two weeks of work left, we are left to reflect on the amazing experiences we've already had and figuring out exactly how we're going to fit in all the other hiking goals, fishing experiences, and traveling before the season's end.
The 6th week of work for the Estes Crew was kicked off by a backpacking trip that was adventurous to say the least, then followed by a week that presented new and unfamiliar projects with the trails crew. We were challenged with making group decisions in the wilderness and then gain when we had to tackle building a culvert at Lily Lake for work. The rainy and difficult backpacking trip to Mt. Ida and Upper Forest Canyon could have potentially left our crew with low morale, but instead we worked on making decisions as a group. And feeding off of each other's positive energy. Since we were able to strengthen our crew through the trip, we were able to take on the Lily Lake culvert, which was a type of project we were all unfamiliar with. All in all, I'm so proud of how Estes Crew performed this week and I can't wait to see how our next week goes when we'll be back working with Natural Resources.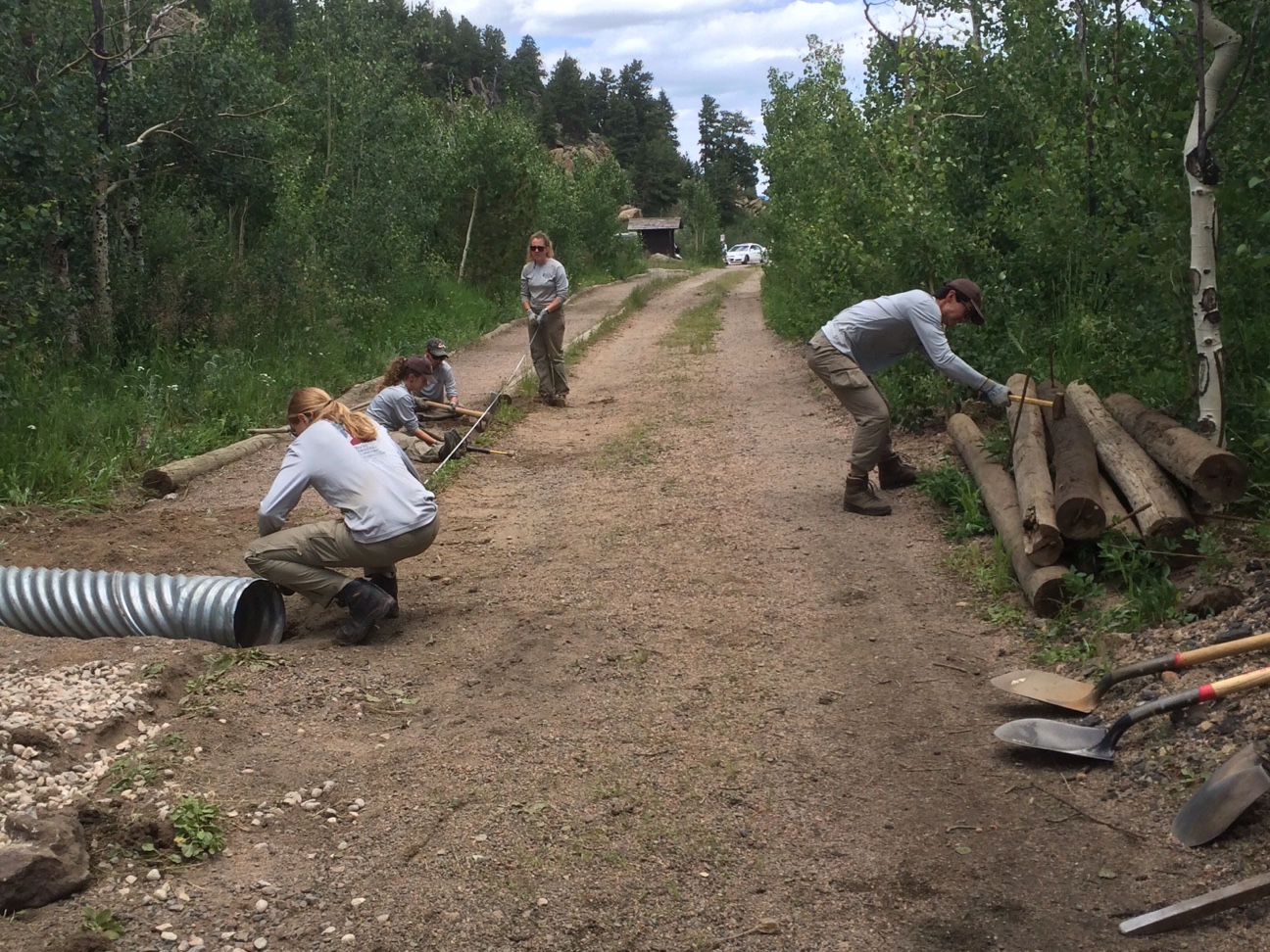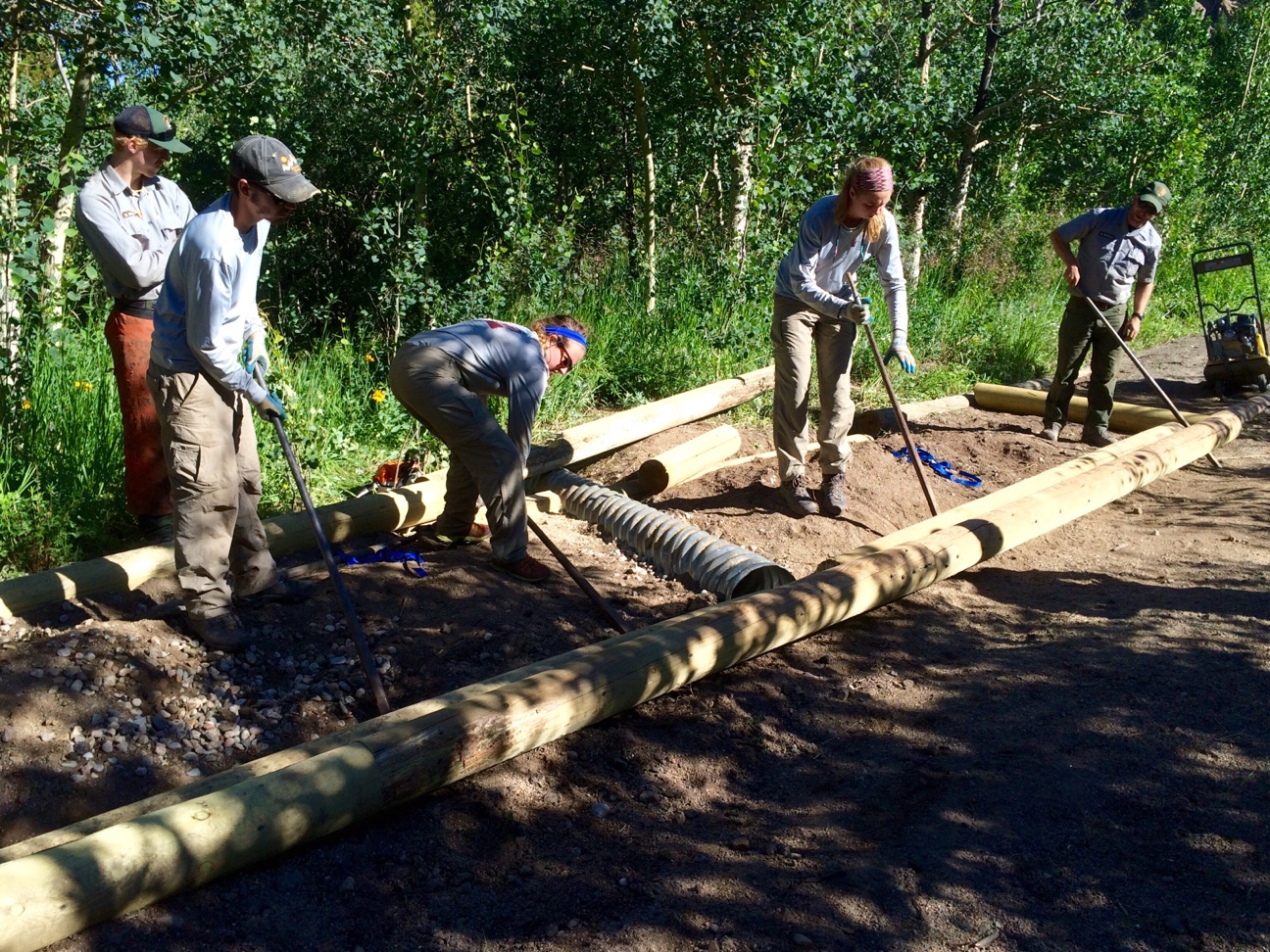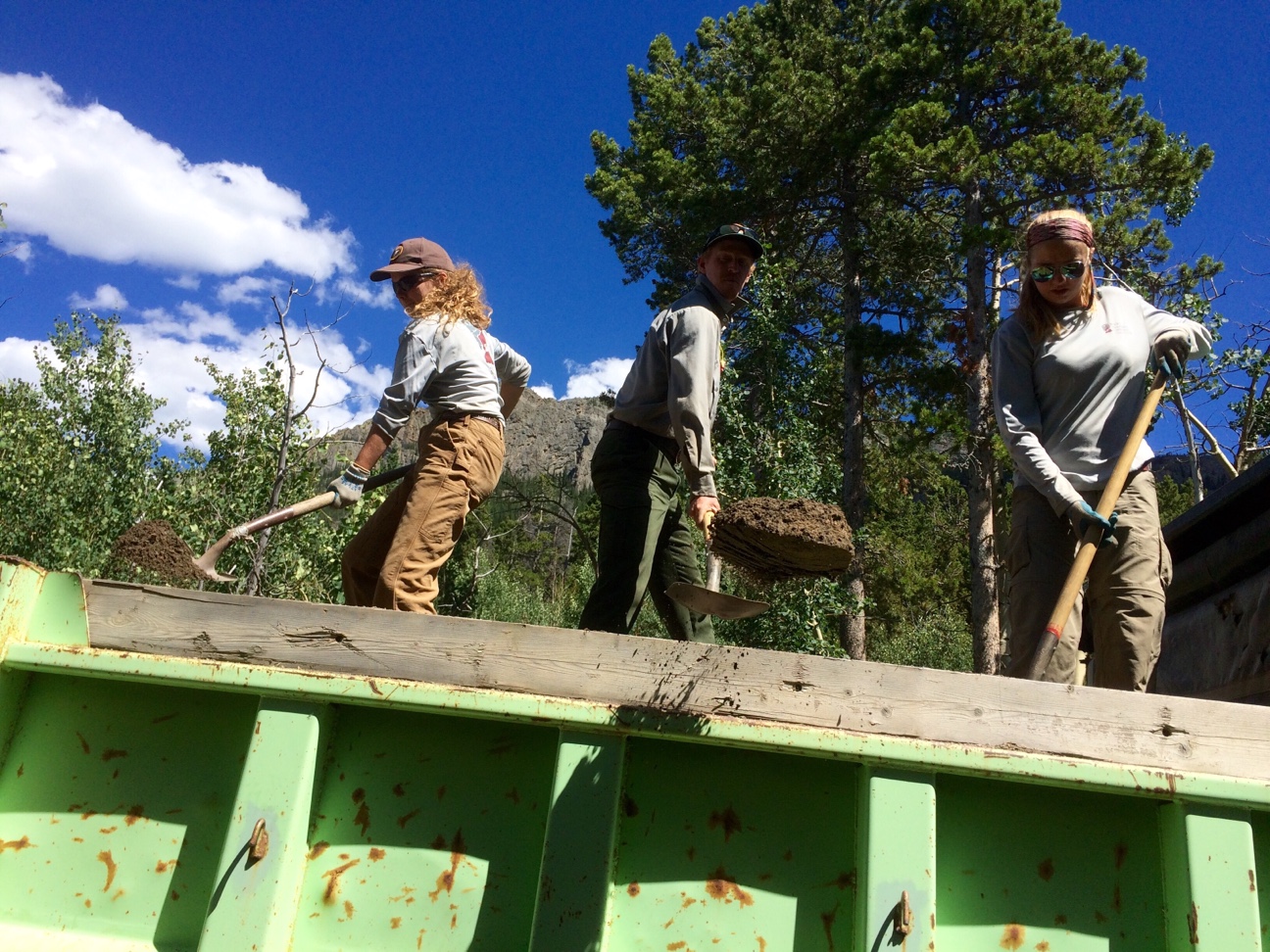 – Miranda Thompson (Estes Assistant Crew Leader of the Week)
Last week The Red Feather Crew was once again back in the Estes Park area working with the Forest Service on the North Fork Trail that was effected by the 2013 floods. This time we working on finishing the end of the re-route we were working on before mid week. This entailed days of building rock walls to provide stability for the trail and to try and prevent another washout from completely taking out the trail again. As a crew we built 40 feet of trail that included putting in the rock walls and moving a lot of dirt to make the trail ready to be hiked on.
Another project that we got to work on early in the week was building a whole new section of trail that turned out to be around 35 yard of new tread. This was a fun experience for everyone because we were able to work on seeing a tangible difference in the trail and it only took a half a day.  This entailed lots of sledge hammering rocks and moving a lot of dirt.
For the last couple days of work we worked from the actual trail head and worked on building more retaining walls and a gabion. A gabion is something that is usually used for retaining walls on roads, but we were building this so that the trail will not completely wash away if another flood hits the area. For this we needed to cut out and flatten a 25 foot section of trail and build this rock catch and throw thousands of pounds of rocks to keep the structure stable in hopes of providing stability for years to come.
Thats all for now,
Red Feather