The Boulder Crew finished up the season on hitch in our favorite spot- Pawnee Pass! The consistent pattern of rain from last week came to an end, and we were greeted with clear skies all week. The sunshine made work infinitely more enjoyable! Our tasks for the week consisted of continuing to clear the trail of large rocks, roots, and other obstacles to make it smooth and beautiful, as well as easier to walk on. Using rock bars to remove boulders from the trail is no easy feat, but Boulder Crew has become quite proficient at it.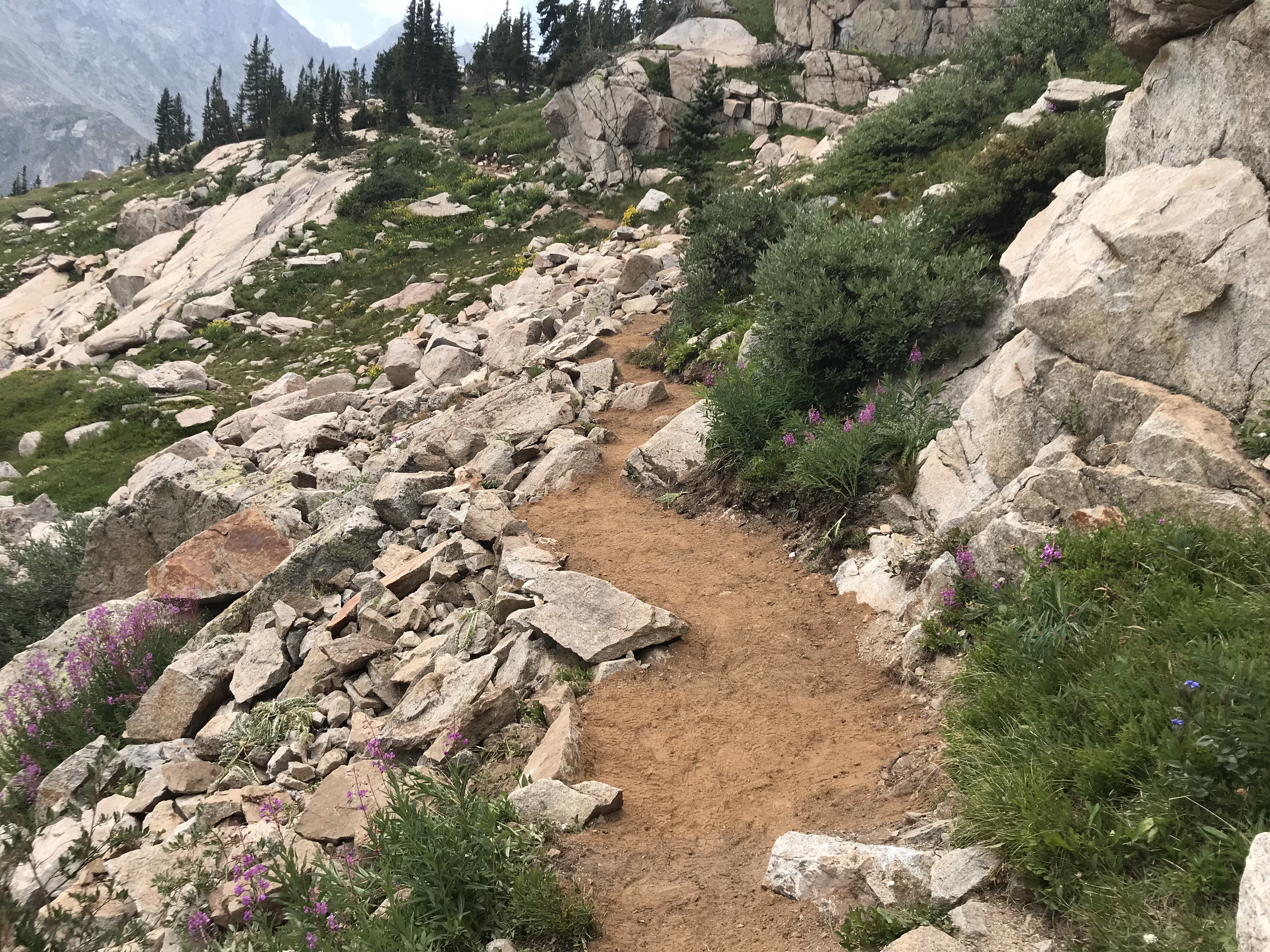 Then, we installed many more rock check-steps and water bars into the newly cleared trail to control water flow and mitigate erosion. Setting rocks into the trail can be frustrating and tedious, but the struggles are worthwhile after a structure is complete.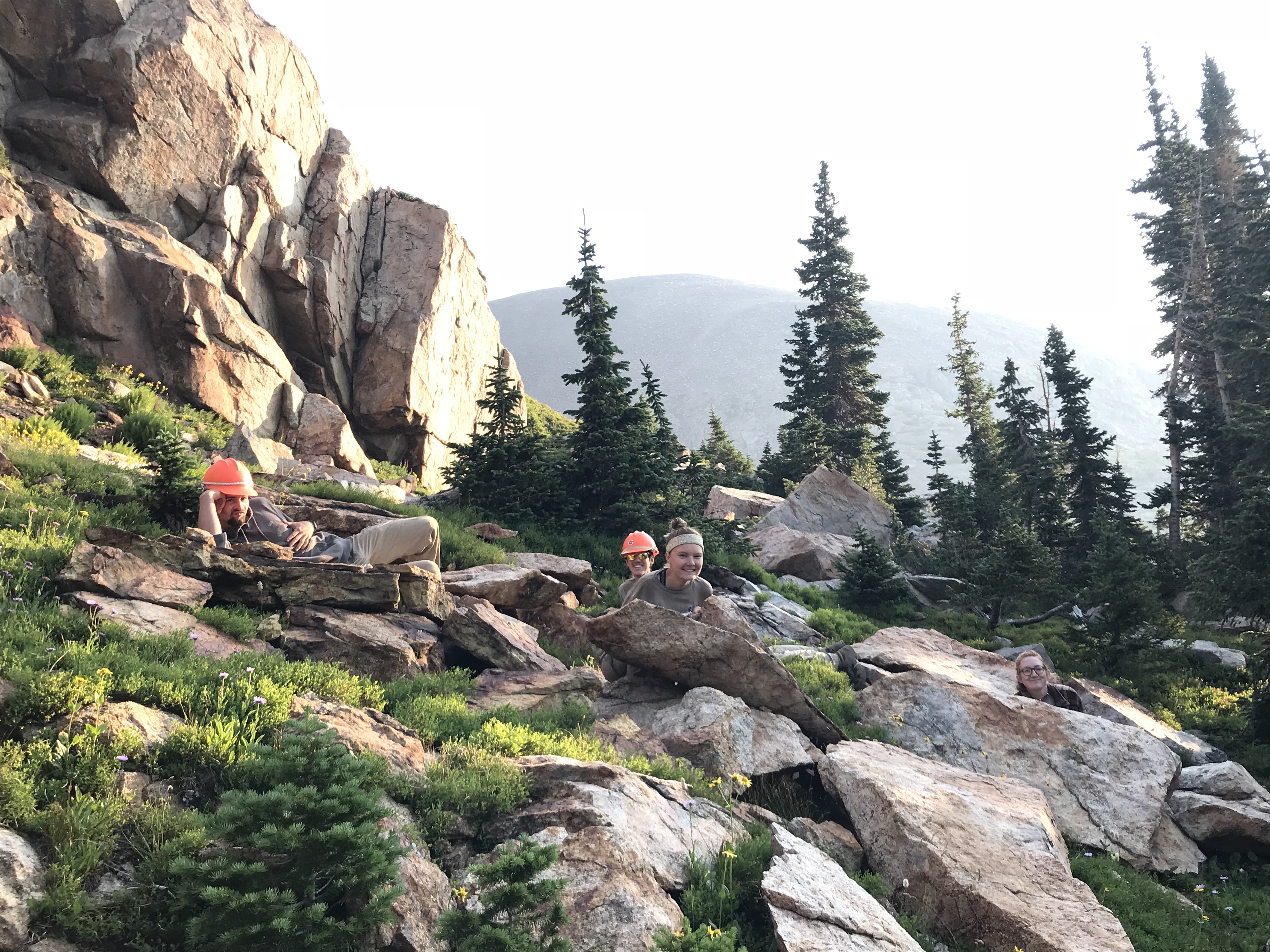 While we may not be professional trail workers yet, the whole crew has made significant progress in rock work throughout our season, as well as gained some serious muscle! It is safe to say that all of us were heartbroken to be finished with such rewarding work, as well as to be leaving such a beautiful place.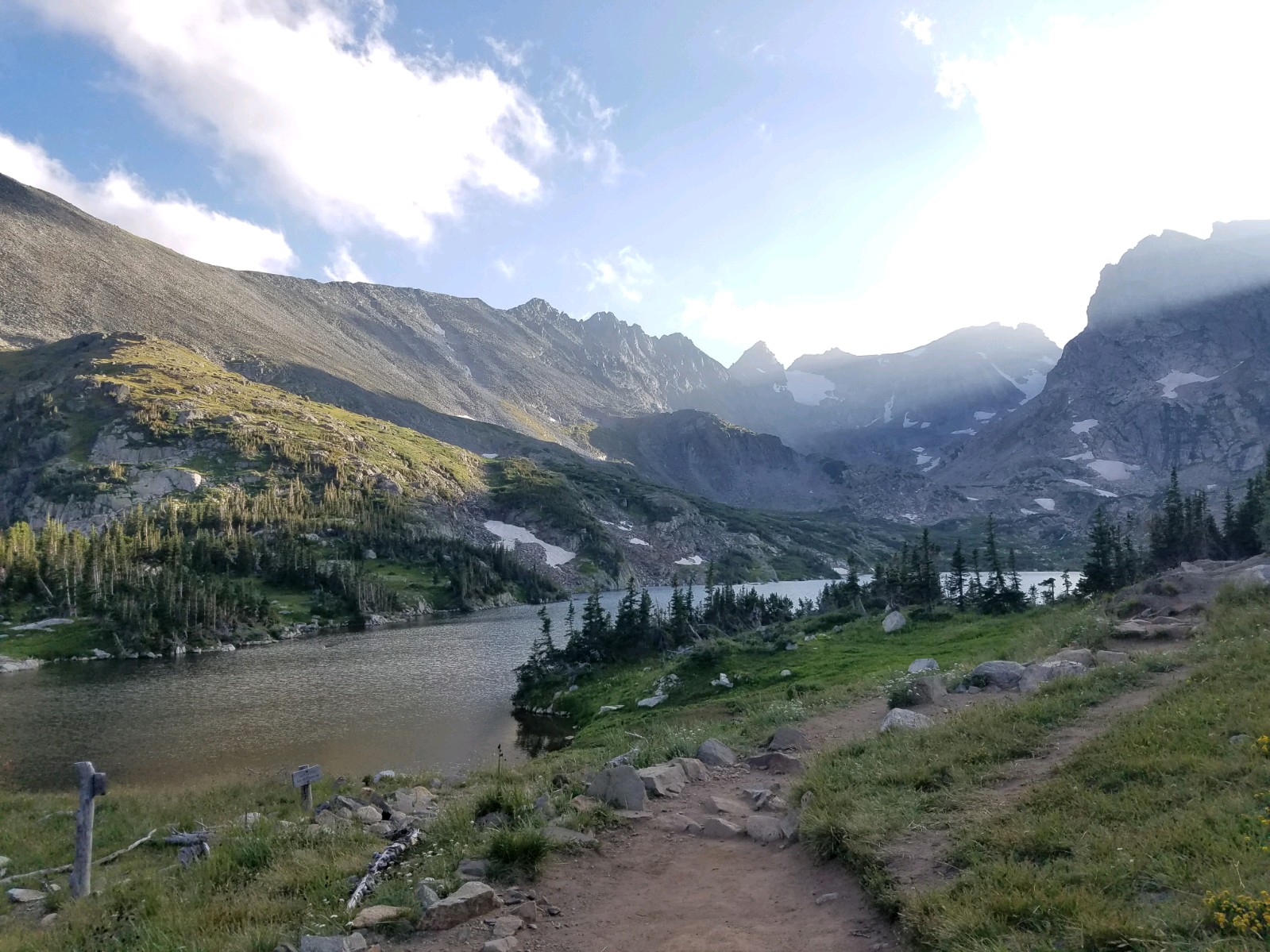 Peace from Boulder Crew!
-Charlotte (Crew Leader of the Week)
We did it! After many weeks on the Aspen Brook Trail, the Estes Crew has finally wrapped up a variety of projects that help make up the new trail. Thoughout this project, we've come to know many wonderful trail crew members including a variety of unique volunteers and conservation crews. We've spent time managing NPS pack horses, controlling and surveying invasive species, and taking part in several outdoor adventures.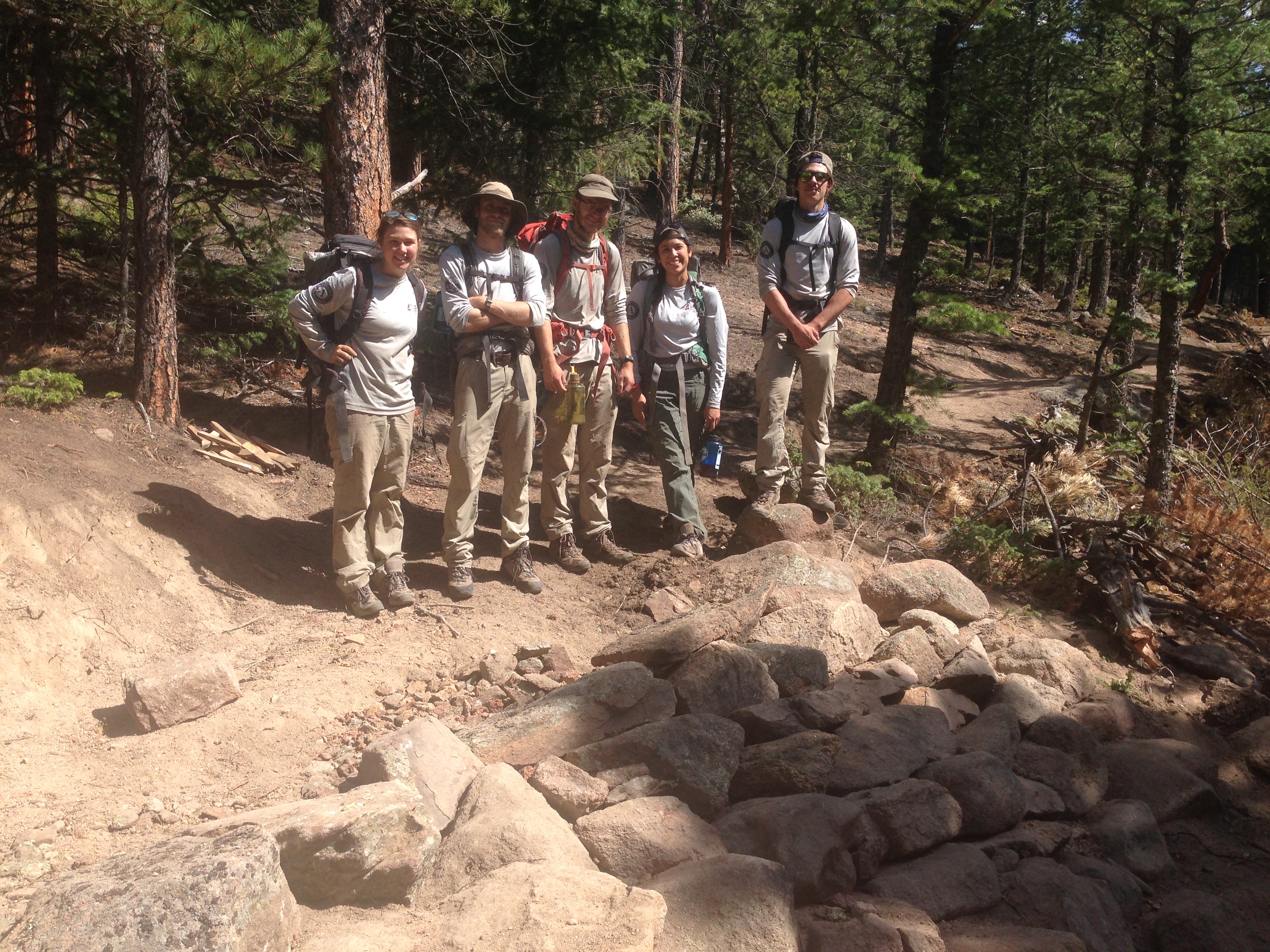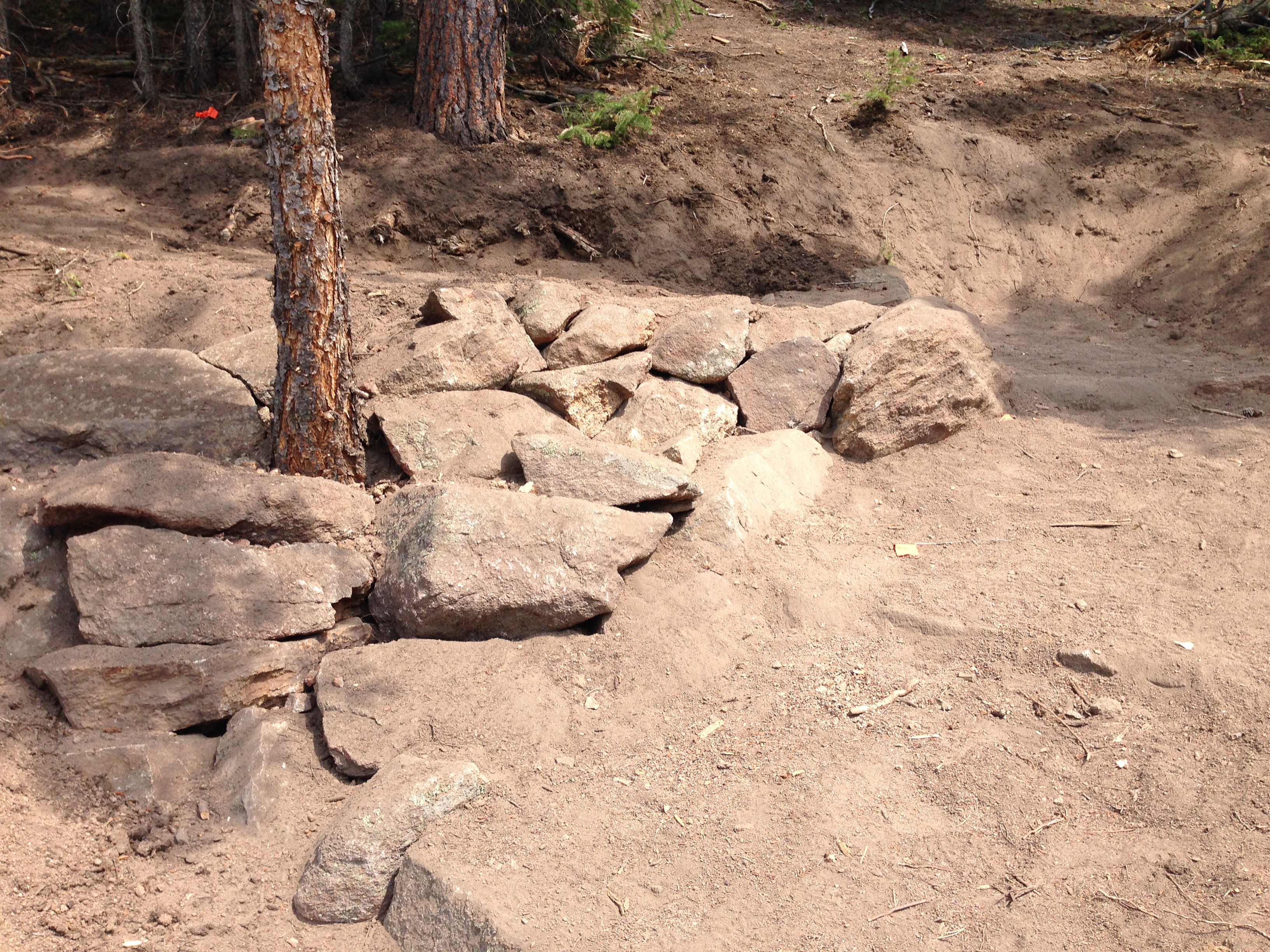 I'm very grateful for all the time that we have alongside each other, growing together, testing one another, laughing as we make our dad jokes. This season will be missed, but I know that we are all encouraged to keep moving forward on to greater opportunities, things such as education, peace corps, new and exciting jobs, and other leadership rolls. Hopefuly we will all see each other again in the near future so we can then share our stories.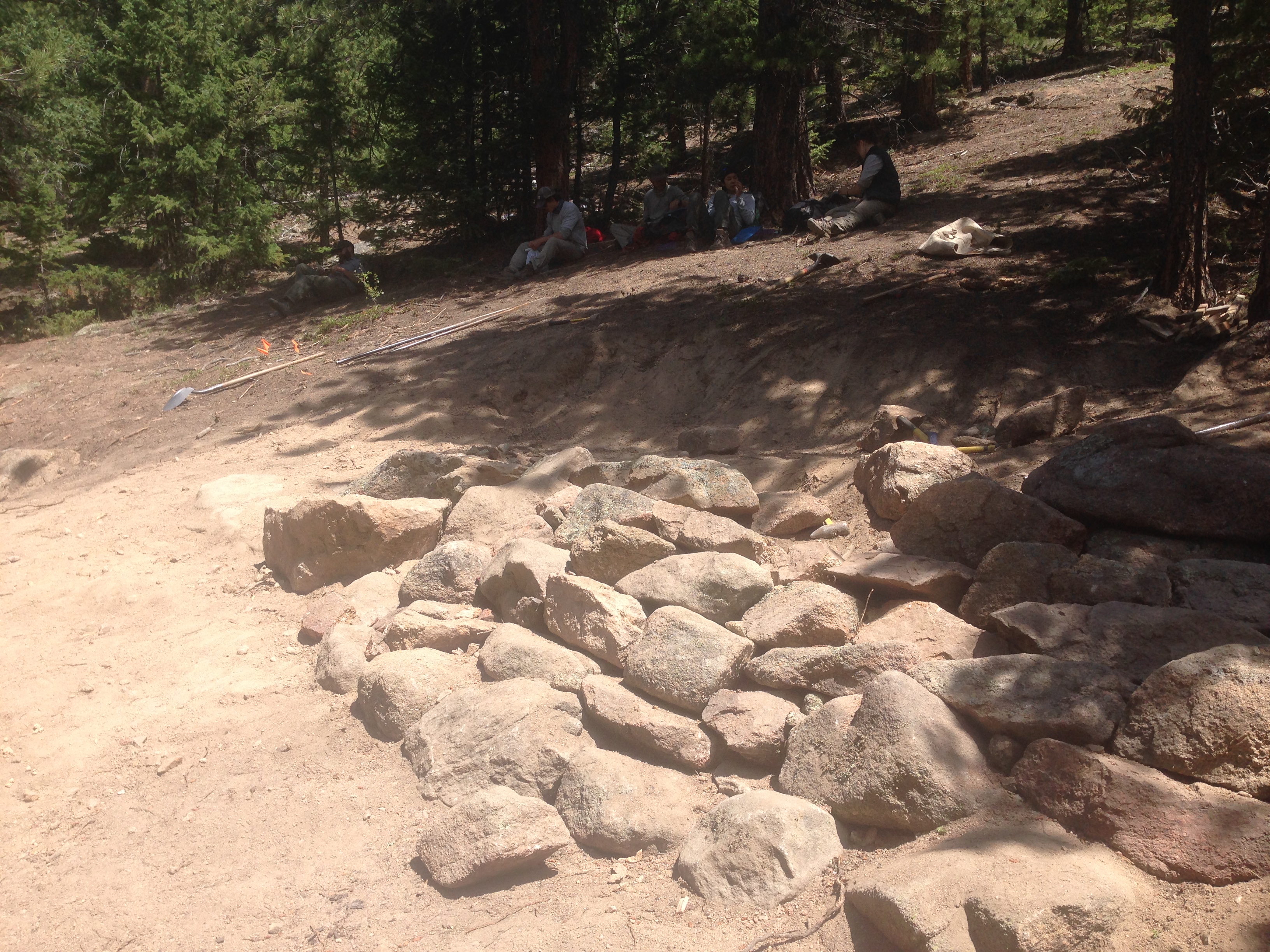 -Curtis (Crew Leader)
Moraine Crew
For the past couple of weeks, we have built a solar shower, and afterwards, we began to build a turnpike that went from the parking lot, and then split to go to the nearby bathrooms and the solar shower. On Monday, July 30th, we put more crusher on top of the crusher that was already there, and began to really solidify this turnpike. Some people shovelled from a pile of crusher and put them into wheelbarrows, then carrying it and piling it onto a place on the turnpike that needed it. Others raked the crusher in places that were too low, and overall, just adding another layer of it since it was needed. Once it seemed level enough, one person would water the turnpike to make sure it was wet enough so it could be tamped down correctly and then another person got the plate compactor and tamped down the crusher. Once it dried, it began to truly look like a turnpike!
After the solar shower was completed, we shifted our focus to restoring a rotted sill log on the Glacier Basin Ranger Station. This was supposed to be one of our bigger projects of the year, but unfortunate time constraints only afforded us a few days to work on it. Regardless, our last week was spent under careful guidance from shop foreman Chuck Tubb striping replacement logs of bark, fitting replacement crowns, and hollowing out the rotted log for replacement. While we only had a few days working at the Ranger Station, our crew really hit the ground running. In true historical preservation style, we spent our days working hard with draw knives, timberslicks, axes, and chisels to tackle the prep work that would proceed the log's actual replacement.
It was also during this time the crew received unexpected praise for their work on the solar shower. A ceremony organized by the Glacier Basin volunteer camp host recognized the project shop for their hard work with a ribbon cutting and barbeque attended by both park employees and campers.
Spirits were high during the final days of work, despite the sadness of leaving. Project Crew shirts were made up, commemorating our season of hard work and the Moraine crew departed the shop for the final time on Thursday afternoon with heads held high.
-Max (Crew Leader of the Week)
Rawah Crew
We wrapped up our last week of work Rawah style on the McIntyre Trail. Earlier in the season, we worked on McIntyre for a day and got about 4.5 miles in: it was a day full of accomplishment and hard work! On Monday, we spent most of the day hiking to the junction of McIntyre. Even though it was a tiring day for everyone, we did not give up and kept hiking up until we found a beautiful meadow that lead up to a nice woody area where we set up camp. After we set up camp, we decided to wrap up the day with some fun lessons! There were three different lessons that were all fun, but we also learned a lot. Zoe did her lesson on how to French braid hair; this lesson was not easy for the boys, but they tried until they got it! The French braiding lesson was followed by Jordan's lesson on how to belly dance. It takes a lot of hip control to belly dance and a lot of practice, but we all got the moves down! After both fun lessons, Reche finished up the day and taught us French! We learned how to count, our body parts, colors, and some very famous food like "fromage" (cheese). Monday was a day full of accomplishments and fun lessons!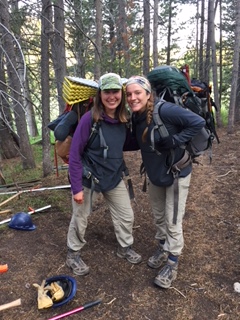 On Tuesday, we split up into small groups to hit the McIntyre Creek and McIntyre trails. After morning breakfast and JHAs, we had two saw crews out on McIntyre because we were informed that there were 55 trees that needed to be cleared so we got our best saw to get to work! As the crew separated and said their goodbyes for the day, Reche, Zoe and James got ready to work on McIntyre Creek trail. It was a long walk before they got to their first drain, but as soon as they arrived at their first drain, it was only a matter of time until that trail would be cleared. Reche, James, and Zoe finished the McIntyre Creek trail that was very steep, but also beautiful on the eyes. The drain crew on McIntyre was Jordan, Ruby Ann, and Stevie. They also had a very successful day, they ended up digging 86 drains and getting 2.5 miles up the trail. When they first started they thought that there would be a long hike between drains, but after break they reached the part of the trail that was previously an old road. On the road, the drains were about five feet apart from each other. Tuesday was another successful day for the Rawah Crew.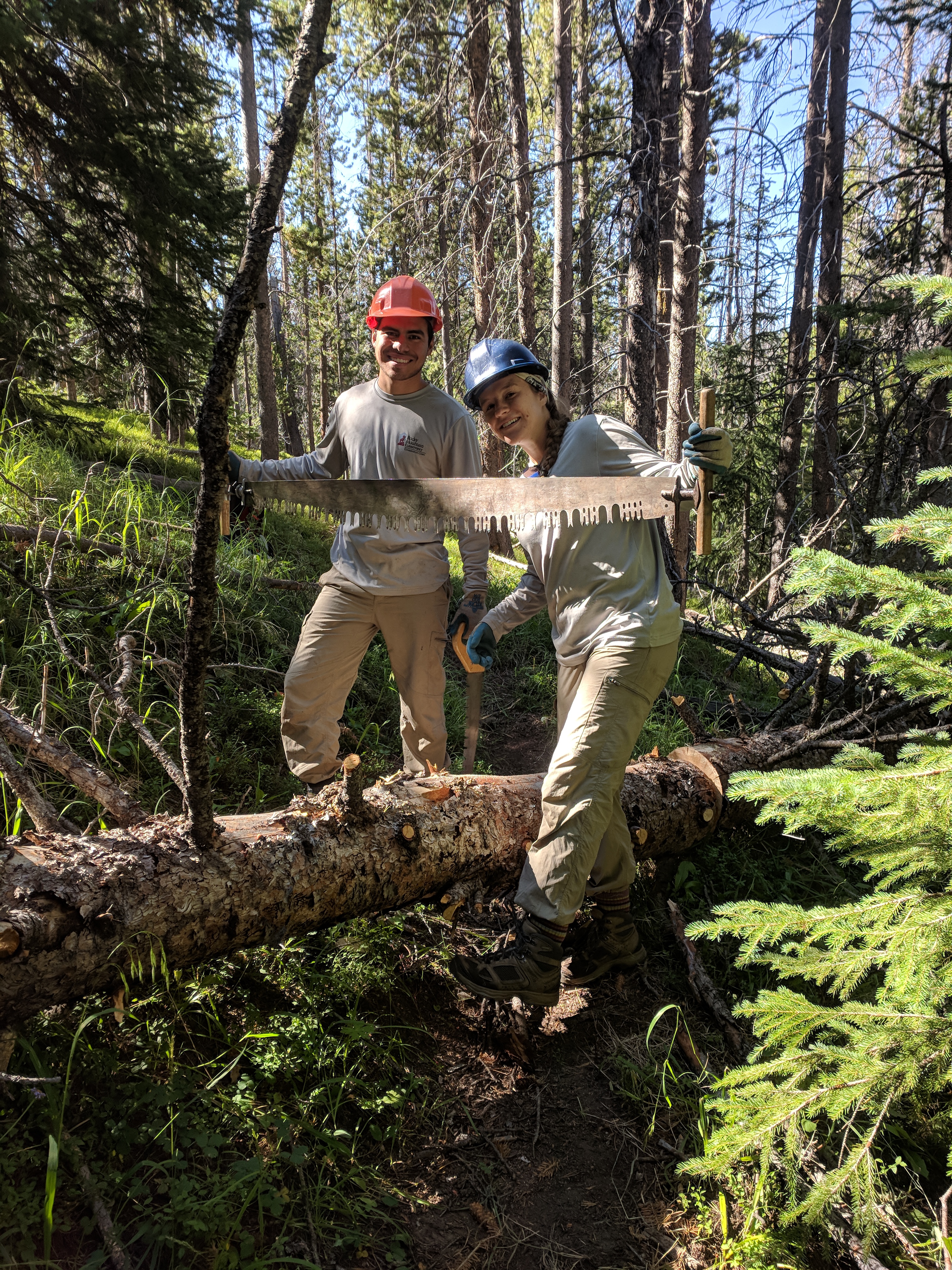 On Wednesday, the crew all decided to reunite and finish McIntyre together, so that they could hit Medicine Bow as well. As usual, we started our day with breakfast and JHAs. As the Rawah crew was in the middle of a stretch, they heard a pack of coyotes howling. It was a cool experience, but also a scary one. After finishing up McIntyre trail, the crew decided to split up once again so that we could get as far as possible on the Medicine Bow Trail. With Reche and Ruby Ann crosscutting, and Noah, James, and Nathan on drains, the South trail of Med Bow had a successful day. We also had Jordan and Stevie on the other saw. They finished cutting the rest of the trees on McIntyre and started working on the north part of the Med Bow. Zoe, Daniel, and Madi worked on drains alongside Jordan and Stevie.  There weren't many drains for them to dig, so they decided to put in new drains in spots where the trail was really rutted up.  Even though we did not finish the Medicine Bow trail, we successfully cleared some trees from the trail and dug many awesome drains!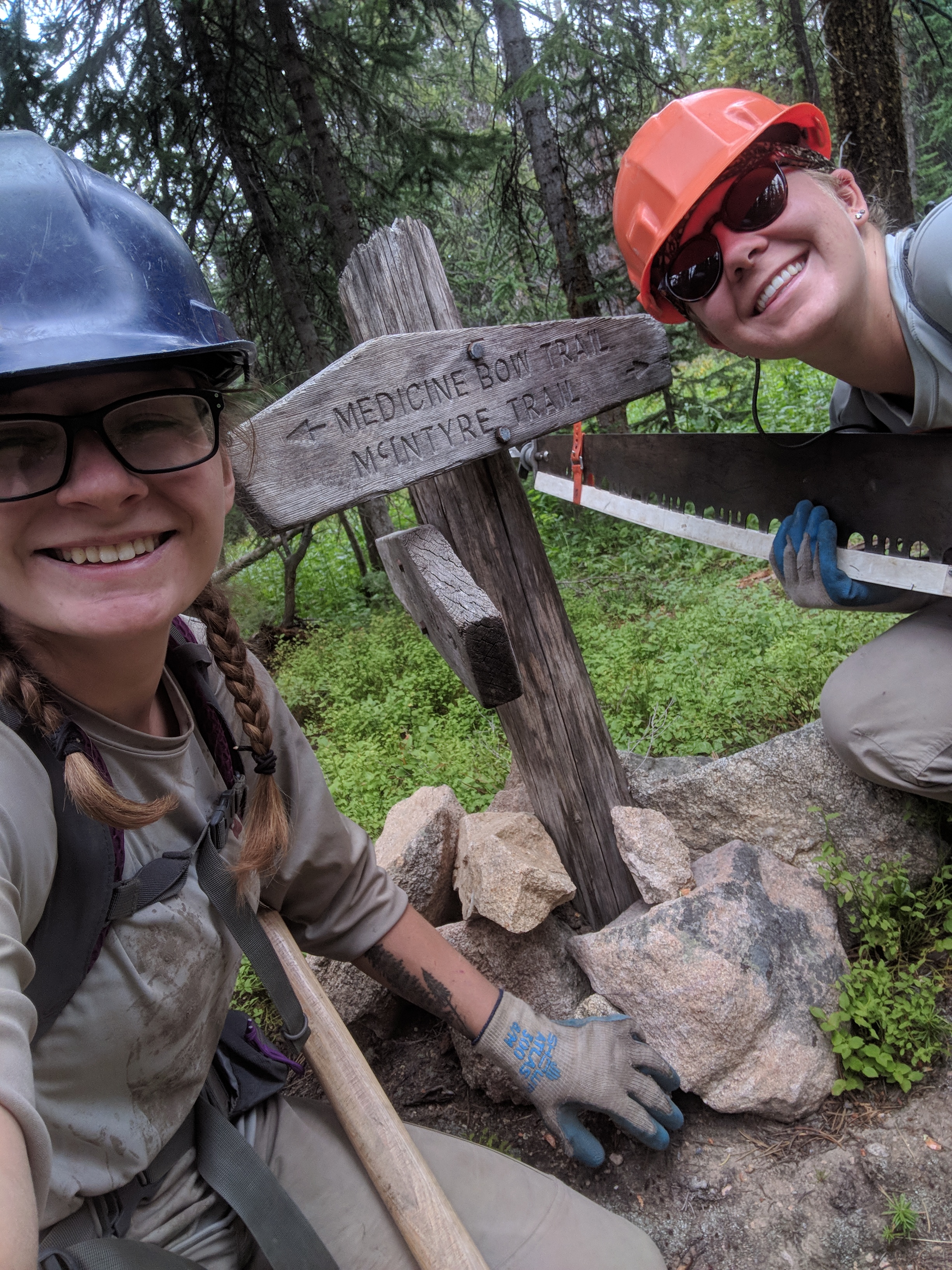 On our final day of hitch, we were all tired, but we had to hike out early because we had to pack and clean the bunk house, so that we can leave early Friday morning. It was a sad morning knowing that it was our last time hiking out with each other, but we all decided to cherish the moment and had an amazing hike out. We also met up with Tommy and Morgan on the way out and they joined us back at the bunkhouse for lunch. After we got to the cars we headed back to Stub to sharpen tools for one last time. We wrapped up the season with one last amazing week. We have done some incredible work this past summer and accomplished a lot as a crew. These past 10 weeks we have grown from a crew to a family.  No matter where life will take the ten of us, we will always be the DARN TOUGH RAWAH CREW!!!!!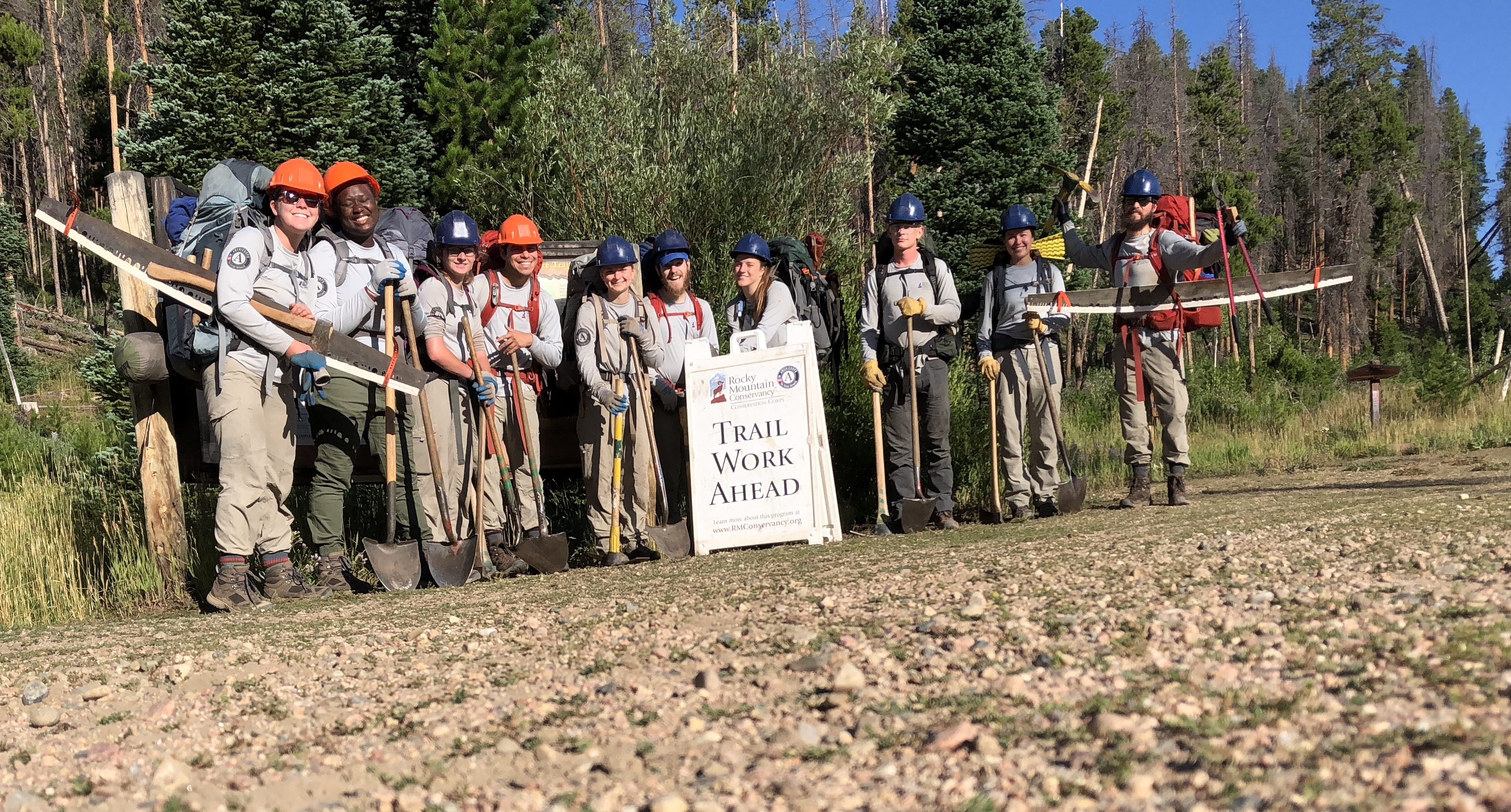 -Stevie and Reche (Crew Leaders of the week)
The Shadow Mountain Crew embraced their last week in Grand Lake. We spent our Tuesday working again with Vicki Burton, installing, removing, and updating trail signs for mountain bikes in the Winter Park area. This project, called Trail Smart Sizing, is a huge undertaking by the Sulphur Ranger District to improve marking, maintenance, and marketing of the trails available to users. It was a successful day, installing three brand new, accurate signs, as well as taking steps to decommission user created trails. We also bumped into a local woman with her horse named Crackers and friendly conversation ensued. She also let the Shadow Crew pet Crackers, which was a highlight of the day for many crew members.
Wednesday, we set out to tackle some unfinished business. Earlier in the season, we attempted to crosscut nearly 17 miles of the High Lonesome Trail in a single day. Unfortunately, time did not permit, and we had to forgo cutting 10 trees.  Lucky for us, the section we couldn't do that day was close to the Monarch Lake Trailhead, and by lunchtime, 9 of the leftover trees were cleared from the trail. The one that was left had, well, some problems. Mary and Adam started cutting it, and about halfway through, noticed a surprising increase in bees fluttering around the saw. They stopped cutting, and Mary decided that she was going to try and kick the tree and run away from the bees. The top half of the tree came off, with some effort, and so did the bees (then, we all discovered they were wasps). RUN! We frolicked up the trail, leaving the wasps to make their home in a tree, now halfway crosscut in the middle of the trail. Lesson learned: make sure there aren't critters making their home in the tree before you open it up!
Thursday, we didn't run into any wasp issues! Instead, we ran into a lake, specifically, Columbine Lake. We hiked up to the cirque, and by the time we got there, we were ready to eat lunch! After we stuffed our stomachs full of trail snacks, we walked to a section of tread that needed to be rerouted. We worked in the area, decommissioning braided social trails and defining the tread on which the true trail. As our last day of "real" trail work with our crew, we took a lot of pictures to document the season (featured below).
On Friday, the whole crew, Amy and Kendra included, got together for a pot luck breakfast. We had blueberry pancakes, cinnamon rolls, watermelon, apple juice, and plenty of coffee.  The crew bonded over reflection of the past events of the summer in preparation to say goodbyes. We spent the rest of the day cleaning our houses. In the evening, we came together for one last Shadow Mountain Movie Night, a screening of Brother Bear, projecting off Adam's laptop upon the coffee table, as we all crammed together on the couches to see the screen.
Saturday morning, we jumped (slowly) into our cars, said final goodbyes to our homes, and made our way to Estes Park for one last week in the mountains.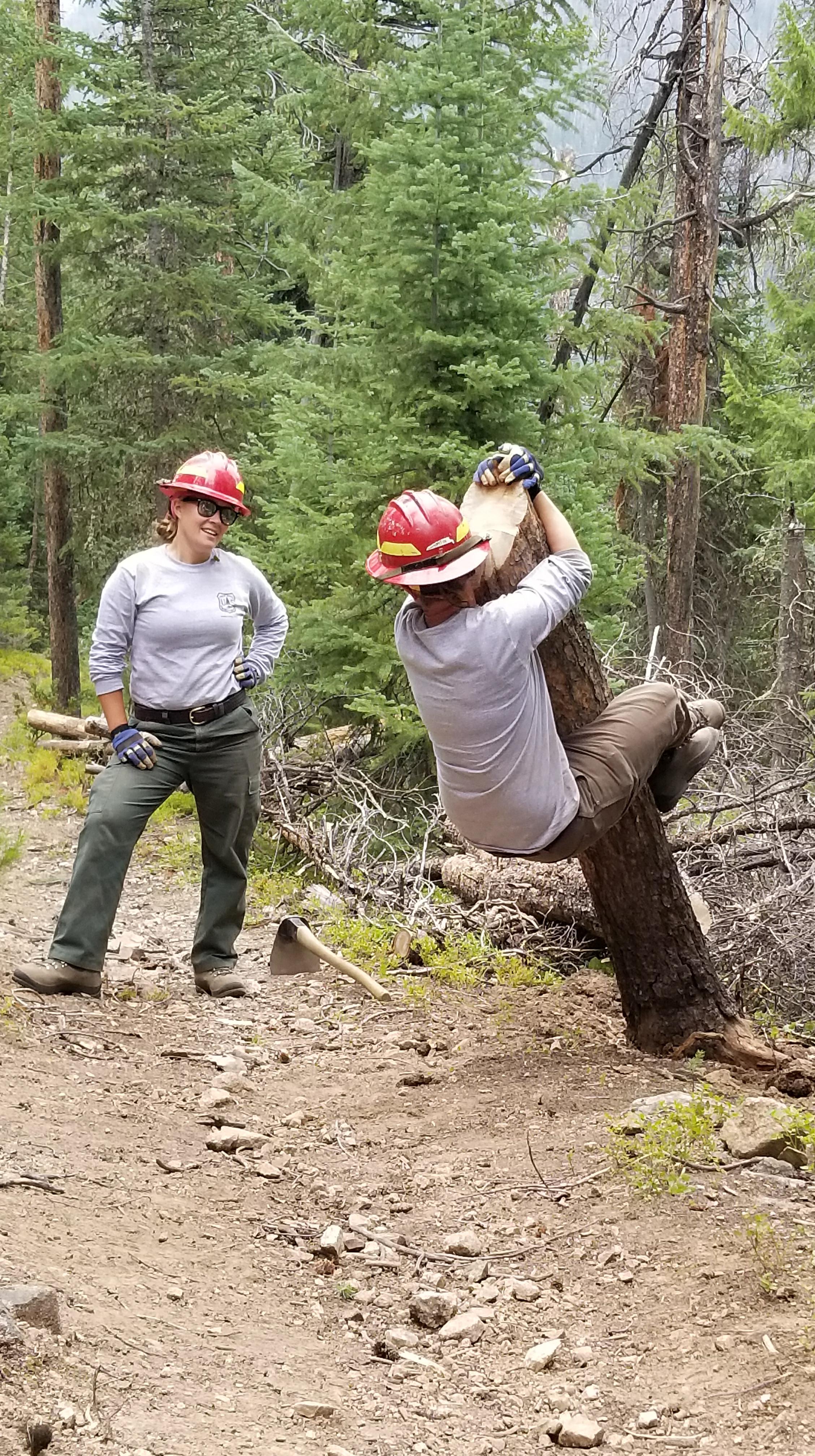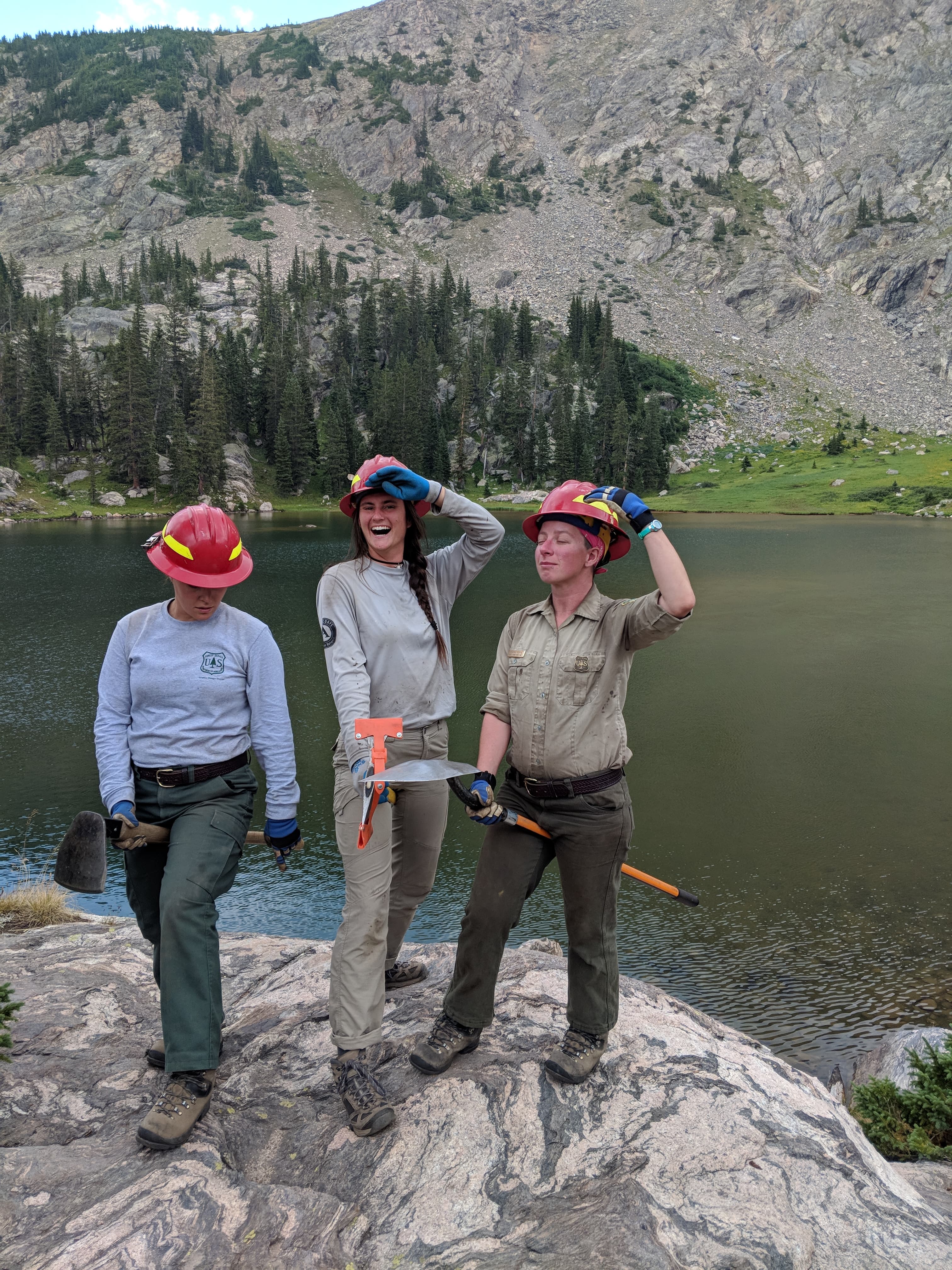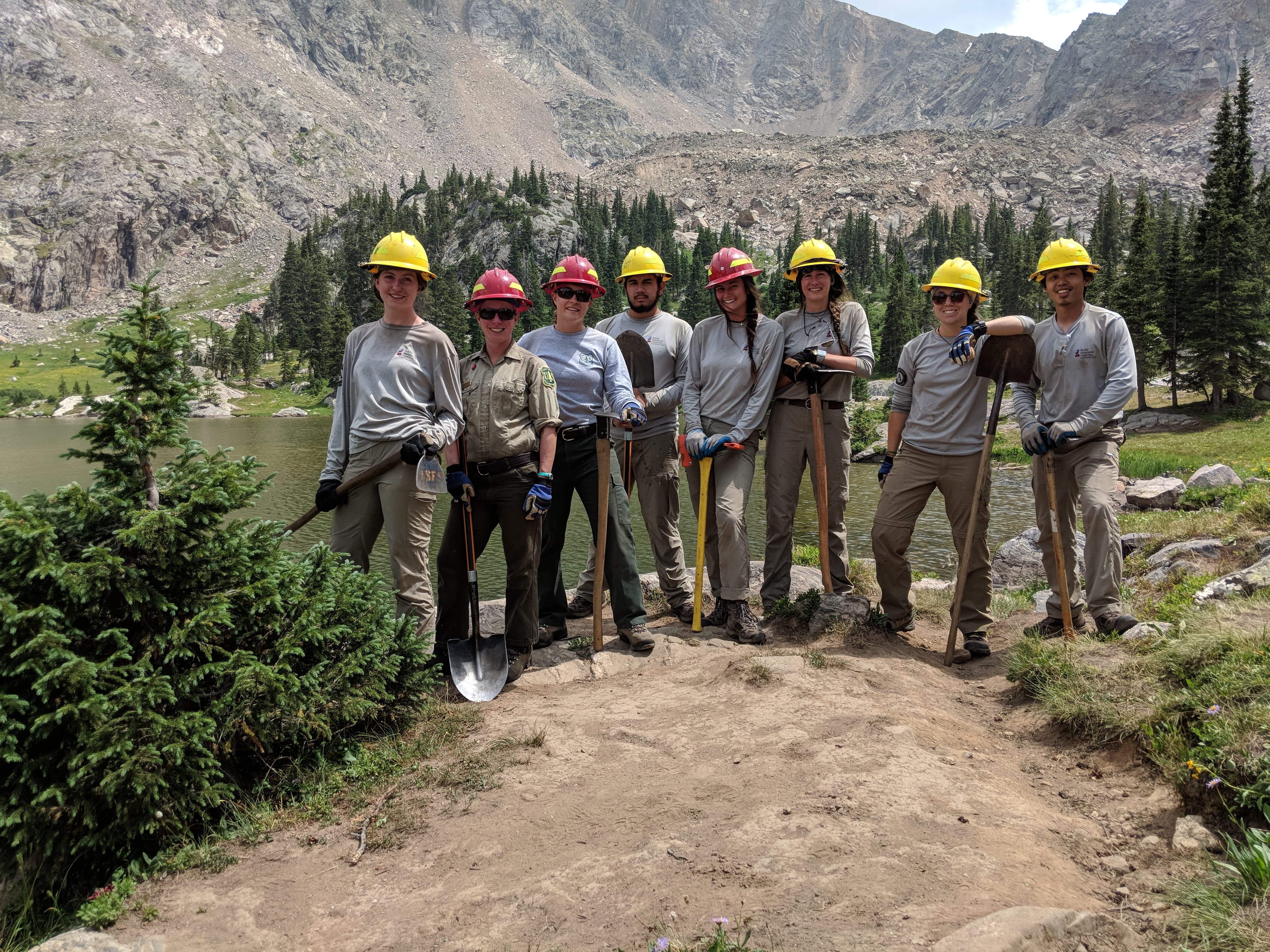 -Mary (Crew Leader)