This week the Shadow Mountain Crew backpacked across the 27 mile South Fork loop of the Williams Fork Drainage.  Led by the gung-ho Miles Miller armed with a chainsaw, Shadow Mountain Crew tackled over 200 downed trees on the trail.
The first day we started work on the South Fork trail, we carried crosscut saws, as we are not chainsaw certified.  We removed about 60 fallen trees from the trail that day.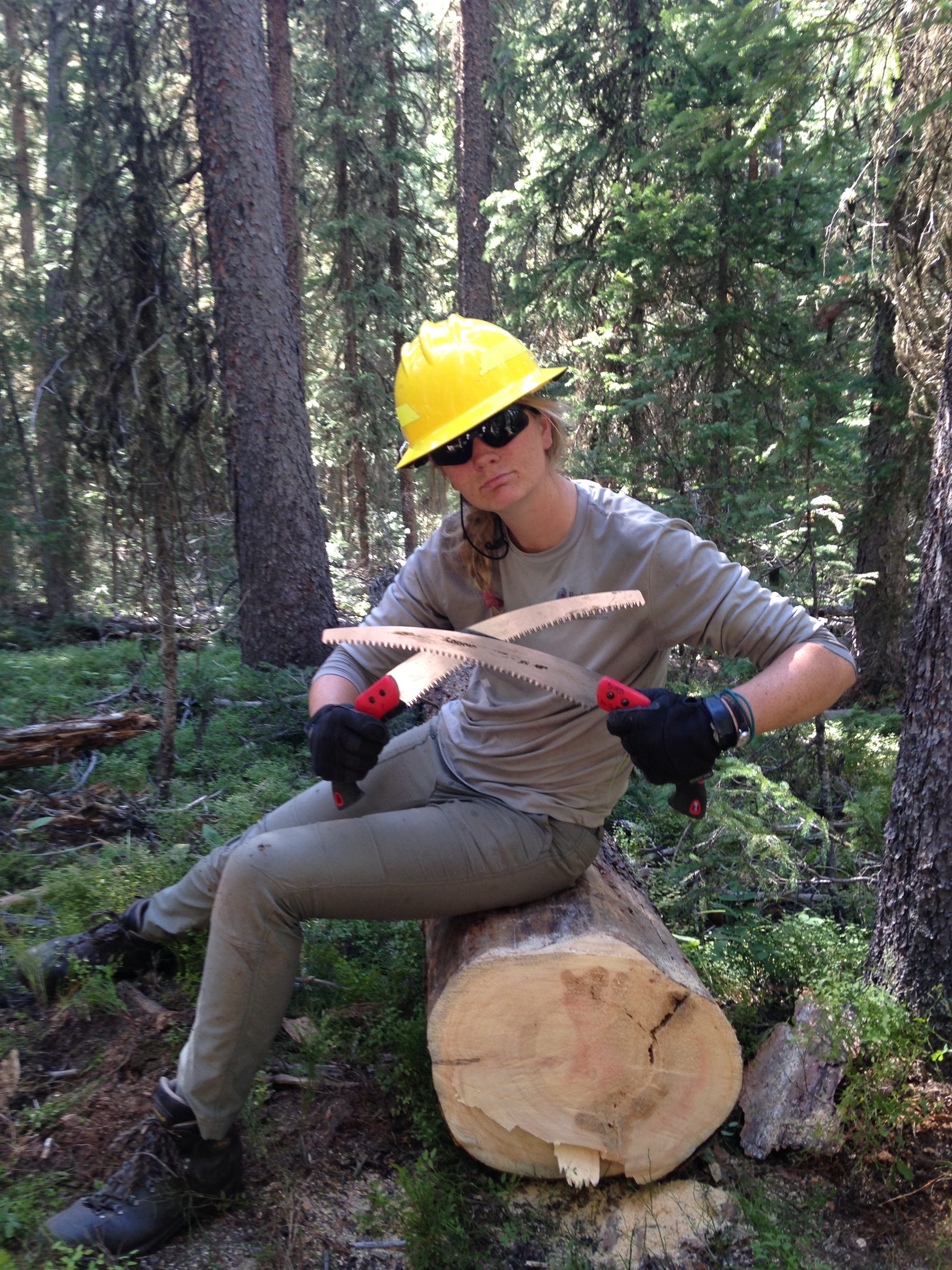 This monstrous tree bound our crosscut saw so tightly Ashley and Abigail had to free it with nothing but their Corona hand saws.
The second day we covered much more ground and removed many more trees.  Miles Miller was equipped with a chainsaw and our llamas carried some of our camping equipment, which allowed up to move at a quicker pace.  After a long day of hiking, digging drains, and bucking trees we had traveled about eight miles and set up camp near a gurgling stream.
On the third day of our hitch, we hiked about another eight miles.  We started on the South Fork of the Williams Fork drainage and after traversing a few ridges ended on the Main Fork drainage.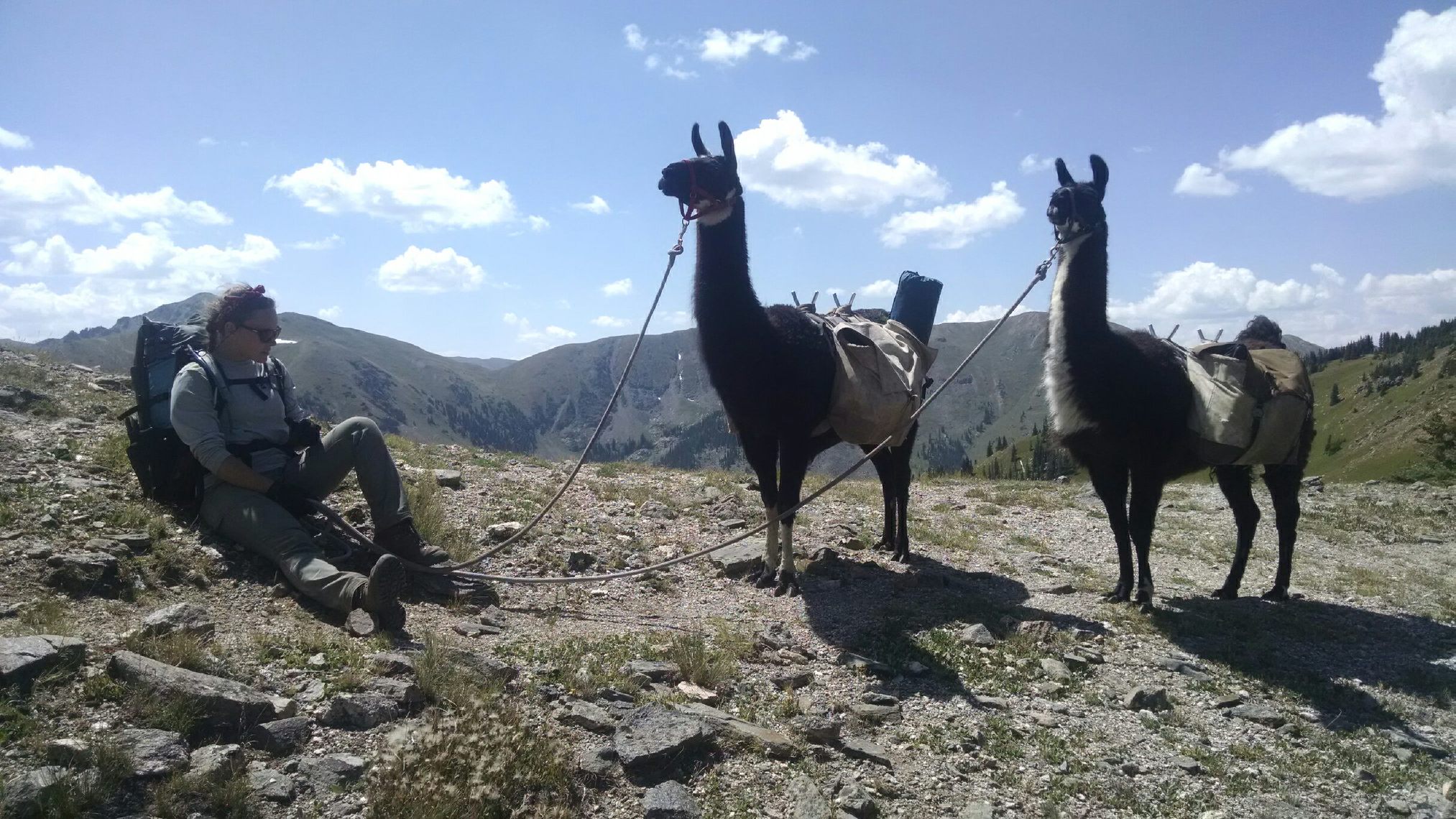 Amy letting Two Socks and Oreo rest at the top of a steep hike.
After climbing up our first ridge of the day we break for lunch and watch hundreds of elk in the valley below us.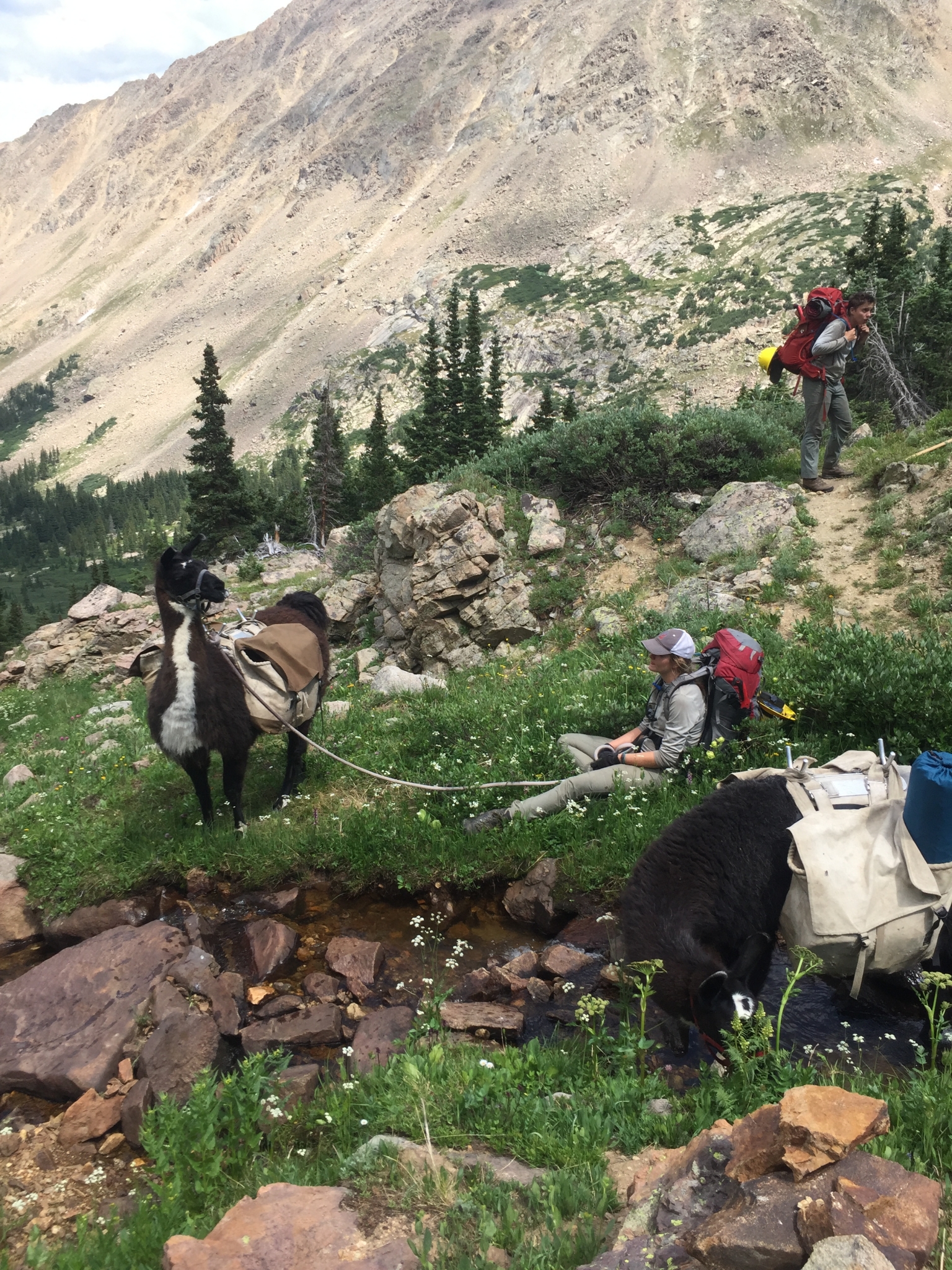 Nearing the end of a long work day, Ashley sits near a creek letting the llamas drink.
The final day of our hitch may have been the roughest day of the entire season.  We got an early start on the trail knowing we had to cover over ten miles in order to finish the trail.  As we struggled across the many stream crossings, no pair of boots escaped the cascading, frigid waters.  After only working for a few hours we lost the trail at a river crossing.  We scattered to find the trail and stumbled upon what we thought may be the trail although it appeared to not have been maintained or used in many years.  With some doubts we continued to follow the ever-confident Miles Miller as he cut through one hundred fallen trees.  Some time after lunch, in the pouring rain, Miles Miller succumb to the doubts that we may not be on the real trail.  Again we scattered to find the real trail.  After vigorous searching, Amy found finally found the trail and John found a safe way for the llamas to get down to the trail.  Once we were all walking on the actual trail, we still had many fallen trees to remove.  With soggy feet, soaking pants, and shivering cores we persisted through the pouring rain, removing tree after tree.  At 7:30pm joyous screams echoed around the mountains as we finally saw our trucks parked at the trailhead.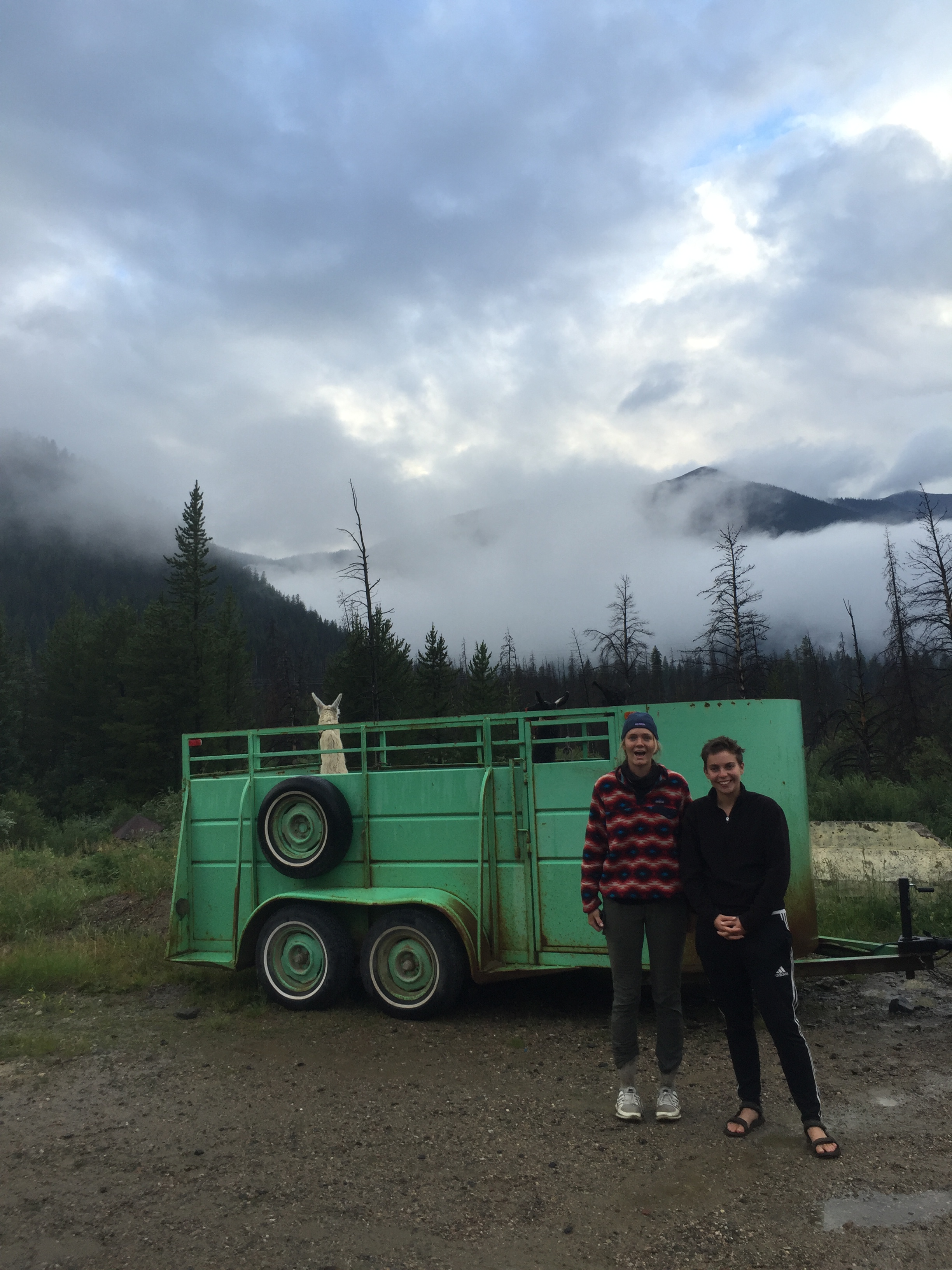 Izzy and Ashley ecstatic to have dry clothes and looking forward to warm Chinese food from the one and only Pearl Dragon (which ended up being closed when we finally arrived there).
Although we faced many challenges our last day, our crew stuck together and maintained calm, positive attitudes in the face of fear, stress, and discomfort.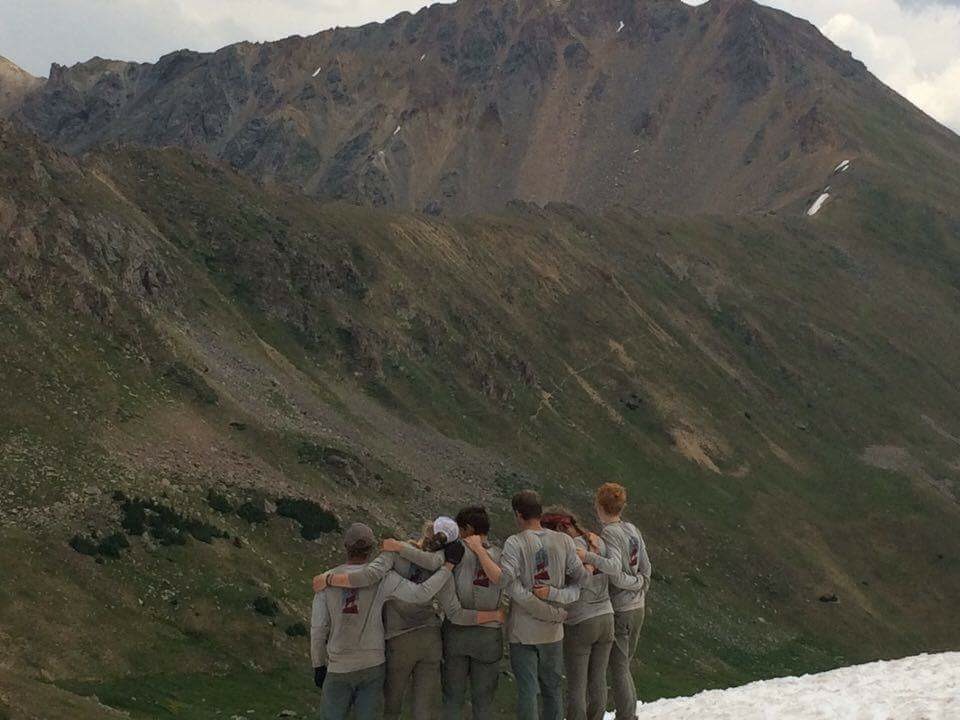 -Abigail Bearce, Shadow Mountain Crew Leader of our last week
For our final week in red feather are crew got the opportunity to work on a variety of different trails,and see a lot of cool country. It was a bitter sweet experience knowing that are time in red feather is up but it was definitely a good week to end on. We had a lot of fun and got to see a variety of unique things such as this massive pine tree that crew member Diana and crew leader Grant are hugging.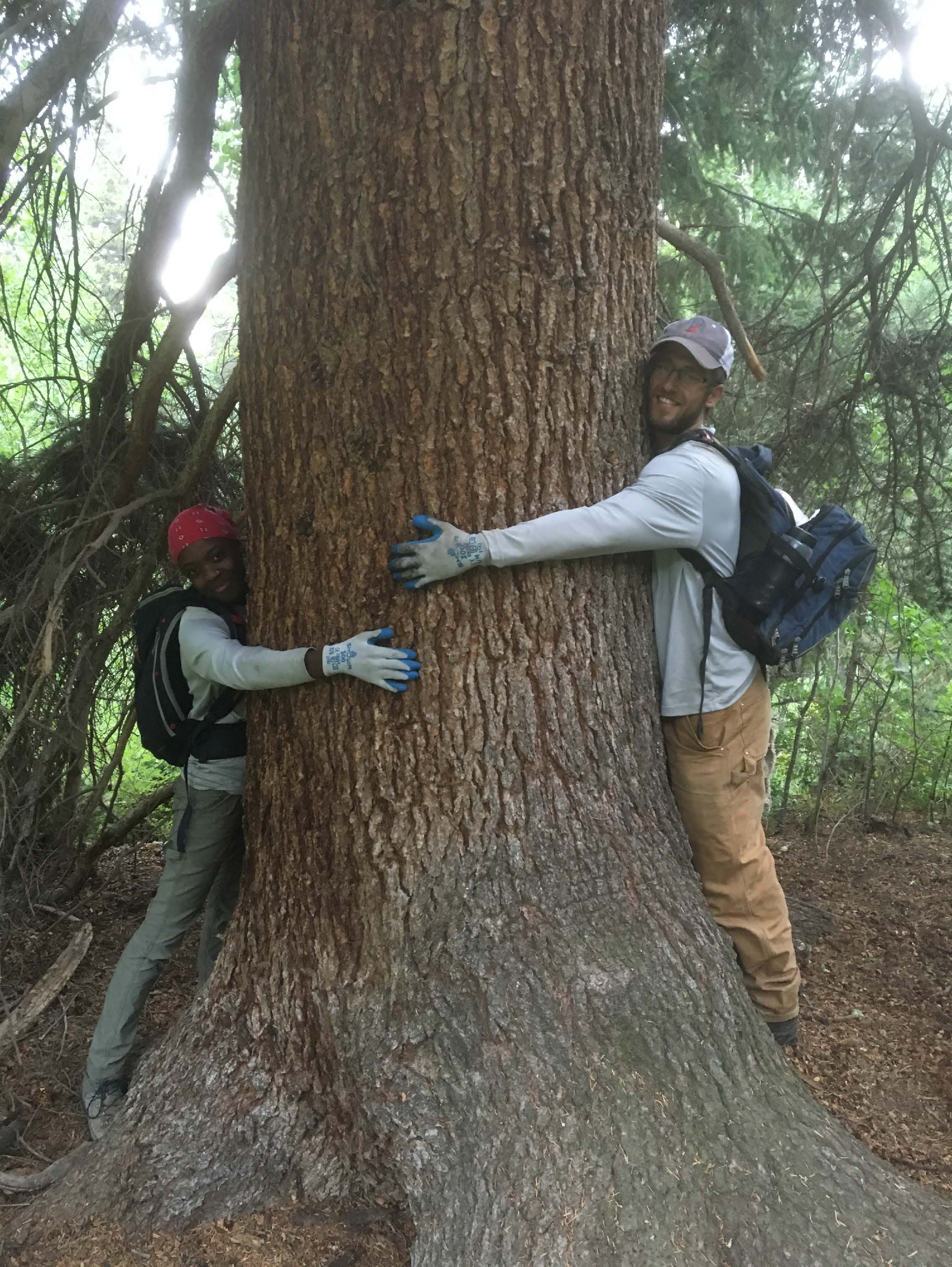 One of my favorite things this week was having lunch above timberline on Montgomery pass. We were blessed with great weather and a fantastic view, which made for a very enjoyable lunch, and a nice brake from trail work. Helping to put everyone in a great mood as you can see in the picture above with Sabrina posing on a rock.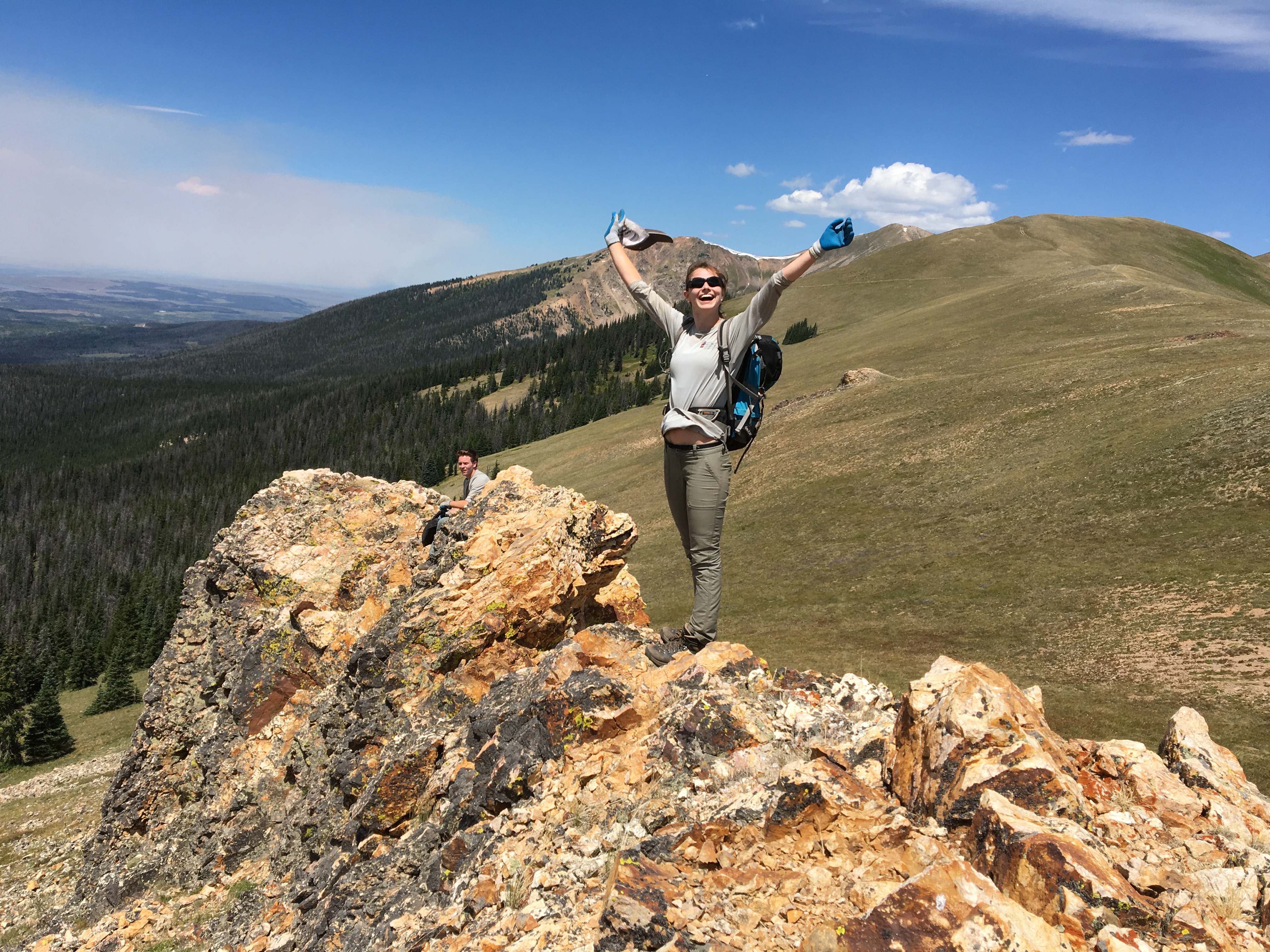 For one of the last lessons of the year I got to tech my crew members my lesson on fly tying. Each member of the crew took terns tying there own fly to take home. Everyone did surprisingly well for there first fly tying experience but the true natural of the group was Sabrina who tied a nearly perfect streamer on her first try. Although it might not have been the most exiting lesson every one stayed interested by playing with feathers, as you can see on Arin's face.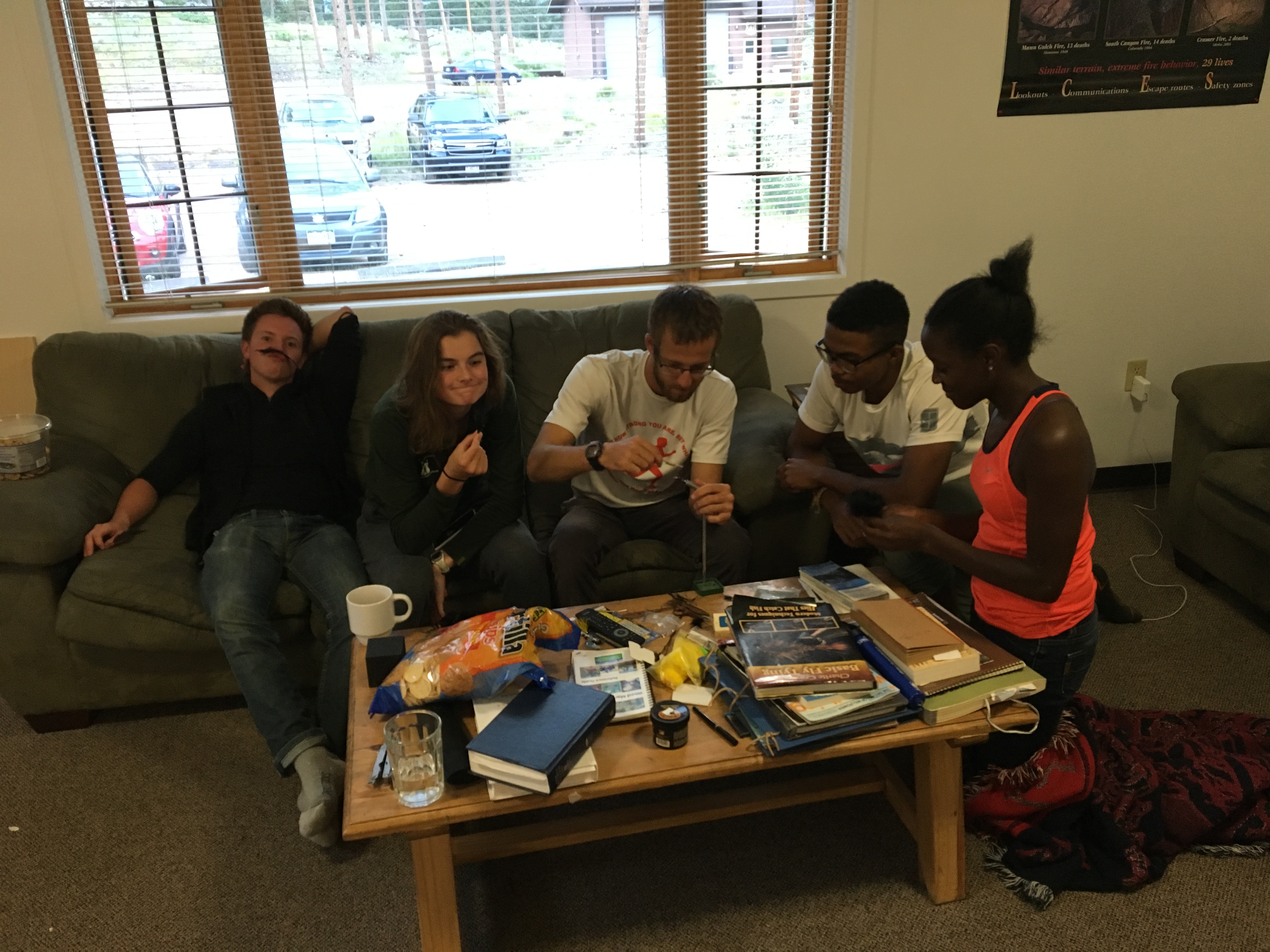 It was sad to see our last week at red feather fly by, but we had a lot of fun and enjoyed it down to the last minute. We all were very great full for the experience, and the memories we made together will last a lifetime. Throughout the summer we were all brought closer together as friends, and for me it was one of my most memorable summer's ever.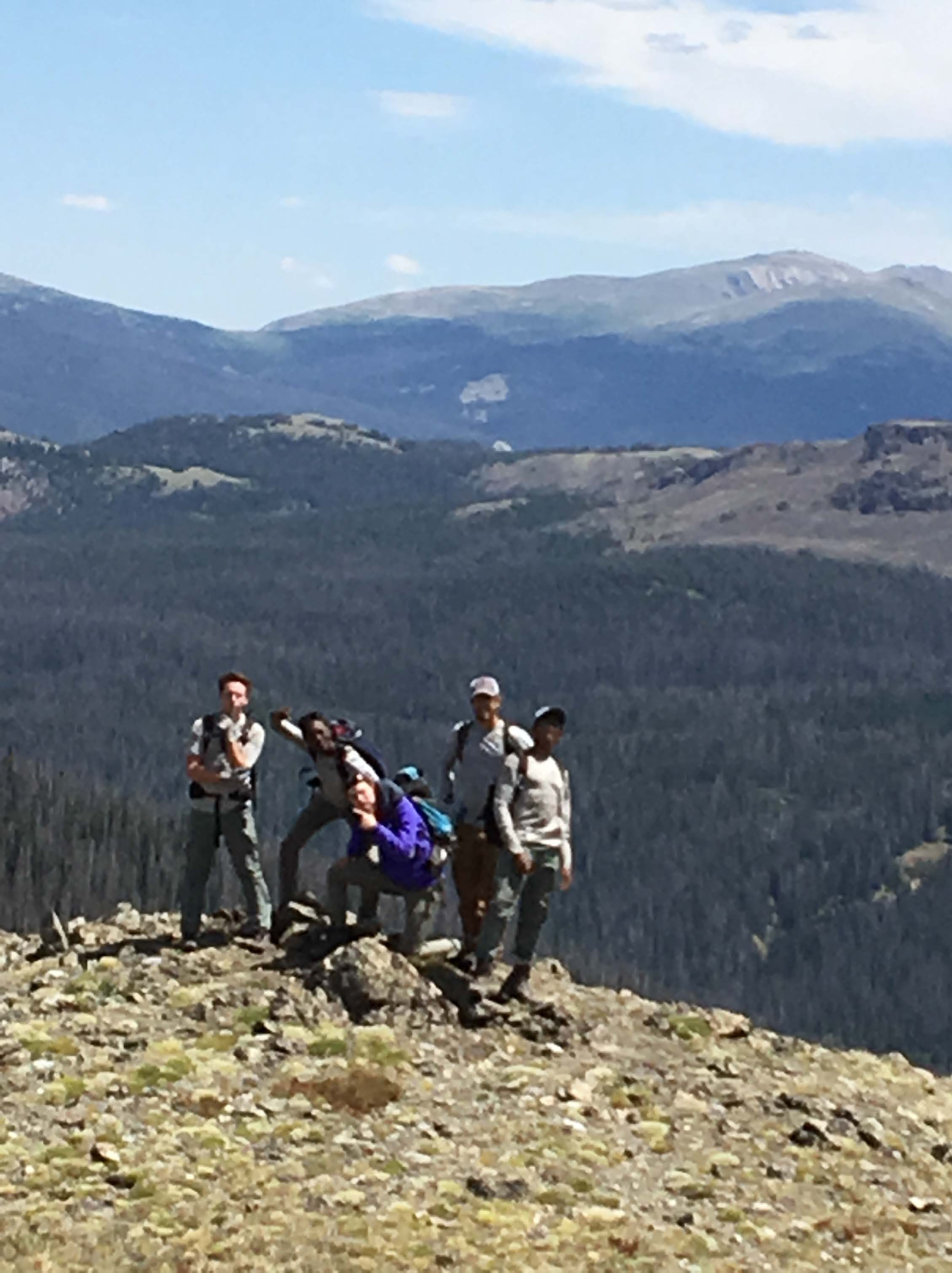 -Wyatt Johnson, Red Feather Crew Leader of the Week