Shadow Mountain Crews:
For our last week, the Shadow Mountain crew hiked the South Fork loop, a 26-mile-long trail that took us up and down the mountains multiple times. It was the most challenging hike we had been on yet. Even in the superb hiking condition we were in after a summer of hiking and hard work, it was still a challenging and rugged trail to hike.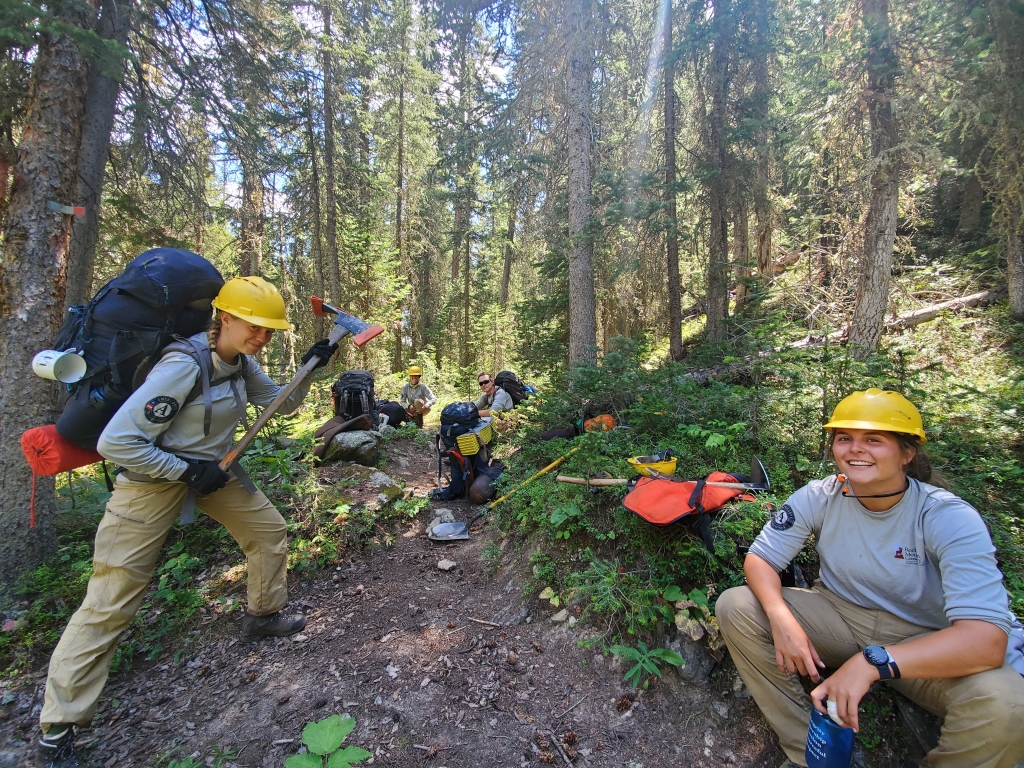 The first day consisted of some sawing, brushing, and digging drains as we started to count off the miles and gain some slight elevation. There were numerous stream crossings that used to have bridges, but which had washed out years before. A couple folks half fell in on the first one. but luckily, Amy was able to jump in and save them, and their gear stayed dry. That night after dinner, we went panning for gold with Miriam's cooking pot and somehow managed to find one small grain.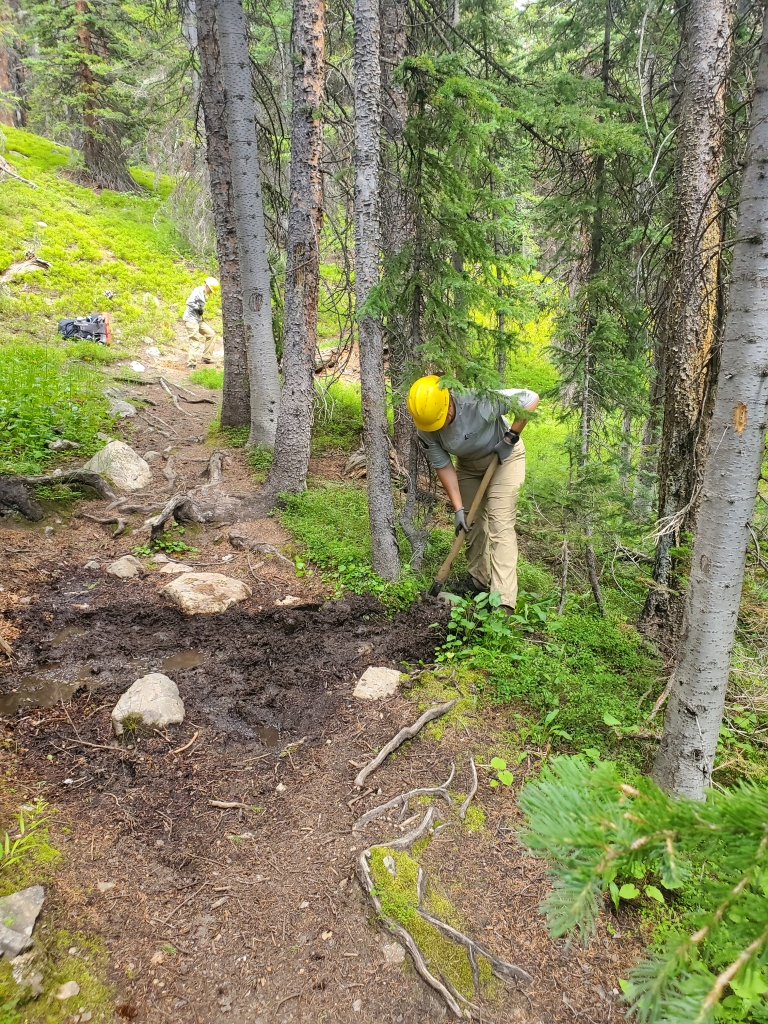 The second day was the most grueling of the week. We climbed up the mountain to the alpine and crossed over it, giving us a total of about 10 miles that day. We started with some sawing and drains but ended with just trying to get out of the alpine and back below treeline before dark. We managed to find a camp at about 7:30 and quickly ate supper in the dark, going to bed soon after. As difficult as the day was it was extremely beautiful and remote. The views we got from the top were unbelievable and the hike was out of this world. We worried about the llamas a couple times, and more importantly we worried about Allie who was walking them on some steep terrain, but her expertise showed, and all got safely over the mountains.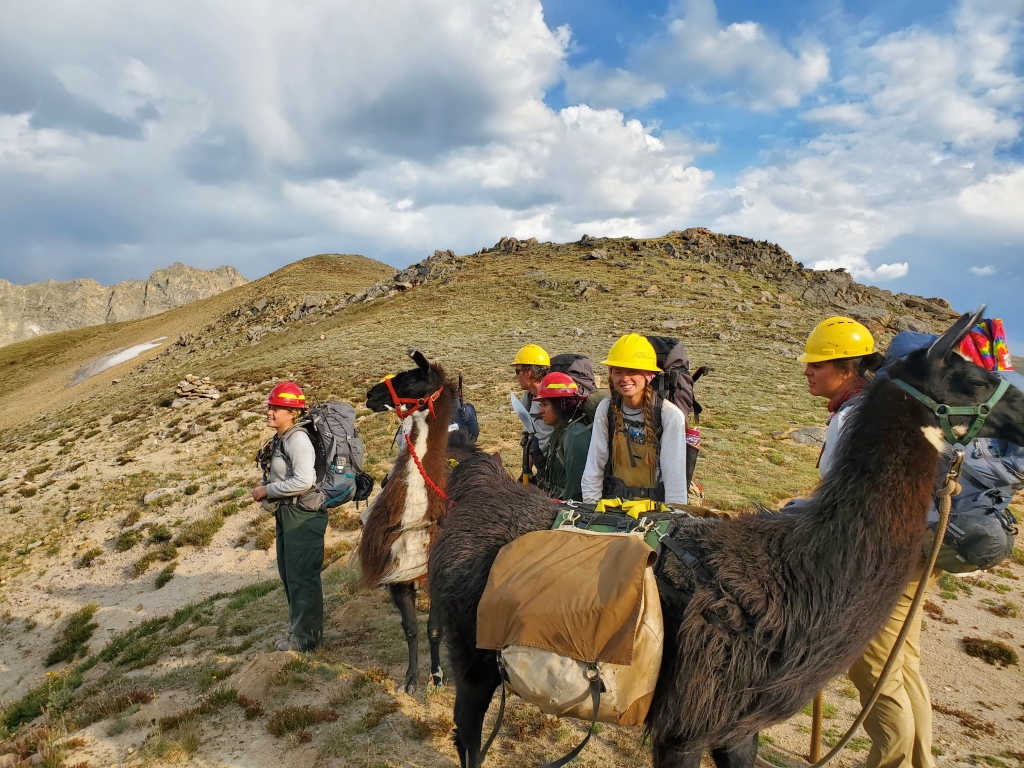 Day three we slept in a little to recover from the previous day, but soon enough we were back on the trail digging drains, brushing, cutting logs, and putting more miles under our belts. Nice enough for us, the last two days were a steady downhill hike through the valley that was not difficult at all. We still got plenty of awesome views of the mountains and some of the mining history of the area.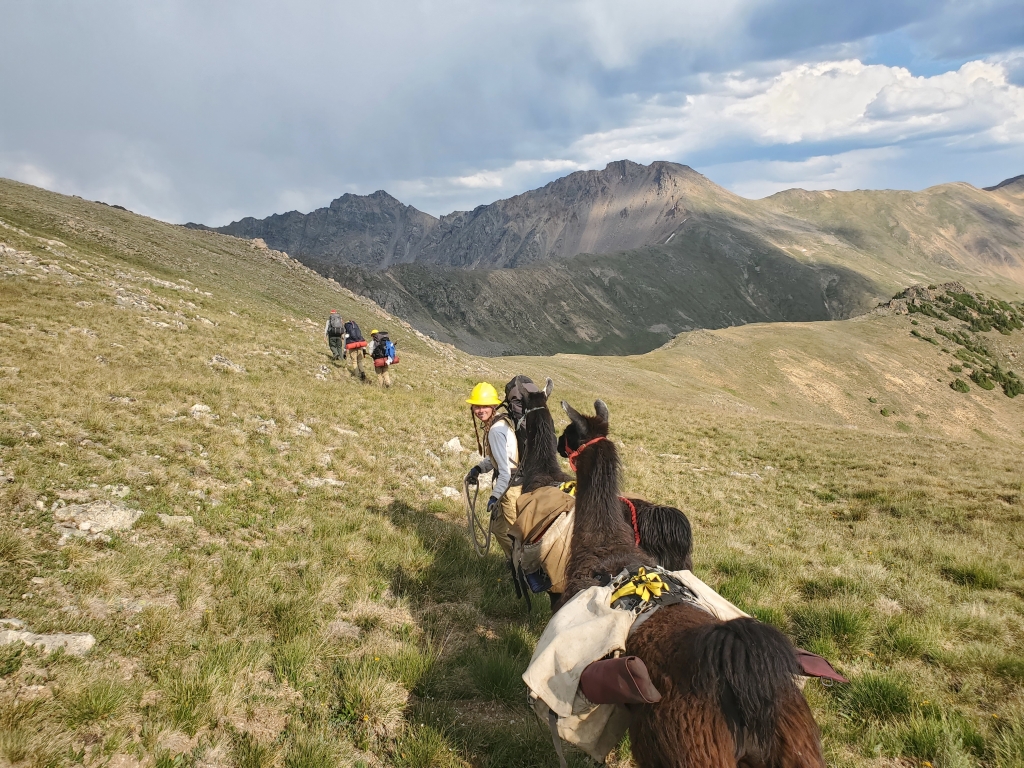 The fourth day, our last workday, we booked it out of the valley, finishing up the 3 or 4 miles we had left. Once we got to the trucks, we noticed that the great conveyor belt was moving and most importantly conveying product. It was very bittersweet, but everyone had a great day. Back at the village we did our final tool clean up and said goodbye to the llamas. Just before we all said our personal goodbyes, everyone got cool Leatherman's as a parting gift. With heavy heart's and lots of emotions we said our goodbyes and left the village for the last time. I want to thank our Forest Service friends for making this summer spectacular, and my Crew for making my job easy and for being the awesome the crew they were.
Thanks everybody for making the summer so enjoyable!!!!!!!!
Boulder Crews:
This week Sophia's crew (which includes Natalie, Josh, Jenna and Felix) set out on their third week of backcountry hitches! Everyone was eager to complete this project and savor one last week in this beautiful place we have been lucky to call home for some time now. Monday, the crew backpacked in to where we stashed supplies from last week and began getting things in order at base camp. Afterwards, we completed the hike to our worksite and began working. Gus (our field coordinator) came to visit, spirits were high, and the crew decided to "ski" down a big sheet of snow back to camp!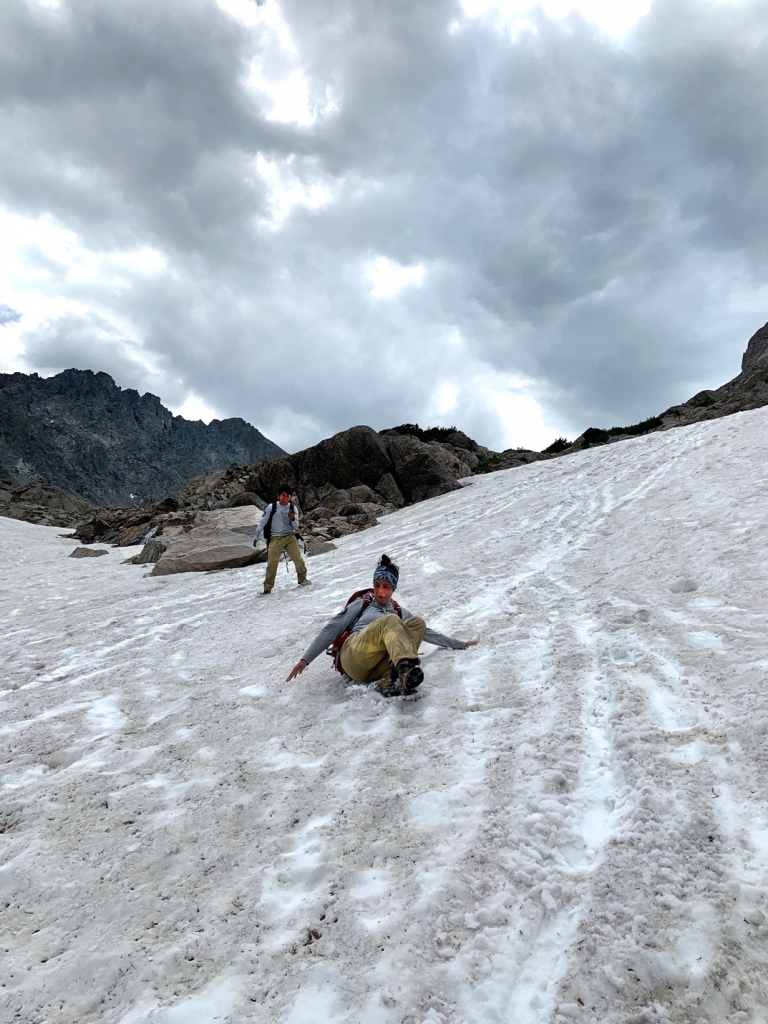 Natalie then prepared dinner for everyone – burritos! After enjoying our meal, some of us hiked up a short but steep hill behind our campsite to watch sunset. There was a gorgeous rainbow as the sun turned the clouds bright pink. What a lovely beginning to the week!
On Tuesday work started at 6 A.M. as we began the scenic hike to work comprising views of pastel sunrises reflecting on the still lake surface, wildlife sightings, and a large variety of brightly colored wildflowers lining the clear-running stream of water. We continued our work of building a trail through the talus field and spent the day building rock steps. We are rerouting the trail to Isabelle Glacier to protect the vegetation beneath the talus. It's feels good to be involved in such rewarding work! After work, Felix cooked us his signature "pineapple pasta" that is (surprisingly) delicious, and we all gathered to eat, chat and watch the sunset once again – (some of us vowed to watch every sunset for our last week here in this magical place).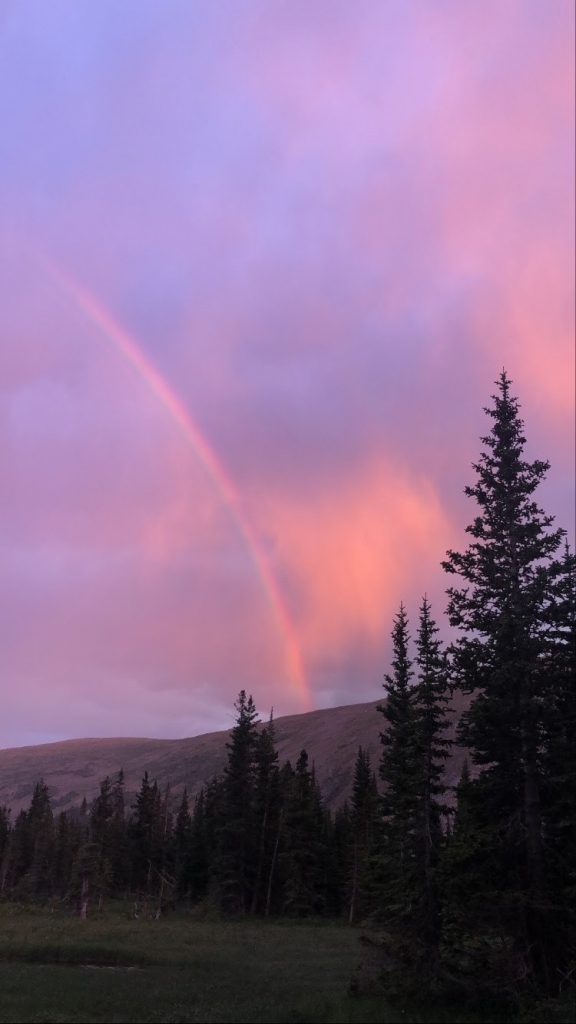 Wednesday's work agenda included a hike to Isabelle Glacier! Many of us had never seen a glacier before, and we were excited to cross another thing off our bucket list this summer. Afterwards, we hiked some tools and gear back to the work vehicles since we were going to have a big load to carry out the next morning for our last day. Toward the end of the hike back to camp, we stopped and dipped our tired feet in the refreshing cold stream and watched, for one last time, the sun slowly set over Isabelle Lake.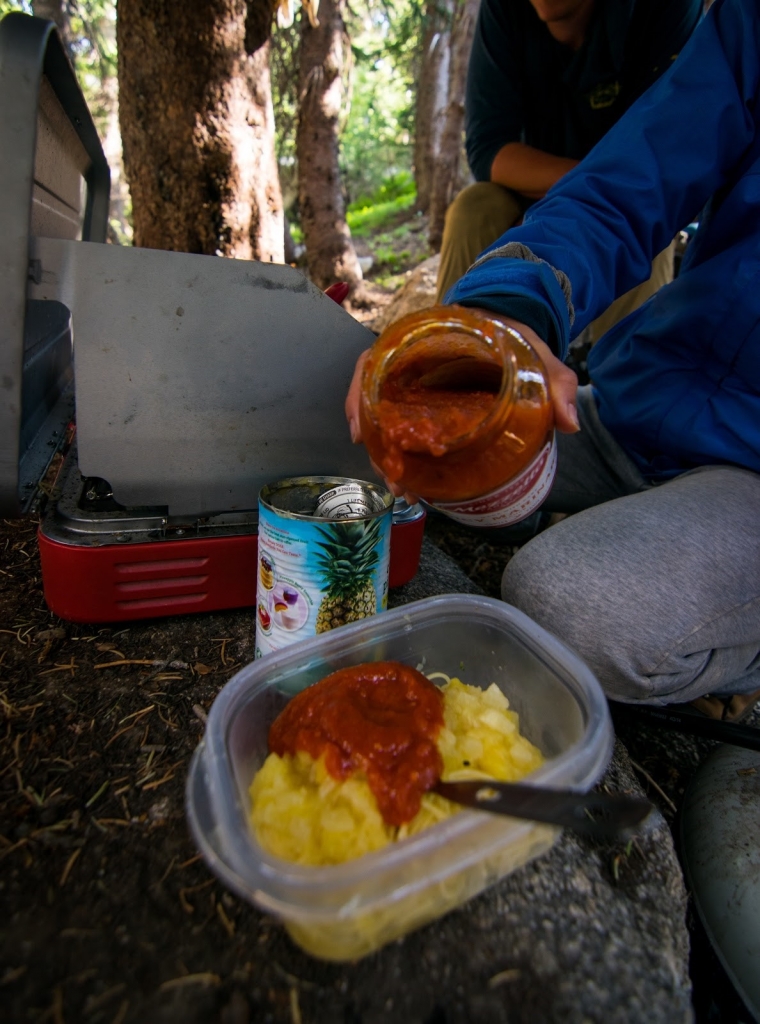 We slept in on Thursday morning and began packing up base camp. We ate our individual breakfasts after (unsuccessfully) attempting to make pancakes. Thankfully we still had plenty of food for everyone and we were all able to enjoy one last family meal. Also, we were all happy to learn that we had built over 350 feet of trail throughout the last 3 weeks!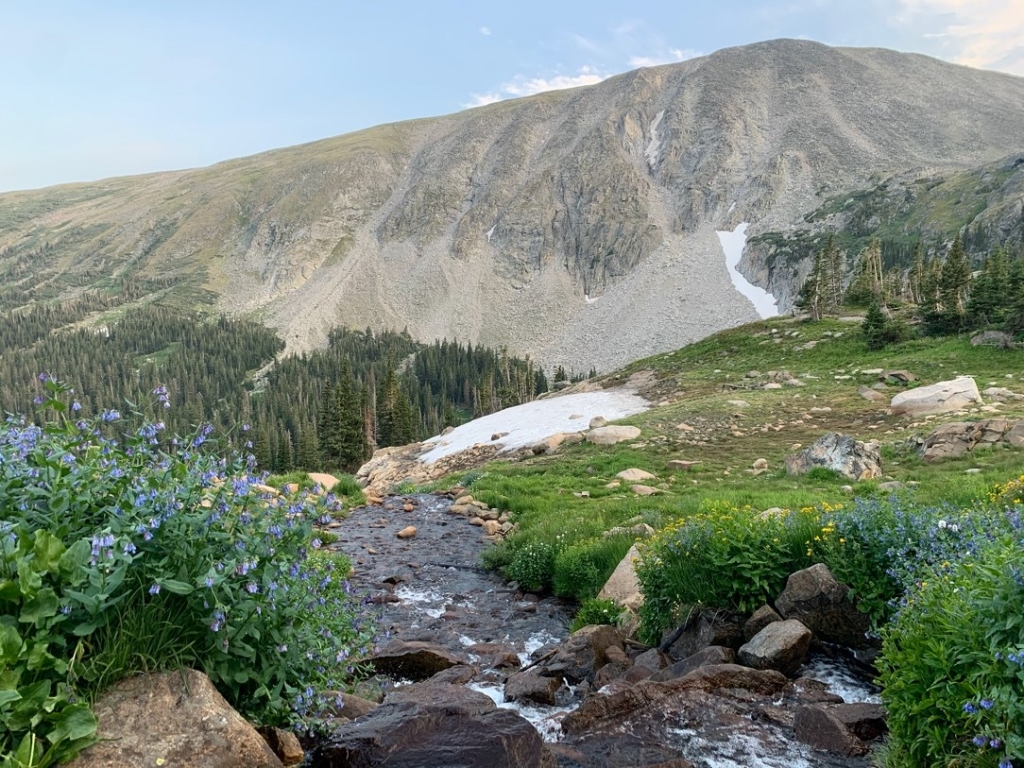 We stuffed our backpacks and arms full of gear/tools then started hiking out our heavy loads. We said our final goodbyes to our partner organization for the last 6 weeks, FRCS, then drove back to Kelly Dahl where we met up with the other Boulder Crew. Due to responsibilities he has at home with his university and job, Josh had to leave a week early and we were all sad to see him leave. Both crews gathered to say goodbye and give hugs.
After Josh's departure, we all grabbed takeout food in town then had a picnic by the reservoir to reminisce and plan our one-year reunion. We truly have become a family unit.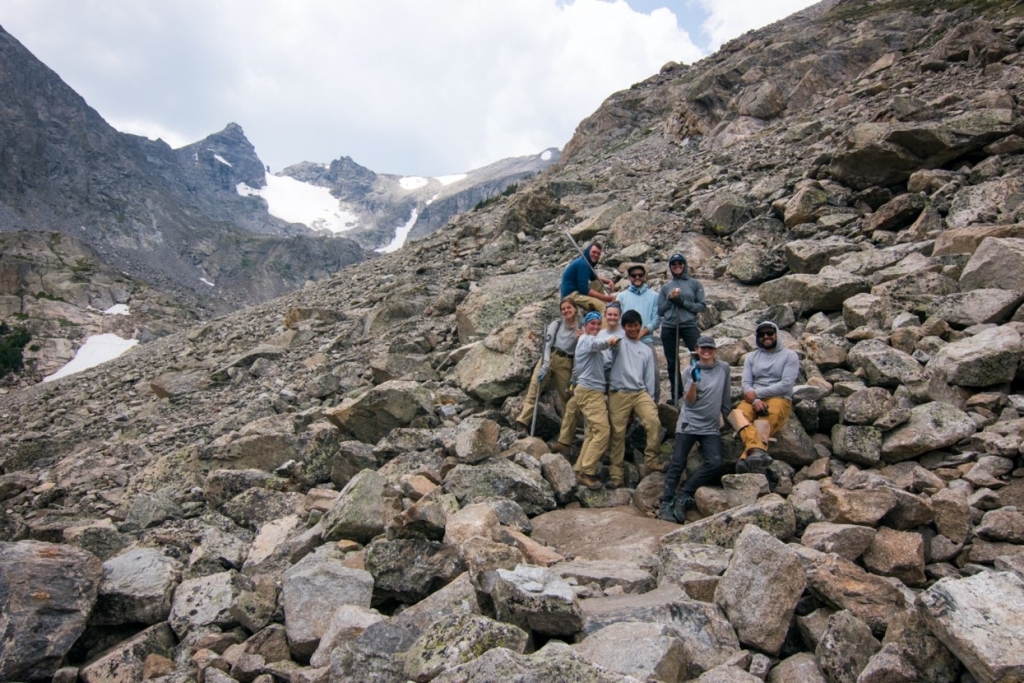 We all used Friday morning/afternoon to rest and recharge, then set out on an adventure that night. We drove to a campsite near Rocky Mountain National Park. Alarms rang at 3:30 A.M. on Saturday morning and we began the long 15-mile day of hiking and summitting Otis, Hallett and Flattop peaks. The hike included "skiing" down Andrew's Glacier and swimming in the glacial lake! We were all so happy to be outside and exploring.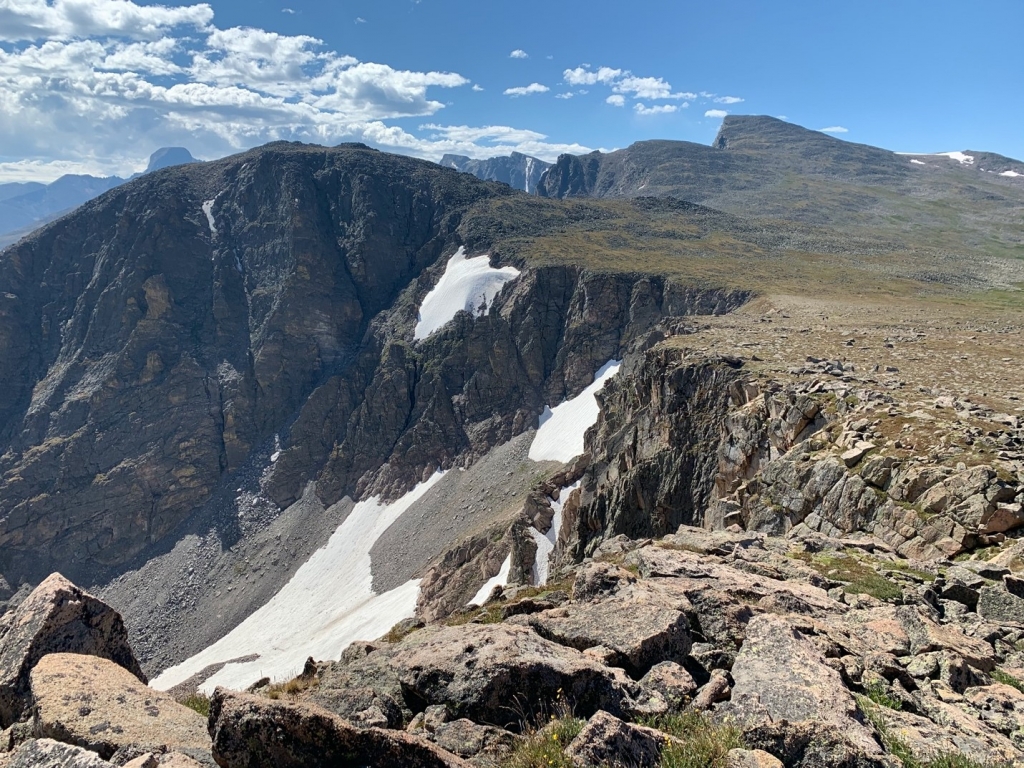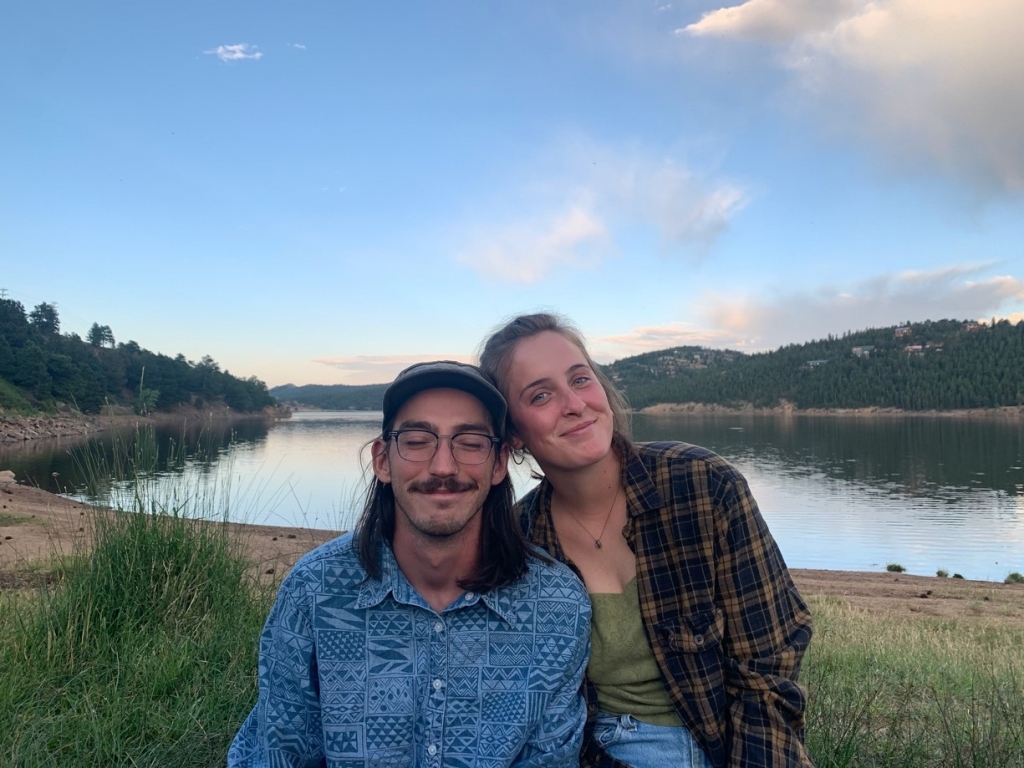 After the hike we stopped in Estes Park to grab Nepalese food and ice-cream. A perfect ending to our second-to-last week here together.
With love,
Fern and Natalie (Crew leaders of the week)