Shadow Mountain Crews
This week the Shadow Mountain Crew went on a surprise backcountry hitch. We were informed a couple days before hand that we were all going to go back to the Bowen Gulch trail to do intensive rock work. Once again the hike up the trail was steep and difficult, but now that we are all in better hiking condition we got there faster than we did last time and had enough time to have a demo rock check dam built so everyone knew what they were going to be doing the next couple of days. After dinner the first night, a couple of us went to explore an old mining site nearby and found a bunch of very cool crystals up on the mountain side. The following night we went back with most of us this time and climbed up the mountain as well only one person made it to the top but most of us made it about ¾ of the way up the 12,000 foot mountain. We all had a blast sliding down the scree on the mountain side though and made it down much faster than we were going up.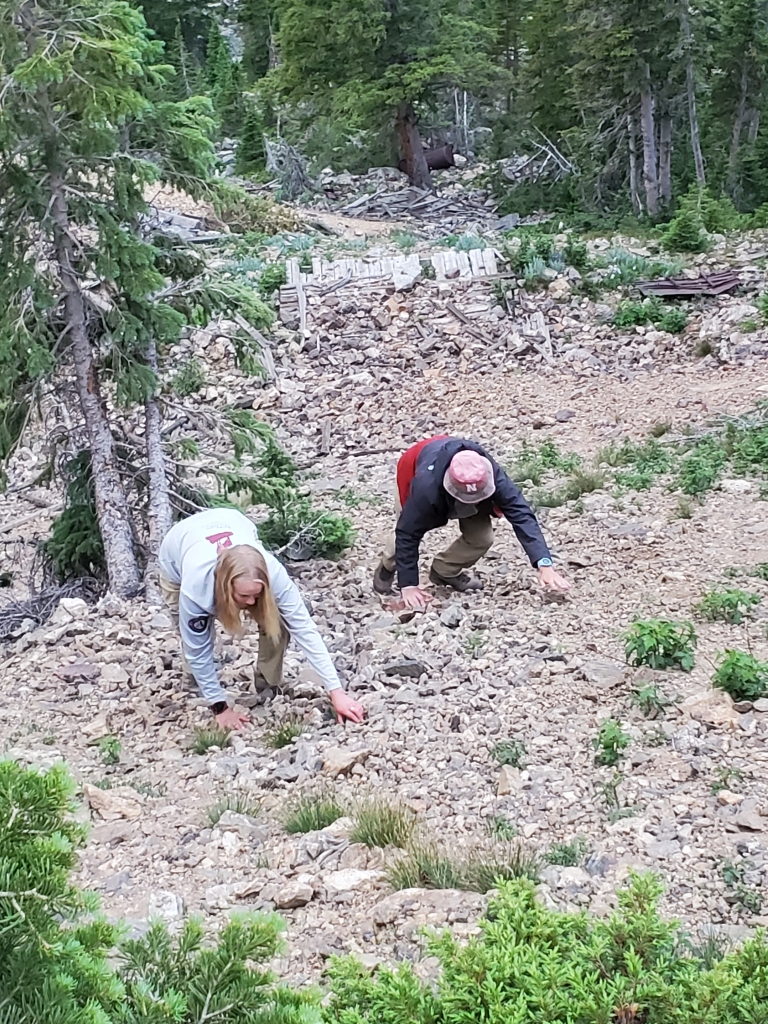 Over the course of the week we made many rock structures and drains. We also saw multiple moose. One even had a young moose calf with her, we made sure to keep a large distance from all of them. We also got to work with Andy this week which was super cool and we all had a fun time working with him. He is an intense man but very funny and it didn't take long for us to all feel comfortable cracking jokes.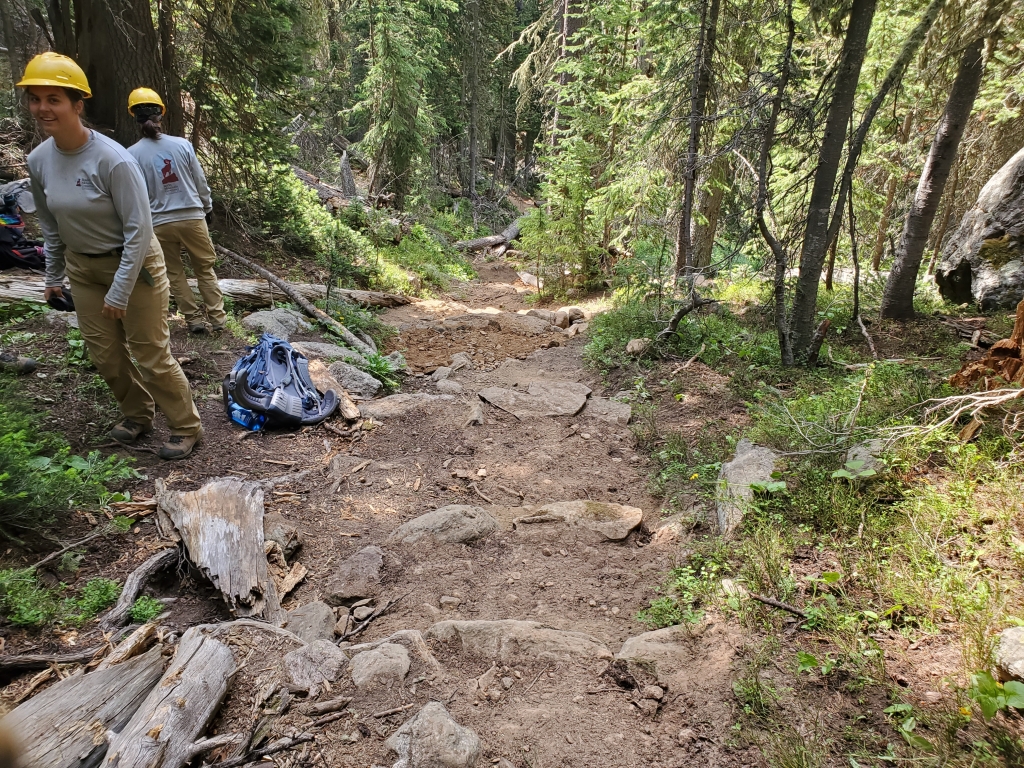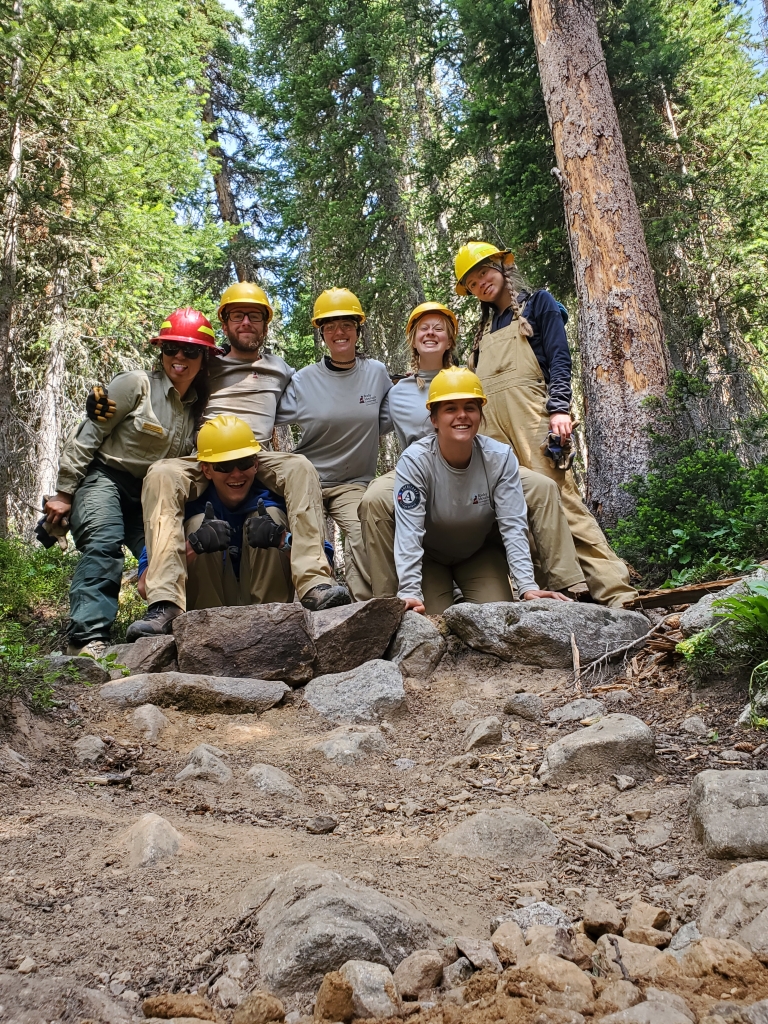 After work on the last day we climbed up a mountain pass to get a good look all around and enjoy some different scenery. It was super windy at the top, so we did not spend much time, but it was a great motivator to finish up the next day. When we hiked out, we ended up taking a ton of trash as well that was cached as an old hunter's spot. We all felt very accomplished carrying all the trash out of a wilderness area.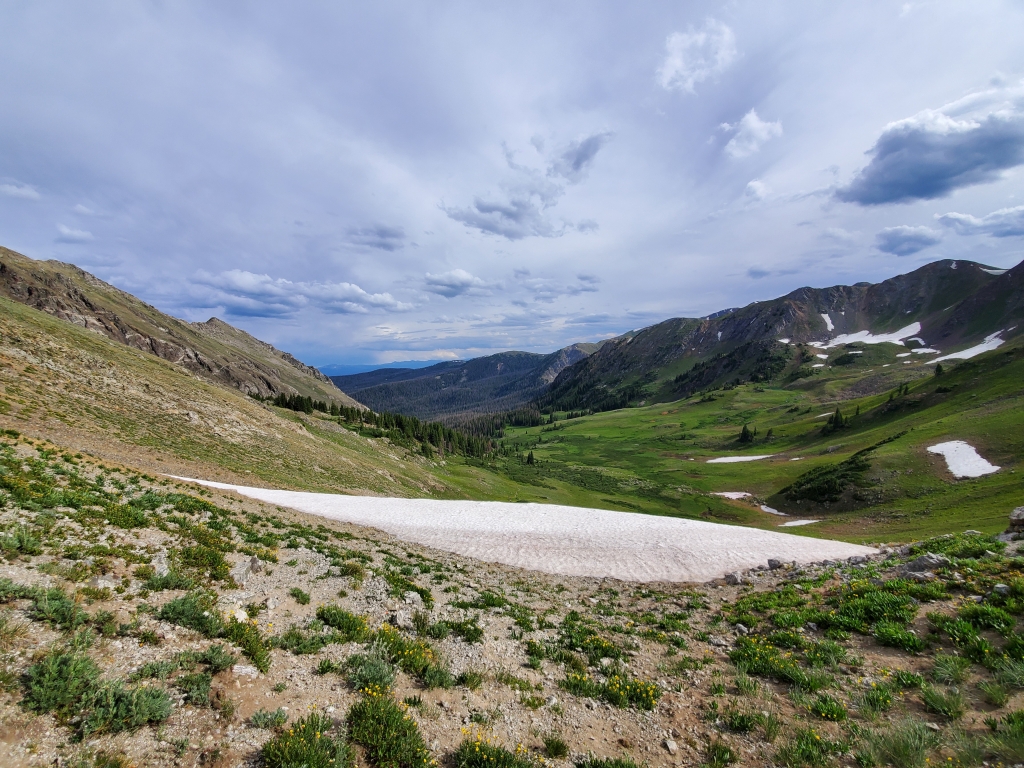 -Liam, Shadow Mountain Crew Leader
Boulder Crews
In an unprecedented series of events, the two Boulder crews reunited for this week of work! The site was Upper Dream Canyon, a relatively low trafficked climbing spot with towering cliffs overlooking a thunderous creek. Sophia's crew, partnered with the Front Range Climbing Stewards, had been working at this location for the previous two weeks. Together they had transformed a small boulder field into a magnificent staircase. Easily hike-able and incredibly durable, this project was a feat in and of itself. When Nathan's crew arrived to help, we were amazed by the quality of construction as well as the sheer size of the rocks being moved. Nothing at Arapaho pass could even compare to these rocks. New tools and new teachers greeted us with energy and excitement. On Monday we worked hard. While Sophia's crew of Josh, Jenna, Felix, and Natalie continued to build technical rock features, Nathan's crew of Leah, Logan, Cait, and Fern collected material to build "junk walls" to control off-trail erosion. It was a backbreaking day hiking up and down the staircase, 60 pound rocks in hand. However, we kept the positive energy alive!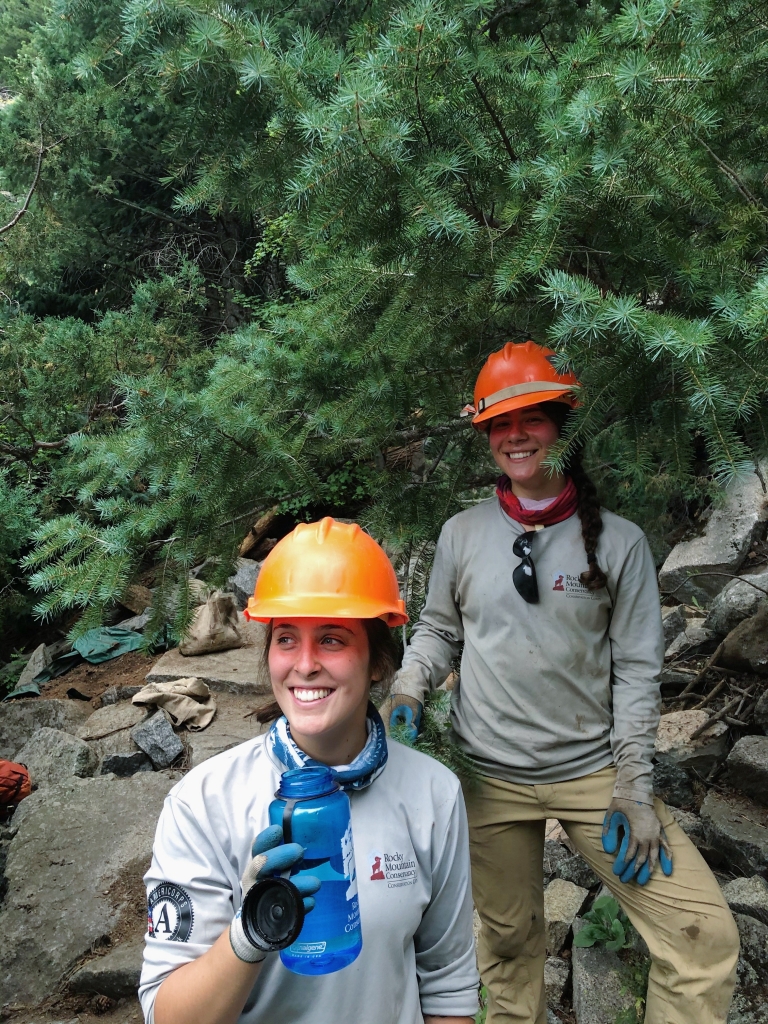 Fueled by encouragement, strong teamwork, and a powerful stretch circle, we all powered through on Tuesday, Wednesday, and Thursday. It's amazing what an extra set of hands can do for a project like this! The crews split in four groups that included: material gathering for the junk walls and crush rock, the actual act of crushing rock into the staircase crevices, drilling rock for future projects, and final closure of the previous trail. On Tuesday we continued junk wall construction as well as a few smaller projects. Leah, Nathan, Josh, and Cait worked with Emma from FRCS on quarrying rocks for next year's staircase project. This work was unlike anything we'd ever done before. A large generator-powered rock drill was used to drill deep into refrigerator-sized rocks. Specialized chisels called wedges and feathers were hammered into the holes to easily split the rock. Next year these rocks will be used on another Dream Canyon staircase, which will hopefully be constructed with some FRCS/RMC teamwork! Final touches consisted of spreading dirt over the crush rock areas and sweeping dirt off the main steps to eliminate slippery surfaces.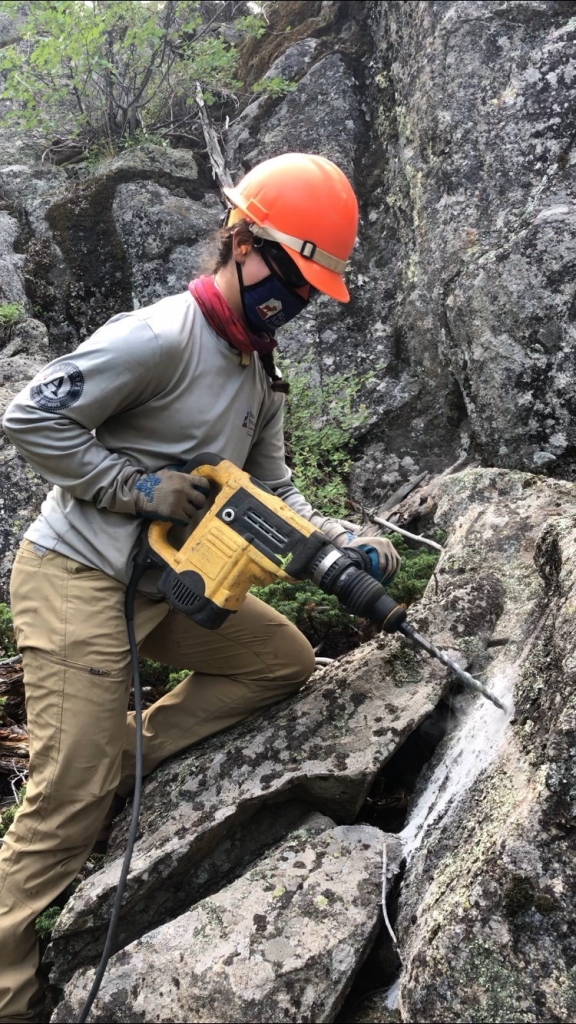 Nathan's crew enjoyed collaborating with Sophia's crew and the FRCS. We are so thankful for this opportunity to work together this week! The new trail is officially ready for hikers and climbers! Next week will look a bit different as the crews will split once again. Sophia's crew and the FRCS embark on their first backcountry hitch of the season as they begin work on the Isabelle Glacier Trail. Nathan's crew will return to Arapaho Pass and continue further up the trail. Three cheers for rock work!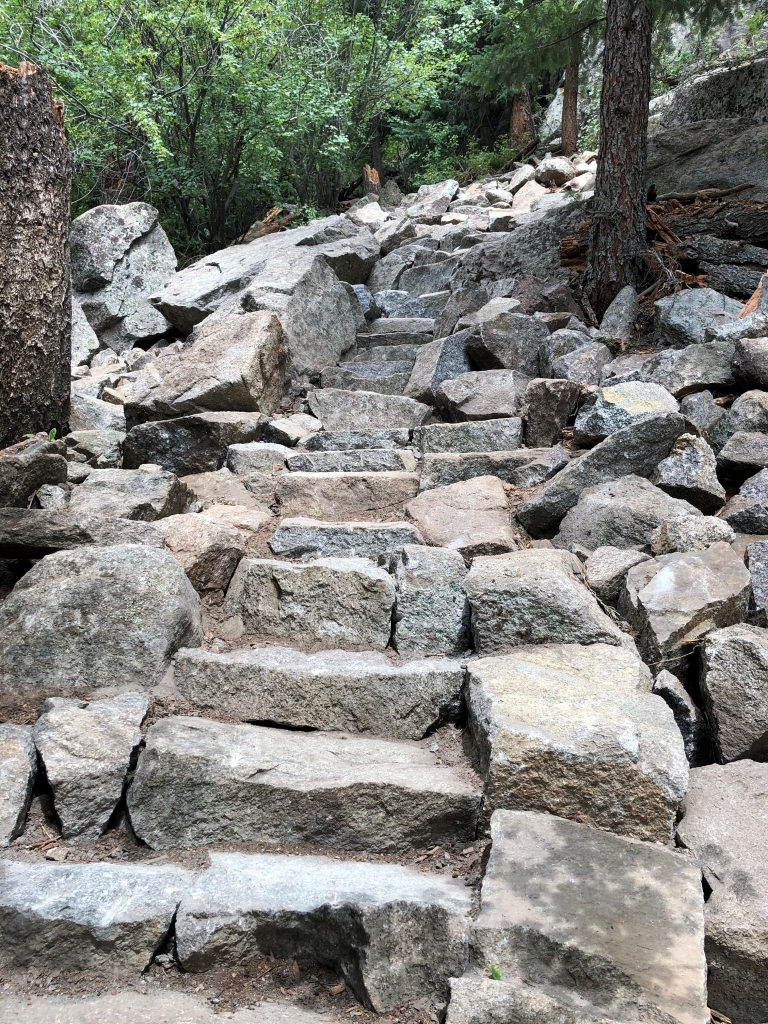 -Sophia and Nathan, Boulder Crew Leaders