Shadow Mountain Crew:
At the beginning of the week, we finished an ongoing project with USFS partners Vicky and Brad. This concluded with installing various informational signs at Berthoud Pass, Willow Creek, and a site along Highway 34. Finishing up the project was made much easier thanks to a visit from our director, Geoff! It was incredibly rewarding to see our efforts from the past week finally come to fruition.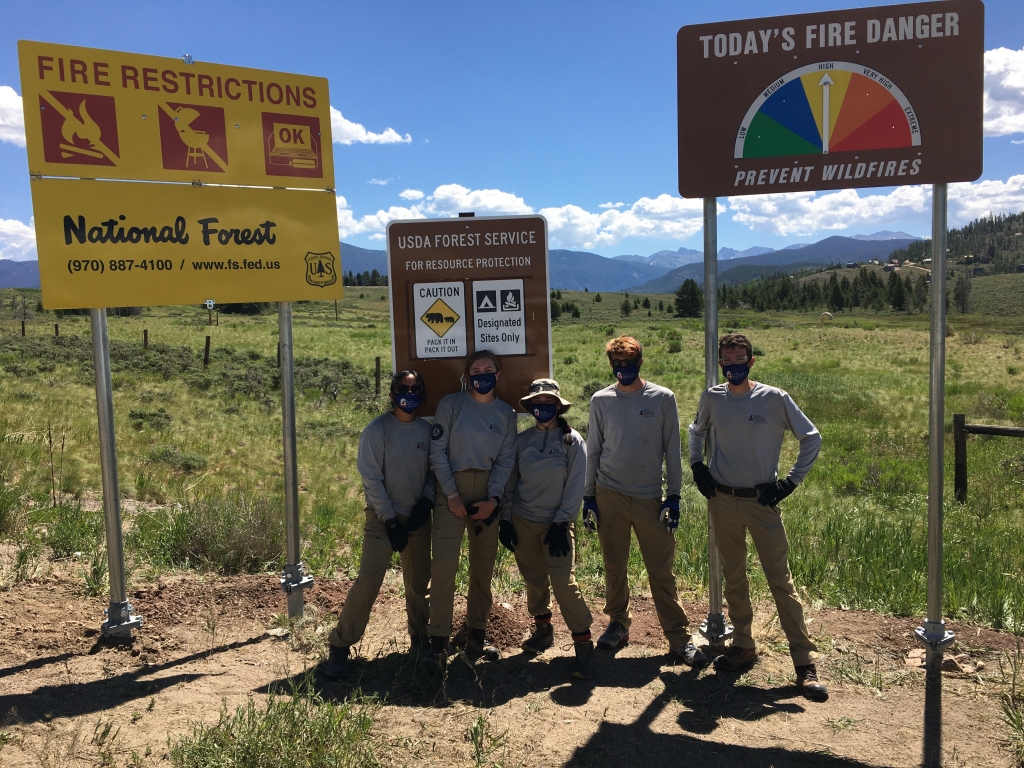 Tuesday brought us a new fence project to help preserve the land around the forest service village. The views of the lake were incredible. Pine beach is home to a critical bird sanctuary and moose!
Our goal for the day was to construct a logworm fence that would help keep people from leaving the picnic areas, but still allowing room for wildlife to cross. The crew has worked on bucking rails previously so we looked forward to a new project. The first section was put up within several hours, which to us seemed unbelievable. The second section was much more tedious because of the slope we worked against. Construction was completed through the day and we were able to end on two sweeter notes, a completed fence and a watermelon.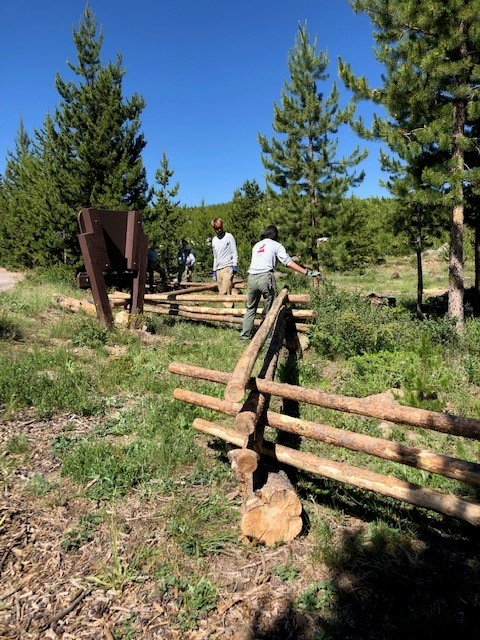 On our final work day of the week, we returned to Pine Beach to finish our picnic table restoration project and complete additional projects of framing a concrete pour and installing new bear-proof trash bins. It was a productive and fun week!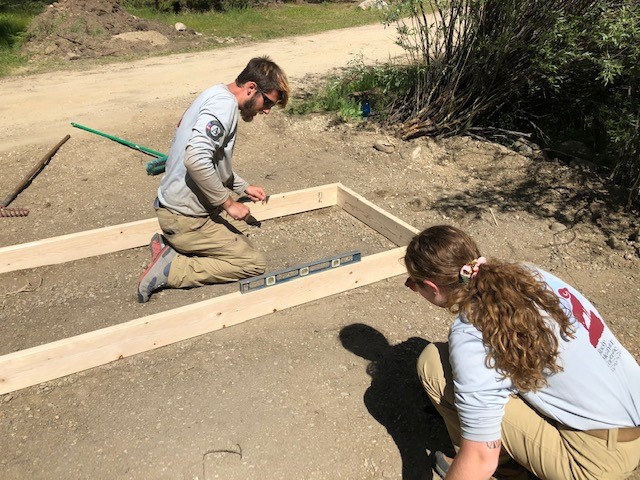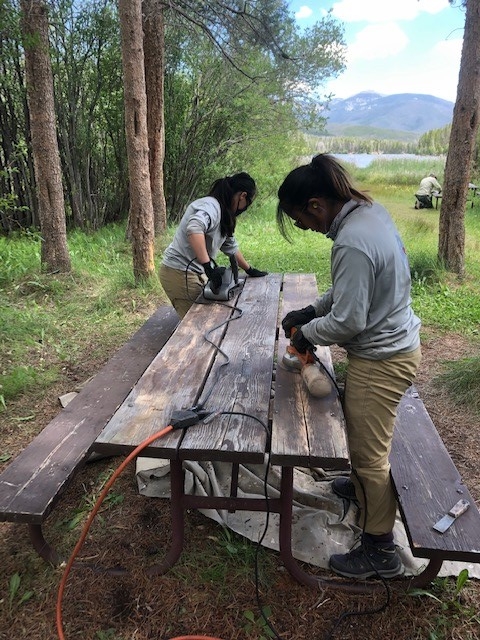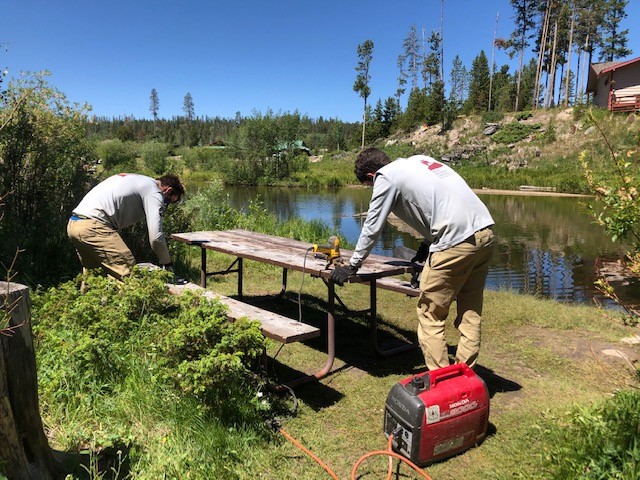 -Sarah (Shadow Mountain Crew Leader)
This week our Shadow Mountain Crew went near the Indian peak's wilderness. The crew's trial work was focused on the Strawberry creek trail, Strawberry west, and Caribou trail. On these trails, the crew focused on brushwork, tree removal, and drainage work.
The focus of day one was getting into the backcountry and setting up our base camp which we would work out for the next three days. Our day started by packing up our gear and llamas with all the appropriate tools. Next, we drove into the Hi-Lo hunting hut and began our hike on Forest Road 58.1. While hiking to our campsite which was about a mile and half in, the crew removed 12 trees and brushed plants out of the trail on that mile and half secretion. The crew reached the campsite by 4:30 and set up base camp.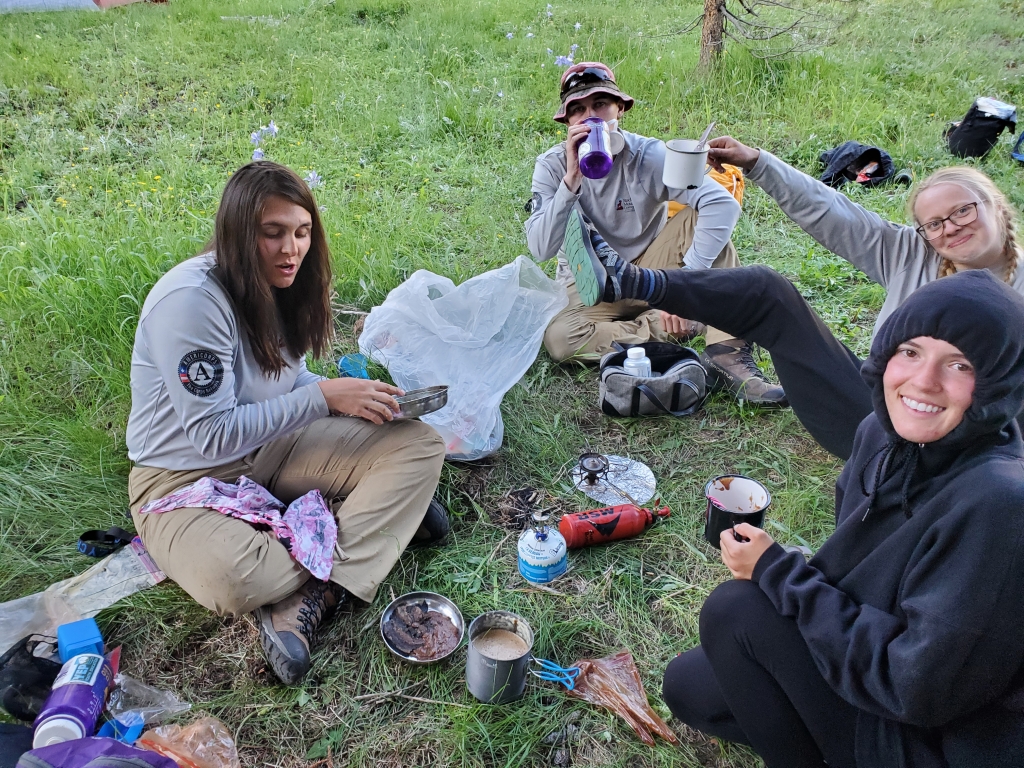 Day two began on the Caribou Trail to the Strawberry Creek trail. This was an especially eventful day as our crew made huge improvements on these trails. The crew split up into two groups, one was focused on clearing trees using chainsaws while the other group focused on clearing brush from the trail. As the chainsaw group was making the rounds, they encountered a black bear which both excited and startled the group. Luckily the bear was just passing through.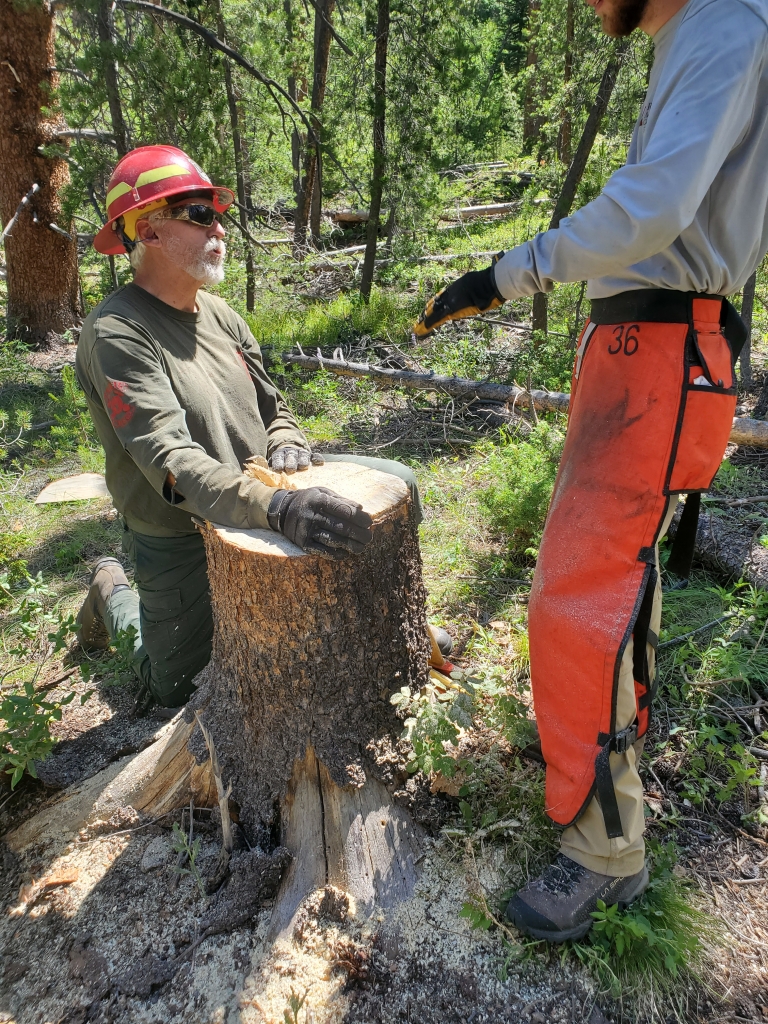 The brushing group was able to clear three and a half miles while the chainsaw group cleared 5 miles. In total, the crew was able to clear 72 trees of the trail and clear 14 drains to help stop erosion of this beautiful trail system. The final day our crew focused on Strawberry west trail to Strawberry Creek trail. The crew was able to clear 11 drains and 27 trees in total on the third day.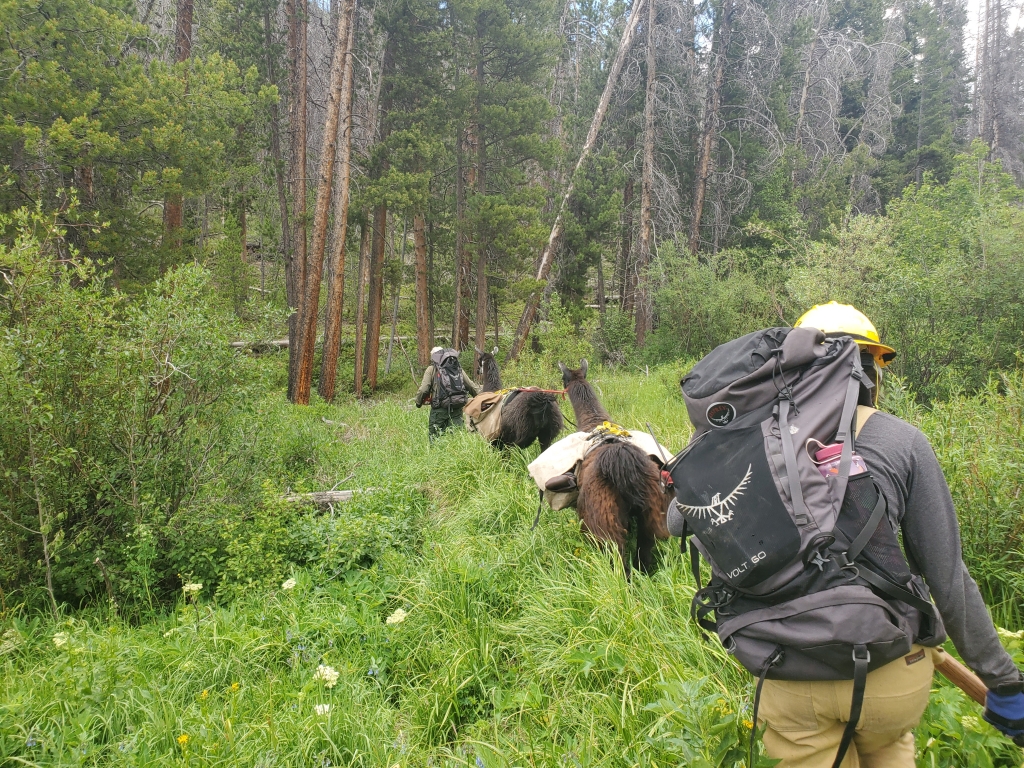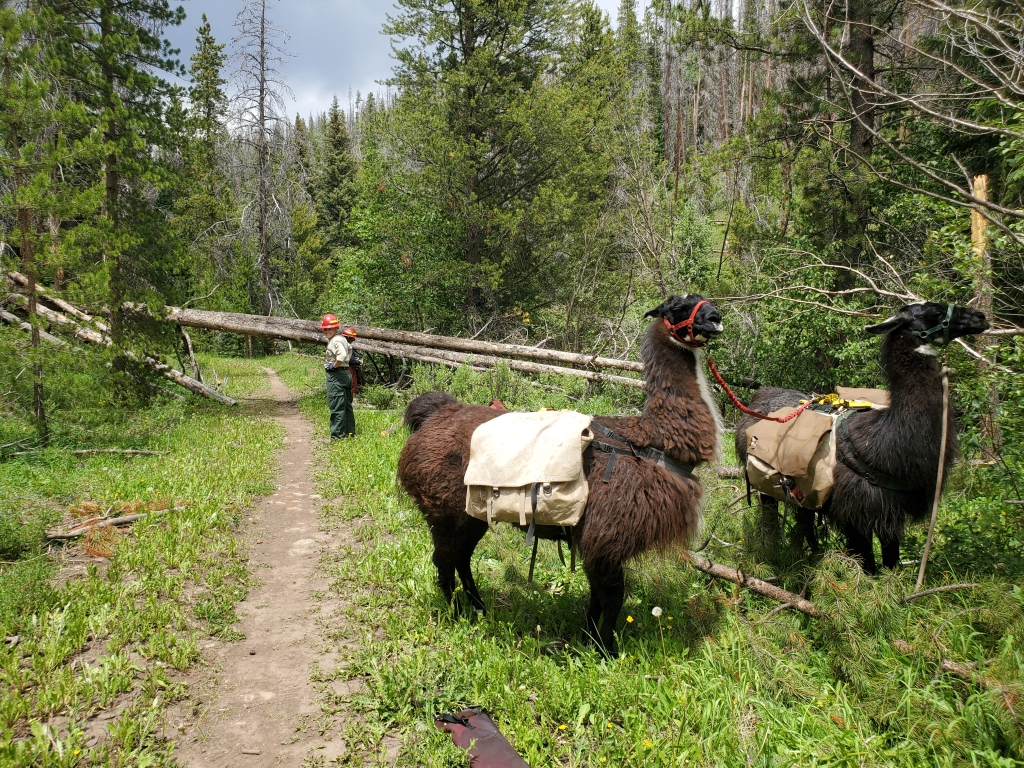 Miles also came out to visit and everyone had a great time laughing around with him and his amazing wolverine impression which turned out to be very accurate.
During this trip the Shadow Mountain Crew was able to drastically improve these heavily used trails for outdoor recreation.
-Liam (Shadow Mountain Crew Leader)
Boulder Crews
The USFS Boulder Crew continued work on Arapaho Pass this week, completing our 200 foot section of rock staircases, turnpikes, drainage dips, and some brand new tread! This was our hottest week of work so far this summer. Daily water consumption challenges and mountain-stream head-dunks were common occurrences to keep bodies cool and spirits high. 
Monday through Wednesday we were joined by our Forest Service partner Ben, who had recently recovered from a sprained ankle. It was nice to see him again, and he taught us about the niche particularities of digging new tread. He taught us how to make seamless, comfortable transitions between trail sections, construct the tread from durable mineral soil, and, most importantly, how to maintain the trail's coveted "critical edge". A trail's critical edge is the most downhill edge of the trail, and is very easily eroded if not constructed correctly. In order to build a sustainable trail with minimal environmental impact, it is necessary to build tread such that there is a slight slope so that water may run across the trail and off of the critical edge. We learned numerous tricks of the trade to ensure a sufficiently outsloped and structurally cohesive trail.
Along with the skills required for trail-building, Ben also taught us professional aspects of career-building in this field. We really got to know him this week, from how he got started out working trails to the incredible opportunities he's had because of it. We learned about the value of seasonal work and the lifestyle that can be created around it. Hearing his stories made us all very excited for the next few years of our blossoming careers. Wherever there are trails, there are people to build and maintain them- the possibilities are endless!
On Thursday we had a visit from Geoff! He met us in the parking lot of the Fourth of July Trailhead where we did our morning stretch circle and Job Hazard Analysis (JHA). It was a very busy day on the trail. Luckly, however, we had finished our new trail reroute and were able to work undisturbed on closing the old trail. To close off the old trail, we placed large, angular rocks at both ends of the old section. Called "gargoyles," these rocks are meant to inhibit hikers from using the old route and redirect them towards the newly constructed staircases and tread. Along with these gargoyles, we collected and placed a large amount of deadfall wood across the old route to deter hikers and promote ecological restoration. We even transplanted a few trees! It was exciting to work on returning this area to its natural environment, but it will take many years of decomposition and plant colonization to fully restore this section of the greater ecosystem. We've got to start somewhere!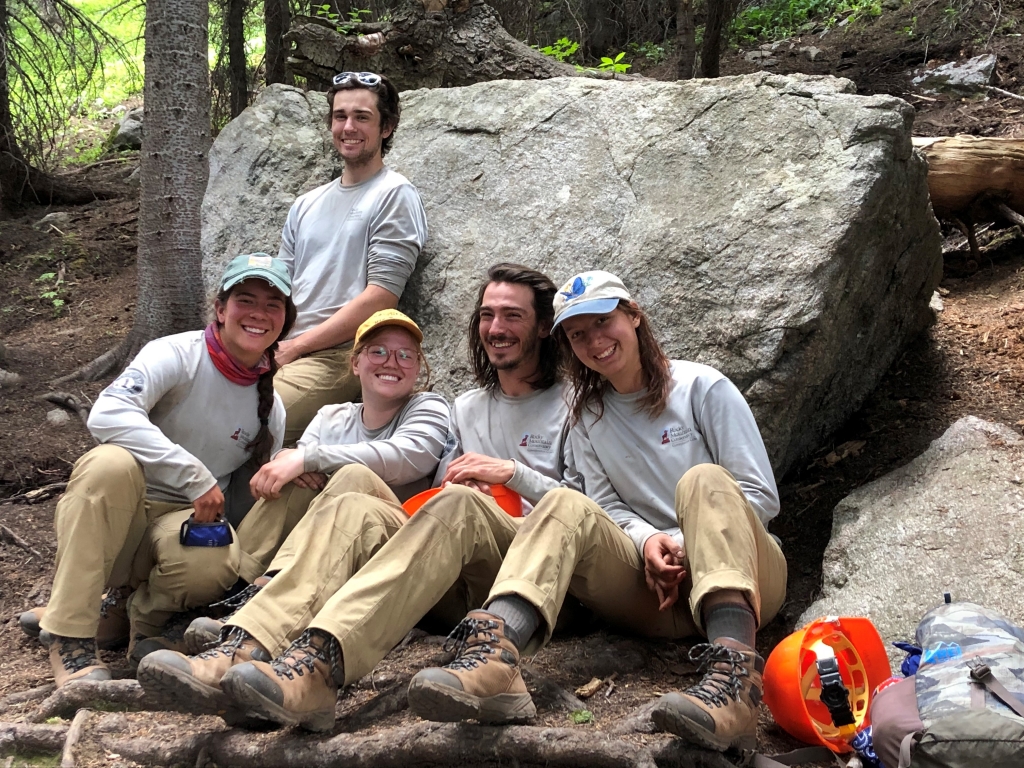 "The most rewarding thing is to see my physical and mental strength increase as the season goes on" – Logan F Davis
The FRCS Boulder Crew continued work this week on the Upper Dream Canyon Trail with the Front Range Climbing Stewards (FRCS). We've split into three worksite areas on the massive staircase to ensure efficiency of completion. This was a power week for sure. The first worksite is at the top of the staircase, including Sophia and Jenna working with Emma and Sam, FRCS representatives. These four have persisted in moving, building, and perfecting the rock formation that will eventually tie in with the rest of the staircase. This section is located closest to the boulder, so these four have fortunately worked with a belay system to safely bring down massive rock to include in the staircase. The second worksite includes Josh working with Alex, another FRCS representative. These two have been hard at work in the middle of the talus field continuing the construction of the staircase. This area is consistently accompanied by the heat of the sun in the afternoon. Josh and Alex were also able to get use out of the belay system for a rock on the final day. The third worksite includes Natalie and Felix working with Ryan, the FRCS crew leader, and is located at the end of the staircase that is being built up to meet in the middle. These three have powered through at least 10 stairs this week! Sophia's crew has adapted well to the fast-paced, yet efficient and effective way of working with the FRCS.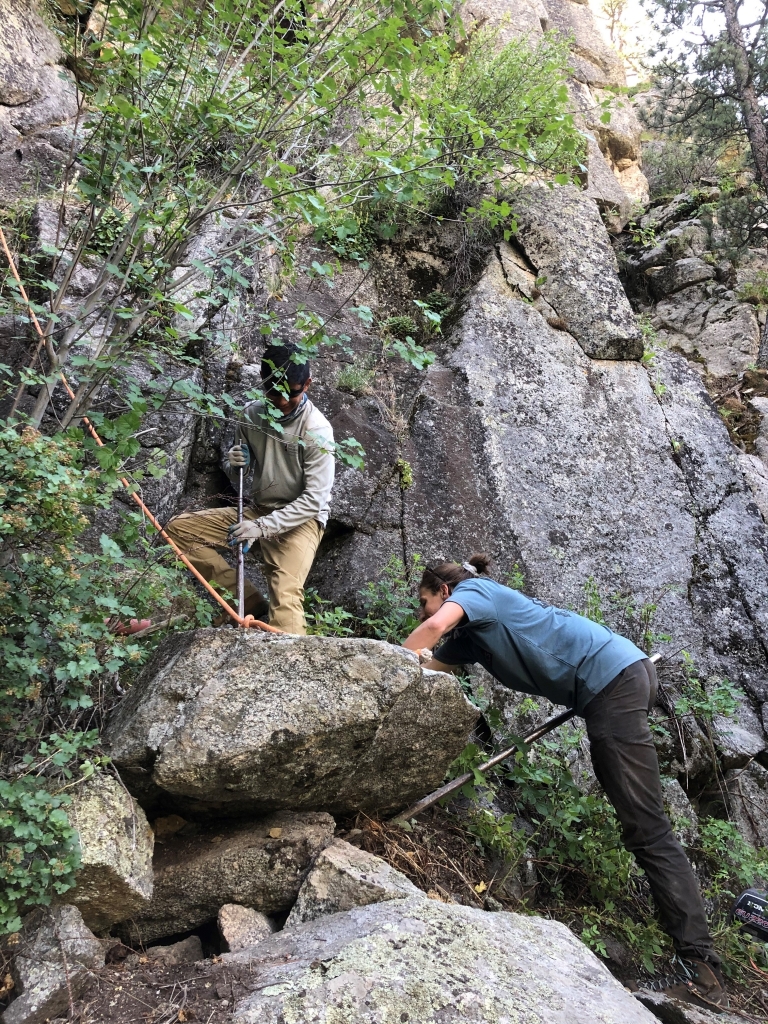 On Monday we were joined by the one and only Gus, our field coordinator. He always brings such a positive, helpful, and fun light to the work day! He assisted Josh and Alex within the middle area of the staircase for the duration of the day. Tuesday was quite the fun-filled day, with visits from Geoff and two Forest Service Representatives, Jonathan and Matt. We are so grateful to have worked with Geoff that day- the whole crew enjoyed getting to be in the field with him and were able to share some intentional conversation! The FRCS have been nothing short of wonderful. Each FRCS member is willing to explain and teach us what we need to know about technical rock work that is involved on climbing trails. It's amazing to see our progress as we moved through week two on this trail. We are looking forward to comparing and sharing before and after pictures at the end of next week! The crew is learning an ample amount about trail work every single day. We are feeling so amped as we approach our final work week for this trail! 
-Nathan and Sophia (Boulder Crew Leaders)