Shadow Mountain Crews
This week's hitch was filled with all things new! We got to work with the other shadow crew, camp in the front country, and had our first crew leader of the week – Danielle. The first day consisted of rounding up the llamas, Oreo and Two Socks. This is the other crews norm so they taught us a lot about the llamas. Turns out, herding llamas isn't as easy as it looks.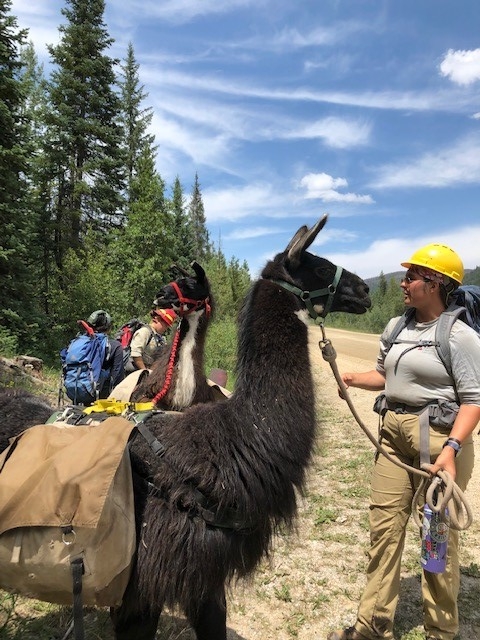 After arriving at Horseshoe Campground, we separated into our respective crews and headed to Kiney Creek Trail. This trail had quite a bit of fallen trees and was bustling with hikers. With these hazards, we made sure to clearly communicate. The end of the work day was met by delicious gyros made by Andrew.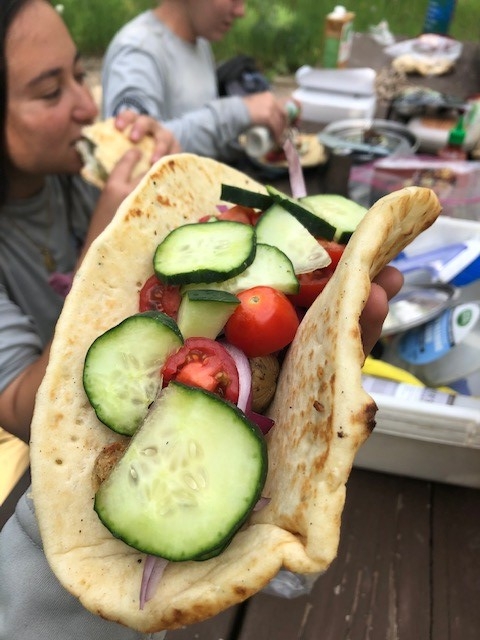 On Tuesday, we drove up an incredibly bumpy road to the Evelyn Lake Trailhead in the Byer's Peak Wilderness area. The trusty conservancy van, with cautious driving, made it up the road! The treacherous journey was well worth it. As we hiked up the lush and wide trail surrounded by friendly firs, we carried on, bucking any fallen trees across the trail. As we continued on, we were almost immediately greeted with bright and lively meadows of gorgeous wildflowers. Among these were a rare pink hybrid of Indian paintbrush (see below)! The view was breathtaking and by far the majority favorite. By lunch break we were able to make it all the way to the lake itself which was a welcome sight. At the lake, there were illegally established fire rings. When in the wilderness area, fire rings must be at least 100ft from a water source. However, this fire ring was about 20ft from the lake so we had to destroy it. Concerning the work we accomplished, we ended up crosscutting 25 fallen trees from the trailhead to the lake itself. We finished off the day with one of the largest trees we've got to cut so far. This last cut was reliant on all of us coordinating our efforts together and took about an hour total. Overall, it was a beautiful day that resulted in a much clearer and safer trail for the public to enjoy and recreate on.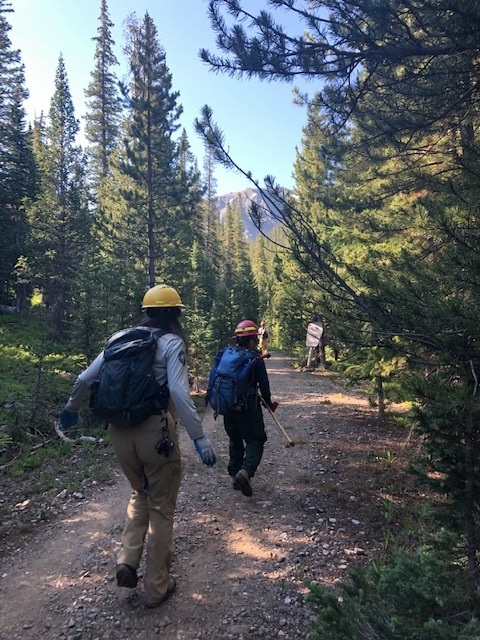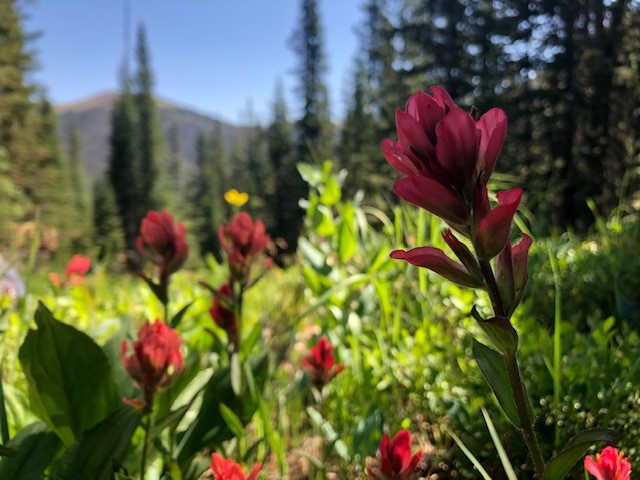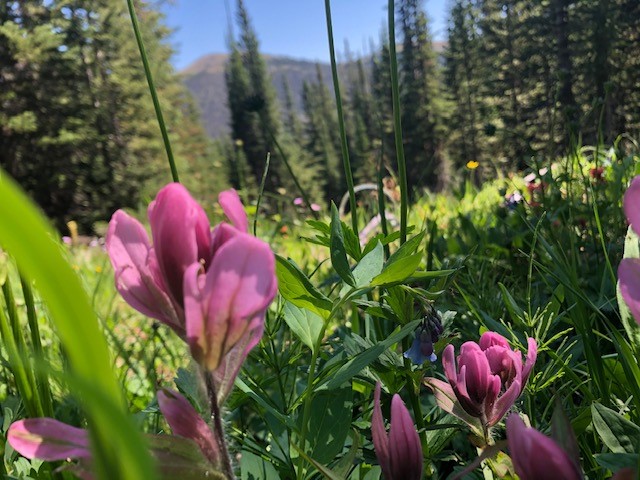 On the last day of our hitch, we hiked up the Ute Peak Trail where we worked with the other shadow crew. This trail was lush and even had some treats for us (see below)! Together, we cleared corridor for easier hiker access and maintained drains. This was the crews first time doing both of these tasks. Drains serve as water diversion to keep the trail from collecting water and eroding over time. There were some muddy sections of the trail where we collectively dug trenches to alleviate the pooling of water resulting in a muddy mess.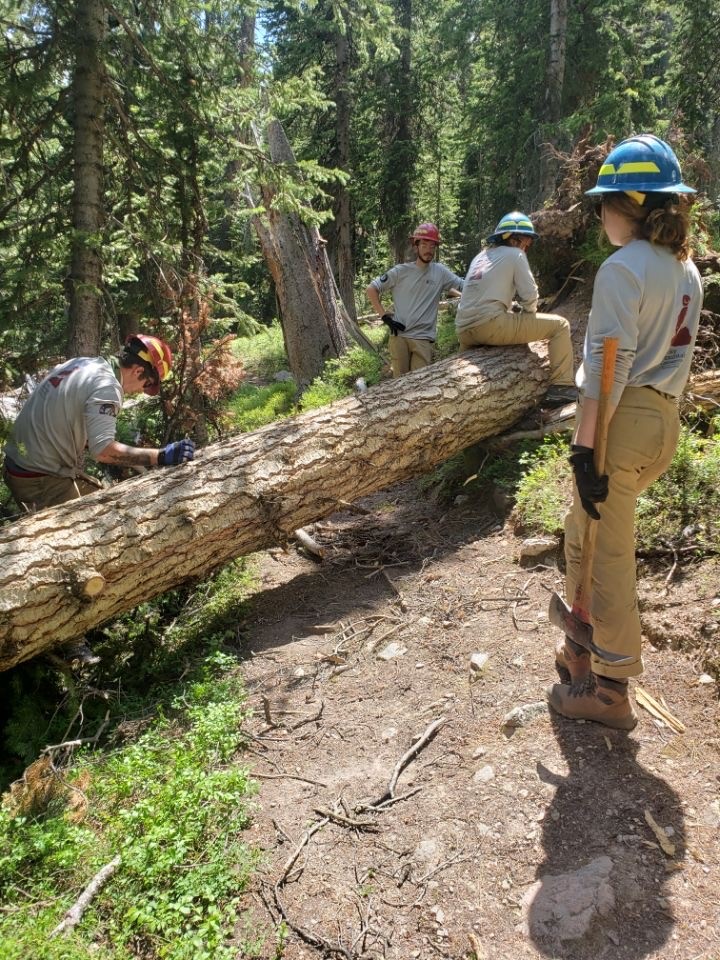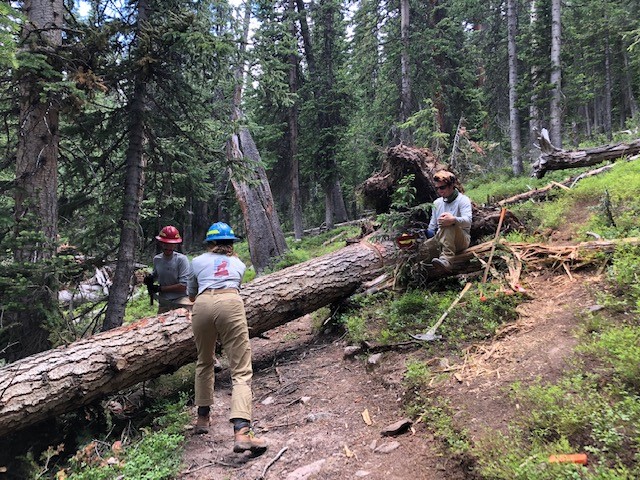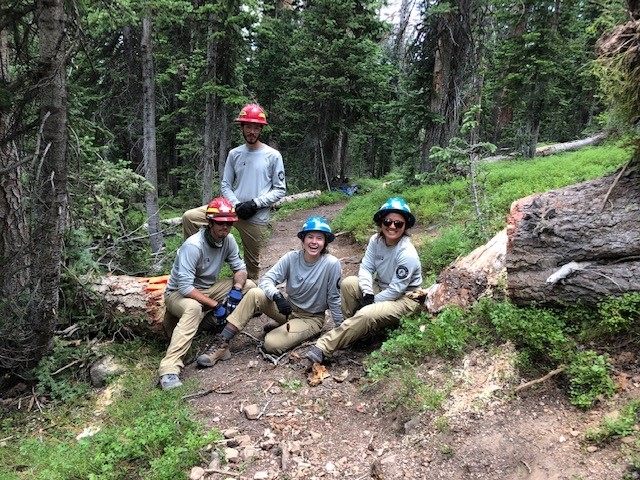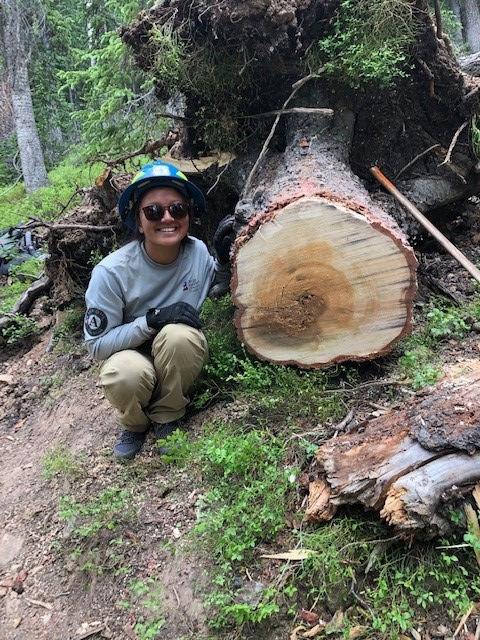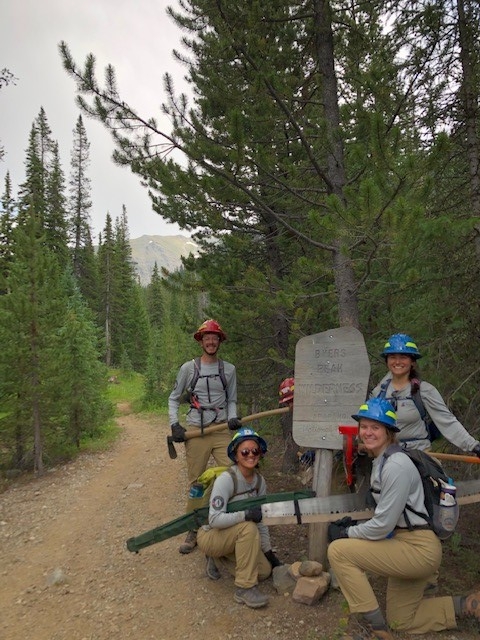 -Sarah (Shadow Mountain Crew Leader)
The morning of Sunday July 19th was spent preparing to head out on our first front country hitch.  We packed up almost our entire base camp and met the Forest Service crew, along with the other Shadow Mountain crew, at the Village at 7:30am.  While at the Village, we prepped the llamas and tools we would need for the week.  Once everything was ready, we set off on our hour-long drive to Horseshoe Campground.  The first thing we did upon arriving to the campground was set up camp.  After everyone was situated, we all had our lunch together along the riverside.  Towards the end of lunch, Amy explained the plans for the remainder of the day; Miriam and the other Shadow Mountain crew headed to a wilderness trail to clear it by means of crosscut while we headed off to Williams Peak with a focus on clearing the trail via chainsaws, brushing, and drainage work.  We hiked a total of 7 miles (3.5 miles in, 3.5 miles out).  In that time, we brushed about 100 yards, built 3 drains, and removed 3 trees from the trail without having to use the chainsaws.  When we returned to camp, we had stir fry for group dinner and then played a few rounds of Uno with the other Shadow Mountain crew.
Monday morning, we were all in the stretch and safety circle by 7 am.  After that was complete, we split from the other Shadow Mountain crew to head to Darling Creek Trail.  With the same goal in mind as yesterday, we were able to brush 1 mile, build 4 drains, remove 9 trees without the chainsaw and 43 with the chainsaw.  We hiked a total of 5 miles (2.5 miles in, 2.5 miles out) and saw 7 hikers.  For group dinner we had some delicious BBQ casserole.
Tuesday was a lot like Monday: stretch and safety circle by 7 am, the other Shadow Mountain crew headed to a wilderness trail, we headed to Darling Creek Trail.  We were able to brush 0.75 miles, built 10 drains, and removed 1 tree without the chainsaw and 126 with the chainsaw.  For dinner we had some very filling bean burritos.
Wednesday involved us working with the other Shadow Mountain crew to work on the Ute Trail.  We hiked 2 miles total (1 mile in, 1 mile out).
The other group focused on brushing while we built 1 drain and cleared 5 trees by silky and 27 trees by chainsaw.  Shortly after noon, we went back to the campground to pack up.  The timing was almost perfect so that right as we got everything in our cars it began to down pour.  We then drove back to the Village, put the llamas away and preformed some basic tool maintenance.  We then gathered our shower gear, took showers, set up base camp again, then had some yummy pasta with garlic roasted sauce for group dinner.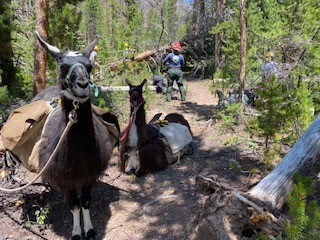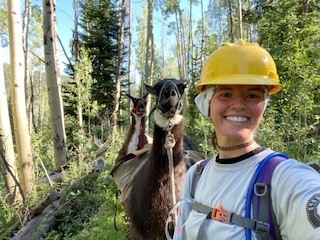 -Aly (Shadow Mountain Crew Leader of the Week)
Boulder Crews
This week our home at Kelly Dahl was a little quieter, as the FRCS crew set out on their first backcountry hitch to Isabelle Glacier in the Indian Peaks Wilderness. Throughout the week we rearranged a talus field in order to "cut" a new trail. Camp life was very different than expected but it was an enlightening experience nonetheless. Due to the challenges of work and a new environment we were able to become closer as a crew and really blossom. As the next two weeks unfold on this project we will see much more of the trail unfold before our eyes and marvel in the place we get to call home.
The USFS crew returned to their home sweet home at Arapaho Pass to work with our Forest Service representatives Matt and Ben! On Monday we worked on a project using crush rock and dirt to add height to a trail so that water will run off the trail properly. We also constructed another small staircase, and enjoyed the freedom to problem solve and utilize the trail building intuition we've gained over the past month and a half. That night Leah prepared a savory sweet potato and garbanzo bean dish, which we ate at our brand new home-made picnic table! 
On Tuesday, spirits were high, and we had a blast being joined by our Field Coordinator Gus! We found joy in simple things like breaking rocks with only one hit of our hammers and hanging out in the "borrow pits" we spent the day digging. Borrow pits are large holes we dig to reallocate the dirt elsewhere on the trail. It reminds us of the book Holes by Louis Sachar, but twice as fun.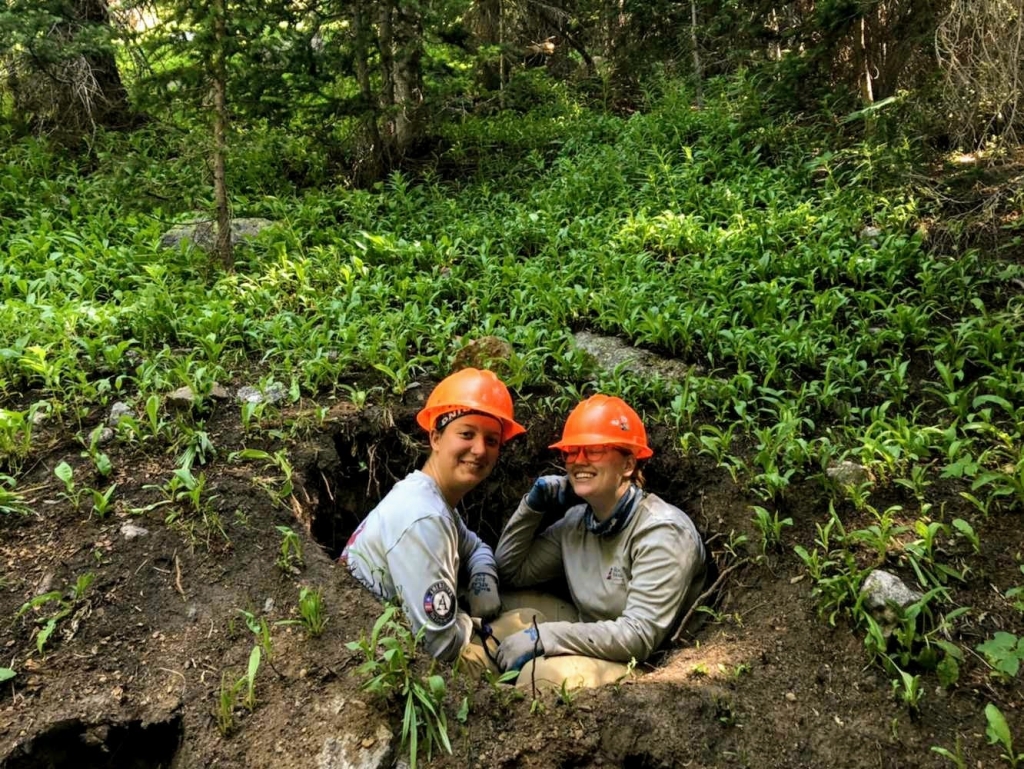 Wednesday we were reunited with Ben, who helped us to dig out and level a section of trail and reroute people away from an eroding section of "social trail". Logan cooked one of our favorite dinners- ChiliMac (chili plus macaroni n' cheese)! 
On Thursday we got a new view a little higher up on Arapaho Pass, a well-appreciated reminder that familiar places are still beautiful places. Our work there included redirecting two streams that ran over the trail so that they are more passable. We relocated rocks to make the channel deeper and the surface area of the stream narrower.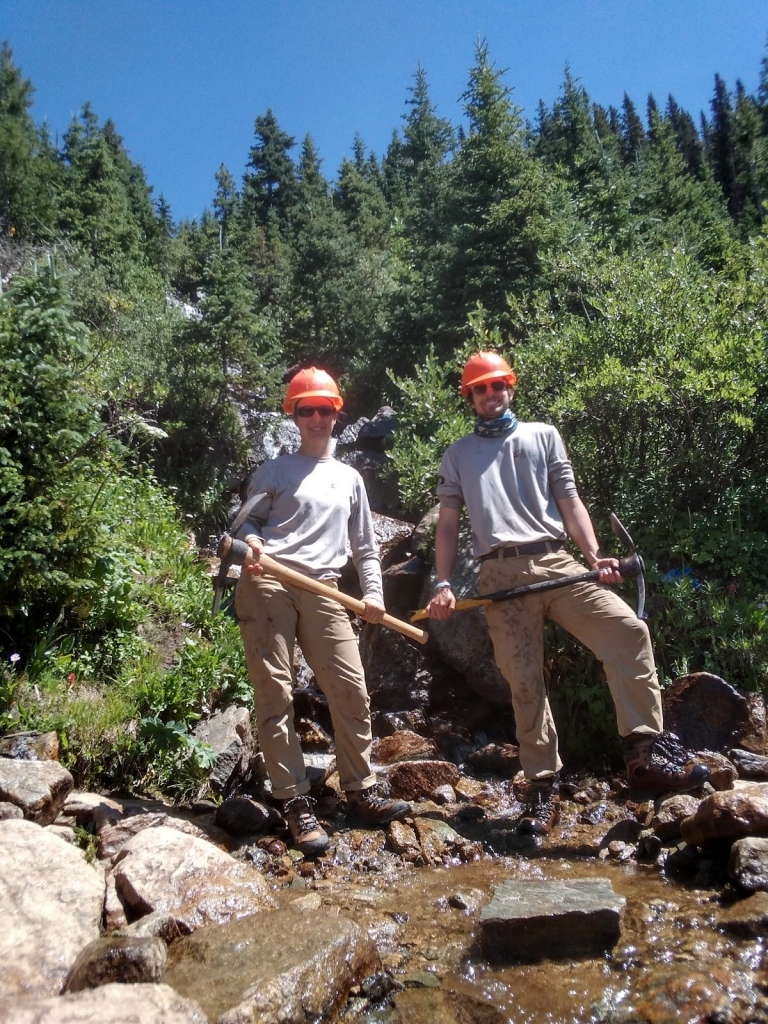 This week was made by the many small and beautiful things we have learned to notice and appreciate, like seeing moose on the morning bus ride, watching the wildflowers bloom on the pass, and pretending to be DJ's with Nathan's portable keyboard. 
Thursday evening our crews were ecstatic to be reunited! We spent the weekend enjoying each other's company, eating plenty of food, and celebrating Felix's graduation!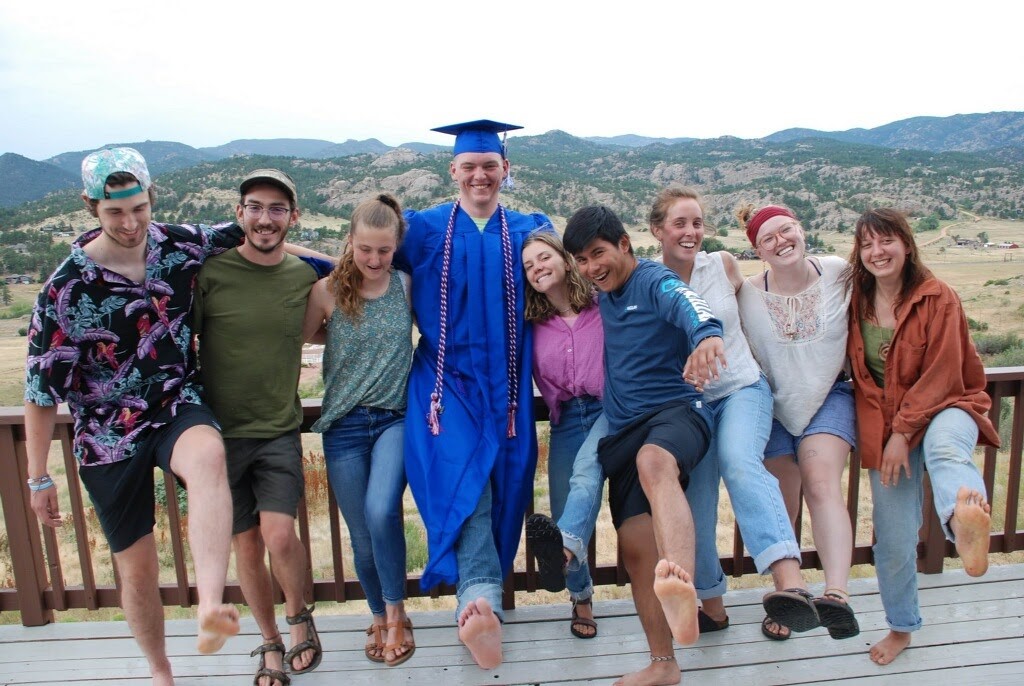 This past week, the other half of the Boulder Crew when on a backcountry hitch to Isabelle Glacier in the Indian Peak Wilderness. Throughout the week we rearranged a talus field in order to "cut" a new trail.
Camp life was very different than expected. This season we have been staying at Kelly Dhal campground which had provided us a home base. Now that being said the back country provides its own set of adventures. For starters we cook, sleep, and work differently at the Glacier than at Kelly. Some of these differences include things like how we prepare our meals which consists of more pasta and carbs than traditional camp meals. Another difference would include the priority of water as we work at 11,500 feet. Water has recently become more of a best friend than before due to the risk of altitude sickness and dehydration due to direct sunlight.  On top of all of this the crew has had to overcome the building of this trail with less tools than before. No longer are we able to quarry rock to make walking surfaces, but find slabs of rock that are flat and move them with rock bars as well as the strength from ourown bodies. Another challenge has been weather. Due to working above tree line and afternoon storms being frequent our work days are often cut short. With this challenge we have had to learn how to move swiftly in the morning to get just as much done as every other day especially with the great of storms. Over the next two weeks we will face many unforeseeable challenges that I know the crew will rise up and complete with no less tenacity than before.
This summer has been life changing, and we can't wait for what the remainder of our time here has in store. 
Thanks for tuning in!
Your Boulder Crew Leaders of the Week, 
Felix and Cait