After two weeks of working together as a power team of 10, the Boulder Crew split in two this week. Sophia's crew of Felix, Josh, Natalie, and Jenna began work with the Front Range Climbing Stewards (FRCS). Nathan's crew of Cait, Leah, Logan, and Fern continued work on the Arapaho Pass with Matt and Ben (USFS Partners). The work week only lasted three days (Monday – Wednesday), as we were pleasantly surprised with a four day weekend to account for the Fourth of July! Overall, it was tough to separate because we have all grown so close. However, we are all looking forward to staying productive and bonding within our smaller crews as the season progresses. We will still be coming home to each other for family dinners and sunset views at Kelly Dahl!
Sophia's crew is beyond stoked to have the opportunity to work with the FRCS as the summer continues! The FRCS is a branch of the Boulder Climbing Community, and includes a full time team of four professional trail workers: Ryan, Alex, Sam, and Emma. These four specialize in technical rock work on climbing trails to enhance sustainability for years to come. The nine of us began work on the Upper Dream Canyon Trail which is located ~30 miles Northeast of a Nederland, CO. We will grow rather close to this trail the next three weeks as the main goal is to construct a massive staircase as a reroute through a talus field.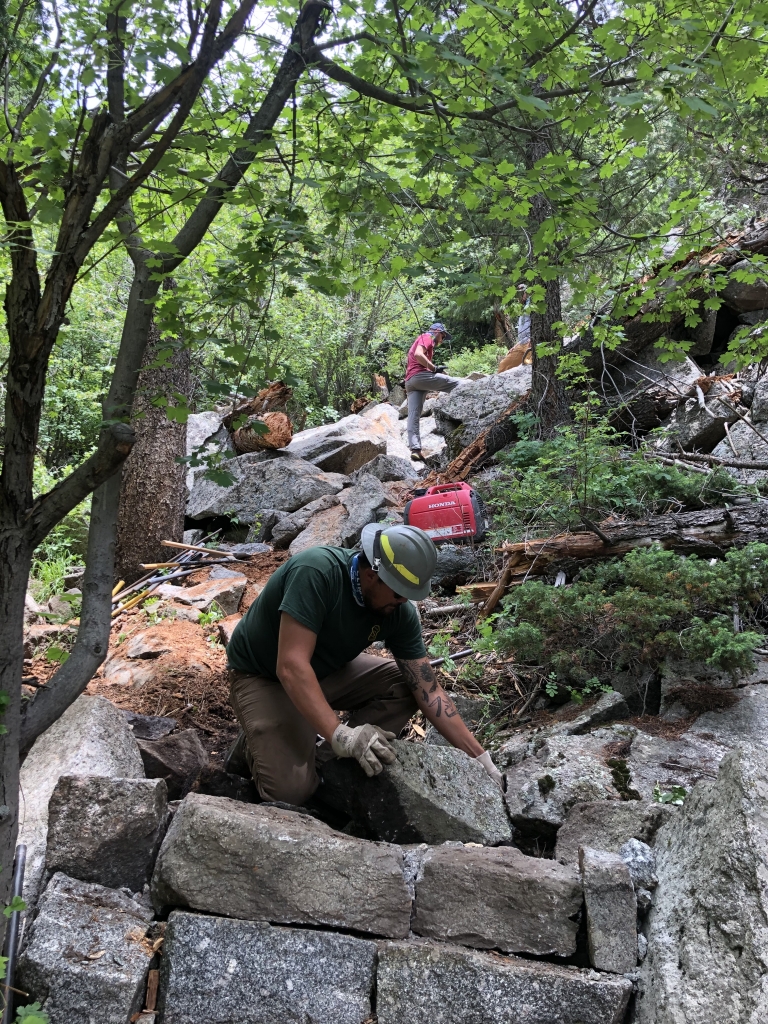 Monday consisted of gathering large rocks and carrying them via Rock Carrying Devices (RCD's) + rock bars to the designated area. Needless to say, our arms were pretty beat after a day of rock carries. We were accompanied by another Forest Service Partner, Johnathan, to begin the week strong. Tuesday and Wednesday were a mix of rock carries, crushing rock, beginning to build the staircase, retaining wall, and lowering massive boulders via belay system. Our fun-loving field coordinator, Gus, joined us on Tuesday to take part in the building of our staircase. We are learning so much about rock work and feel incredibly grateful to have guidance from the FRCS! 
Nathan's crew continued work on the Arapaho Pass trail outside of Eldora, Colorado. The tool of the week was our 35 pound rock bar nicknamed the "Black Mamba," which facilitated the placement of multiple 200 pound boulders to assemble a turnpike. On Monday, an afternoon visit from our field coordinator Gus gave our crew the smiles and stoke to finish the turnpike project. Plenty of talkative hikers chatted with us about their days working trails, and we were showered with gratitude for our work!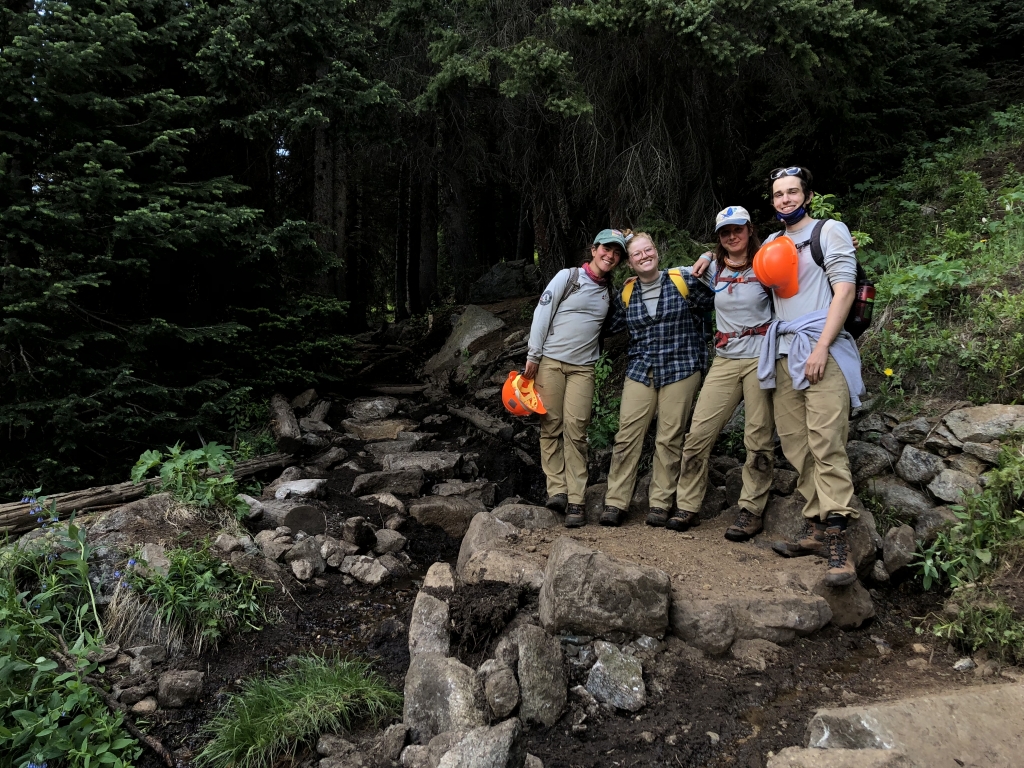 On Wednesday we returned to Arapaho pass to work on the staircase leading up from the turnpike. After several curmudgeon rocks were finally placed, we sat back and watched hikers easily traverse our rock structures over the once swampy trail. We had a discussion with our forest service representative Matt about the sustainability of trails and the role our work has in environmental conservation and outdoor recreation. We hopped back in the bus and traversed the potholed road back to Kelly Dahl, feeling tired and satisfied. 
Between these two days at Arapaho Pass, we were assigned a special mission. Brainard Lakes Recreation area, one of the most visited places in the state, was set to open the coming Friday. However, multiple feet of snow still covered high altitude trails to Blue and Mitchell Lakes. Our crew was assigned the crucial task of shoveling snow off the trails. By clarifying the route hikers should take to avoid off trail travel, we mitigated hundreds of feet of possible erosion that may have occurred before full snowmelt. 
"I feel accomplished that I'm able to build a structure that will last for dozens of years and millions of hikers" -Leah (Boulder Crew Member)
With the work week done early, the entire crew went on a trip to the Mount Sneffels Wilderness in the San Juan Mountains outside of Ouray, Colorado! Thursday night we camped on Yankee Boy road on the way to Blue Lakes Trailhead. The next day we packed our bags and hiked 3 miles up to Blue Lakes Pass (elevation: 13,000 feet) and were greeted with spectacular views of Mount Sneffels (14,150 ft) and the San Juan Range. Descending past the appropriately named "Blue Lakes," we made camp in a luscious forest near a gushing stream. Dinner was a lentil and vegetable stew made by Leah and Logan, and dessert was a lovely rainbow over Blue Lake number three.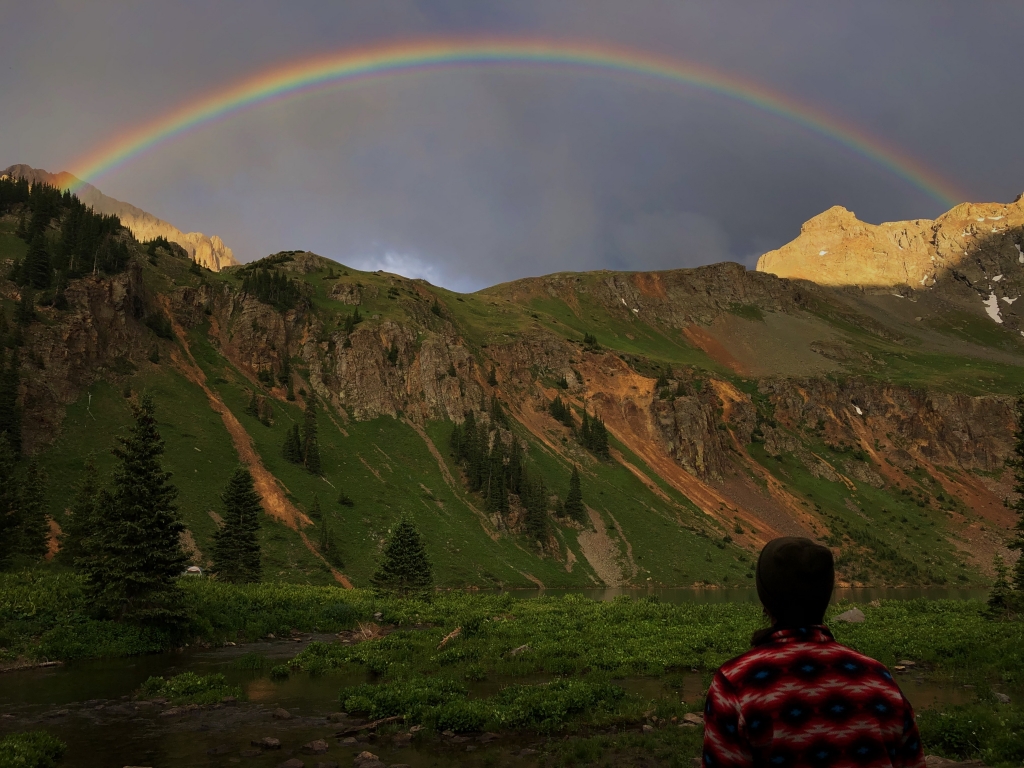 The next day we woke up early and hiked out to beat some thunderstorms. In true dose of Type II fun, the skies opened up with a torrential downpour just as we approached our cars. Deciding to head to a lower elevation for the night, we sardined into the cars and barreled down Yankee Boy Road as dozens of off-roaders were driving up to celebrate the Fourth of July. 
In Ouray we dried clothes, bought food, and decided on a campsite. Pitching our tents on a ridge overlooking the Ouray Valley, the crew leaders cooked a LEGENDARY pad Thai dish that soothed the stomach and the soul. The sunset was magical, and we turned in for the night, ready for a final day of Western Colorado adventure.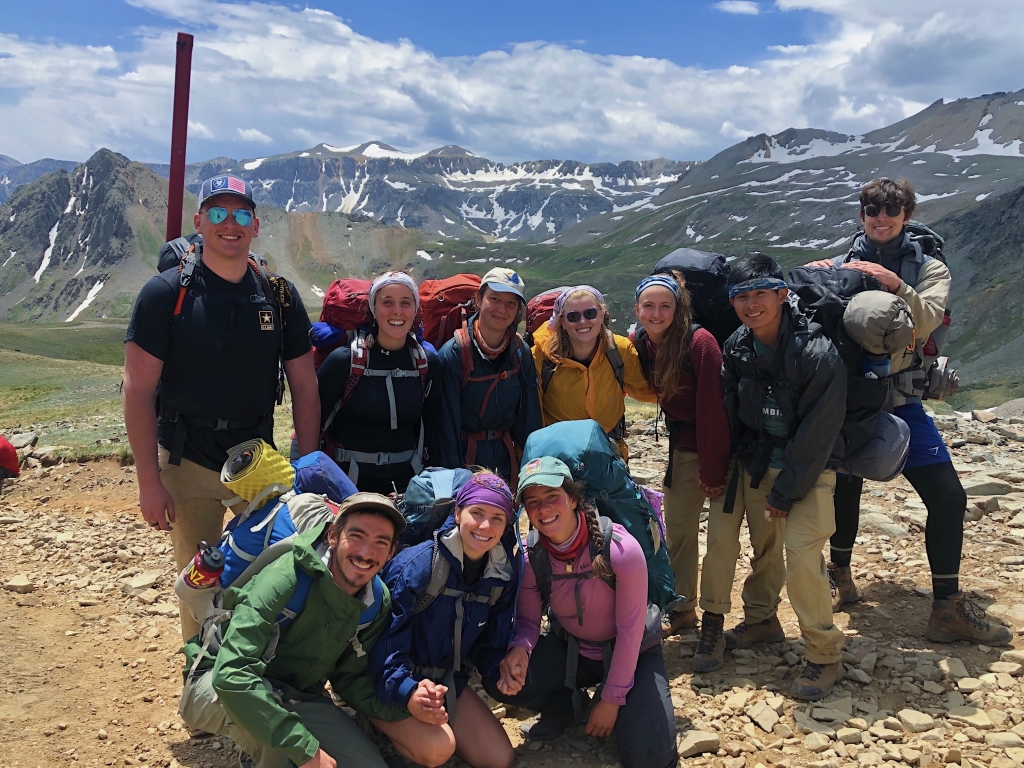 On Sunday we ventured to grand junction Colorado, home of the spectacular Colorado National Monument. With cliffs and canyons of various yellows, reds, and blacks, we felt as if we had ventured to a Martian wilderness, devoid of all human activity and impact. It was amazing to see such a different environment than anything we were used to! Excited for the 6 hour drive back to Nederland, we hopped once more into our faithful vehicles and set off towards home. This weekend was absolutely magnificent. From physical feats of backpacking and hiking to quality time spent with some amazing friends, our family unit has come so far in just three short weeks. We cannot WAIT for what next weekend may hold. Cheers!
-Nathan and Sophia (Boulder Crew Leaders)