Boulder Crews
The second week of our season began at a familiar spot- Forsyth trail, where we worked the week prior. This time, however, we were farther down the trail and did not have Ben, our USFS partner, due to a severely sprained ankle. With this in mind, all were ready to showcase their knowledge and build some rockin' staircases and stone structures. A steep section of washed out trail required a significant boulder staircase to mitigate erosion and maintain a sustainable trail. Meanwhile, farther down the trail, a second group tackled a similar project. A few quite problematic rocks stood between the fearless crews and their projects' completions, but after hours of discussion, teamwork, and brute force, the boulders were placed and the staircases were completed. Our Field Coordinator, Gus, paid us a nice visit and shared some amazing stories and trail work tips. We finished off the day at a picturesque waterfall before hiking back to our vehicles for the drive back to Kelly Dahl.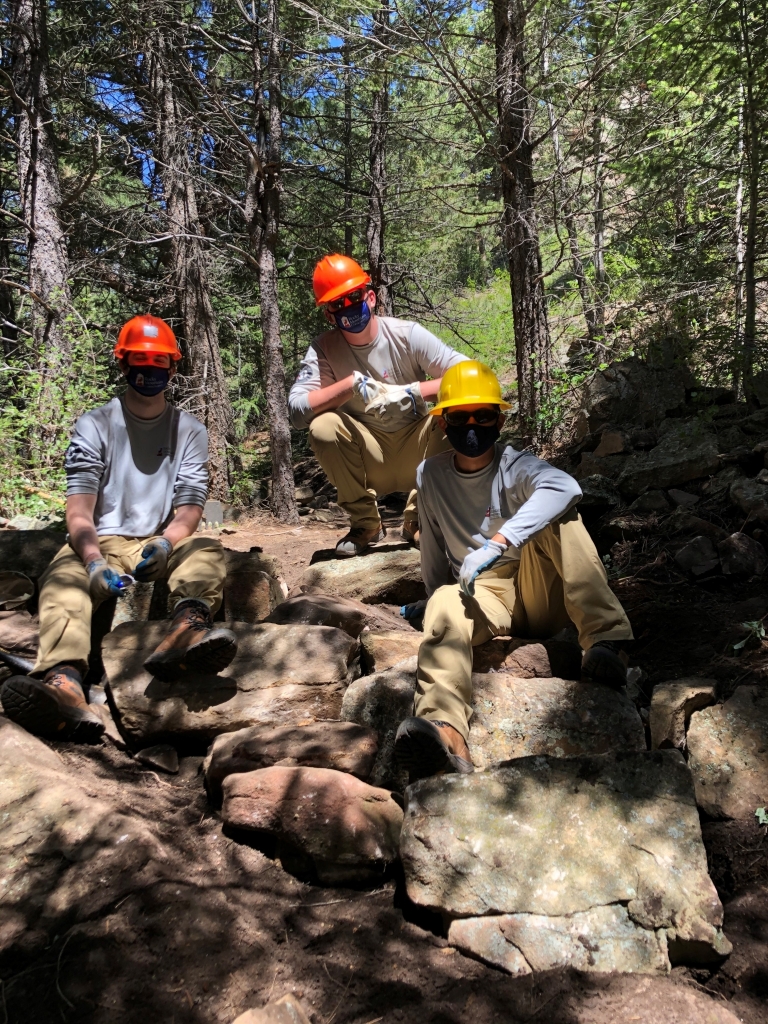 This, however, proved to be quite the ordeal, as the battery in the Conservancy van had some difficulties providing enough power to start the engine. After a short episode of stress and confusion, we were able to get a jump from one of our other vehicles and headed home for the night. Cait and Jenna treated us to a dinner of ramen and vegetables and Nathan cooked a scrumptious dutch oven peach cobbler. Watching the sunset from our traditional rock, we turned in for the night, ready to explore a new area the following morning.
On Tuesday we moved to a new trail: Arapaho Pass! Just outside of Nederland, Colorado, Arapaho Pass is one of the most heavily trafficked trails in the Indian Peaks Wilderness. Because of this, the ecological impact of the trail is of high importance. We were tasked with building a rock wall switchback about a mile from the trailhead to clarify the trail's path as well as sustain its durability. All 10 of us set to work on the rock wall, collecting boulders for foundation, small rocks for locking them in place, and digging trenches for a small staircase. Once the main foundation was established, some crew members set out to rehabilitate a "social trail"- an unofficial route established by foot traffic only. These trails contribute heavily to erosion and environmental disconnection. To rehab the social trail, we covered the route with fallen tree branches, boulders, and transplanted two small Douglas firs (Pseudotsuga menziesii) to deter hikers. The high altitude (~10,500 feet) of Arapaho Pass caused multiple crew members to feel nauseous or dehydrated, but self-awareness and knowledge of personal limits led us all to look out for each other and maintain health and well-being in the midst of such conditions. We headed home for the night to have breakfast for dinner- a wonderful treat from Fern and Felix.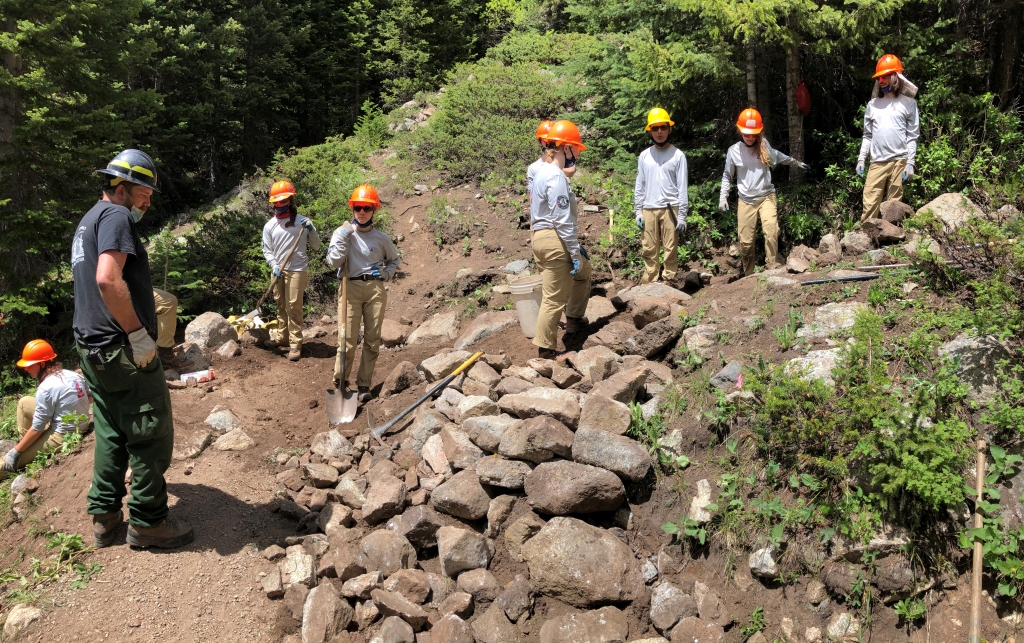 Our work week progressed on the Arapaho Pass trail for both Wednesday and Thursday. As our switchback rock wall and few check steps were finished on Tuesday, we moved up the trail to a section that needs our utmost attention. Our ten person crew morphed into three project groups that included various tasks. Three crew members worked together to build several stairs on a rough area of the trail. Five other crew members split up to disassemble a wooden turnpike and construct it into a turnpike made of rocks. Rock turnpikes are important because wood will eventually rot away, whereas rock will keep for many more years. The rock turnpike part of the trail included a waterway which, in-turn, led to a mess of mud for both days. The mud was irritable at times, but we had our fun with a few mud fights during break time! The final area of concern included two crew members poppin' rocks out of the designated tread. These large rocks will be used for the rock turnpike and a final staircase on the trail. A smaller amount of people at a project site was quite the change of pace, which left us feeling relatively exhausted after work on Wednesday and Thursday. To compensate for our exhaustion, we had delicious meals prepared both nights. Wednesday dinner was arranged by Felix and Fern with breakfast burritos, and a vegetarian chili mac dinner was tackled by Josh and Logan on Thursday night. The Boulder Crew has grown incredibly close the past two weeks – we are truly a family at this point. It is bittersweet as we will separate into two work crews next week, but we believe it is going to be a wonderful, explorative time for us all! More trail tidbits to come next time. Cheers!
-Nathan and Sophia, Boulder Crew Leaders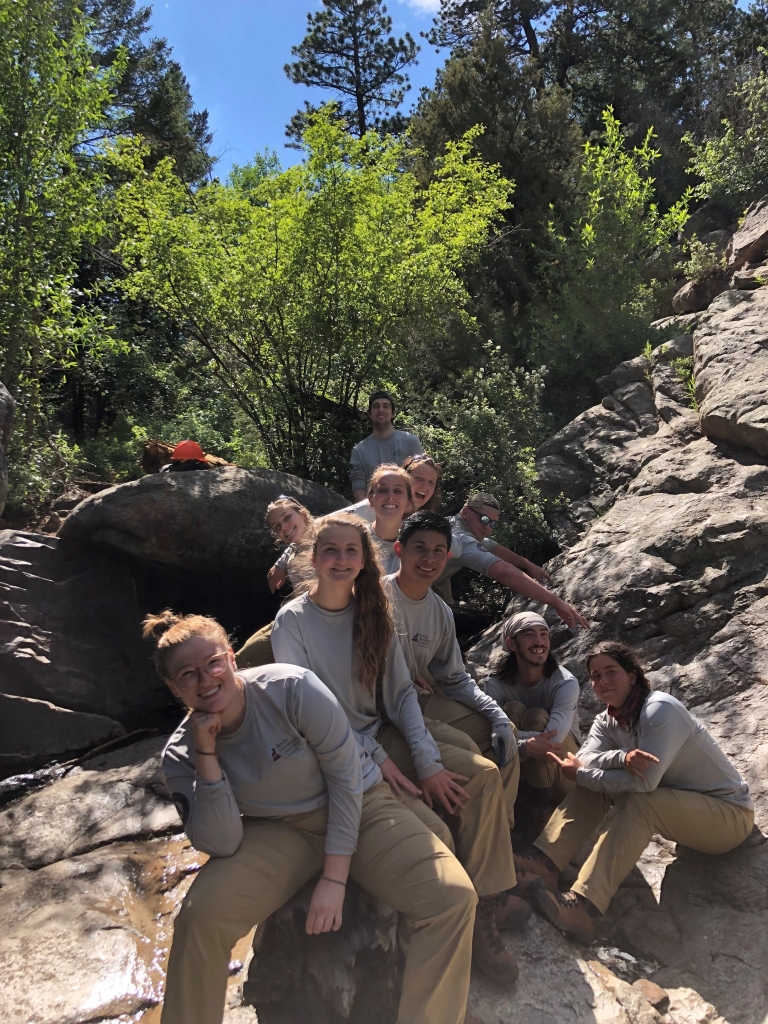 Shadow Mountain Crew
This week the Shadow mountain crew got to go backcountry in the Never Summer Mountains Wilderness. Everyone was very excited to get to go on a backcountry hitch so early in the season and they were all ready to put their crosscut training to use. Everyone got certified the previous week and we all set out into the wilderness to clear some trees off the trail. After getting our llama friends all situated and our packs on, we started the 5-mile hike to our campsite for the rest of the hitch.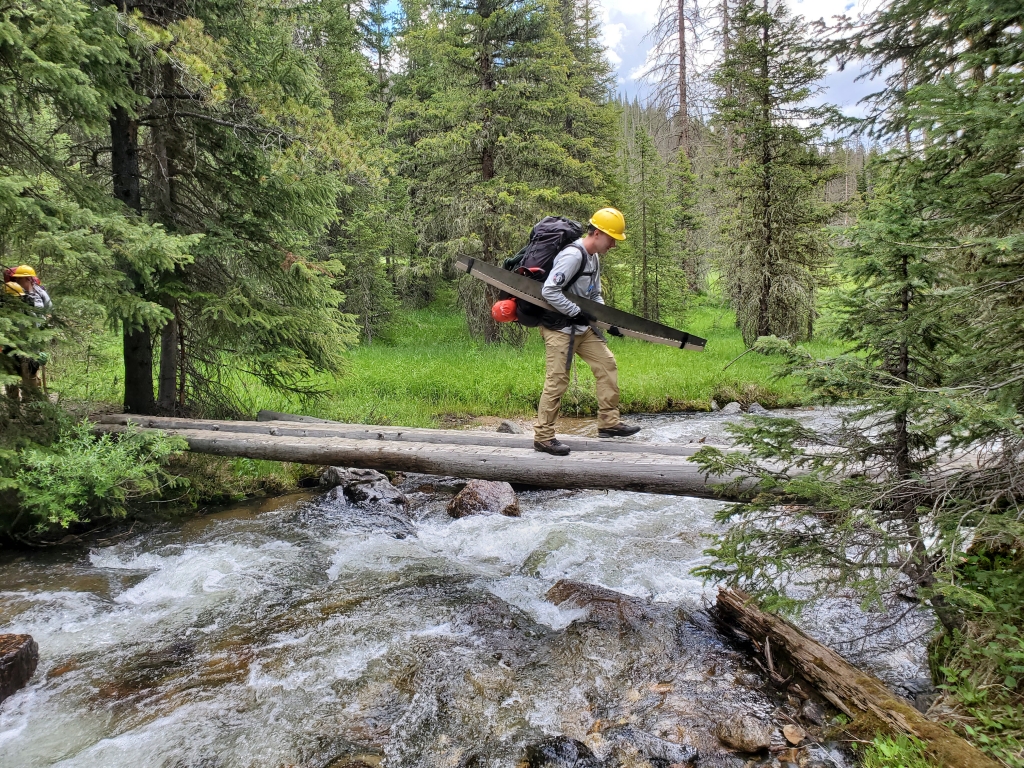 On our way we cut some trees off the trail but left some so that we would be able to get to our campsite on time and be able to cut some trees on the way down as well. It was a cold night, but when we all woke up in the morning everyone was ready to get to work. Just after we set off from camp, we all ran across a moose on the trail.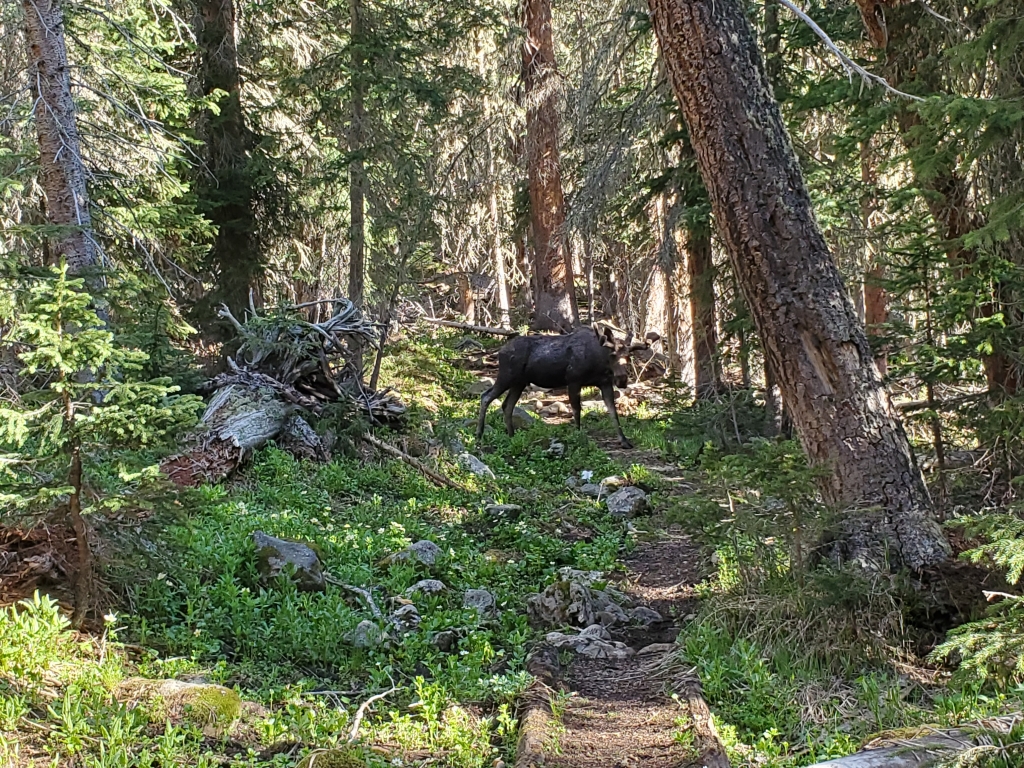 We cut logs and post holed through deep snow all the way to Bowen lake and three of us went all the way to the pass. We ran out of time to work much on the Bowen Gulch trail but that was fine because we were all wiped by the end of the day.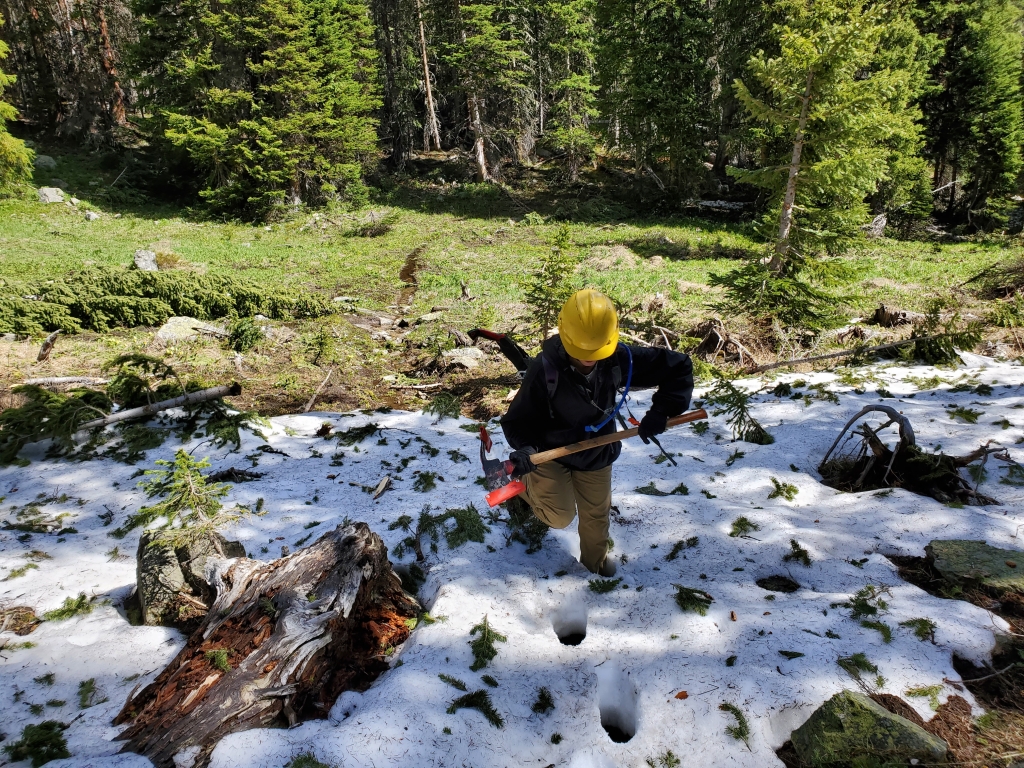 On the third day we hiked to blue lake and from there attempted to find the trail leading to Mineral point, but it was so abandoned and had been overgrown with trees it was difficult to find. We spent most of the time clearing the trail corridor and sawing two very difficult trees, that took up the rest of the day. On our way out on the last day we cleared trees we had to leave on the way up and paused next to the Never Summer Wilderness sign for a couple minutes so we could take a photo shoot with everyone in it including the two llamas, Oreo and Two socks.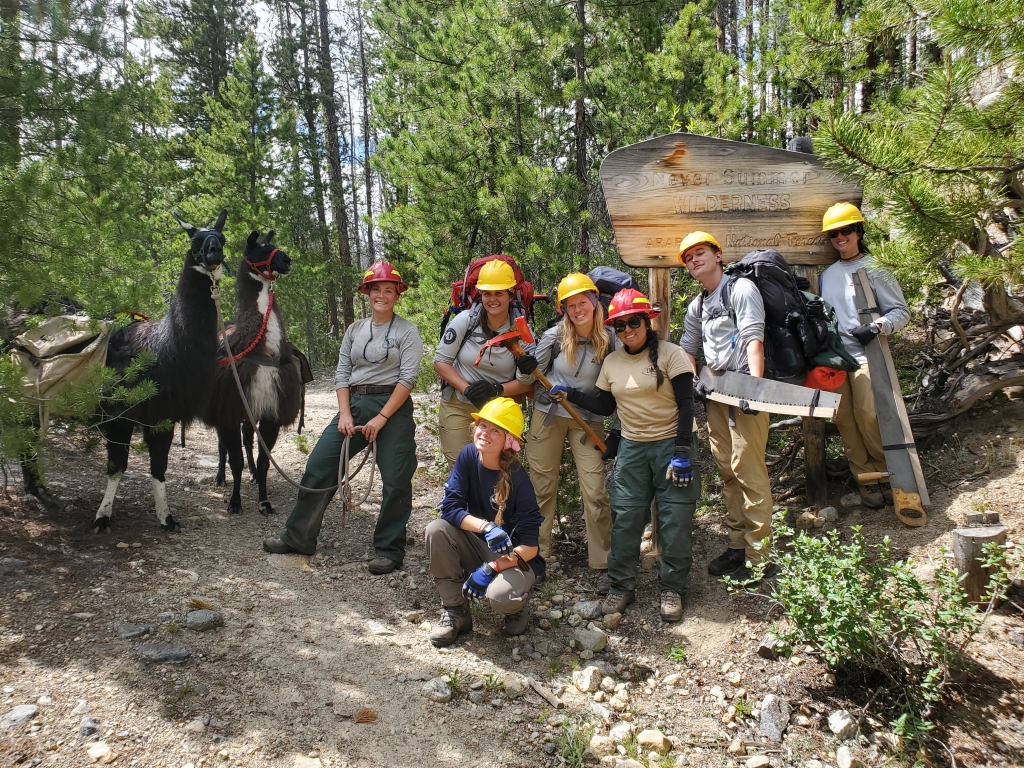 We were all ready for a big meal so after a quick tool cleaning and training session the crew went out to eat in town, running into some savory characters along the way.
– Liam, Shadow Mountain Crew Leader