The Rocky Mountain Conservancy is teaming up with the Indian Peaks Wilderness Alliance (IPWA) to host a volunteer stewardship project at the South Boulder Creek Trail. The South Boulder Creek Trail is in the James Peak Wilderness and follows South Boulder Creek making it subject to wet conditions and erosion.
To help protect the trail and the surrounding ecosystems, the Conservancy and IPWA are working together to construct turnpikes through wetland areas and install check steps on sections of trail. These measures will fortify the trail against erosion and help mitigate impacts to the areas alongside the trail corridor.
Who: Volunteer must be 18 years of age and older.

Volunteer must be able to hike, carry tools, and move materials (up to 20lbs) by hand above 10,000 feet.

What: Trail Maintenance/Construction

Where: South Boulder Creek Trail – Directions will be provided upon registration.

When: June 22nd from 8:00AM-5:00PM

Why: Help protect and preserve the James Peak Wilderness Area!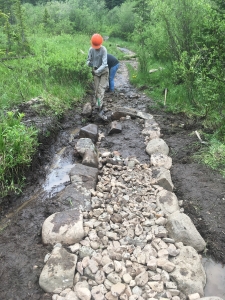 For more information contact Geoff Elliot at Geoff.Elliot@rmconservancy.org or (970)586-3262
To RSVP please complete the form: Volunteer Stewardship Event Registration