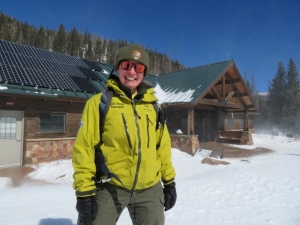 Hidden Valley is one of Rocky Mountain National Park's most popular winter destinations, where families come to sled and play in the snow while skiers and snowboarders head up the mountains for some adrenaline-fueled backcountry runs. Any recreation in the backcountry, however, comes with some level of risk.

To address visitor safety issues at Rocky Mountain National Park (RMNP), staff and volunteers assist with preventative search and rescue (PSAR) efforts. PSAR involves educating the public through a variety of methods to prevent search and rescue incidents from happening. Beginning this year, with funding support from the Rocky Mountain Conservancy, RMNP added to ongoing outreach efforts with the hiring of a seasonal PSAR ranger with an Emergency Medical Technician (EMT) qualification at Hidden Valley.

RMNP volunteers at Hidden Valley are known as the Sled Dawgs. Long-time Sled Dawg Kathy Long said that in her experience, about half of the people who come to Hidden Valley have never been on a sled, so for those that head to the sledding hill, the emphasis is on safety. "We encourage new sledders to practice how they are going to stop," she said.

Even with the emphasis on safety, visitors sometimes get injured. In late March after a spring snow, a young sledder collided with the snow play area fencing. He was brought down off the hill on a rescue sled, funded by the Conservancy, and transferred to Estes Park Health for evaluation.

Connie Mann, another Sled Dawg, said having EMT ranger Belen del Valle Coello on-scene expedited the young sledder's care. "Belen has the medical skills to evaluate the situation and has direct communication with dispatch. Her presence at Hidden Valley speeds up the entire process and gets patients to an advanced level of care sooner," he said.

Mann said, "Before an EMT was assigned to Hidden Valley, if an injury happened we would have to assess the situation, call in to RMNP dispatch, and try to keep the patient and family calm and comfortable while waiting for a ranger to respond. Having Belen there enables us to let her take over the patient care while we assist bringing blankets and supplies. We can keep bystanders out of the way and talk with the family members."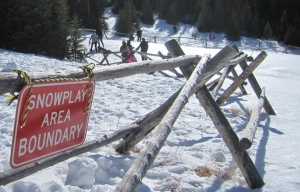 Fortunately, most of the PSAR effort focuses on education and outreach and not on emergency response. Sled Dawgs and rangers check with skiers headed to the backcountry to provide education and discuss familiarity with the terrain, their route, and current weather conditions. Those with emergency locators for avalanches are encouraged to test their transceivers in "Beacon Park," another safety resource funded in part by the Rocky Mountain Conservancy. Turning their transceivers to "search" mode, skiers can practice searching for buried transmitters and simulating the process of locating someone lost in the snow.
Likewise, around the sledding area and warming hut, Sled Dawgs and rangers seek opportunities to talk with families about winter safety as well as provide pop-up programs on winter ecology or Junior Ranger activities. Visitors with children can check out "winter explorer bags" with scientific tools and a self-guided activity book from the Junior Ranger headquarters. During the winter of 2022, when the education and outreach team piloted staffing during weekends at Hidden Valley, rangers made more than 3,000 Junior Ranger contacts.

Ranger del Valle Coello said she sees a lot of families from the Front Range returning to Hidden Valley often during the winter, and she's excited to share that the Junior Ranger program is still available to them. "People can bring their children and do these educational programs and still have fun sledding and enjoy winter recreation," she said. "They can have a good time and learn some things about being outdoors in the winter safely."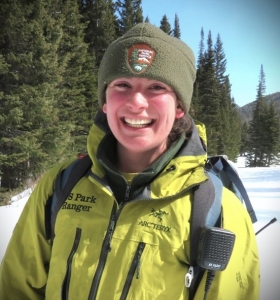 Besides being an EMT, Ranger del Valle Coello has another superpower: she's bilingual.

"Sometimes we have Spanish-speaking families, and you can see them looking around, looking a little bit confused. I'll switch over to Spanish and they get so excited and ask so many questions," she said. "And sometimes I can even lead them on short programs and help them get familiar with the park and make their plans for the rest of the day."

"While it's impossible to know how many accidents or backcountry SAR events have been prevented, Belen's presence has resulted in more immediate medical response and faster care for injured visitors" said Mike Lukens, RMNP's wilderness and climbing program supervisor who also helps manage SAR operations in the park. "The Sled Dawgs and outdoor education team as a whole play an important role in promoting snow safety and avalanche education, which increase visitor safety."

And it's the visitors that keep Sled Dawgs like Kathy Long volunteering at Hidden Valley year after year. "I think it's the most fun spot to volunteer in the park," Long said. "The best part is seeing the joy of families playing in the snow and the laughter."