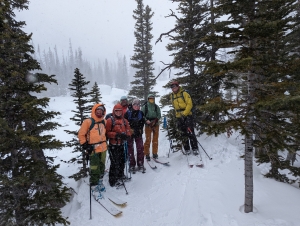 The Rocky Mountain Conservancy is empowering women and those who identify as female to experience mountain travel and recreation with introductory courses on rock climbing, snowshoeing, winter recreation, and high-altitude hiking.
The classes offered through the Conservancy's Field Institute to advance women's confidence in the outdoors are called Bettie courses in honor of Dr. Beatrice Willard (1925-2003). Dr. Willard, who went by the first name Bettie, was a beloved and respected ecologist who studied alpine tundra and land management planning in Rocky Mountain National Park (RMNP). Dr. Willard started the Rocky Mountain Field Seminars in 1962. The program, now called the Rocky Mountain Conservancy Field Institute, is the longest running national park field institute program in the country and typically welcomes over 1,000 course participants each year.
February 24-26, the Conservancy offered a Rec 1 Avalanche Certification in conjunction with Kent Mountain Adventure Center (KMAC) to educate backcountry skiers, climbers, and winter recreation enthusiasts on operating safely in avalanche terrain. The course took place in KMAC's classroom located at the Stanley Hotel in Estes Park and in field locations on the east side of RMNP.
Participant feedback was enthusiastic and positive.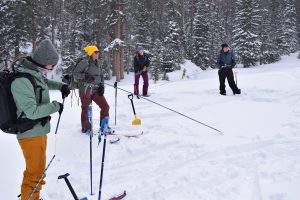 "Thanks to Rocky Mountain Conservancy for creating a safe space to grow my winter recreation skills, ask questions, and discuss these important topics! I learned a lot from the course and from the other women participating. I also gained new adventure partners who possess the same education as me, which makes me feel both more competent and safer when playing in the mountains!" ~Emily Sawyer, Bettie Course Rec 1 Avalanche Certification Student
Visit www.RMConservancy.org/events to see a list of Field Institute Courses..
In honor of former board member Janet Robertson, the Rocky Mountain Conservancy has established a scholarship fund to assist those interested in attending a Bettie course. Robertson served on the board for more than 20 years and first set foot in Rocky Mountain National Park more than 80 years ago. During her decades hiking, skiing, climbing and backpacking in Rocky Mountain National Park, she noticed a lack of diversity and women recreating solo on the trails. Her service on the board was largely focused on increasing park access and use for underrepresented populations in RMNP. Robertson is the author of "The Magnificent Mountain Women: Adventures in the Colorado Rockies." Contact the Field Institute at education@rmconservancy.org to learn more about Bettie course scholarships.