Ecology of North American Bears
Itching to learn more about the bears of North America and Rocky Mountain National Park? Veteran naturalist and wildlife photographer Perry Conway presents this in-depth course on bear ecology and habitats.
This full day course begins with a classroom session, where Perry will give an introductory lecture to the various species of bears found worldwide. The lecture will be illustrated with Perry's dynamic photographs and will focus on the three species of bears found in North America. After lunch, participants will head into Rocky Mountain National Park to visit a historic black bear den site and see firsthand how bears mark their territory.
We will meet at the Estes Park Visitor Center and travel together to various sites in Rocky Mountain National Park in Conservancy vehicles. Registration includes all required fees and permits for Rocky Mountain National Park.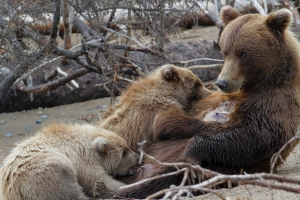 Who: Participants ages 16 and up.

When: Saturday, June 17, 2023, from 8:30 a.m. to 3:30 p.m.
Where: Estes Park Visitor Center, 500 Big Thompson Avenue, and field locations on the east side of Rocky Mountain National Park
What to bring: 10 Essentials for Field Courses, PLUS: sack lunch, hiking or trekking poles, and optional binoculars and camera.
This is a Level II course. Expect short-distance walks throughout the day, primarily on level terrain. There will be a short but steep hike of about 1/3 miles over rougher terrain.




Conservancy members get 15% off individual registration when you use the discount code in your membership email! Enter your code and select "Member Registration" tickets at checkout. Limit 2 per membership.

Not a member of the Conservancy? Learn more and join here: Conservancy Membership
For questions about membership, please contact memberprocessing@rmconservancy.org or call 970-586-0108.
For questions about the course, please contact education@RMConservancy.org or call 970-586-3262.
About your instructor:For many years, Perry Conway was a bear guide and photo tour leader for coastal grizzlies in Alaska and polar bears in Canada. His bear images and articles have been widely published throughout North America.