Night Sky Landscape Photography – 2 spots open!
Learn to photograph stars, the Milky Way, the moon and planets with foreground landscape features using digital cameras with ordinary lenses with accomplished photojournalist Stan Honda!
Participants in this three day course will learn about image composition, how to place subjects in the frame, and how to tell a story with their images. Instructor Stan Honda will teach participants how to take a naturalistic approach to their photography and how to use foreground objects, like trees or geological formations, to enhance compositions with stars in the background. Participants will also learn proper exposure for night photos, concentrating on producing single frames of the sky. Finally, Stan will instruct participants on image processing to bring out the best in each photo.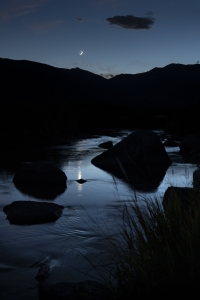 Who: Participants ages 16 and up

When:
Friday, August 18, 2023, from 2:30 p.m. to 11:30 p.m.,
Saturday, August 19, 2023, from 2:30 p.m. to 11:30 p.m.,
Sunday, August 20, 2023, from 1 pm to 4 pm
Where: We will meet at the Estes Park Visitor Center at 500 Big Thompson Ave in Estes Park and travel together to various sites in Rocky Mountain National Park using Conservancy vehicles. Registration includes all required fees and permits for Rocky Mountain National Park.
What to bring:
Sack dinner on Friday and Saturday,
Digital SLR or mirrorless camera,
Kit lens, wide angle wide-aperture lens preferred,
Sturdy tripod,
Headlamp or flashlight with red light,
Remote release.
This is a Level II course. Expect short-distance walks throughout the day, primarily on level terrain.
Conservancy members get 15% off individual registration when you use the discount code in your membership email! Enter your code and select "Member Registration" tickets at checkout. Limit 2 per membership.

For questions about the course, please contact education@RMConservancy.org or call 970-586-3262.
About your instructor: Stan Honda is a New York-based photojournalist now specializing in night sky landscapes. He has been an artist-in-residence at seven national parks and several solo gallery exhibits were produced from that work. He previously has taught weekend night sky workshops for the Conservancy.
Visit Stan's website: stanhonda.com