Sketchbook Journaling: RMNP Autumn in Watercolor
Toss your sketchbook and some simple watercolor tools into your day pack, and explore Rocky Mountain National Park with instructor Karen Ramsay!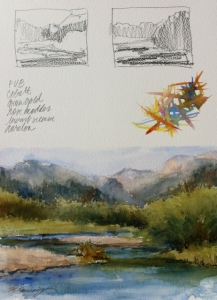 Through instruction, demonstrations and free exploration time, you will be able to capture the beauty around you. During the morning in the classroom, participants will learn (or sharpen) some basic sketching and observation skills and then head out to practice these skills in a specific location in the Park. We will learn different approaches that will include simple sketches with pencil, ink, colored pencils and watercolor. Beginners are welcome and encouraged!
We will meet at the Estes Park Visitor Center and travel together to various sites in Rocky Mountain National Park in Conservancy vehicles. Registration includes all required fees and permits for Rocky Mountain National Park.
Who: This age 16 and up workshop is ideal for…
Journal-keepers who want to add illustrations to their writing
Artists who want to fill their sketchbooks
Gardeners and naturalists who want to learn more about the world around them
Travelers who want to record their journeys
Dreamers, scientists, observers, recorders, or anyone else who wants to improve (or acquire!) skills in all these categories.
When: Friday, September 8, 2023, from 8:30 a.m. to 4:00 p.m.

Where: Estes Park Visitor Center, 500 Big Thompson Ave, Estes Park, and various field locations on the east side of Rocky Mountain National Park
What to bring: 10 Essentials for Field Courses, a sack lunch, and watercolor supplies. Click here for the full list: Watercolor Supply List
This is a Level II course. Expect short-distance walks throughout the day, primarily on level terrain.
Conservancy members get 15% off individual registration when you use the discount code in your membership email! Enter your code and select "Member Registration" tickets at checkout. Limit 2 per membership.

Not a member of the Conservancy? Learn more and join here: Conservancy Membership
For questions about membership, please contact memberprocessing@rmconservancy.org or call 970-586-0108.
For questions about the course, please contact education@RMConservancy.org or call 970-586-3262.
About your instructor: Karen Ramsay, celebrated Colorado watercolor artist and instructor, devotes her time to capturing beautiful landscapes, urban scenes and figures that surround her. She has a passion for sharing and teaching students the techniques and joys of her favorite medium. Karen has been featured in the Big Sky Journal as an "Artist of the West". A graduate of the Colorado Institute of Art – Denver, she continues learning and has studied under some of her favorite artists. Karen also enjoys the outdoors by cycling, whether at home in Colorado or most recently in Scotland.

Visit Karen's website: http://karenramsay.squarespace.com/
View Karen's full background: Karen Ramsay bio