The Illustrated Journal: Painting and Drawing Your Life
Rocky Mountain Conservancy is excited to announce "The Illustrated Journal: Painting and Drawing your Life," led by Donna Lyons, and offered in Grand Lake and the west side of Rocky Mountain National Park!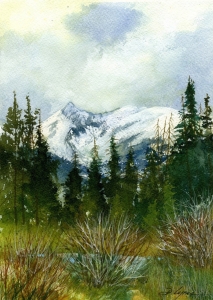 The journal can be a place to rediscover your particular physical spaces and can generate significance and gratitude for the small pleasures that abound in Daily living. Whether ramblin' through Rocky or traveling through the seemingly ordinary and mundane of the everyday, using art along with your written words will develop your powers of observation, spark your imagination and curiosity, and increase your attention span. Art brings awareness, understanding of your present self and surroundings, and an order to your reflections and memories. Come spend two days in the quiet of the Kawuneeche Valley on Rocky's west side, as Hannah Hinchman says, "in healthy solitude and active connection to a beloved terrain."
This two-day workshop will offer you some techniques of drawing and painting, several approaches to page design, some instructions on using color to express mood, as well as short writing exercises to get you started and keep you going in your practice of journal-keeping. You will look forward to having uninterrupted time during the day for private reflection and attention to your artwork.
Who: This age 16 and up workshop is open to experienced and newbie journal keepers and sketchbook enthusiasts alike. This is a Level II course. Expect short-distance walks throughout the day, primarily on level terrain.
When: Wednesday, August 30th, 2023, and Thursday, August 31st, 2023, from 9:00 a.m. to 4:00 p.m. each day
Where: Classroom instruction at the Grand Lake Center, 301 Marina Avenue, Grand Lake, CO, and various locations in the Kawunechee Valley on the west side of Rocky Mountain National Park. We will travel together into Rocky Mountain National Park in Conservancy vehicles. All required park entry fees and permits are included in your registration.
What to bring:
Your favorite drawing/painting tools, such as watercolor, gouache or colored pencils, pens, or pencils. Whatever you prefer to work with is acceptable.
Your favorite journal or sketchbook.
Something comfortable to sit upon in the outdoors.
Your traveler's small paintbox with pigments and brushes.
A sack lunch both days
Comfortable shoes for walking on uneven ground. A walking stick is always helpful but not required.
We will be walking short distances each day, so pack everything you will need for the day and keep your materials light. While we will be in areas relatively distant from crowds, we will always be close to restrooms.
Conservancy members get 15% off individual registration when you use the discount code in your membership email! Enter your code and select "Member Registration" tickets at checkout. Limit 2 per membership.

Not a member of the Conservancy? Learn more and join here: Conservancy Membership
For questions about membership, please contact memberprocessing@rmconservancy.org or call 970-586-0108.
For questions about the course, please contact education@RMConservancy.org or call 970-586-3262.
About your instructor:
Donna Lyons has lived on both the east and west sides of Rocky Mountain National Park, and taught Elementary Art in the Estes Park and Grand Lake schools. She is a practicing watercolor painter whose most influential instructors were Herb Thompson Hollis Williford and Scott Christensen. She is known in Grand Lake for her paintings and the stained glass windows she designed for St Anne Catholic Church. Her work has been featured in Professional Artist's Magazine, and her painting "Dawn on Coyote Creek" was chosen for the cover of an issue. Her paintings are in many private and corporate collections in the USA, Ireland, and Japan. A passionate journal and sketchbook keeper, Donna's book My Kawuneeche: An Artist's Journal in Rocky Mountain National Park was released in its second edition. Donna holds a BFA from the University of Colorado in painting and an MA in Art and Literacy from Regis University. Her students say, "Donna is an exceptional teacher and an extremely caring individual who gives clear and concise instruction while putting everyone at ease."
Visit Donna's website: www.donnalyonswatercolor.com