Wildflowers of Rocky Mountain National Park I and II
Explore the wonder and diversity of Rocky Mountain National Park's wildflowers with experienced RMNP interpretive naturalist, Leanne Benton.
Rocky Mountain National Park's vertical topography allows for a wide variety of habitats, and participants will search out lush wildflower displays across the park, from serene montane meadows to high alpine ridges. Participants will get up close with mountain flora to discover their unique adaptations for survival in harsh conditions, and uncover the interesting stories behind their pretty faces. This course will also help participants hone their observation skills and build confidence in their ability to identify plants and flowers found throughout Rocky and the surrounding areas.
This is offered as a two-day course; participants can sign up for one or both days. Day One will focus on montane and subalpine wildflowers. Day Two will focus on alpine wildflowers. We will meet at the Estes Park Visitor Center each day and travel together to various sites in Rocky Mountain National Park in Conservancy vehicles. Registration includes all required fees and permits for Rocky Mountain National Park.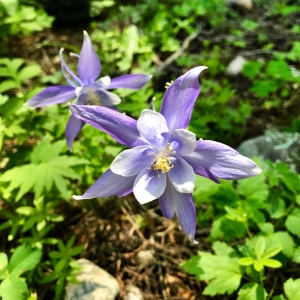 Who: Participants ages 16 and up

When: Saturday, July 1, 2023, and Sunday, July 2, 2023, from 7:00 a.m. to 3:30 p.m. each day
Where: Estes Park Visitor Center, 500 Big Thompson Ave, Estes Park, and field location on the east side of Rocky Mountain National Park
What to bring: 10 Essentials for Field Courses and a sack lunch each day. Camera, notebook, hand lens, and your favorite wildflower guidebooks optional.
This is a Level II course. Expect short-distance walks throughout the day, primarily on level terrain.
About your instructor: Leanne Benton is a former ranger-naturalist in Rocky Mountain National Park and has led wildflower walks in the park for more than 25 years. She has studied and photographed the park's wildflowers since her first summer in the park, and continues to expand her botanical knowledge, most recently into edible and medicinal uses of plants.
Conservancy members get 20% off individual registration when you use the Early Bird discount code in your membership email!

Not a member of the Conservancy? Learn more and join here: Conservancy Membership
For questions about membership, please contact memberprocessing@rmconservancy.org or call 970-586-0108 during standard business hours.




Registration opens February 1, 2023.