Families on the Trail – Winter 2023 Snowshoeing
Curious about snowshoeing in Rocky Mountain National Park? Join us for this FREE introductory course for kids & caregivers!
Just because there's snow on the ground doesn't mean families can't get out on the trail! During this morning course, we'll travel together on the RMC bus into Rocky Mountain National Park to learn how to get around in the snow. Snowshoes for kids and adults will be available at no charge, and while this event is designed for beginners, more experienced snowshoers are welcome.
Space is limited to 14 participants and pre-registration is required.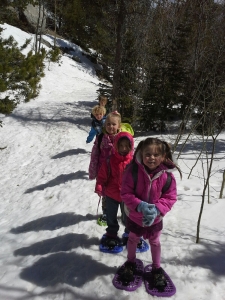 Who: Elementary school-age children (ages 5-10) AND their caregivers. All children must be accompanied by an adult, and older siblings are also welcome to attend.
What to bring: Warm layers, sturdy winter boots (waterproof is ideal), winter hat, mittens or gloves, and snacks and water
Where: Meet at the Estes Park Visitor Center, 500 Big Thompson Ave, Estes Park
When: Choose one of the following Saturdays: Jan. 7, Jan. 14, Feb.11, Feb. 28, OR March 4
Why: Learn how to travel through snowy winter conditions in RMNP with our Education Staff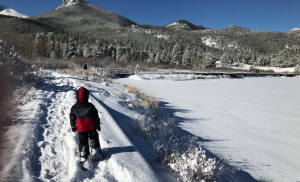 Please note that this event is dependent on the weather and may be canceled due to poor snow conditions. We appreciate your understanding!