Kids Outdoor Explorer Summer Club
Keep the learning alive this summer with a morning adventure in Rocky Mountain National Park!
Join Carlie for some hands-on learning in Rocky Mountain National Park! Leaving from Estes Park Visitor Center promptly at 9:30 and heading into the National Park, the group will explore one of many accessible locations for children, including Upper Beaver Meadows, Sprague Lake, Moraine Park, Alluvial Fan, Lily Lake, or the Lumpy Ridge area. The day includes transportation and entrance fees into and out of the park.
Be prepared with a water bottle (extra water will be available throughout club), appropriate clothing layers, and sunscreen/sun hat. Snack will be provided by Rocky Mountain Conservancy.
Questions? Contact us at carlie.bangs@rmconservancy.org.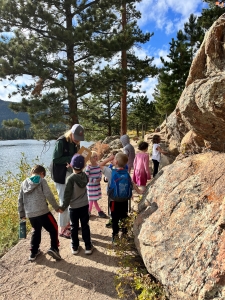 Who: This outdoor exploration experience is for children at least 5 years old and headed into kindergarten through 3rd grade.
When: Friday, May 26 (FULL), June 2, and June 16, from 9:30 a.m. to 12:00 p.m.
Where: Meet us at the Estes Park Visitor Center, 500 Big Thompson Ave, in downtown Estes Park
What to bring: a small day-pack with a water bottle, sun hat, and a warm jacket or fleece. We recommend applying sunscreen before getting on the bus.